Following the Gold Gloves, here are the five best utility players from the 2017 season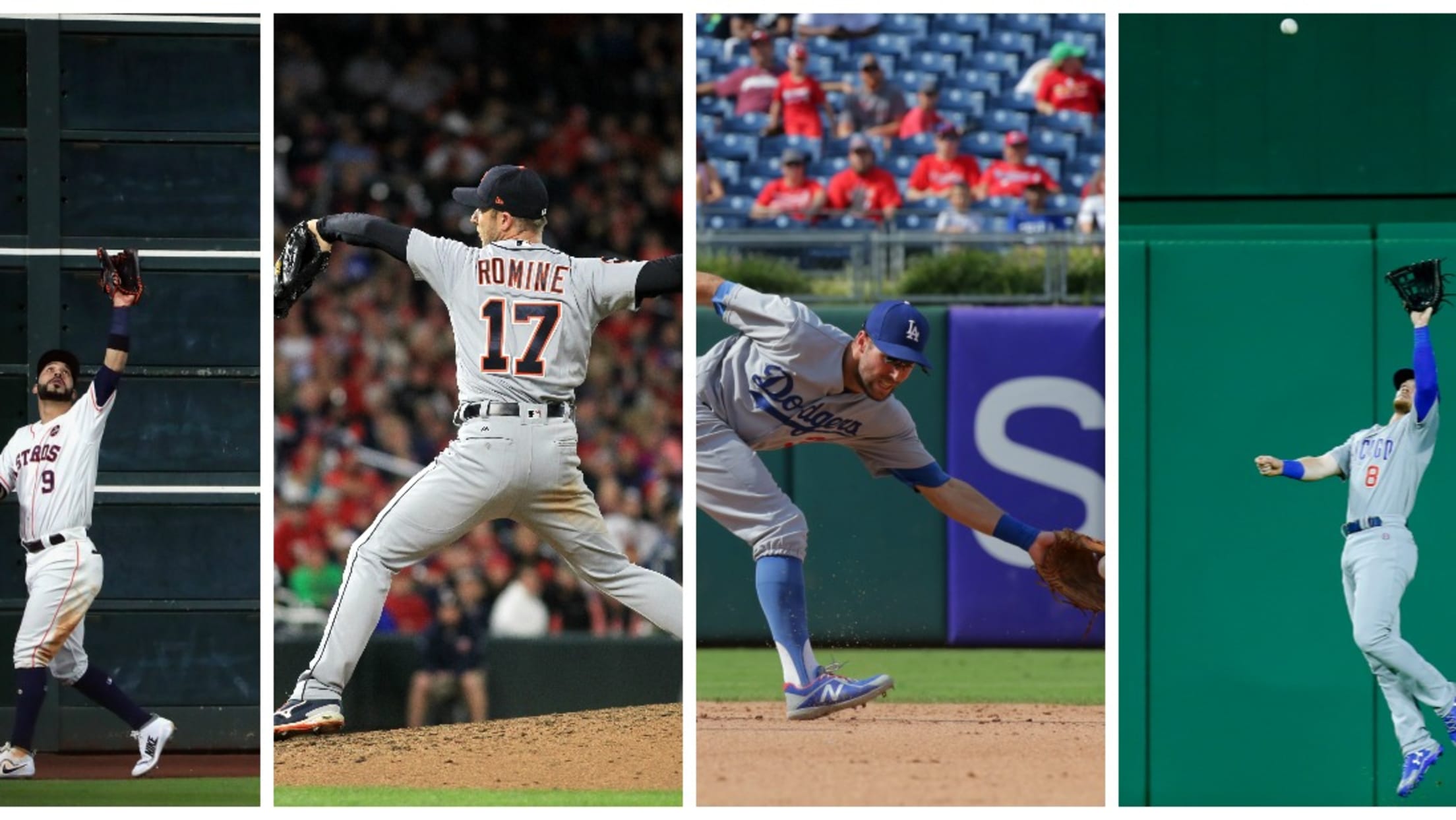 Last night, Gold Gloves were awarded to the best players at every defensive position in the American and National League. It's a great award -- defensive highlights are the raddest thing of all to watch and, hey, being the best at your position is cool.
Today, we want to honor the utility players with the First Annual Golden Utility Player awards. They may not be stars, but they are a vital piece on every roster.
Like the Academy Awards hand out Oscars, the Golden Utlity Player awards hand out Quists. The trophy itself takes the shape of utility icon Willie Bloomquist, and the name has its own special meaning as well (Quintessential Utility Infielder of Spectacular Talent).
The rules are simple: At least 50 innings played at three positions spanned across both the infield and outfield. You have to play everywhere to be truly Quist-worthy and here are 2017's five award winners:
1. Marwin Gonzalez
LF (331 innings), SS (281 1/3), 1B (193 2/3), 3B (138 2/3), 2B (136 2/3), RF (4)
Gonzalez was much more than the hitter responsible for the home run that forced Game 2 of the World Series to extra innings. One of the few players that has been with the Astros for the entire rebuild -- making his debut in 2012 -- Gonzalez was the third-best hitter on the team.
But more important than hitting, his positional flexibility was vital for the Astros as he subbed in at short when Carlos Correa was on the DL for nearly two months. It's hard not to miss a player of Correa's caliber, but Gonzalez's .907 OPS would have ranked second among qualified Major League shortstops had he played there full-time.
Of course, the ability to play everywhere involves lots of practice -- even during games:
2. Chris Taylor
LF (405 2/3 innings), CF (395), 2B (166 2/3), SS (96 1/3), 3B (38 1/3)
Taylor began the year as a fill-in for the injured Logan Forsythe but, with his stirrups pulled high and a new overhauled swing on display, soon proved he was worthy of a regular place in the lineup.
The infielder-turned-starting outfielder hit 21 home runs by the end of the year -- after never hitting more than eight in a single season -- and then cracked three more in the postseason as he became perhaps the hardest Dodgers hitter to get out in October. Naturally, he did it while still appearing at three different positions.
3. Enrique Hernández
CF (163 2/3 innings), SS (150), LF (122 2/3), RF (119), 3B (77 1/3), 2B (30), 1B (20), DH
Given the importance of the utility player -- especially as bullpens grow ever-larger -- perhaps it's not surprising that the two pennant-winners are so well-represented.
The one-time banana-costumed Hernandez didn't just mash righties (10 of his 11 homers came off righties), but also played every position except catcher and pitcher. Sure enough, just like Taylor, Hernandez was a key figure in the postseason.
4. Ian Happ
CF (346 2/3 innings), 2B (260 1/3), LF (113), RF (73), 3B (17)
There is no one that fully buys into utilitydom quite like Joe Maddon. Not only do the Cubs employ Ben Zobrist, but everyone moved all over the field. Catcher Willson Contreras appeared at left, first, right and third. Even stars Kris Bryant and Anthony Rizzo combined to play every position but catcher and shortstop. But being a 22-year-old rookie that was handed a job at both second and center field earns Happ the nod.
The lineup shuffling didn't seem to bother Happ as he bashed out 24 home runs and finished sixth among NL rookies in bWAR.
5. Andrew Romine
CF (179 1/3 innings), 2B (164 1/3), LF (126 2/3), RF (76), SS (74), 3B (66), 1B (65), P (1), C (1/3), DH
While Hernandez played every position but catcher and pitcher, Romine played every position including pitcher and catcher ... in a single-game.
Before becoming just the sixth player to ever accomplish the feat -- and the first since 2001 -- Romine exemplified the role of the utilityman as he was used extensively all over the field. Not a starter in any position, Romine was everywhere and nearly every day, appearing in 124 games.
Seems he enjoyed his travels, too. Which is what makes someone a utility player at heart.
Equipos en este artículo:
Jugadores en este artículo: