Beyond Bryce and Manny, here are nine other awesome stars your team could land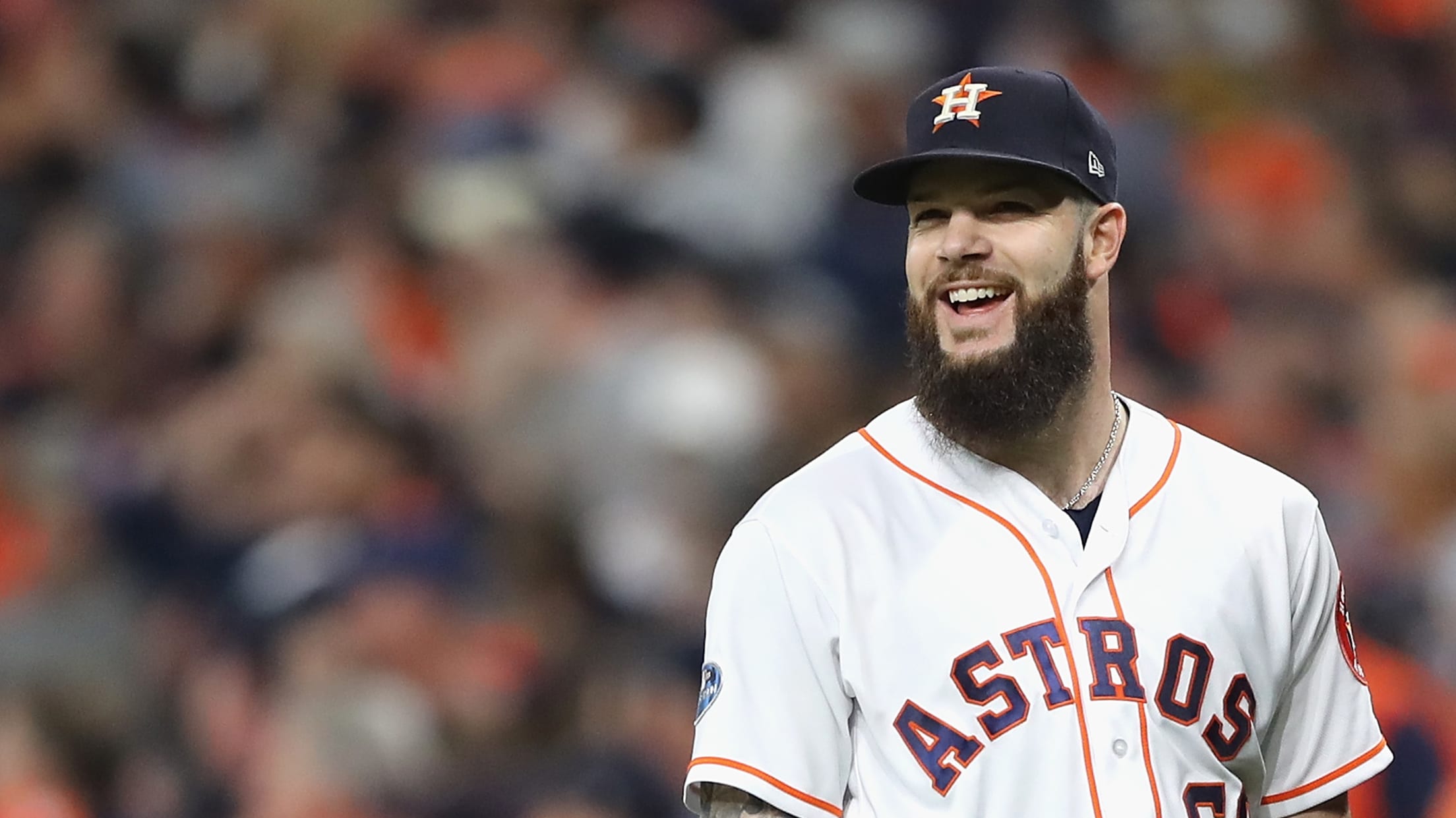 during Game Three of the American League Championship Series at Minute Maid Park on October 16, 2018 in Houston, Texas. (Elsa)
As the baseball world awaits the earth-shattering free agent signings of Bryce Harper and Manny Machado, it can sometimes be difficult to focus on the rest of the market. But beyond the headlining duo, there remains an impressive collection of talent with no shortage of accolades that any team should be eager to bring into the fold. Put Manny and Bryce to the side for a moment and just look at the other notable players your team could land this winter.
A Cy Young-winning, Gold Glove-stacking, beautifully-bearded World Series champion
Dallas Keuchel is a free agent! After posting a 5.20 ERA over his first two big league seasons, the left-hander has turned himself into one of the more steady arms in baseball. He's also as reliable as it gets as far as fielding pitchers go with four Gold Glove Awards to his name. It's tough to find a more cool, calm and collected pitcher in the league than the 31-year-old Keuchel, who is clearly the best remaining starting pitcher available on the market. And that beard ... that beard is worth rostering on its own.
A legendary fireballer with literally the lowest career ERA for any reliever in baseball history
Craig Kimbrel is a free agent! With 333 saves to his name, Kimbrel has been slamming the door in the ninth inning consistently for nearly a decade. And while there may be some concern about his decline after a shaky 2018 postseason, he's still posted outlandish strikeout rates consistently and his stuff remains electric. And yes, his career ERA is lower than Mariano Rivera's. That seems good.
A guy with more career hits than dozens of Hall of Famers who played 162 games and made the All-Star team for the first time in 2018
Nick Markakis is a free agent! His longstanding tenure as one of the best players in MLB history without an All-Star game appearance came to an end this past year, when his excellent campaign with Atlanta earned him a trip to D.C. But now he is back on the open market looking for a new home. Sure, he's 35, but the veteran outfielder is fresh off one of his best seasons of his career. Another year of solid production could push him even higher up on the all-time hits list, after recently passing Hall of Famers like Mike Schmidt and Willie Stargell.
Four key members of a recent World Series champion
The 2015 Royals may seem like a distant memory at this point, but Kansas City's magical run prominently featured four players currently still on the free agent market: Mike Moustakas, Alcides Escobar, Greg Holland and Ryan Madson. These four players certainly enter the 2019 season with varying levels of value, but each could help the right club and clearly have legitimate postseason experience.
The first player to ever have an emoji on his uniform
The second ever Players Weekend in 2018 featured some groundbreaking uniform decisions when right-hander Brad Boxberger decided to stray away from the traditional use of letters to spell names, opting for two glorious emojis instead:
God bless you Brad Boxberger pic.twitter.com/s8pqHeGvul

— Cespedes Family BBQ (@CespedesBBQ) August 9, 2018
Boxberger led the AL in saves in 2015 and saved 32 games for Arizona in 2018. Some bullpen could surely use the box emoji burger emoji.
The pitcher who is one new team away from making MLB history
When Edwin Jackson signed with the A's last year, he tied Octavio Dotel's MLB record of difference franchises played for with Oakland being his 13th big league home. Currently still on the market, Jackson could surpass Dotel's remarkable record if he signs with a team he has yet to suit up for. And after a solid season in which Jackson posted his lowest ERA as a starting pitcher of his entire career, some team should absolutely help him beat Dotel's mark.