Utility superhero Brock Holt is also the best musician on the Red Sox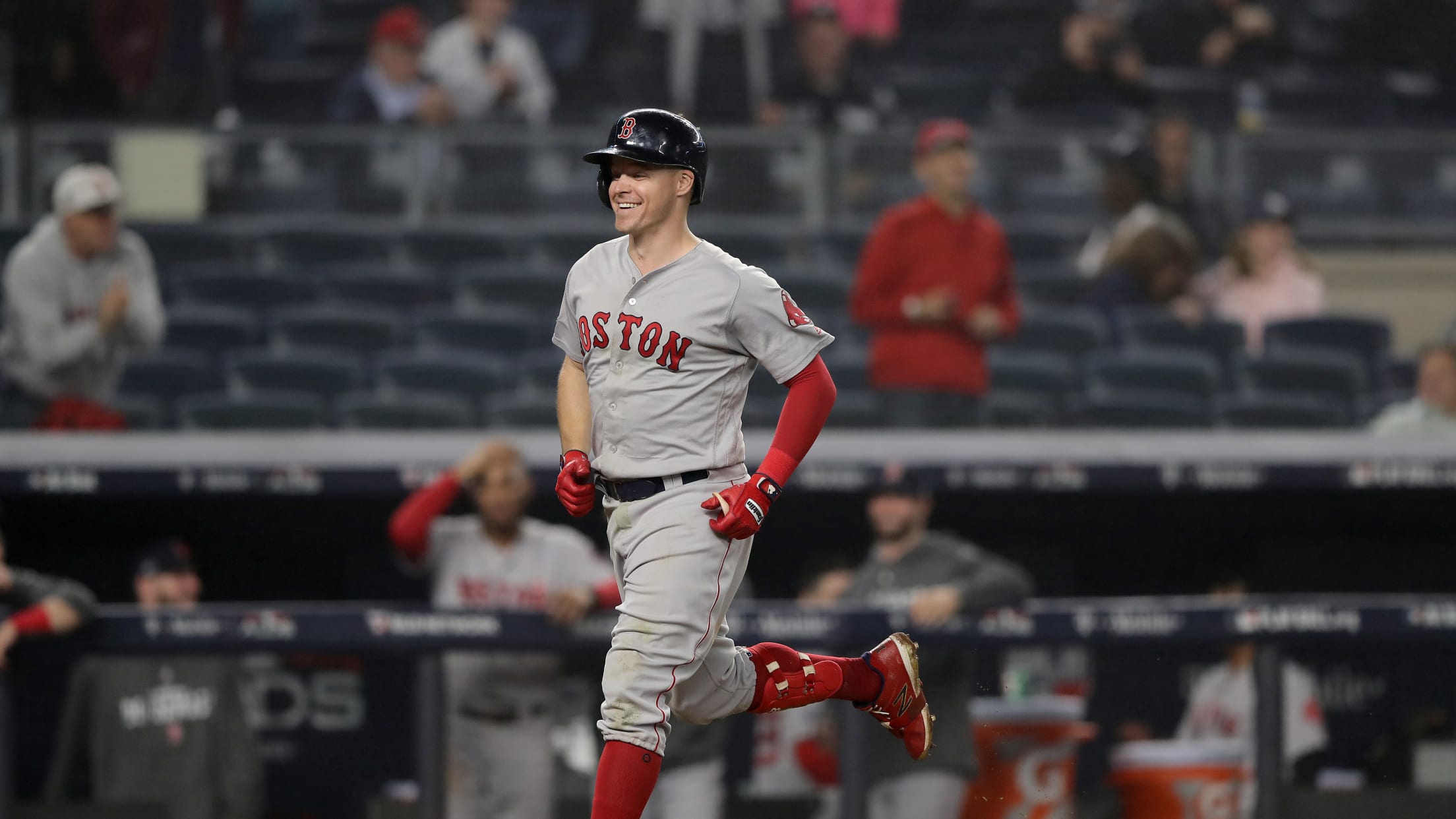 In a game where everything seemed to go Boston's way, Brock Holt stole the spotlight on Monday for the Red Sox by becoming the first player in postseason history to hit for the cycle.
This is Holt's seventh Major League season and sixth with Boston, where he has primarily filled the super-utility role, filling in at almost every position when injuries have occurred or the matchups call for a shake-up.
The position the 30-year-old has played the most in his career has been second base, and he looked stellar there on Monday against New York when he wasn't busy collecting hits at the plate:
But there's so much more to know about Holt than just his defensive versatility. Here are our other favorite things about the Red Sox breakout star:
He's from a small town outside of Dallas, Texas
Holt grew up and went to high school in Stephenville, Texas, a town of less than 20,000 people about two hours southwest of Dallas. Despite entering high school at 84 lbs., Holt played on the baseball team all four years and gained the attention of a few nearby college coaches. He didn't stray far for his collegiate ball, playing for two years at Navarro Junior College in Corsicana, Texas before transferring to Rice University in Houston for his junior season, where he was teammates with a young third baseman named Anthony Rendon. Holt was drafted by the Pirates in the ninth round of the 2009 Draft.
He has a wonderful pregame ritual
While sunflower seeds are already an essential part of the everyday baseball experience. Holt has found a new use for them as part of an amusing pregame ritual:
The Red Sox once held a Pet Brock Day in Holt's honor -- and he homered to celebrate
We should all have Pet Brocks.
He was an All-Star in 2015
While his style of play may not scream All-Star, Holt did have a scorching hot first half in 2015, including a .386/.471/.500 line in April that earned him a spot in the Midsummer Classic. He enjoyed every second of it:
He's musically inclined in several ways
Holt isn't just versatile on the diamond -- his musical taste and talents are also all over the map. Sometimes, you can find him leading pregame concerts in the dugout with random objects:
"The Dugout"
Album dropping soon! pic.twitter.com/no4nn0aXTc

— Red Sox (@RedSox) May 14, 2018
Holt also has a knack for more traditional instruments:
This is what we call rain-delay entertainment. pic.twitter.com/utZrM4U1Ic

— Red Sox (@RedSox) July 26, 2018
Sometimes, Holt prefers to do all the work himself, with some passionate a capella performances of famous video game themes:
Ultimately, he just wants to make sure his walk-up music is enjoyed by everybody:
Brock Holt, man of the people. pic.twitter.com/6G7VQ9xCt6

— Cut4 (@Cut4) April 9, 2018
He really can do everything on a baseball field -- even umpire
Sure, Holt has played every position besides pitcher and catcher at the Major League level. But Holt has also showcased an ability to do even more than just play on a big league field -- at least, according to his teammate J.D. Martinez:
His historic postseason cycle wasn't his first cycle
The first time Holt achieved this rare baseball feat was back in 2015 against the Braves:
With his cycle on Monday against the Yankees, Holt also became just the 26th player in MLB history with multiple cycles in a career.
Teams in this article:
Players in this article: