Let's celebrate Javier Baez's 25th birthday with some of our favorite Javy GIFs of 2017
Bust out the balloons and cake, it's the 25th anniversary of Javier Baez's birth! We decided to celebrate the birthday of the Cubs infielder by putting together some our favorite GIFs from this past season -- which is the best way you can celebrate any birthday.
The bubble flip
You've heard of bat flips, but have you ever seen a bat flip on a multi-home run night … with a bubblegum bubble? Well, now you have.
During Game 4 of the NLCS, Baez launched two home runs -- the first was during the second inning, and the other came during the bottom of the fifth off Alex Wood. When he launched the second dinger, he not only added a bat flip into the performance, but he blew a bubble at the same time: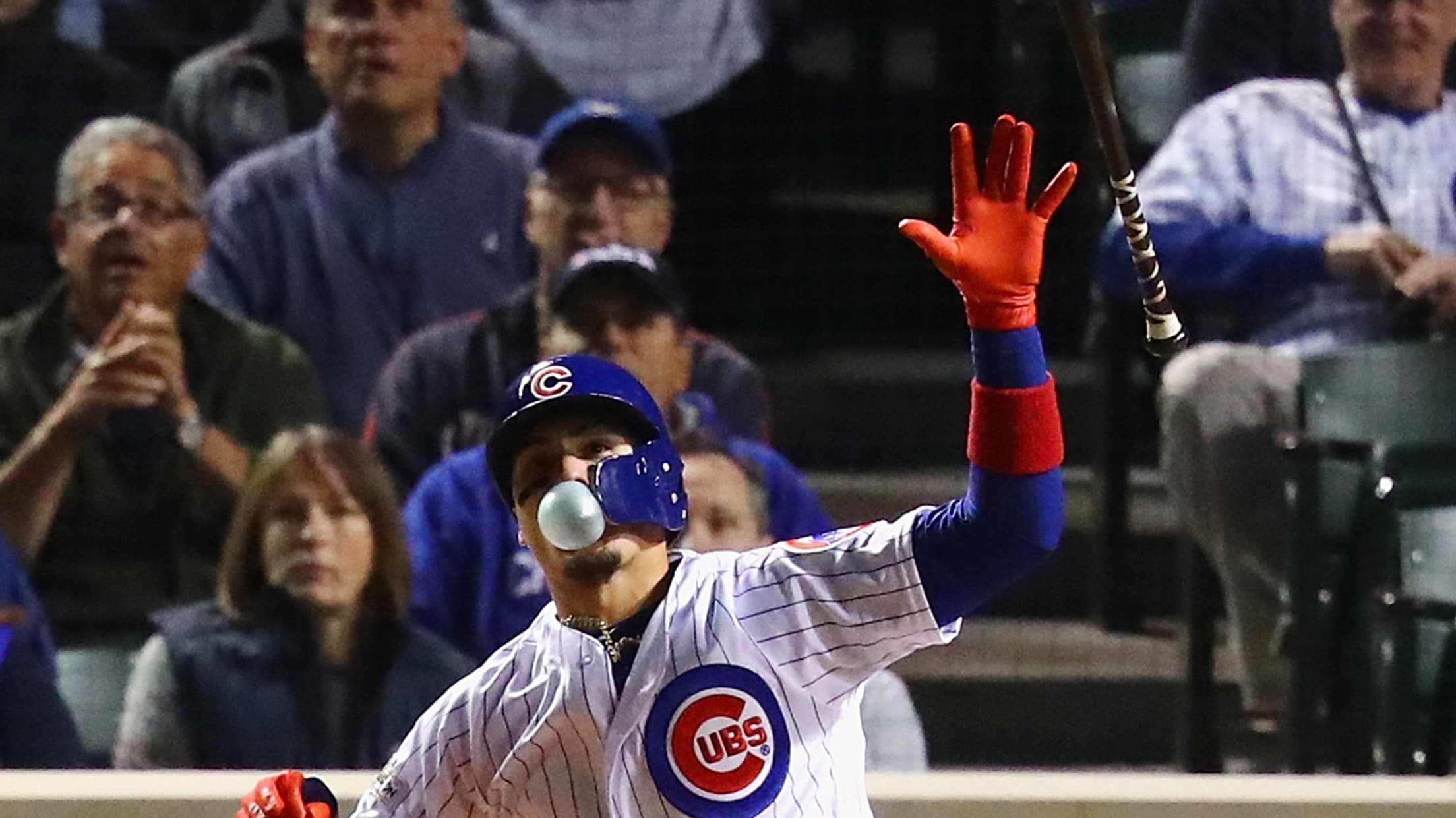 The high-hit ball
No, seriously. This ball was hit really high.
Back in May, Baez smacked a ball with a launch angle that maxed out at 143 feet with a 39-degree launch angle -- that's a lot, but the reaction to the ball by Aaron Hicks made this that much sweeter. Just watch: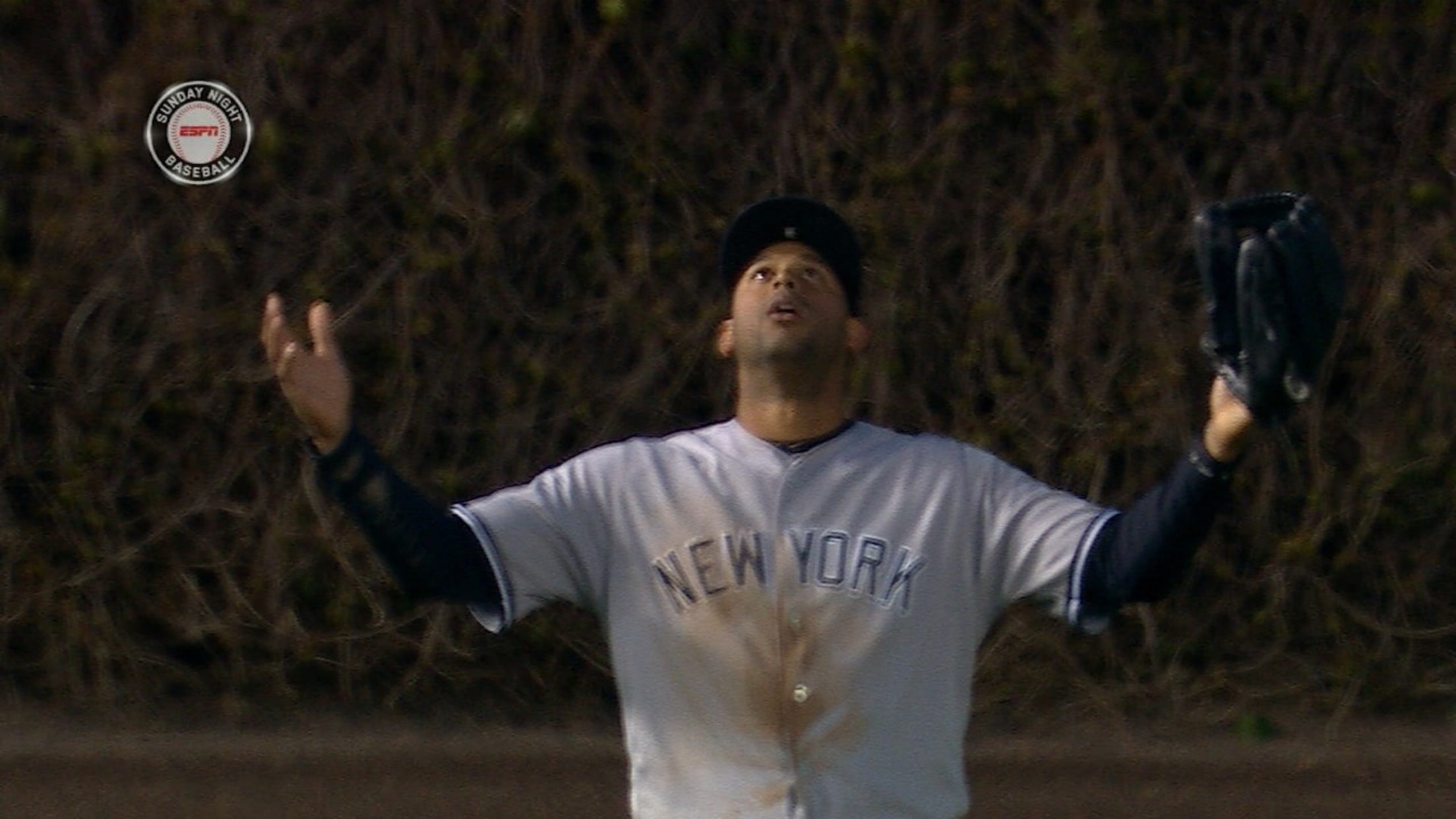 The well-read ball
Baez has a decent glove on him as well. During a September matchup against the Cardinals this past season, he used his impressive skills to play a ball off the wall. After the ball had bounced off said wall, he was able to laser it to second base and get Stephen Piscotty out, who thought he had enough time to get there safely.
The best part is how beautifully this ball rolled to Baez. It's like it was meant to be:
He has a future in broadcasting
It's apparent now Baez is a man of many talents. He has a while until he hangs up his cleats, but when that day comes, he could easily make a case for himself as the voice of baseball.
With Willson Contreras at the plate in a matchup against the Brewers, Baez had a makeshift microphone in the dugout and used it to show off his play-by-play talents:
We wish we had audio for whatever he was saying, but luckily the broadcasters embraced it.
The baseball doll
We know of the artistic developments that took place with the Indians. Carlos Carrasco and Trevor Bauer crafted the baseball dolls that took the world by storm. Well, it turns out, Javy has his own baseball doll, and the similarities are uncanny.
His teammates perched his mini-me on the dugout, and it received a very warm welcome from Baez:
"They were having fun," Baez explained to MLB.com's Carrie Muskat after the game. "I know them pretty well. They were making fun of my hair."
In all fairness, it's great hair.
Never distracted
The infielder is not distracted very easily, and he proved that when he made a barehanded play … as a bat rolled toward him.
On a ground ball to short, Ryan Braun's broken bat made its way towards Baez, but he didn't miss a beat:
He makes these things look so easy.
Happy birthday, Javy Baez! Thank you for letting us celebrate with you.
Teams in this article:
Players in this article: