The Hall of Fame Case: Carlos Zambrano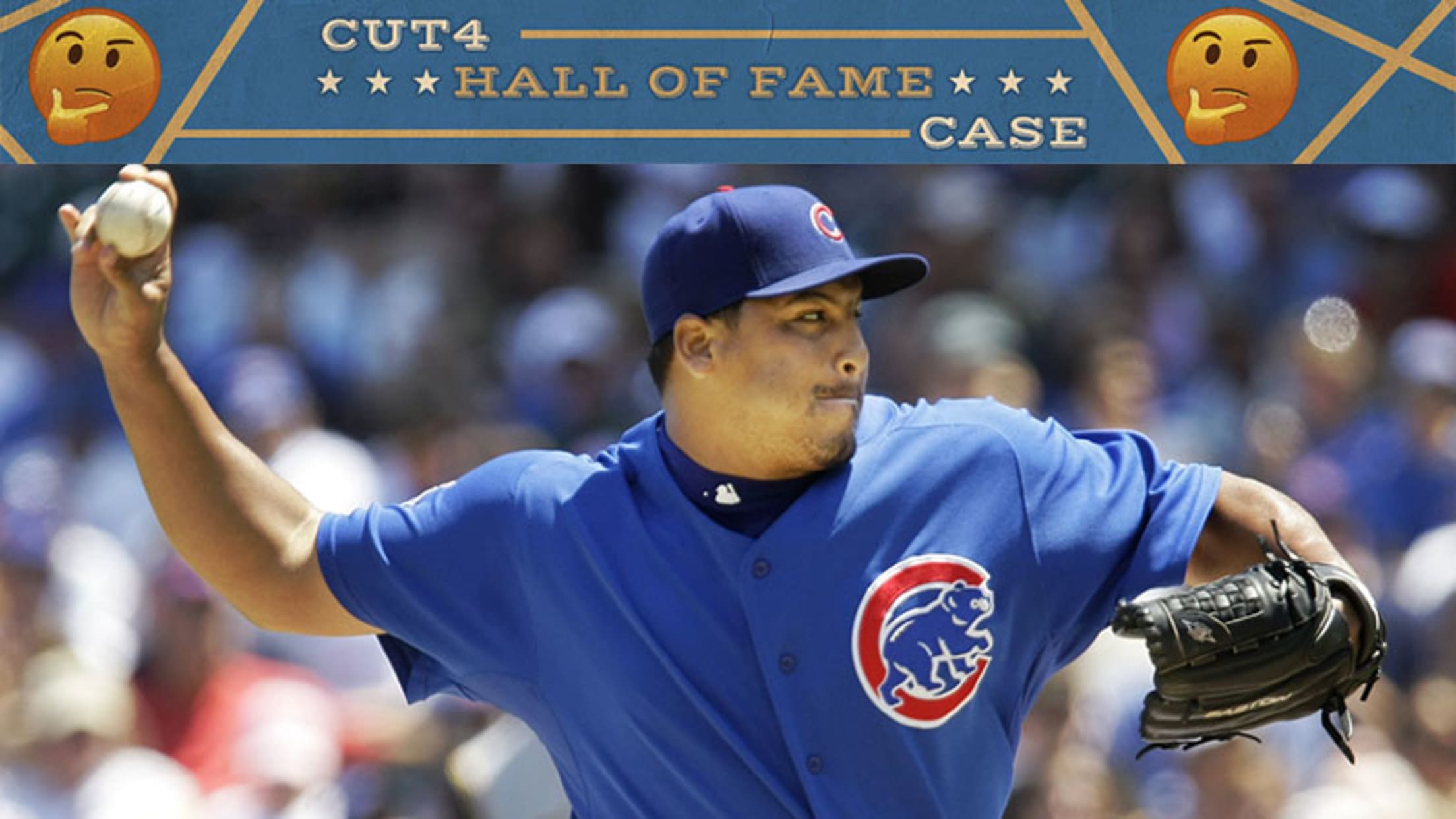 The likes of Trevor Hoffman and Vladimir Guerrero -- and even first-timers like Jim Thome and Chipper Jones -- shouldn't have too much trouble racking up National Baseball Hall of Fame votes. But there are plenty of other players on the 2018 ballot who require a little more voter-cajoling. Players who may not have the on-field resume, but deserve an impassioned Hall of Fame case nonetheless. Players like ...
Carlos Zambrano. He played for 12 seasons, 11 of which were with the Chicago Cubs. Perhaps no player has had a more fitting nickname than Zambrano's "El Toro," which he lived up to with -- to risk understatement -- his fiery demeanor during games. If a nickname hall of fame exists, Zambrano is surely already enshrined. But, he is not yet enshrined in the Baseball Hall of Fame. Here's why he should be.
Tied for seventh all-time for home runs by a pitcher
The primary responsibilities of a pitcher consist of his performance on the mound, but in the National League at least, the pitcher is obligated to take his turn in the batting order as well. Over a decade before Shohei Ohtani made being a two-way player hip, Zambrano was smacking balls out of the yard with regularity. He hit 24 career home runs and slugged over .400 in four separate seasons. His 24 home runs places him in a tie with Hall of Famers John Clarkson and Bob Gibson.
The Hall of Fame was established to recognize excellence. When it came to pitcher hitting, Zambrano was pretty darn excellent:
He was an early and avid internet user
Before the internet was basically entirely made up of memes and GIFs, it was primarily seen as a tool for keeping in touch with friends and loved ones across vast distances. In 2005, Zambrano spent some time on the disabled list with an elbow injury that was seemingly traced back to the four hours each day he spent emailing his brother back in Venezuela.
Perhaps Big Z was simply a man ahead of his time. Who knows how much of a star he would be on social media. We already know he had the time to put into building his #brand, but we suspect he'd bring his competitiveness and smack talk to be one of the best social media presences in the game.
He always wanted to stay in the game
Part of what makes a Hall of Fame pitcher is a desire to be on the mound in close games. Do you think Nolan Ryan ever wanted to be taken out of the game?
That competitive fire ran through Zambrano's veins. Even in a mid-summer game, he tried to bargain with manager Mike Quade to extend his outing for one more batter:
You want your Hall of Famers to believe in themselves and their abilities. Zambrano clearly had that sort of confidence in spades.
He threw the only neutral site no-hitter in MLB history
Due to the sheer number of baseball games that have been played throughout history, it is nearly impossible for a player to be the only person to have accomplished a certain feat. So, it is certainly a boon to Zambrano's Hall of Fame case that he threw the only neutral-site no-hitter in MLB history.
Due to Hurricane Ike, the Astros hosted the Cubs at Miller Park in September 2008. Zambrano used the opportunity to make history:
If it weren't for a fourth-inning walk to Michael Bourn and hitting Hunter Pence in the fifth, Zambrano's historic no-no could well have been a historic perfect game. Regardless, historic is historic and, for this game, Zambrano stands alone in the historical record.
He can probably still pitch today
Even though he's been retired for five years now, Zambrano's fastball still has some heat. In May, he took the Wrigley Field mound once again to throw the ceremonial first pitch. He didn't hold back.
According to his catcher and human radar gun Eddie Butler, Zambrano's strike was clocked at 91 mph with movement. You'd have to think that, with a full windup and baseball pants instead of jeans, he could get a few extra ticks on that pitch.
Teams in this article:
Players in this article: