10 leaping, home run-robbing catches to help you celebrate Leap Day
It takes approximately 365 1/4 days for the Earth to orbit around the sun, the center of our solar system. As humans are a simple species that typically prefers to not have to deal with the difficulties of handling fractional math, we round it off. Once every four years, we have an extra day to make up for all that rounding: Feb. 29.
And what better way to celebrate 2016's Leap Day than gazing in awe as professional baseball players demonstrate their athletic superiority by literally leaping ... to bring back would-be home runs? Here are 10 beautiful catches to take your Leap Day to new heights. (Sorry, we had to.)
Date(s): Aug. 19, 1985 and April 26, 1990
Opponent(s): Marty Barrett, Red Sox and Jesse Barfield, Yankees
The Griffeys are hardly the only father-son duo to ever play professional baseball. But they were also teammmates... who hit back-to-back home runs. And they both robbed home runs at Yankee Stadium.
Date: July 10, 1988
Opponent: Jack Clark, Yankees
You couldn't make a list like this and not include Jackson, considering that the walls and barriers of American League stadiums back in the day were merely suggestions and/or parkour instruments for the two-sport superstar.
Date: June 21, 1994
Opponent: Mike Piazza, Dodgers
Ya know what's better than seeing someone rob a home run? Seeing a Hall of Famer do it. Ya know what's better than seeing a Hall of Famer rob a home run? Seeing him do it against another Hall of Famer.
Date: Aug. 4, 1996
Opponent: B.J. Surhoff, Orioles
It's one thing to time your leap to rob a home run. It's something entirely different to time that leap so you can use the wall to propel your glove up another couple of feet to pull runs back into the yard. Give this man his own superhero movie. (For what it's worth, Surhoff exacted his revenge by homering off Indians pitchers three times in the first two games of the ALDS later that season.)
Date: July 1, 2006
Opponent: Mike Lamb, Astros
Back in 2011, MLB Network counted down the top 20 home run robberies of all time and this was king of the hill.
Date: Oct. 19, 2006
Opponent: Scott Rolen, Cardinals
Chavez's acrobatics merely delayed the inevitable as the Cards went on to win Game 7 of the NLCS -- and, later, the World Series -- but that catch sure made things exciting. The score was 1-1 in the top of the sixth when Chavez brought that would-be homer back into the park and hit the relay man, who doubled Jim Edmonds off at first.
Date: Aug. 31, 2015
Opponent: Manny Machado, Orioles
You know how you know this catch was awesome? Chris Archer thanked Kiermaier and congratulated him on his Gold Glove Award by commissioning an artist to turn the catch into a painting, that's how.
As a thank-you for his Platinum Glove-winning season, Arch presented KK this commissioned painting this morning. pic.twitter.com/yrFweAv3zw

— Tampa Bay Rays (@RaysBaseball) February 26, 2016
It took a two-run, ninth-inning homer by Yadier Molina to win the game for the Cards.
Date: Sept. 25, 2015
Opponent: Who else but Chris Davis and the Orioles?
Perhaps the best part of Betts' incredible flipping-over-the-wall haul here is that the Red Sox bullpen cop willed him to make the play with his soul.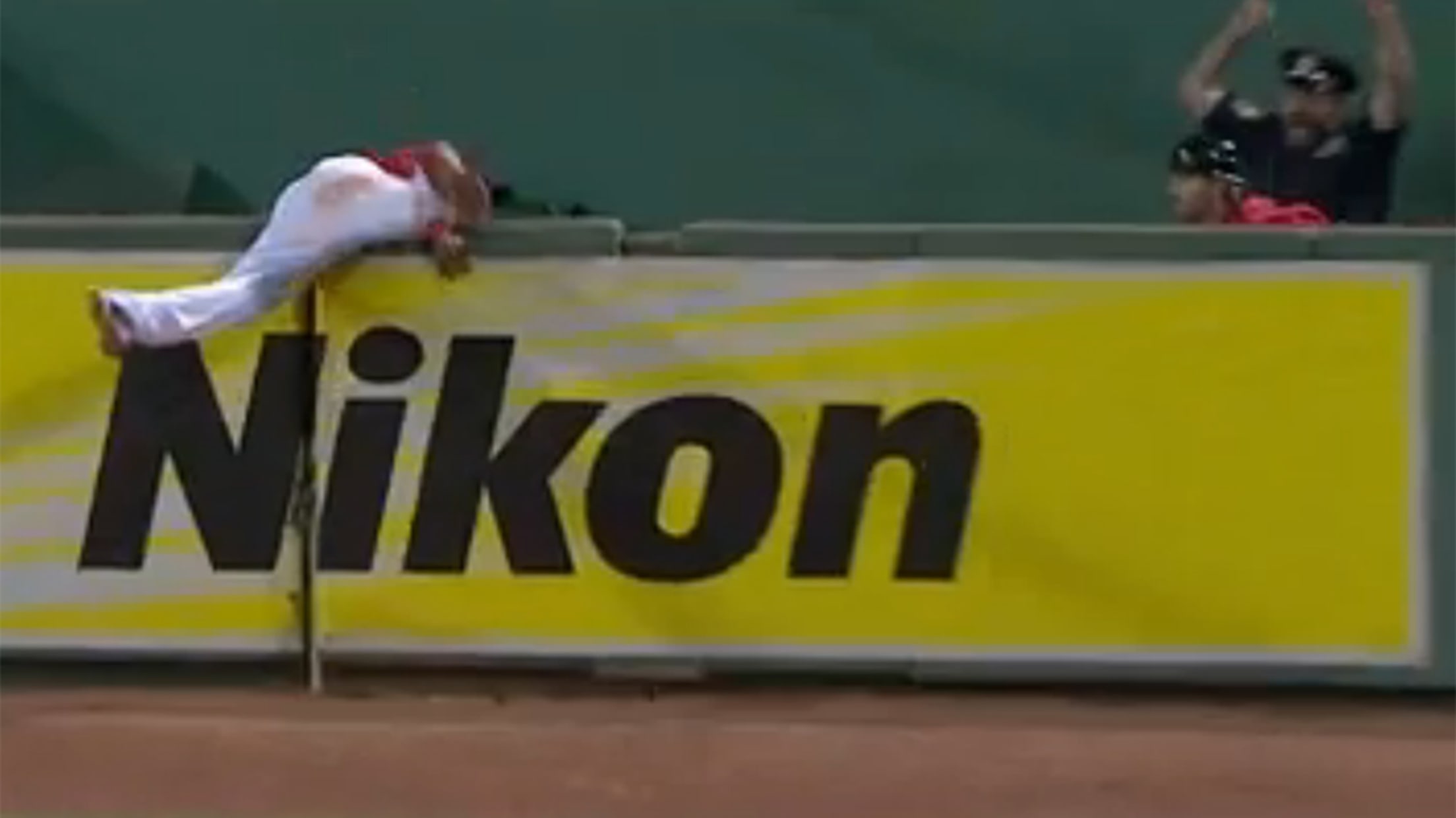 Date: Sept. 26, 2015
Opponent: Jesus Montero, Mariners
With his team down, 2-1, in the thick of a Wild Card (and AL West) race, Mike Trout scaled that wall and pulled multiple runs back from the abyss to keep his team in the game. The Angels went on to win that one in walk-off fashion. And, though they didn't make the postseason, Trout's catch definitely helped to make the last week of the season closer than it otherwise might have been.