How often do the 'offseason winners' actually end up being real winners?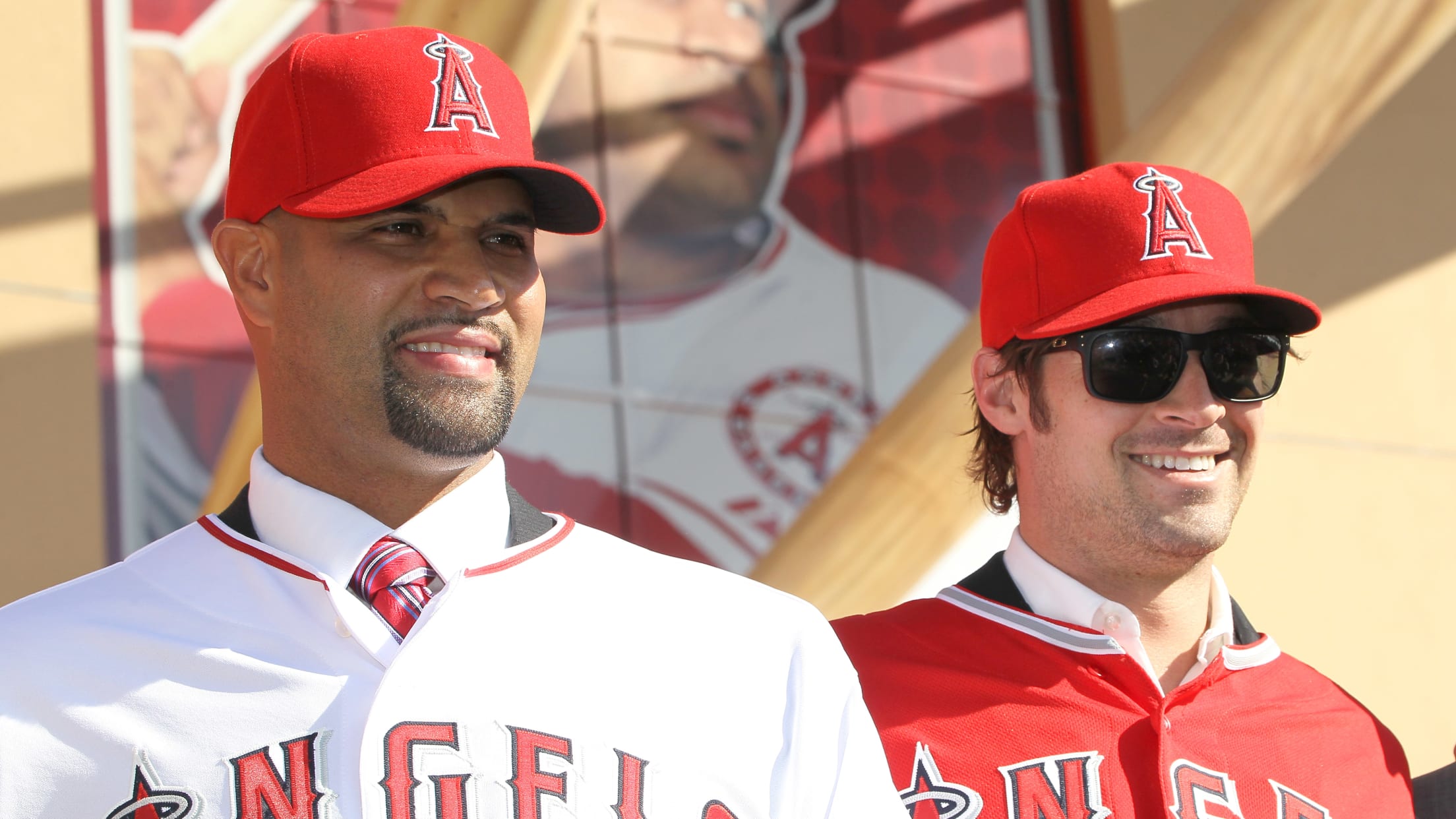 at a public press conference introducing newly signed Los Angeles Angels of Anaheim players Albert Pujols and C.J. Wilson at Angel Stadium on December 10, 2011 in Anaheim, California. (Stephen Dunn)
With Spring Training just around the corner, we will soon look back at the winter of free-agent signings and blockbuster trades and try to assess which teams have added the most talent for the 2019 season.
"Winning the offseason," per se, has its perks: By adding exciting new players, a team's fanbase can start to visualize a triumphant march towards the postseason and beyond. With that excitement, however, can come sky-high expectations that can be difficult to match in short order.
How often does dominating the Hot Stove actually work out for teams? Let's take a look:
Offseason winner: The 1979-1980 Astros
What they did: Signed Nolan Ryan and Joe Morgan
1979 finish: 89-73, no postseason
1980 finish: 93-70, lost in NLCS to Phillies
Bringing in two future Hall of Famers seems like a good Hot Stove strategy, and this double-dip into free agency did pay dividends for Houston, which made its first ever postseason appearance in 1980.
Morgan was far from the star he had been for the Big Red Machine, but he still had a productive year at age 36, leading the NL in walks for the fourth time in his career. And while Ryan also led the NL in walks in 1980 -- not quite as impressive of a feat as a pitcher -- he also brought his epic strikeout stuff to Houston for nine excellent seasons.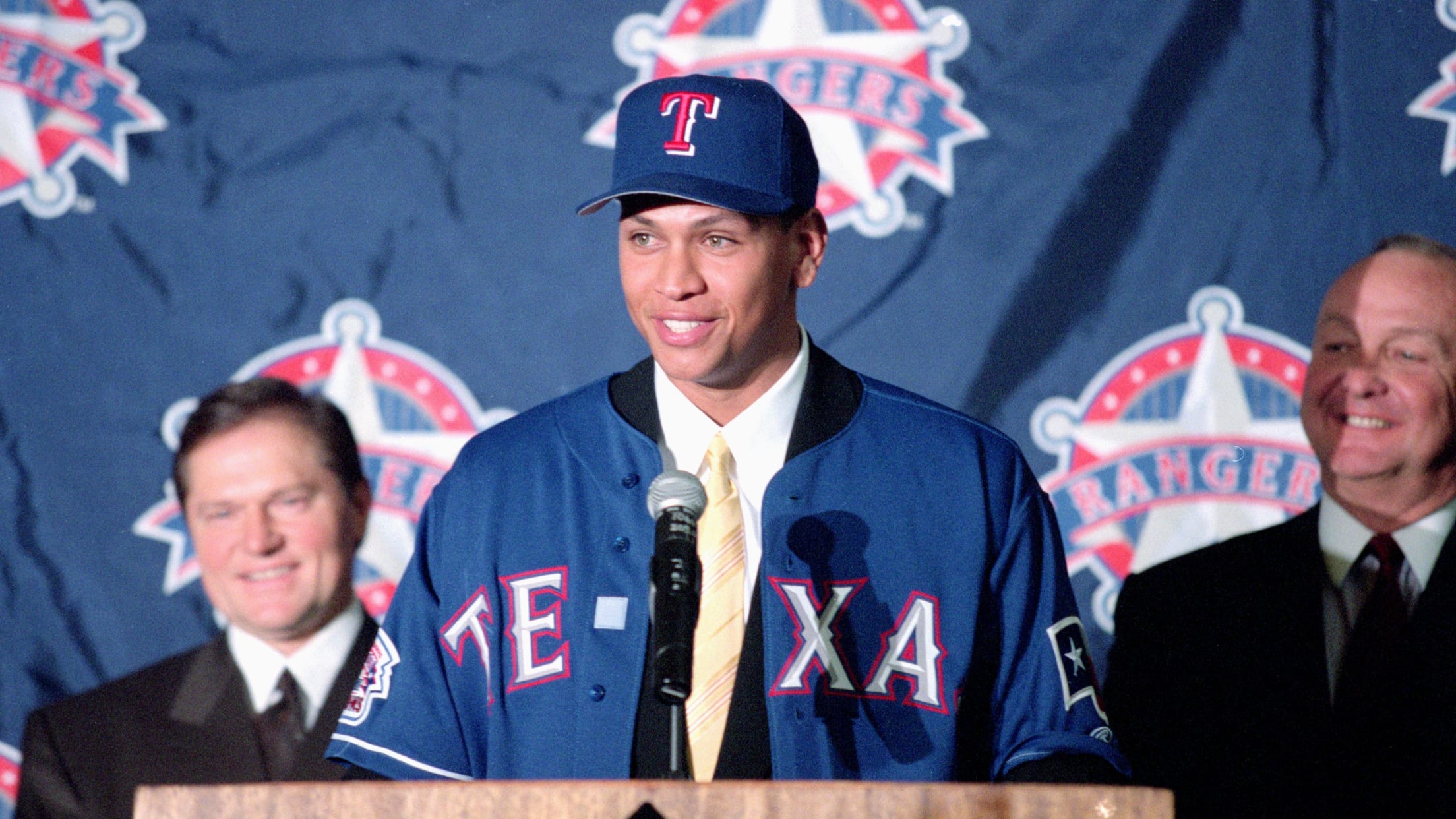 Offseason winner: The 2000-2001 Rangers
What they did: Signed Alex Rodriguez
2000 finish: 71-91; last place in AL West
2001 finish: 73-89; last place in AL West
One might assume that bringing in a generational 25-year-old shortstop at the peak of his powers -- even at a historic price -- would translate to increased success in the win-loss column. Somewhat incredibly, the Rangers averaged just 72 wins over their three years with A-Rod, despite Rodriguez himself averaging a preposterous 52 homers and 132 RBIs and only missing a single game during his Rangers tenure.
Baseball is a team sport, and even baseball's version of LeBron James could only do so much to help his team win. Texas traded Rodriguez to the Yankees before the 2004 season.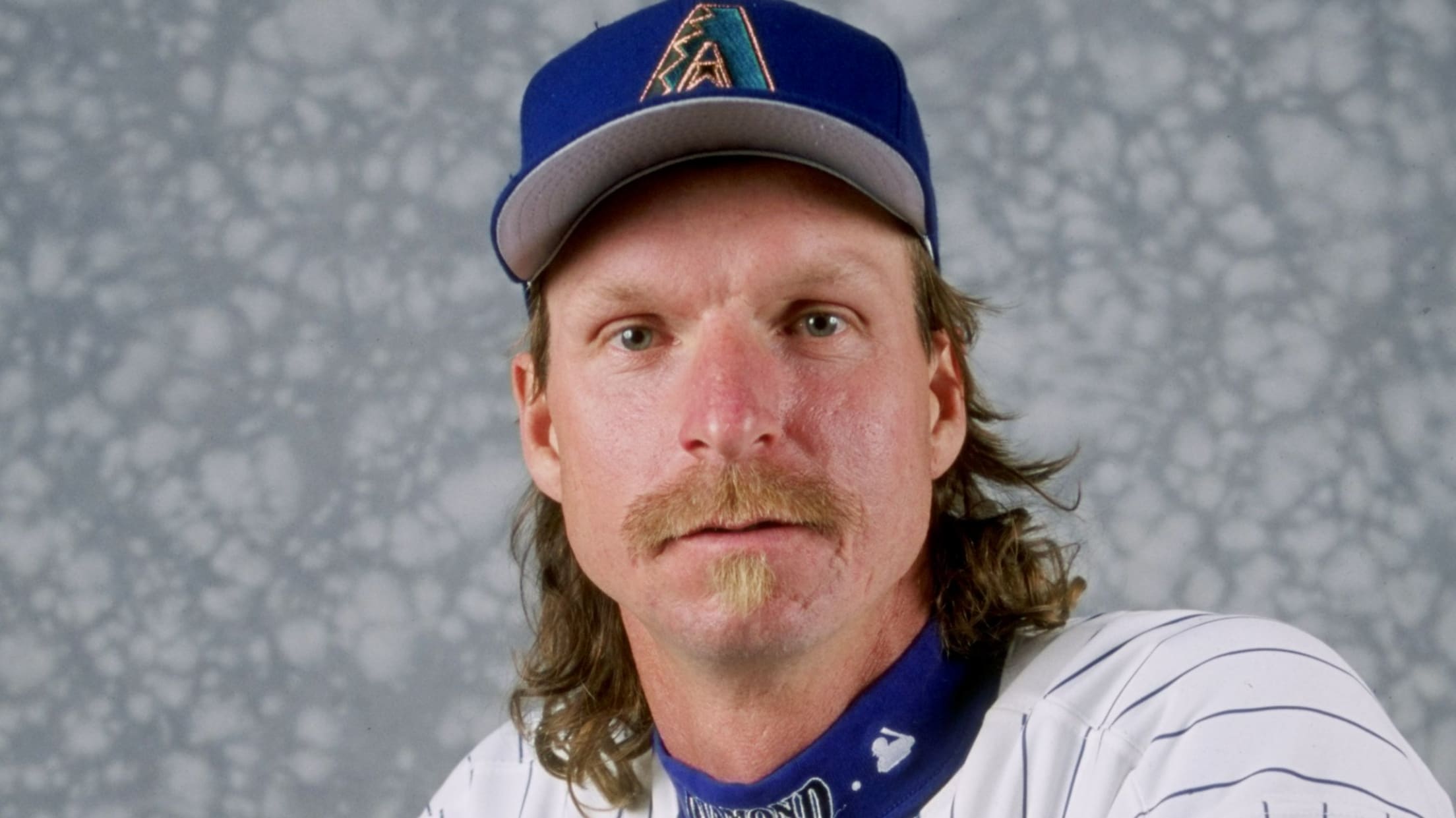 Offseason winner: The 1998-1999 Diamondbacks
What they did: Signed Randy Johnson and Steve Finley
1998 finish: 65-97, last place in the NL West
1999 finish: 100-62, won NL West, lost in NLDS to Mets
In their first official offseason as an MLB team -- 1998 was Arizona's first season of existence -- Arizona went out and landed one of the greatest pitchers of all time on a four-year deal, which saw Johnson casually rack up four consecutive NL Cy Young Awards. That is literally as good an outcome as a team could possibly dream of for a free agent pitcher, and that doesn't even factor in how Johnson helped launch the D-backs into postseason contention, most famously including in the epic World Series championship in 2001 over the Yankees.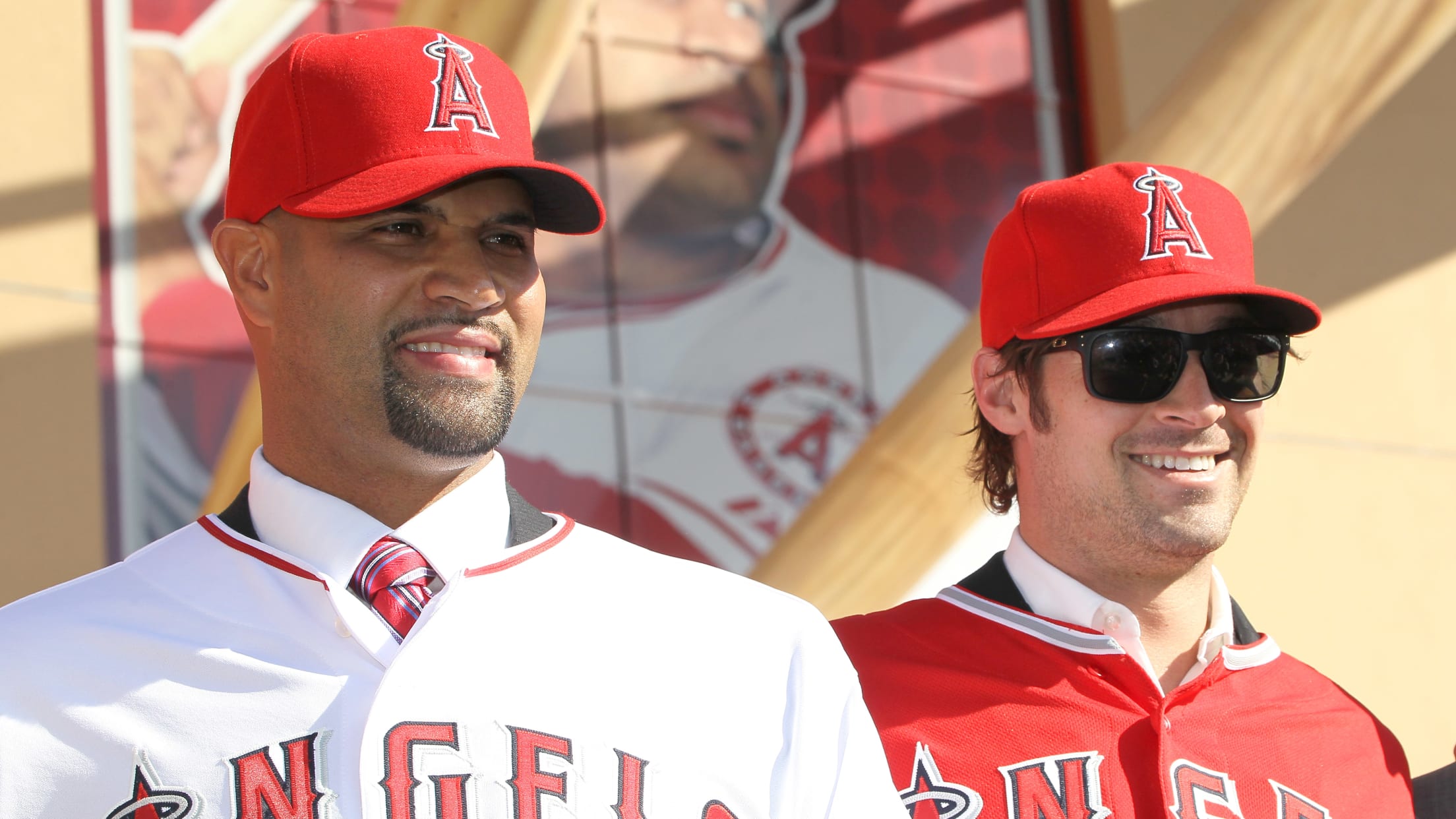 Offseason winner: The 2011-2012 Angels
What they did: Signed Albert Pujols and CJ Wilson
2011 finish: 86-76, 2nd place in AL West
2012 finish: 89-73, 3rd place in AL West
Similar to the Rangers in 2000, the Angels decided to bring in one of the ten greatest hitters in baseball history for one of the largest contract's in the game's history (10 years, $240 million). With many people assuming Pujols would return to St. Louis, the Angels managed to pry him away from his longtime home to pair him in the middle of the lineup with a promising young outfielder named Mike Trout.
The left-hander Wilson came over from Texas and the balance of power in the AL West was supposed to shift to Anaheim. The Angels did take a minor step forward, but neither of these big moves paid off as well as the franchise would have hoped.
Offseason winner: The 2013-2014 Yankees
What they did: Signed Jacoby Ellsbury, Brian McCann and Masahiro Tanaka
2013 finish: 85-77, 3rd place in AL East
2014 finish: 84-76, 2nd place in AL East
What did the Yankees get for the combined 19 years and $393 million worth of contracts for these three stars? Somehow, the lowest win total since 1995, and 12 games behind the first-place Orioles in the AL East. Weirdly enough, Tanaka performed largely up to the hype surrounding him, and McCann and Ellsbury weren't especially bad in their first year in the Bronx.
But these three mega-signings couldn't overcome the aging roster around them, and the team plummeted to unfamiliar depths -- at least by Yankees standards. Many teams would love to win 84 games and finish in second place!
Offseason winner: The 2014-2015 Red Sox
What they did: Signed Hanley Ramirez and Pablo Sandoval
2014 finish: 71-91, last place in AL East
2015 finish: 78-84, last place in AL East
It was all smiles at the double-presser that November in Boston, but things went awry in a hurry, with both Sandoval and Ramirez immediately posting the worst years of their careers in 2015 as the Red Sox remained in the basement of the AL East.
Fast forward to now, and the Red Sox are defending World Series champions ... but not due to the contributions of these two splash signings. Safe to say Red Sox fans enjoyed winning the real trophy instead of the proverbial offseason trophy.
Offseason winner: The 2017-2018 Brewers
What they did: Signed Lorenzo Cain and traded for Christian Yelich
2017 finish: 86-76, 2nd place in NL Central
2018 finish: 96-67, NL Central champions, lost in NLCS to Dodgers
When GM David Stearns went out and turned his outfield into a trilogy of All-Stars with Cain and Yelich alongside franchise staple Ryan Braun, there was plenty of reason to be optimistic about Milwaukee taking a big step forward after a promising 2017. But as good as Yelich had been in Miami, it was hard to foresee the gargantuan leap he took in his first year with his new squad. He had one of the hottest stretches in recent baseball history down the stretch en route to an NL MVP Award, and in turn, he helped the Brewers snatch the NL Central crown from the rival Cubs.
History shows that winning the offseason doesn't always work. But when it does, it can be pretty darn cool.
Jordan Shusterman is one half of Cespedes Family BBQ. He enjoys overpaying for Mike Trout in fantasy baseball leagues and convincing the masses that Mike Zunino is good.