Investigation: Is Francisco Rodriguez the true and rightful K-Rod?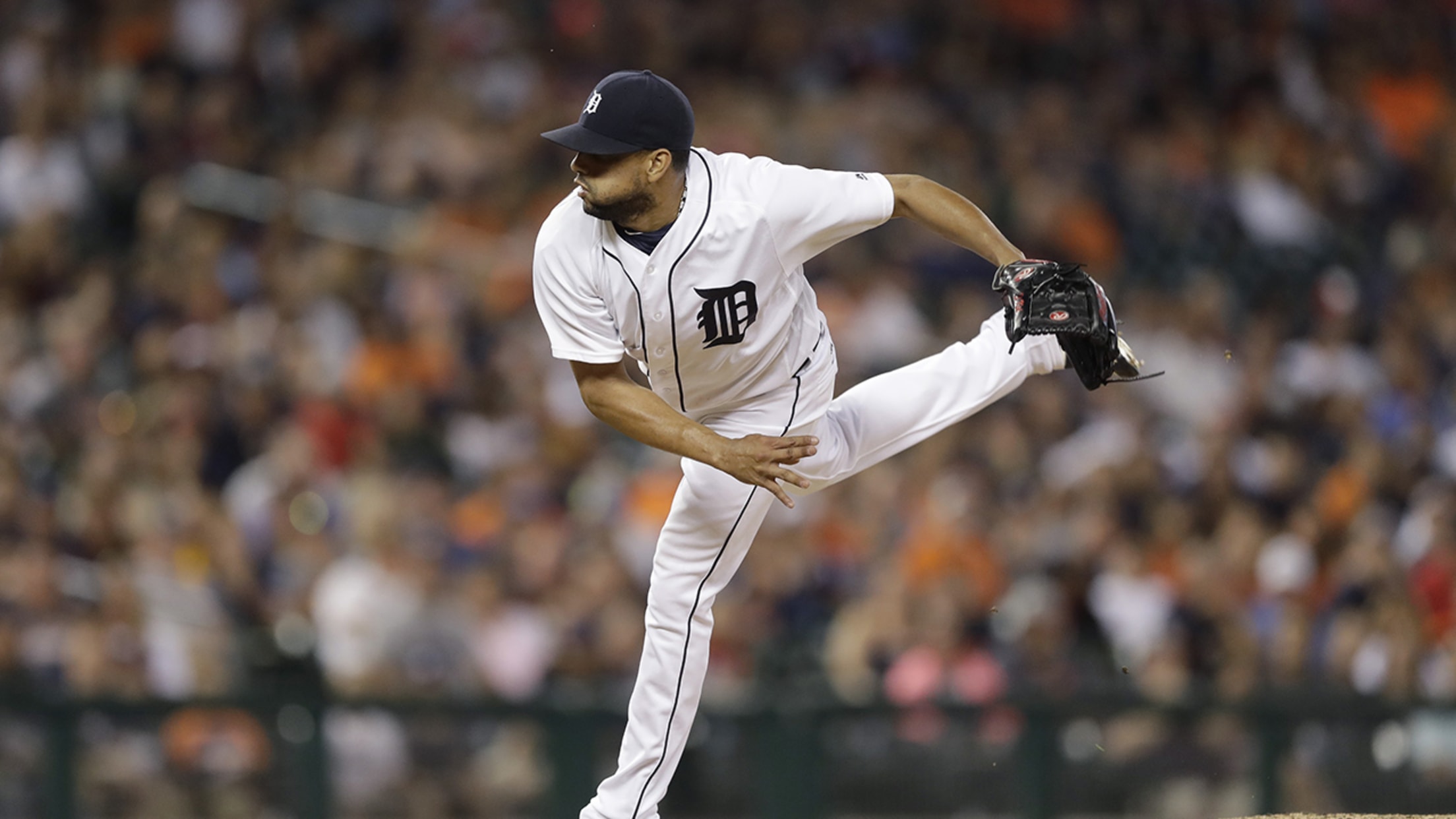 Detroit Tigers relief pitcher Francisco Rodriguez throws during the ninth inning of a baseball game against the Kansas City Royals, Friday, July 15, 2016 in Detroit. (AP Photo/Carlos Osorio) (Carlos Osorio/AP)
Of all the great nicknames in baseball, few boast the lengthy track record of Tigers closer Francisco Rodríguez's "K-Rod." The 34-year-old righty is in the midst of his 15th MLB season and sits in sixth place on the all-time saves leaderboard with 416 (4 behind Billy Wagner and 6 short of John Franco).
Rodriguez's nickname actually dates back before any of those saves, to his tenure as a dominant setup man during the Angels' 2002 World Series run. To refresh your memory: As a flamethrowing 20-year-old, K-Rod whiffed 13 in a 5 2/3-inning September cameo and then 28 more across 18 2/3 postseason frames en route to the Halos' only championship. It looked a little like this:
His moment in the October spotlight just happened to coincide with the peak of a lazy, albeit immensely popular nickname construction: First letter of first name + first syllable of last name. Tracy McGrady? T-Mac. Jennifer Lopez? J-Lo. Alex Rodriguez? A-Rod.
Since "F-Rod" doesn't quite roll off the tongue, fans of the dynamite reliever dubbed him K-Rod, as a tribute to his impressive strikeout totals. No Major Leaguer with the last name Rodriguez has had a first name that started with K, so the K-Rod moniker stuck unquestioned … until now.
There have been 46 players with the last name Rodriguez in MLB history. Twenty-three have been pitchers -- Francisco Rodriguez became the 12th when he made his Major League debut in 2002. So who was the original K-Rod? Have previous Rodriguezes missed the opportunity to don this prestigious strikeout-fueled nickname? And more importantly, has Francisco Rodriguez ever actually led all Rodriguezes in K's?
A Timeline of K-Rods (click all graphs to enlarge)
April 22, 1958: Cuban right-hander Freddy Rodriguez debuts with the Cubs, becoming the first Rodriguez pitcher in MLB history (Jose Rodriguez, a second baseman for the Giants, became the first position player in 1916) . He appears in eight games over the next two seasons and finishes his brief big league stint with six career strikeouts. Despite this relatively pedestrian total, his status as the preeminent K-Rod remains untouched until…
Aug. 15, 1967: Roberto Rodriguez records his seventh career strikeout, ripping the K-Rod crown from Freddy. He hangs around the big leagues for a few seasons, ending his career with 91 career strikeouts. His reign remained safe until…
Aug. 20, 1974: Eduardo Rodriguez -- not that one -- notches his 92nd career strikeout. His career ends in 1979 with 430 career strikeouts, raising the K-Rod bar substantially for the next challenger. Indeed, Eduardo remained the definitive K-Rod for nearly 25 years until ...
May 9, 2004: Veteran reliever Felix Rodriguez records his 431st career strikeout, taking the K-Rod torch after Eduardo's quarter-century reign.
At this point, Francisco Rodriguez has fully embraced the K-Rod nickname and is establishing himself as one of the game's elite closers, despite trailing Felix on the all-time Rodriguez strikeout leaderboard. Felix's career comes to a close in 2006 with 512 K's, still a comfortable lead on Francisco. He remained safe until…
April 3, 2008: In his 334th career game, Francisco Rodriguez finally lives up to his nickname. He strikes out Michael Cuddyer to complete his second save of the season and clinch the K-Rod crown -- his 513th career K.
K-Rod was finally, accurately, K-Rod. All was right in the world. But then …


October 2, 2009: K-Rod is K-Rod no longer! Despite continuing his back-of-the-bullpen dominance en route to a Major League-record 62 saves in 2008 and another stellar campaign in 2009, Francisco is surpassed in career strikeouts by southpaw starter Wandy Rodriguez. Both pitchers conclude the 2009 regular season with 660 career K's.
2010: A pivotal season in K-Rod history. Francisco manages to keep pace with Wandy through April in the race for K-Rod supremacy. Ultimately, closer Frankie's disadvantage in innings is too much to overcome. The K-Rod crown begins to slip away by midseason, and Wandy finishes the year with a healthy 111-strikeout lead.


2011-present: The Astros traded Wandy to Pittsburgh at the 2012 Trade Deadline. After 33 total starts that season, he'd go on to make 35 appearances over the next three years, adding 138 more K's to his career total despite a diminished whiff rate. While not officially retired, Wandy is currently a free agent sitting at 1,281 career strikeouts. Francisco has maintained his bullpen dominance for several different teams, most recently signing a 2-year deal with Detroit this past offseason. Unfortunately, a strict one-inning role has slowed his chase of Wandy, and he enters Monday's game with 1,105 career K's.


Where Do We Go From Here?
After averaging 9.9 K/9 from 2013-15, Francisco has seen his whiff rate drop to a career-low 8.8 this season and will likely finish the year 155-165 strikeouts short of Wandy's career total. Assuming Wandy doesn't make a triumphant comeback in an effort to push his K total farther out of Francisco's reach, Francisco would need to remain healthy and effective until mid-late 2019 to regain his strikeout crown.
Can he do it? Only time will tell.
Jordan Shusterman is one of the founders of Cespedes Family BBQ. You can follow him on Twitter at @CespedesBBQ.
Teams in this article:
Players in this article: