J.T. Realmuto isn't just an awesome catcher -- he's one of the best athletes in baseball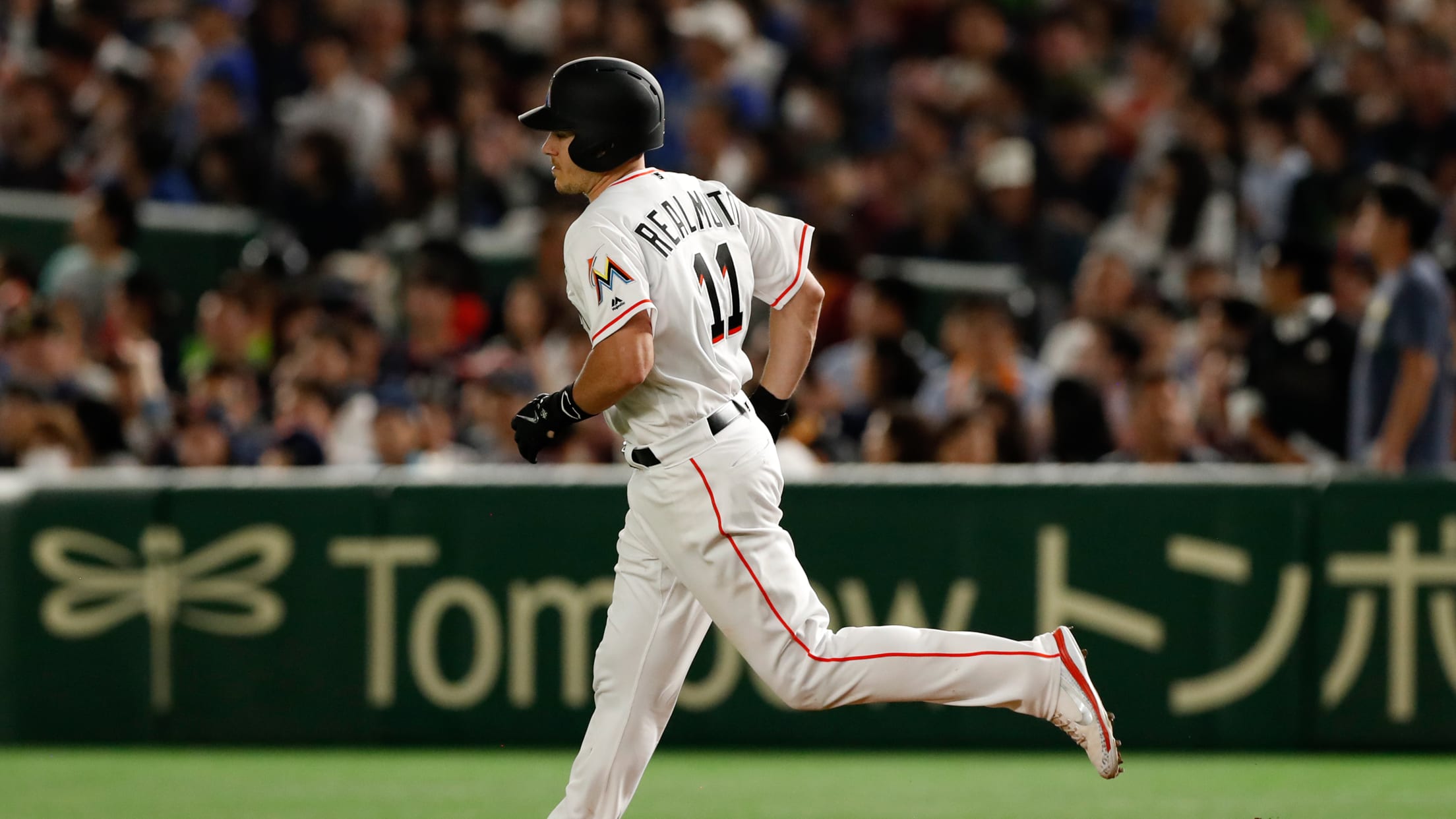 TOKYO, JAPAN - NOVEMBER 10: J.T. Realmuto #14 of the Miami Marlins circles the bases after hitting a home run during the Japan All-Star Series game against Team Japan at the Tokyo Dome on Saturday, November 10, 2018 in Tokyo, Japan. (Photo by Yuki Taguchi/MLB Photos via Getty Images) *** Local Caption *** J.T. Realmuto (Yuki Taguchi/Getty Images)
After over a year of juicy J.T. Realmuto rumors, things may finally have reached a critical juncture, as the Marlins are reportedly making progress on a trade of the star catcher, potentially to the Reds. While it may feel like this trade has taken forever to formulate, you can certainly understand it Miami's desire to receive a valuable package in return. Whichever team winds up acquiring the 27-year-old won't just upgrade their catcher situation -- they'll also add one of the best athletes in baseball, regardless of position.
Many big leaguers played other sports in high school, but Realmuto's multi-sport exploits at Carl Albert High School in Oklahoma are almost the stuff of urban legend. To start, his baseball career was literally one for the record books, as his 88 hits and 119 RBIs during his 42-game season in 2010 are both verified national high school records that still stand today. His 28 home runs that year were also good for third-most all-time for a single high school season.
And by the way, Realmuto racked up all those ridiculous numbers as a shortstop, where he started all four years at Carl Albert. In fact, the current best catcher in baseball had hardly ever worn catcher's gear prior to being drafted by the Marlins in 2010. But when a Miami scout asked if he'd be willing to try catching every day in pro ball, he said yes, and the rest is history.
As if his record-setting baseball performances weren't enough, Realmuto also was the star quarterback at Carl Albert, leading them to a state championship (to go along with two more titles on the diamond). He also excelled in a third sport that you won't find many MLBers dabbling in -- wrestling! Realmuto's wrestling coach, Gary Rose, called him the "best multi-sport, all-around athlete and student-athlete I've ever been around in my 41 years of coaching." High praise!
And did we mention he played basketball too? Realmuto mostly played on his high school hoops team for fun, but his size and natural talent often earned him the responsibility of defending the other team's biggest player. And one year, the day after his basketball team lost in the state tournament, he rolled out of bed the next day, played in a baseball game, and launched two dingers. Casual J.T.
It was clear when the Marlins drafted Realmuto that they were getting a special athlete. What has been remarkable is how he has translated his athletic gifts seamlessly into elite baseball skills, even as he's managed the physical challenge of being an everyday catcher at the big league level. His raw offensive statistics do plenty to show how good Realmuto is, but a look at his Statcast metrics reveal how unique he is, especially among his positional peers.
Realmuto's average sprint speed of 28.6 feet per second is comfortably best among catchers -- only a handful even check in above the MLB average of 27. Among all qualified players, Realmuto ranks 83rd in sprint speed, which may not sound that impressive until you realize the kinds of other players that averages 28.6 ft/s in 2018: Starling Marte, Lorenzo Cain and Tommy Pham, to name a few. His speed may not show up in the form of stolen base totals, but he may be the only catcher in the league who could be legitimately considered an above-average baserunner. Since his debut in 2014, no catcher has hit more triples than Realmuto's 16, with seven of them coming in 2015 alone.
Speed on the basepaths is one way Realmuto's athleticism manifests itself. His pop time -- how long it takes a catcher to get the ball from his glove to second base when trying to catch a basestealer -- is another, as his 1.90-second average was best among all catchers in baseball. Good pop times don't always translate perfectly to nabbing basestealers, but Realmuto did post a 38.2 percent caught-stealing rate, good for sixth-best in MLB. Not bad for someone who didn't catch seriously until a few months before being drafted!
The reality is, Realmuto could probably succeed at any position he wanted. Or any sport he wanted. Or really any job -- he was apparently also rocking a 4.0 GPA while he was busy re-writing the high school record books. But thanks to Realmuto's dedication and a kind suggestion from a Marlins scout, we get to watch one of the most dynamic athletes in the sport excel at its most physically demanding position. And if he does indeed got moved, Realmuto will surely be giving a new fanbase a lot to be excited about.