Joe DiMaggio's legendary hitting streak began with a lone single against the White Sox
May 15, 1941, wasn't a particularly good day for the Yankees. New York entered play against the White Sox at 14-14, and after a lopsided 13-1 home loss, they fell to fourth place in the American League -- a full 6 1/2 games back of the league-leading Indians.
It wasn't a particularly good day for Joe DiMaggio, either: Despite an RBI single in the first, the Yankee Clipper finished 1-for-4, dropping his average over the last three weeks to just .197.
Of course, though no one knew it at the time, things would soon start looking up. Two months later, the Yankees sat in first place, six games clear of Cleveland, DiMaggio was on his way winning his second AL MVP Award and that lone RBI single had become an iconic hitting streak.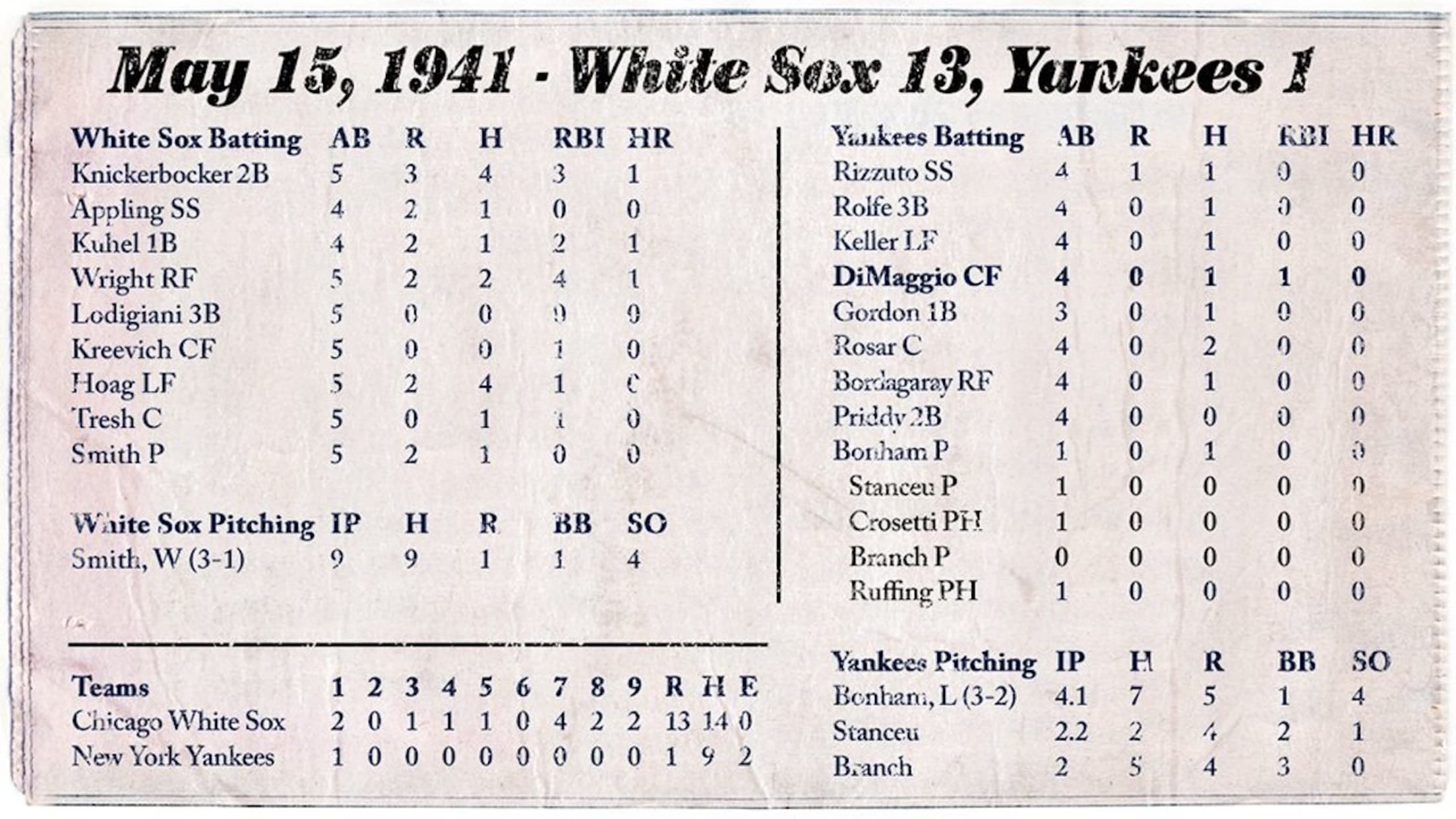 Unless you were eaten by Iggy Iguana several decades ago and are just now seeing the light of day again, you probably know the basics. Starting with that May 15 single, DiMaggio recorded at least one hit in 56 straight games -- a span of two full months. But to help you more fully appreciate the awesomeness of The Streak, we've prepared a few facts for you:
- DiMaggio slashed a cool .408/.463/.717 with 15 homers and 55 RBI throughout.
- The St. Louis Browns were his biggest victims during that span, surrendering 22 hits in just 12 games (!).
- He faced four future Hall of Fame pitchers during the streak: Hal Newhouser, Bob Feller, Lefty Grove and Ted Lyons.
- The whole thing nearly came to an end after 35 games. DiMaggio was 0-for-3 entering his final at-bat against the Browns on June 24, when St. Louis manager Luke Sewell ordered pitcher Bob Muncrief to walk him. Muncrief refused and Sewell eventually stood down. DiMaggio, of course, singled.
More than 75 years later, the streak looks more impressive than ever. It's one of the few truly untouchable numbers left in American sports -- the closest any player has come in the modern era is Pete Rose, who hit safely in 44 straight games for the Reds back in 1978.
(Although 32-year-old Robert Mosley is currently giving DiMaggio a run in Beat the Streak, the MLB.com fantasy game that challenges you to choose a batter to get a hit each day -- with a cool $5.6 million to whoever can do it successfully 57 times in a row. As of Monday, Mosley sits on 51 consecutive correct picks.)
And to think, it started with a single in mid-May in a 12-run blowout.