When the Astros went to Disney World, one fan received the gift of a lifetime from Jose Altuve
The Astros have been able to enjoy some victory laps since winning the 2017 World Series. José Altuvevisited Jimmy Fallon on "The Tonight Show" on Thursday, and on Friday, the team celebrated their first championship with their fans in a parade through downtown Houston.
The tour continued on Saturday, when Altuve, George Springer and Carlos Correa went to Disney World, just as some of the Cubs did last year. They got a second parade, too, as they boarded a float going down Disney's Main Street.
"I got to know Mickey, Donald, Goofy, all the characters," said Altuve. "The parade was awesome and there were a lot of fans here. They really support our team."
One of Altuve's fans was lucky enough to walk away from his trip to Disney with an even more priceless souvenir than normal -- Altuve's hat:
.@JoseAltuve27 ran into a HUGE fan from Venezuela and they shared a magical moment when Jose gave him his hat. pic.twitter.com/884XHPDs1g

— Houston Astros (@astros) November 4, 2017
What a thrill. Chances are that a gift like that was beyond the kid's wildest dreams, even if he did indeed wish upon a star.
Springer could certainly relate to the young fan's joy.
"Coming to Florida you don't think there's going to be a lot of Astros fans, but there are Astros fans everywhere," he said. "It's incredible because you've seen all the other parades that have happened for all the other athletes and teams that have gotten a chance to experience it. Now I get to experience it, and it's just a dream come true."
Of course, it isn't just children who enjoy the rides at Disney World. The Astros were there to have some fun of their own, too: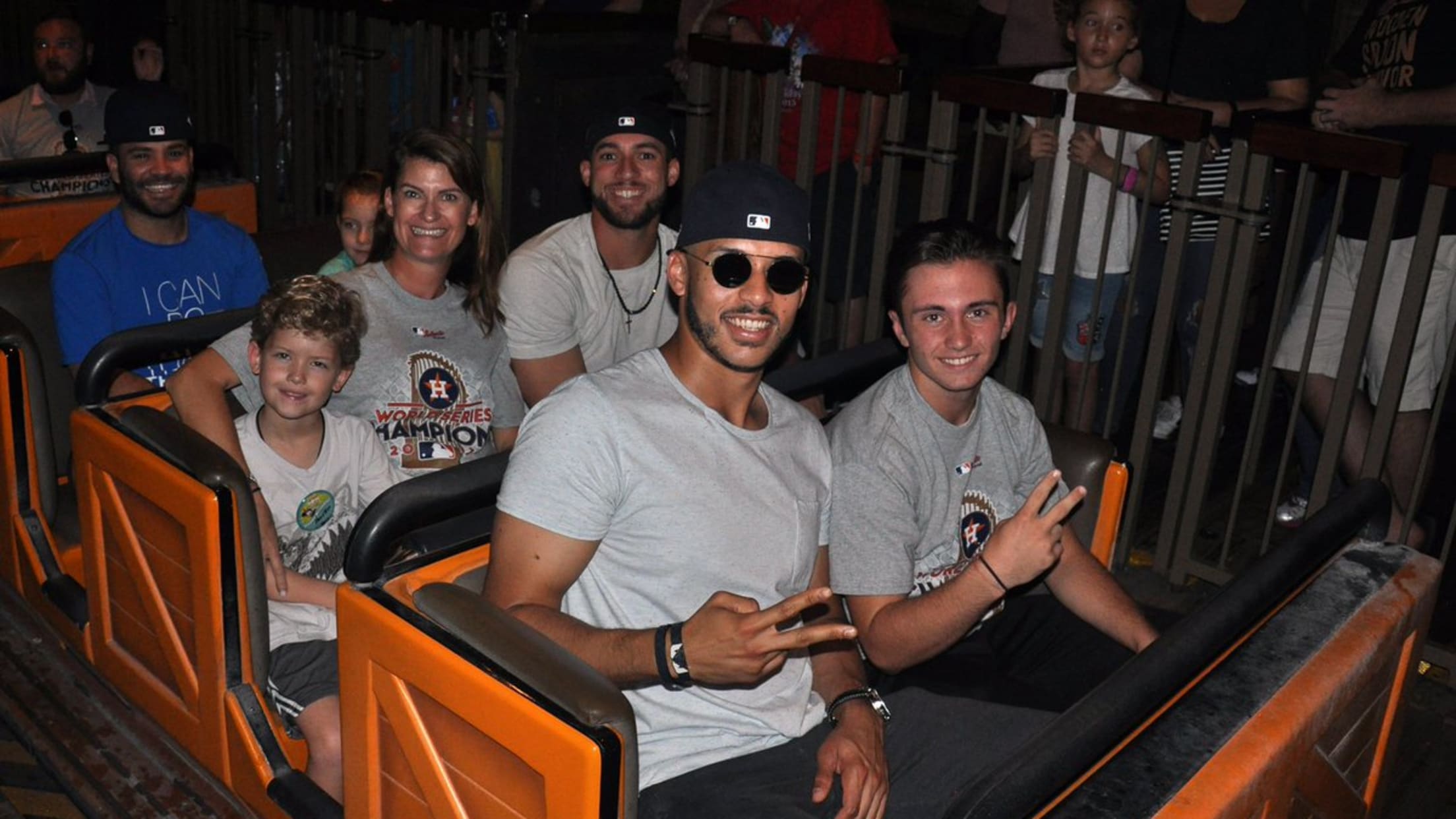 Photo credit: @Astros
The trip was also a very early honeymoon of sorts for the newly engaged Correa and his fiancée, Daniella Rodriguez.
"It was a tough couple weeks for us," Correa admitted. "Getting to play in the playoffs with the Yankees and the Dodgers going to seven games, it was just a lot of stress and pressure. But right now we just get to relax, come to Disney and have the best time of our lives."
Rodriguez even had her wedding ring blessed by Mickey Mouse!
All told, it was a Disney vacation that these Astros will never forget.
"It's been an amazing day," said Correa. "I feel like a kid all over again -- getting to go to Disney World and spending time with all of these people here who are supporting us and celebrating the championship with us."
Teams in this article:
Players in this article: