In Short Order: Kazuhisa Makita is the 80-mph submarining pitcher of your dreams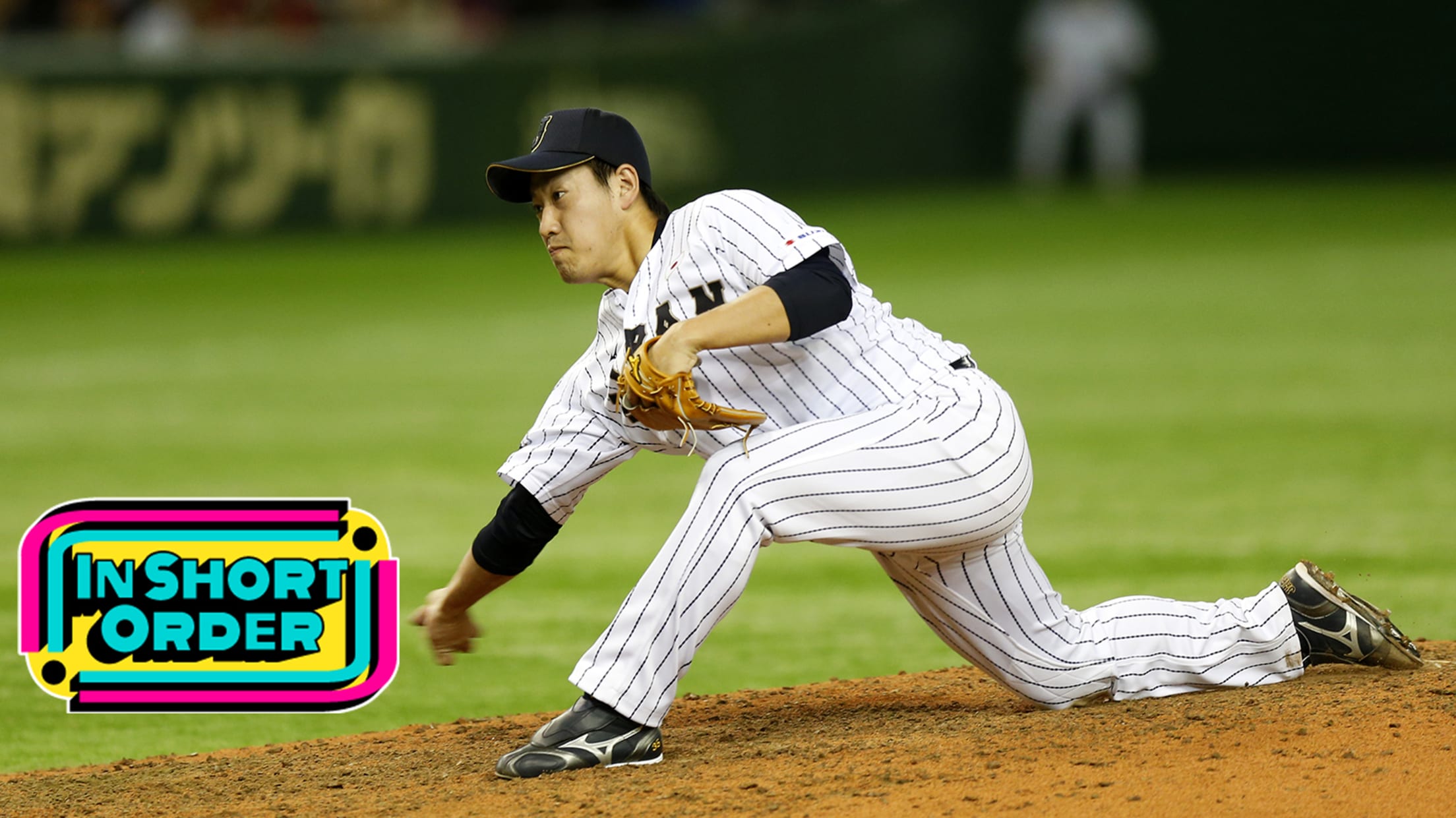 TOKYO, JAPAN - NOVEMBER 15: Kazuhisa Makita #35 of the Samurai Japan pitches during the game against the MLB All-Stars at the Tokyo Dome during the Japan All-Star Series on Saturday, November 15, 2014 in Tokyo, Japan. (Photo by Yuki Taguchi/MLB Photos) (Yuki Taguchi)
Welcome to In Short Order, a weekly look at all the baseball that I like and can't stop obsessing over. We'll mostly live at the edges of the game; at the intersection of the weird, the fun and the esoteric. Oh yeah, and hair.
After signing a two-year deal with the Padres, Kazuhisa Makita will become the Majors' first true submariner since Chad Bradford. For while there were a handful of sidearmers like Pat Neshek, Darren O'Day and Brad Ziegler, no one comes so close to scraping the ground as Makita.
It's going to be a bit of an experiment, too -- which fits in well with a team like the Padres that are happy to try new things. Makita isn't a pitcher that would typically capture a scout's attention. In fact, it's almost amazing that he's a professional ballplayer at all, as he originally went undrafted out of college.
While seemingly every Major League reliever has a 95-mph fastball, the submariner's average fastball last year, as measured by Deltagraphs, was just 128.8 km, or roughly 80 mph. Not only was that the second-slowest in the NPB last season (reliever Hirofumi Yamanaka, who throws about 75 mph, was last), but that would have been last in the Majors by over 3 mph.
But velocity isn't as important when you mix up your cadence with a quick pitch now and again. Sure, the fastball is slow, but when it seemingly rises from the ground like a flesh-hungry zombie and you're not ready for it? That's an impossible pitch.
He also has four pitches to choose from. So, while you try and stay back on an 80-mph "heater," he might trick you up with a loopy curve. Just watch the second batter in the video below. He looks almost furious with the world for daring to let such a pitch exist:
Somehow, despite the Bugs Bunny-like offering, baserunners were just 2-for-5 stealing bases.
While the rest of the league's bullpens are built similarly -- with one fireballer emerging after another -- Makita is the rare white crow.
It's fitting that his entrance song was Pitbull's "International Love," because when he makes his first appearance with the Padres, that's what we're going to give him.
Now on to the rest:
Stance of the week: Denard Span
Are you a Rays fan looking forward to imitating your new acquisition's batting stance? Get ready to feel a little foot soreness:
Denard Span @thisisdspan new stance is...interesting. #OpeningDay #Giants pic.twitter.com/1RTskF6PTC

— Matt Lisle (@CoachLisle) April 4, 2016
Yes, that's actually how he walks to the plate. Of course, Span isn't the only one to use this all the time: Corey Seager will occasionally display his double-jointedness when at the plate:
This is Corey Seager's batting stance, and also how I look when I try to dance pic.twitter.com/E6YQc7pBMK

— Mike Petriello (@mike_petriello) September 27, 2017
You should know about the time ...
Ronnie Cedeno painted a mustache on his face for a game.
The year was 2010. "Club Can't Handle Me" was tearing up the radio stations. And the entire Pirates team was growing mustaches as a team-building exercise ... except Cedeno who was unable to grow one.
For anyone that struggles to grow facial hair, you'll understand Cedeno's plight. Rather than simply go fresh-faced, he painted on a mustache ... and then played the game with it on. Yes, really:
Though you may never see Cedeno with a natural mustache, you can see him still playing baseball: He hit .327/.380/.436 for Navegantes del Magallanes in the Venezuelan Winter League this winter.
The home run you should watch right now:
OK, so this came two weeks ago, but it's well worth your time. While Jabari Blash may have trouble cracking an incredibly deep Yankees outfield, he's got the power to crack the literal sky. Watch how Blash sent this one flying like it was late for work:
What to watch this weekend: Perth Heat vs. Brisbane Bandits
There were four left-handed hitting starting shortstops and four switch-hitting catchers last year. That may seem like a lot, but when there are 30 teams, it's actually fairly rare. The Brewers decided to snag both at once when they signed switch-hitting catcher Alex Hall and lefty-swinging shortstop Jesse Williams off the ABL's Perth Heat. Check out both of them on Friday at 9:30 p.m. ET on the ABL's YouTube page.
Here's Hall playing a year ago -- at just the age of 17 -- for the amazingly named Eastern Phantoms in the Australia Senior League Championship: