Kendrys Morales is on the cusp of history, but the winding road he took here is just as interesting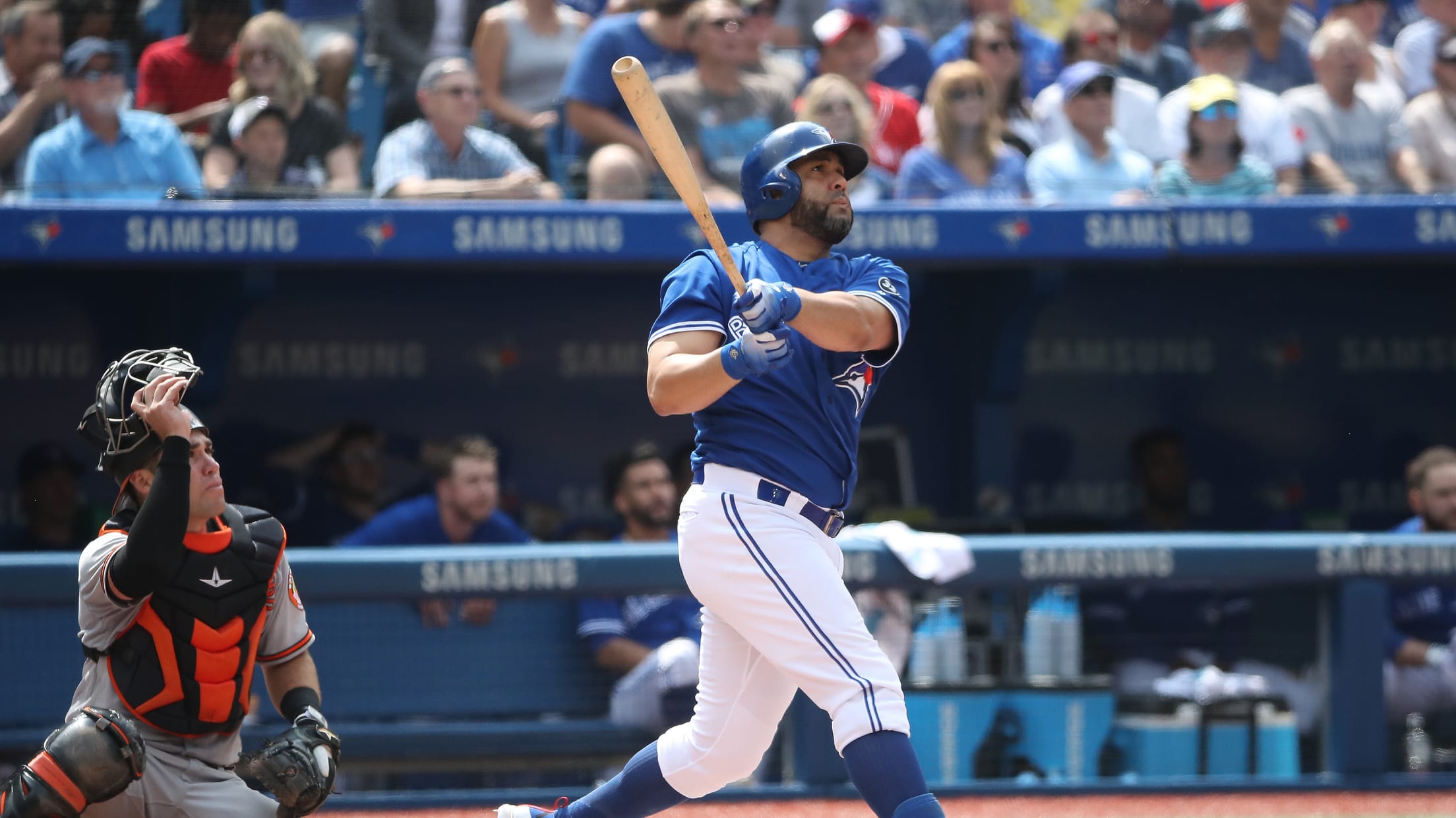 TORONTO, ON - AUGUST 22: Kendrys Morales #8 of the Toronto Blue Jays hits a solo home run in the seventh inning during MLB game action against the Baltimore Orioles at Rogers Centre on August 22, 2018 in Toronto, Canada. (Photo by Tom Szczerbowski/Getty Images) *** Local Caption *** Kendrys Morales (Tom Szczerbowski/Getty Images)
Blue Jays slugger Kendrys Morales blasted his way into the record books on Sunday, hitting a home run for a seventh consecutive game -- something only six other hitters in Major League history have ever accomplished.
Morales' remarkable streak has earned plenty of headlines on its own, but it has also served as a reminder of just how good of a career the 35-year-old veteran has had since his MLB debut in 2006. Here's a refresher on all things Kendrys, the man on the cusp of home run history:
His journey to Major League Baseball from Cuba was an eventful one
In recent years, there have been a large number of ballplayers who have defected from Cuba and earned a spot in a Major League organization, some of whom have gone on to become stars, such as Yoenis Céspedes, Yasiel Puig and José Abreu. Morales was one of the first of this generation of Cuban players to make the decision to defect. After several failed attempts to escape, which included multiple trips to jail, Morales successfully left Cuba on a raft in June 2004 to seek residency in the Dominican Republic. He signed a six-year, $4.5 million contract (plus a $3 million bonus) with the Angels that winter.
He homered in his MLB debut
Morales didn't waste any time showing off his home run power once he arrived in the big leagues. He made his MLB debut for the Angels on May 23, 2006, against the Rangers, and in his second career at-bat, Morales went deep off Vicente Padilla.
His first career walk-off dinger resulted in injury
After a breakout season in 2009 in which Morales hit 34 home runs and finished fifth in AL MVP voting, his career took an unexpected turn at the most unlikely of moments during a game on May 29, 2010, against the Mariners. Facing closer Brandon League with the bases loaded in the bottom of the 10th inning, Morales launched a dramatic walk-off grand slam -- the first grand slam, and first walk-off of his career.
However, the walk-off party was cut short when Morales fractured his lower leg jumping on home plate in celebration. He missed the rest of the 2010 season, as well as the entire 2011 season.
This wouldn't be the last walk-off home run of his career, however. Morales has hit four game-enders since that fateful one in 2010. Appropriately, his first walk-off dinger post-injury included a very delicate step on home plate:
He once hit a home run that made Kevin Kiermaier look very silly
On Aug. 28, 2015, Morales launched a ball against the Rays at Tropicana Field that caromed off the catwalk and was ruled a home run. Rays center fielder Kevin Kiermaier was sure the ball was headed over the fence, which resulted in him looking awfully confused atop the center field wall:
He helped the Royals win the World Series in 2015
While the magical run of the 2015 Royals often conjures up images of Salvador Perez, Eric Hosmer and Mike Moustakas, Morales was a key contributor for Kansas City as well. He led the team in home runs during the postseason with four and earned the Silver Slugger Award for his regular-season performance, in which he hit .290 with 22 home runs in 158 games.
He's one of the best switch-hitters in baseball
Even at 35 years old, Morales remains one of the best switch-hitters in the game today. His 211 career home runs rank behind only Victor Martinez (243) among active switch-hitters on the all-time list, and his .827 OPS is currently seventh-best among switch-hitters in 2018.
He made his pitching debut this season
We have grown used to Morales as a first base/designated-hitter type for much of his career, but he actually played many positions, including pitcher, during his younger days in Cuba. His pitching debut for the Blue Jays came in his 12th Major League season, and he touched 87 mph on the radar gun in a scoreless inning.
He's been crushing the ball since losing his glasses
While his recent incredible stretch has undeniably reached astronomical heights, Morales has actually been on a hot streak for nearly three months now. His stretch of strong performances can be traced back almost to an exact date -- the date Morales got rid of his glasses. Wait, what?
Morales' right eye was bothering him in Spring Training this year, and so a doctor prescribed him some glasses to try to fix the issue. In his first 30 games of 2018, Morales hit an abysmal .146/.239/.260 with just three home runs. On May 19, Morales decided to stop wearing the glasses and see if it would make a difference. In 78 games since losing the specs, he's hit .308/.382/.569 with 18 dingers. In an interview with The Athletic (subscription required) shortly after ditching the glasses, Morales said of batting with the glasses:
"I was actually seeing the ball too clear, too well [...] And when you see the ball like that, you're always trying to overswing it because you see it bigger - and I was ahead, I was in front at all times. I just tried to take them off and see what the difference is going to be."
Who knew you could see the ball too well? However Morales is seeing the ball, it seems to be working just fine.
Teams in this article:
Players in this article: