A bet's a bet, so LeBron James begrudgingly wore a full Cubs uniform to play the Bulls in Chicago
LeBron James is a man of his word.
Before the World Series, he and his old pal Dwyane Wade planned to place a friendly wager on the outcome, since it pitted their two cities (Cleveland and Chicago) against each other.
They ultimately decided that whomever lost the bet would have to wear the other team's baseball uniform to the victor's city.
Well, the Cubs won, and on Friday James' Cavs headed to Chicago to face Wade's Bulls, so ... yup:
The moment has FINALLY arrived! @KingJames rocking the @Cubs gear to honor his World Series bet payoff to @DwyaneWade. 🐻 pic.twitter.com/9WCgGAILt2

— UNINTERRUPTED (@uninterrupted) December 2, 2016
This doesn't mean that James was enjoying it, though:
SMDH!! 😬😬😬😬. LOL. A bet is a bet. The hell with you @DwyaneWade https://t.co/MqpbjuZADn

— LeBron James (@KingJames) December 2, 2016
Nor was he the only one less than thrilled about it all:
It's even worse than we could have imagined.

Sorry, @KingJames. https://t.co/XnP10zLn1t

— Cleveland Indians (@Indians) December 2, 2016
The Cubs were happy, at least:
The #Cubs have unofficially signed @KingJames to a 1-day deal.https://t.co/JAfJABmJYl

— Chicago Cubs (@Cubs) December 2, 2016
Once he actually showed up at the United Center in his full-on Cubs regalia, James was the center of attention: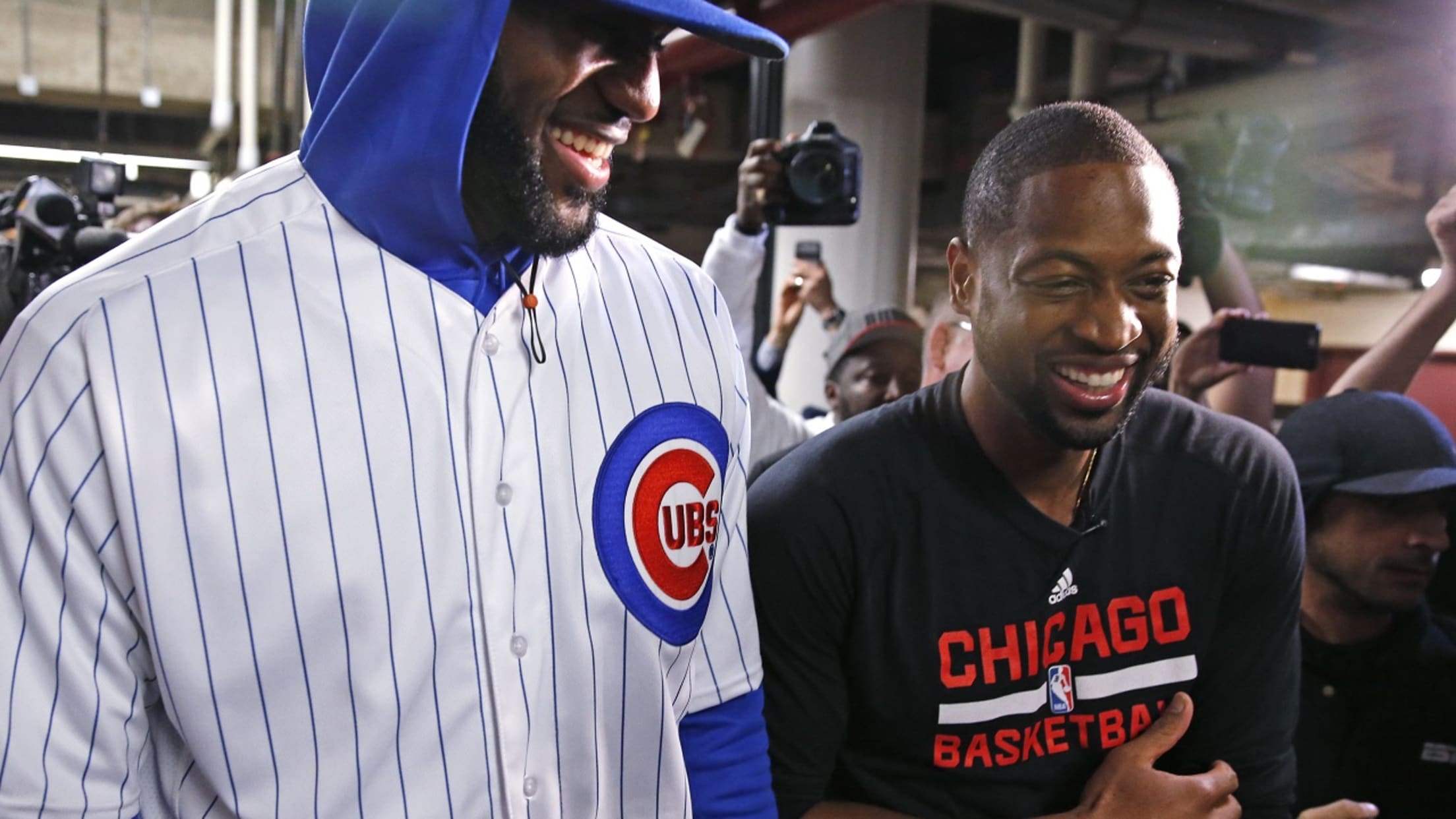 Waited with Dwyane Wade to watch LeBron come off the bus in his Cubs uniform. Let's just say Dwyane was...amused. Lebron...not as much
😂😂😂 pic.twitter.com/9Fn8rIhdZI

— Rachel Nichols (@Rachel__Nichols) December 2, 2016
Pregame shenanigans. pic.twitter.com/7WDy54HIfc

— Dave McMenamin (@mcten) December 2, 2016
😂😂 @DwyaneWade & @KingJames pic.twitter.com/8pCHyZvRUo

— Chicago Bulls (@chicagobulls) December 2, 2016
.@KingJames sticks to his word. Behind-the-scenes content from the World Series bet will be on https://t.co/PYaQ6Otu66 tomorrow at 5pm ET. pic.twitter.com/2AFHbkJ6Yu

— UNINTERRUPTED (@uninterrupted) December 2, 2016
James' teammate, Richard Jefferson, was also a harsh critic:
It's No. 23 pic.twitter.com/92Z7Fp0TPo

— Alysha Tsuji (@AlyshaTsuji) December 2, 2016
But in the end, it's James who actually wins, because he looks like he could easily go play nine innings in the outfield right now.
It's good to be the King, even in "defeat."