Forrest 'Lefty' Brewer threw a no-hitter exactly six years before parachuting into Normandy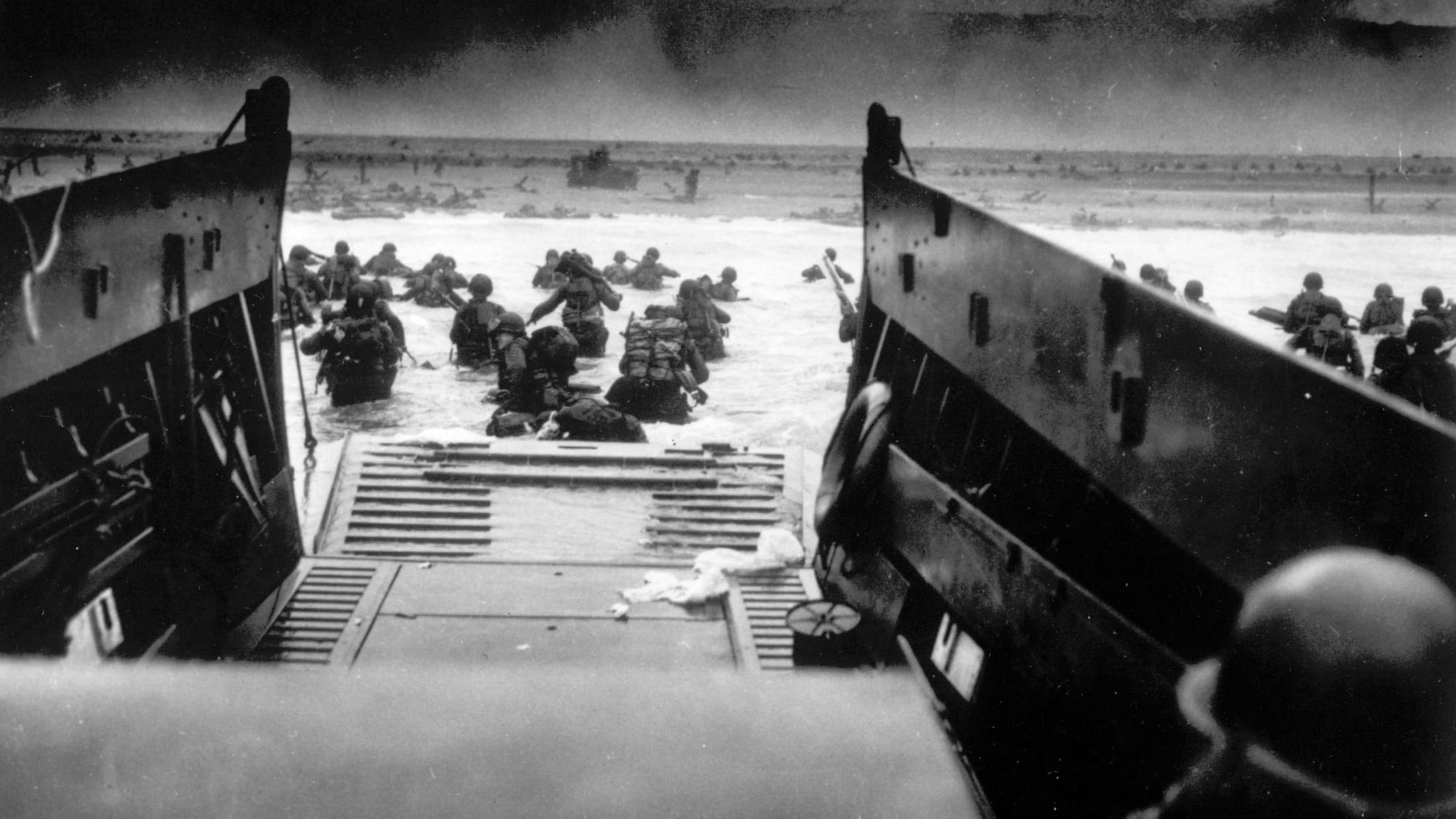 While under attack of heavy machine gun fire from the German coastal defense forces, these American soldiers wade ashore off the ramp of a U.S. Coast Guard landing craft, June 6, 1944, during the Allied landing operations at the Normandy. (AP Photo) (/AP)
It's impossible to fully grasp the significance of D-Day, both in terms of world history and America's own. Baseball, in relation, is much easier to understand; and when Major League Baseball cancelled all games on June 6, 1944, it served as a shorthand denoting the enormity of the moment.
Seventy-two years ago today, in the sky over Normandy, Forrest Brewer and other members of the 82nd Airborne Infantry were beginning to parachute into occupied France.
Although he was a professional baseball player, "Lefty" Brewer never played a single inning in the Major Leagues. His career lasted just three seasons from 1938-1940, all spent in the minors.
Exactly six years before D-Day, Brewer was on the mound for the St. Augustine Saints of the Florida State League. He was facing off against the Orlando Senators and wound up having a pretty good night:
Brewer's old sister, Vivian, had a birthday party that night in DeLand. He called beforehand and told her to listen to the radio broadcast.

She turned on the radio in the seventh inning and found out her brother hadn't allowed a hit. The party stopped as everybody gathered around the radio.

"We listened, hardly daring to breathe lest we jinx him," Vivian recalled.
They didn't jinx him. He finished out the no-hitter, and the performance led Washington Senators owner Clark Griffith to purchase Brewer's contract and assign him within their Minor League system.
Six years to the day after that no-hitter, the left-handed pitcher made his jump into Normandy; however, anti-aircraft fire caused numerous problems for the plane's flight path:
Brewer's unit missed the intended drop zone by two miles, but it regrouped and secured a bridge over the Merderet River. A German counterattack overwhelmed the paratroopers.

Back in America, millions of people had gathered around radios. News traveled slowly, and the Brewer family held its breath for months. This time, there was no celebration.

As Brewer's unit scrambled back toward the river, a bullet hit him in the head. He had died instantly.
A total of five Minor League and semi-pro baseball players died on D-Day, along with more than 4,000 other Allied troops -- Lefty Brewer among them.
Now, 72 years removed from one of the most significant and generation-defining days in history, it's important to take a moment to remember the heroism performed by the soldiers at Normandy -- some with names and stories as famous as Hall of Fame catcher Yogi Berra, and others, like Brewer, whose names are less well known, but whose courage was no less profound.
This story was originally published on June 6, 2014 and has been updated.