Every baseball fan should marvel at the beautiful insanity of Leicester City's near-perfect season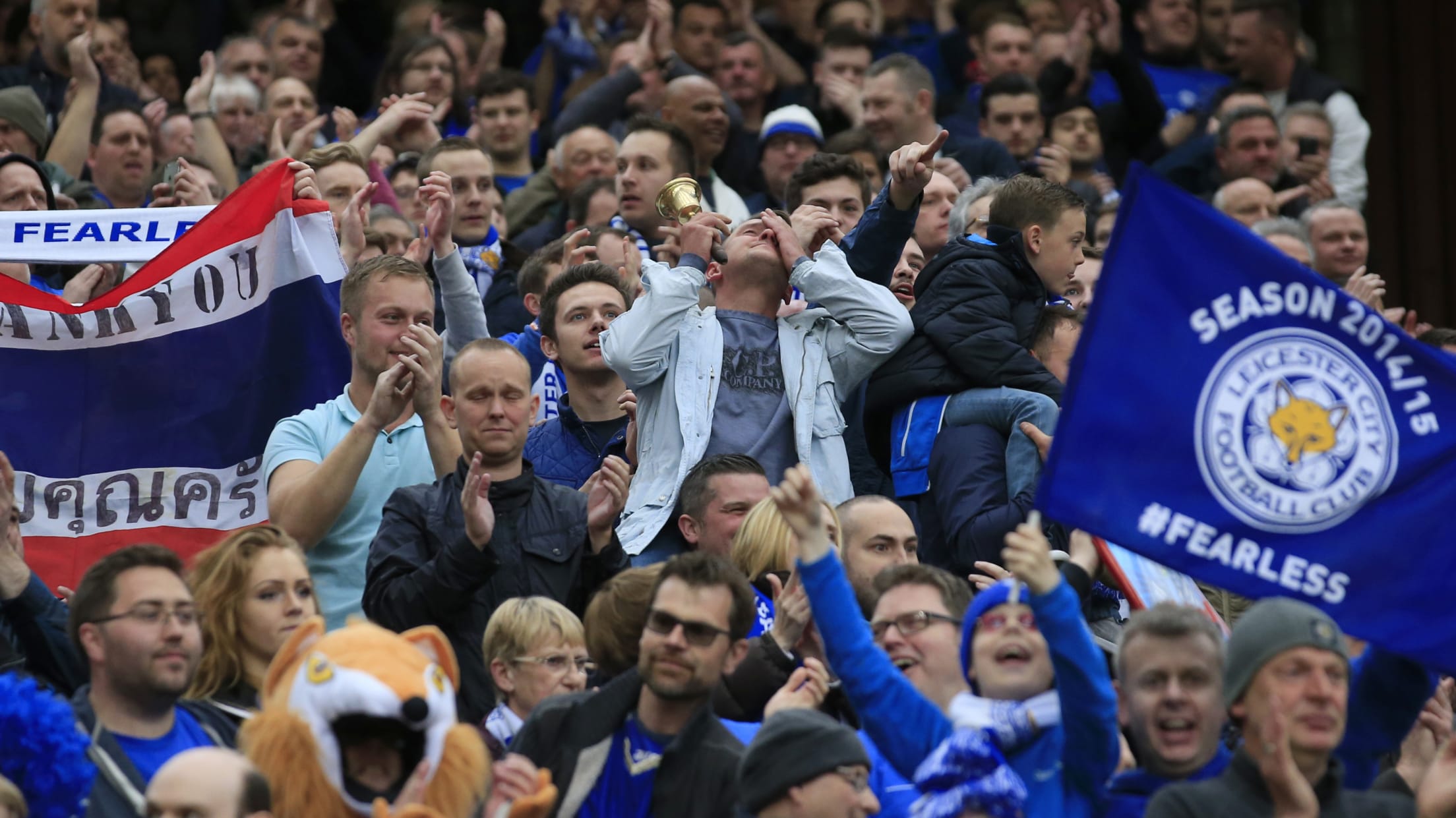 (Jon Super)
If you're not a soccer (or "football" fan), spending your weekend mornings waking up early to watch English Premier League action with a cup of coffee and a blanket, you may not understand just what an accomplishment the Leicester City Foxes have pulled off by winning the Premier League title. Because this isn't just your normal Cinderella story -- it may be the Cinderella story that all future sports stories are judged against.
The '69 Mets, the '88 Dodgers, even the 1924 Senators, all of them may have to take a backseat to what Leicester managed to do. Becuase on Tuesday, after Chelsea came back to draw with Tottenham, Leicester City was crowned champions. While that may seem anticlimatic, winning a title while watching from home, it wasn't for the fans, or even the players.
CHAMPIONS!!!! pic.twitter.com/pFtvo5XUNx

— Christian Fuchs (@FuchsOfficial) May 2, 2016
This was the end of a magical journey and when Leicester come out to play Everton on Saturday morning, they'll be able to celebrate with their fans before the season is even over. It will likely seem like a dream, one that the fans at the King Power stadium won't want to wake up from.
Before the start of the year, the Leicester City Foxes were given 5,000-to-1 odds to win the English Premier League. Just compare that to the 100-to-1 odds that the Phillies were given to win the World Series at the start of this year and you may start to realize how crazy that is.
Nor is it surprising. Leicester required a torrid stretch at the end of the 2014-15 season just to avoid being relegated to the second-tier of English soccer. The team was expected to be fighting for its life again this year, not challenging for a title.
Add that to the fact that since England's top flight rebranded as the Premier League in 1992, exactly one team not named Manchester United, Arsenal, Chelsea or Manchester City had won the title, and that came when Blackburn Rovers pulled it off back in the 1994-95 season. No one, at least outside of maybe Tom Hanks and some dedicated Leicester citizens, even thought it was a possibility. Again, imagine during the height of the Yankees' World Series dominance in the '40s and '50s, they were upset by a mere Triple-A team.
Remember how odd it was that the Red Sox went from worst-to-first in 2013? This was even harder than that.
That's thanks in large part to the economics of global soccer. With no draft, teams that perform poorly aren't given first crack at top players the next year. There is no enforced parity. And given the sheer scope of the sport, players don't just have to choose which English team they'd most like to represent, but there are those in Italy, France, Germany, Portugal and, yes, even America bidding for their services. Given the desire to win trophies or play in more favorable locales, there aren't many top players who would opt to go to England's East Midlands.
The makeup of their team reflects that.
Leicester's star striker is Jamie Vardy. Seven years ago, he was earning £30 (about 44 American dollars) a week in non-league football and now he's set the record for most consecutive games with a goal at 11 and scored 22 in total through 36 match weeks. To put that in baseball terms, imagine if Daniel Nava didn't just become a fan favorite when he made it to the Red Sox after being a walk-on in college and an indy league player, but that he went on to crush 50 home runs?
Their leading chance creator is right winger Riyad Mahrez, who was signed by Leicester for a mere £400,000 ($587,228) from a second division French team. With pace and an eye for goal, Mahrez won the Pro Footballers Association Player of the Year Award thanks to 17 goals and 11 assists. Or, to think of it like a baseball player, what if a player was signed for the league minimum and he went on to win the MVP?
In defensive midfield, N'Golo Kante was a tireless worker, breaking up opposition movements and spurring Leicester's vicious counter attacks. After being an afterthought in the French second division, he's now on the French National Team. Again, it's hard to think of a baseball player parallel. Perhaps he's Tom Wilhelmsen returning to baseball after tending bar?
They have their own man mountain in defense in Wes Morgan and a wildly amusing, square-headed defender in Robert Huth.
Play on!!! pic.twitter.com/TDuAlHh0pH

— robert huth (@robert_huth) March 19, 2016
They have a goalkeeper named Kasper (Schmeichel, not former big leaguer Wells), a new clothing line from Christian Fuchs, and a midfielder by the name of Danny Drinkwater.
Danny Drinkwater is actually drinking water. What a beautiful sight. pic.twitter.com/ExE8EyA4aS

— Football Central (@CentralFootie) August 22, 2015
Even their manager, Claudio Ranieri, was fit for his own Mighty Ducks-esque tale. Routinely laughed at by fans when he was first hired and known as the Batman-villainesque Tinkerer for his previous habit of lineup-fiddling while at Chelsea, Ranieri will not likely need to pay for food or drink in Leicester ever again -- not just for coaching the team well beyond even his stated goal of Premier League safety, but for the pizza parties, too.
Behind the history there are always moments of eating pizza with sport mates #Leicester #PremierLeague #Foxes pic.twitter.com/3M1HPXpYJn

— Michele Presta (@michelepresta) May 2, 2016
Of course, what was he doing on Monday when history was made? Taking his 96-year-old mother out to lunch. He's the Italian Terry Francona-mixed-with-Joe Maddon. And he made the impossible seem easy.
Not only was this a football team with a compelling story that was seemingly made for a film and not only was the team filled with players that were easy to root for, but the owners made sure the fans felt welcomed, too. After all, what more can a fan want than the offer of free beer and doughnuts or the limited edition made-in-Leicester Jamie Vardy-flavored Walker's Crisps?
Jamie Vardy honoured with his own flavour of Walkers crisps as Leicester stun Chelsea https://t.co/Y9oI99zfL7 pic.twitter.com/gzQyImnqoB

— The Sun Football ⚽ (@TheSunFootball) December 15, 2015
This story is so unique, that when Chelsea drew even with Tottenham, a result that handed Leicester the title, the chants that broke out were for Leicester and their former boss. That doesn't happen. Sports fans don't start cheering for other teams at their own team's game! Dodgers fans don't start cheering for the Mets in the middle of a game -- especially if there is nothing in it for their team.
A first for everything: I celebrate a Chelsea performance tonight; fans chant "One For #Ranieri"... Congrats #LCFC! pic.twitter.com/T2LWgv0Syi

— Deon Gouws (@DeonGouws_Credo) May 2, 2016
While we say we won't ever see a story like this again, we all know that's wrong. Sports are always managing to tell ever more bizarre tales that shouldn't be true, but are. Maybe the Phillies, out to a surprising 15-11 start to 2016, will somehow win the World Series. Or maybe there's a guy playing indy ball right now, who will get signed in July and proceed to hit 40 home runs in half a year's play. That's why we watch, isn't it -- the believably unbelievable? That's what Leicester was in 2015-16 and that's why we'll keep tuning in to watch our favorite teams, no matter the sport.