Let's celebrate windshield-smashing homers, a Spring Training tradition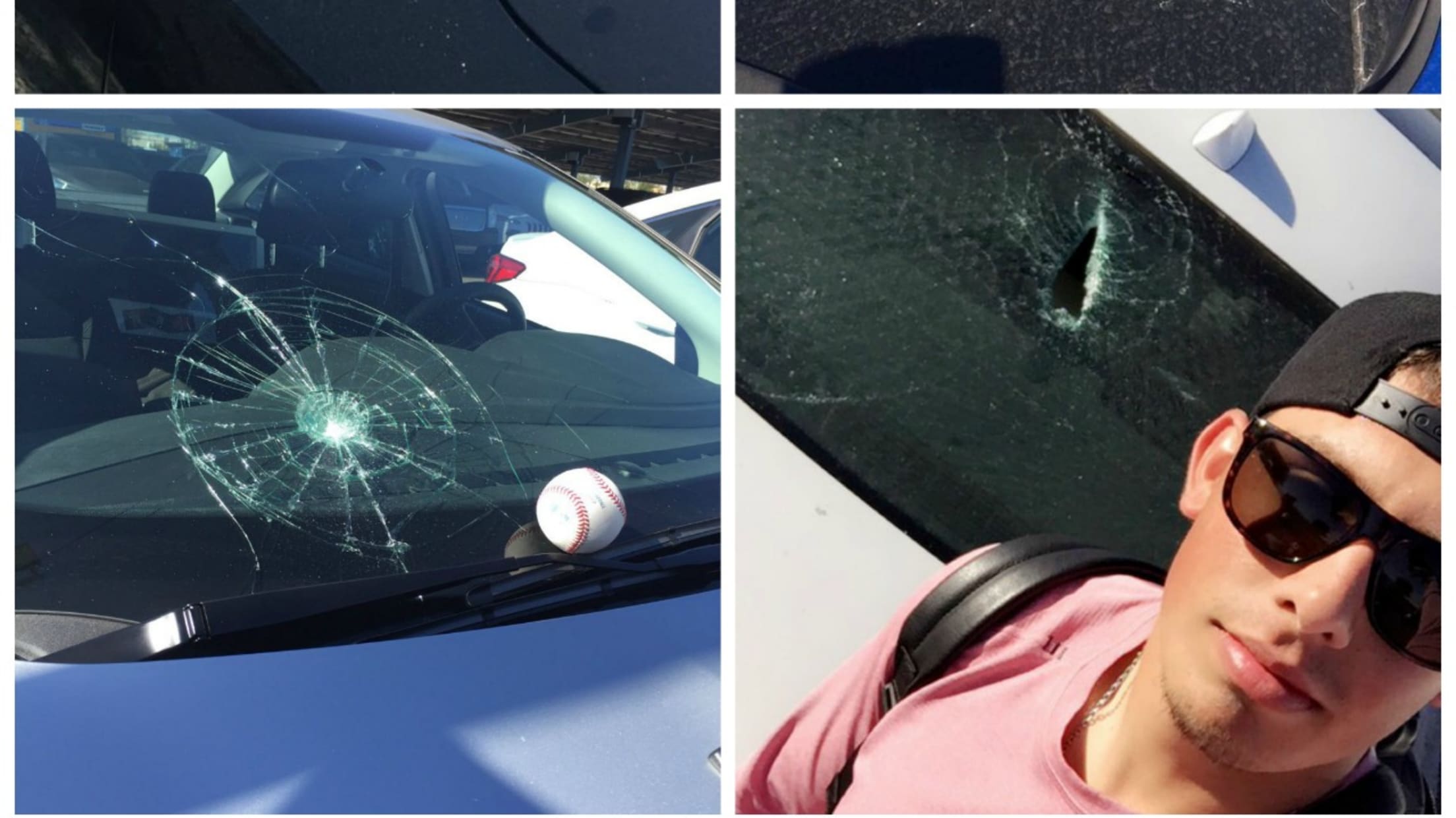 When a hitter really, truly squares up a pitch, the baseball doesn't stand much of a chance.
Hundreds of feet later, the sphere's journey comes to an end -- sometimes in the glove of a fan, sometimes into the middle of a tray of fancy nachos and sometimes into the unsuspecting windshield of a car in a neighboring parking lot.
Just ask D-backs pitcher Ryan Burr.. He was just minding his own business on Wednesday, heading out to the parking lot of Arizona's Spring Training complex, when he discovered that his truck had caught the business end of an Óscar Hernández fly ball.
"I see my truck and immediately saw the windshield was absolutely smashed," he told MLB.com's Steve Gilbert. He posted a photo to Instagram, where Hernandez hopped in to apologize.
"I was on Field 1 and after I hit it we all heard this loud noise like 'Pow!' I was like I hope it's not somebody's car out there," Hernandez said.
The kicker? When Burr arrived in the Minor League players' parking lot that morning, he asked his passenger if the car would be safe. The passenger assured him, because after all, "it's only pitchers and catchers." Luckily, Burr was able to look at the bright side: "It was literally like 560 feet away from home plate. More power to him."
Plus, the story had a happy ending:
Everyone relax! Rodrigo from @safelite is here. Thanks for all of the concern for the truck! @Dbacks @MLB pic.twitter.com/ISAwaxOcp9

— Ryan Burr (@RyanBurrASU) February 16, 2017
And hey, if it makes him feel better, he's hardly alone. This kind of thing happens every now and then during Spring Training, and it's always amusing (as long as the smashed windshield doesn't belong to you).
Below, enjoy some of the most notable window-smashing moments from last season.
Kyle Schwarber makes a dent
Remember how Cubs slugger Kyle Schwarber went down with an injury in April, was sidelined practically the entire season, miraculously showed up in the World Series and put on an offensive clinic? Well, Schwarbs' October domination bookended the absurd start to Spring Training that he had after walloping a BP offering so far, it found its resting place in some unsuspecting fan's windshield.
Unsurprisingly, this was the first of two car-hitting bombs by Schwarber last Spring Training.
Nelson Cruz and his #Boomstick, at it again
It may come as no shock that Mariners star Nelson Cruz hit one of the longest Statcast™-measured homers of 2016. Cruz makes Safeco Field look like anything but the spacious Pacific Northwest baseball cathedra it's supposed to be, swatting BP homers out onto the street (!) with ease. Those two dinger dandies both took place after Cruz sent a Spring Training pitch into orbit -- er, gave a fan an (un)lucky souvenir at Peoria Sports Complex.
The Boomstick is already doing some damage. pic.twitter.com/dJRznS2QEE

— Seattle Mariners (@Mariners) February 25, 2016
A tough break for Jacob Nottingham
Catching prospect Jacob Nottingham experienced a rude awakening when he clubbed a pitch at Spring Training and -- you guessed it -- broke a windshield. But not just any windshield.
His windshield.
That's intense.
Maikel Franco to Freddy Galvis: Oops, my bad!
In Maikel Franco, the Phillies have an energetic third baseman who came into his own last season, clubbing 25 homers and driving in 88 RBI as the club's everyday man at the hot corner.
His teammate, versatile infielder Fredd Galvis, witnessed firsthand the measure of Franco's power stroke when this happened:
Yes, Maikel Franco hit a ball that shattered the windshield of Freddy Galvis' car during BP. pic.twitter.com/F6OwV7mjxk

— Todd Zolecki (@ToddZolecki) March 1, 2016
Ouch,
Stay tuned for more windshield carnage in the weeks to come!
Teams in this article:
Players in this article: