'Steal a Base, Steal a Taco' is back! Let's honor past stolen bases that gave America free tacos
It's that time of year again. Well -- yes, the World Series, but it's also "Steal a Base, Steal a Taco" season. If you're unsure what this promotion is all about, it's pretty much what it sounds like: If someone steals a base during the World Series, America wins Free Doritos ®Locos Tacos from Taco Bell.
Yes, this is an actual thing. And it's not the first time this promo has taken place. There were six occurrences of "Steal a Taco" that happened thanks to some swiped bags:
Jacoby Ellsbury's stolen base was just a minute factor in his performance in the 2007 World Series. The Red Sox won in a four-game sweep over the Rockies, and Ellsbury instantly won the hearts of America when he swiped second base in Game 2. Over the course of the series, Ellsbury boasted a .438/.500/.688 line with seven hits.
And he made sure to indulge in the Free Doritos Ⓡ Locos Tacos as well. The perfect ending to a very successful postseason for "Tacoby Bellsbury."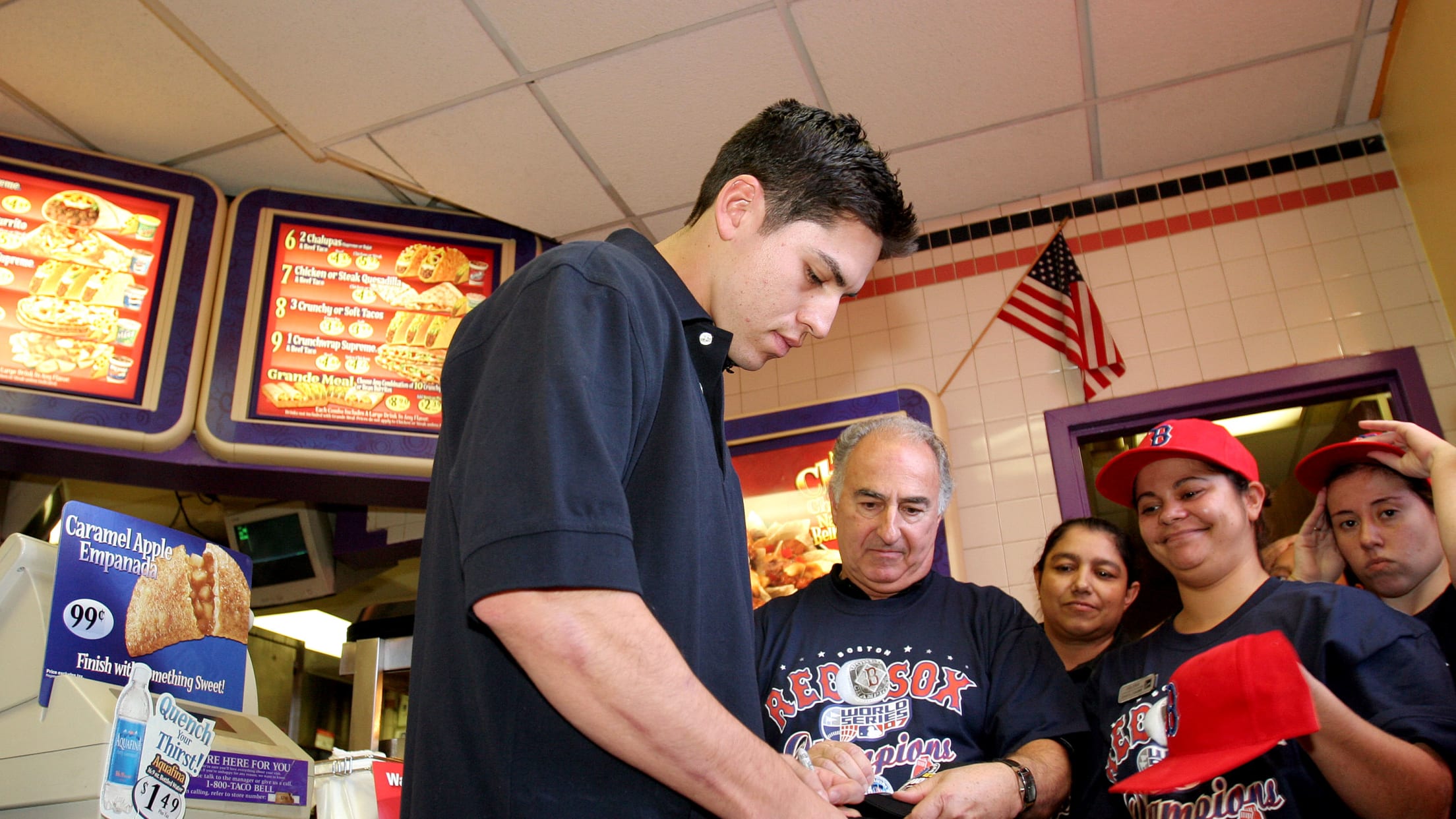 During the fifth inning of Game 1 of the 2008 World Series, Jason Bartlett stole second base with Cole Hamels on the mound.
Bartlett was in slight MVP talks during this season which was the perfect primer to an All-Star selection the following year. And the Free Doritos Ⓡ Locos Tacos was the cherry on top.
When Angel Pagan found out he was the reason everyone in America was the recipient of a taco he was excited and we all discovered he loved not only the idea, but Taco Bell tacos as well.
"I love Taco Bell," he said to MLB.com's Mark Newman. "I do. Doritos, tacos, name it."
We do too.
Thanks to a stolen base in the bottom of the eighth at AT&T Park on that Thursday night, America stole a taco.
Lorenzo Cain's stolen base during the first inning of Game 1 of the 2015 World Series resulted in a freebie from Taco Bell.
In addition to a delectable breakfast crunchwrap "on him," Cain reached base for the 20th consecutive playoff game. He also had a three-RBI performance to help the Royals clinch the World Series in a 7-2 win.
One of the most recent "Steal a Base, Steal a Taco's" comes from Mr. Smile himself Francisco Lindor who stole second base in Game 1 of the World Series last year.
America was excited. So excited, in fact, former President Barack Obama had a thing or two to say about it.
"Because I've been watching the World Series, I am aware that because Francisco Lindor stole second base in Game 1, everyone in America gets a free taco at Taco Bell tomorrow," he said. He then noticed a particularly passionate man in the crowd. "I mean, this guy is so fired up about the free taco -- look at him! I have never seen anybody so excited about a free taco."
That's impressive.
Cameron Maybin stole second base in the top of the 11th inning of Game 2 of the World Series.
He was very excited about it -- even dubbed himself the "Steal a Base, Steal a Taco Guy." And you know it was real because his kids were more pumped knowing they were getting a free taco than their dad's team, the Astros, getting the win.
Here are the details:
- One the first base is stolen during the World Series, fans can get a free Doritos Locos Taco on Thursday, November 1 from 2 p.m. to 6 p.m. (local time) at all participating U.S. Taco Bell locations while supplies last.
The World Series Game 1 begins Tuesday at 8:09 p.m. ET on FOX.