Let's look back at the best moments of the first four games of the Nationals-Cubs NLDS
Because of Tuesday's rain in Chicago that forced a postponement of Game 4 of the NLDS presented by T-Mobile, the Cubs and Nationals are coming in hot to Thursday's Game 5 (8 p.m. ET on TBS) -- traveling to Washington to play a game less than 24 hours after their previous game at Wrigley concluded.
Before we get swept up in the storylines of Thursday's pivotal Game 5, let's take a look back at the great moments of the first four games that have led up to this.
10. Congressman Steve Scalise threw out the first pitch
In June, Scalise was shot during a practice for the congressional baseball team and was taken to the hospital in critical condition. In late September, he returned to the floor of the House of Representatives. About one week later, Scalise threw out the first pitch at Nationals Park before Game 1 of the NLDS. It was a strike.
9. Sean Doolittle celebrated Michael A. Taylor's catch all by himself
In Game 3, Max Scherzer entered the bottom of the sixth inning hanging on to both a no-hitter and a 1-0 Nationals lead. The first batter -- Jon Jay -- lined a ball to center field that looked like it would be the Cubs' first hit. That is, until Taylor made a four-star catch.
That catch inspired a very enthusiastic, albeit lonely, bullpen celebration from the recently-married Sean Doolittle.
8. Anthony Rizzo made a fan's day
In the fourth inning of Game 2, Rizzo hit a homer to give the Cubs a 3-1 lead. While the dinger was nice in its own right, the real fun came when a lifelong Cubs fan snatched the ball from his brother:
You gotta do what you gotta do.
7. Pigeons take over Wrigley Field
In July, a pigeon set up shop behind home plate at Nationals Park and inspired a historic barrage of dingers. During Wednesday's Game 4, pigeons made their way to Wrigley. So, of course Daniel Murphy was happy to be reunited with them.
Perhaps this pigeon gathering portends a return of the Nationals Park Rally Pigeon for Game 5.
6. Willson Contreras' mile-high dinger
In Game 2, Contreras got the Cubs' offense going when he tied the game at 1-1 on his second-inning solo home run. What was so special about it? Well, he hit it really high.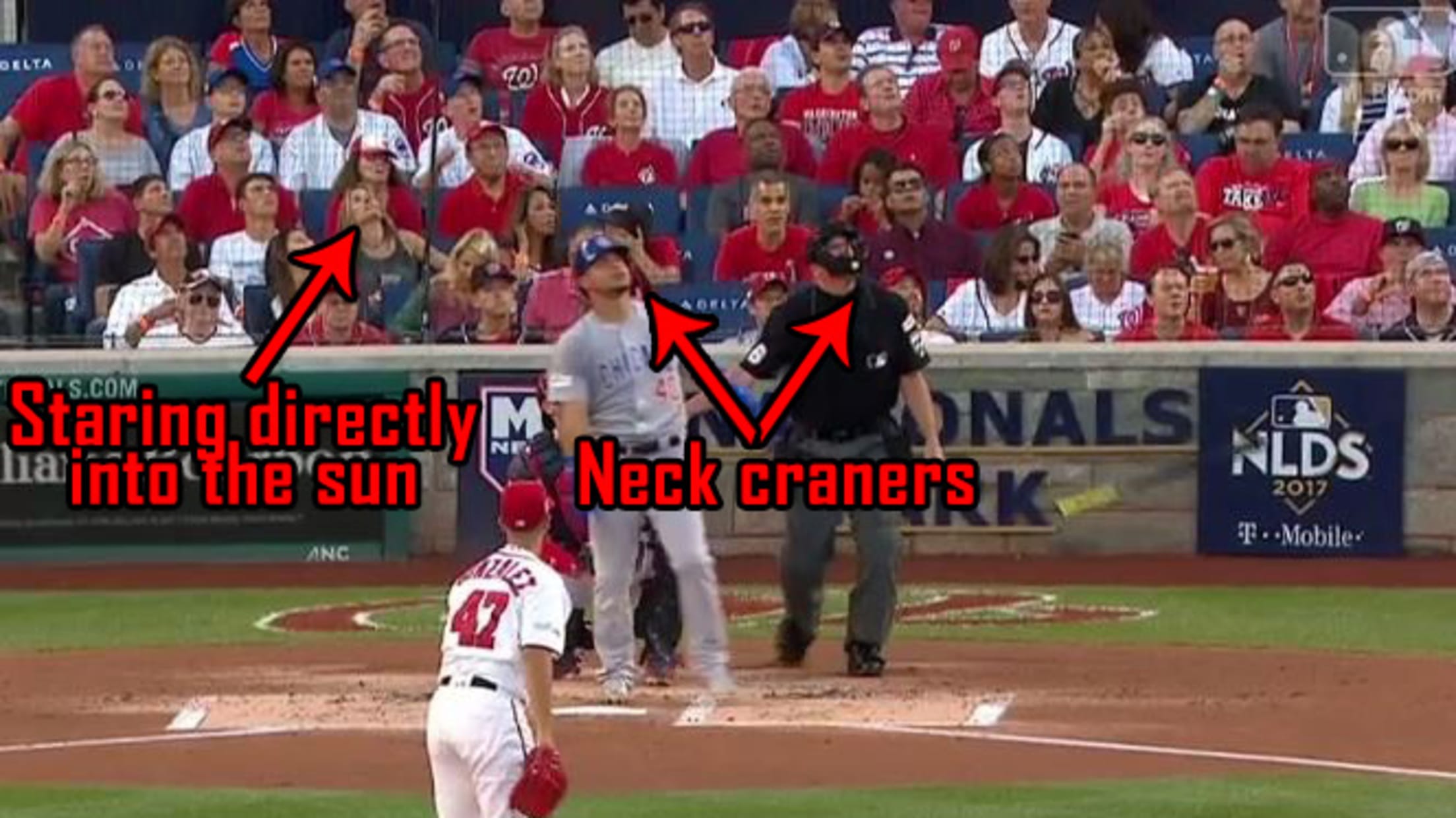 We have not yet heard any reports of neck pain in the D.C. area, but sometimes symptoms take a couple days to manifest.
5. Bryce Harper starts the Nationals offense
Through the first 16 innings of the NLDS, the Nationals put only one run on the scoreboard. Harper changed all that with a two-run home run that started a 5-run eighth inning in Game 2.
Harper punctuated the moment with a casual -- yet majestic -- bat flip:
And -- as only Harper can do -- he added a celebratory hair flip:
That's how you wake up an offense and a stadium.
4. Michael A. Taylor's grand slam
Entering the eighth inning of Game 4, the Nationals' hopes of a Game 5 rested on a slim 1-0 lead. After a couple walks and a single, Taylor added some insurance with a grand slam that quieted Wrigley.
3. Bill Murray inspired a Game 3 comeback
The Cubs entered the seventh-inning stretch of Game 3 trailing the Nationals, 1-0, in danger of going down 2-1 in the series. Fortunately, they had the talismanic presence of Bill Murray at the mic for "Take Me Out to the Ball Game."
Of course, the Cubs responded to Murray's performance with a run in both the seventh and eighth innings to win the game. That made Murray plenty excited:
2. Jon Lester received a standing ovation for a pickoff
Normally, pickoff attempts make fans restless or even outright displeased. With Lester -- who has had his struggles with the pickoff maneuver -- a routine pickoff attempt puts fans on the edge of their seats.
So, when he picked off Ryan Zimmerman in the eighth inning of Game 4, Cubs fans recognized how special that moment was and gave Lester the standing ovation such an occasion deserved: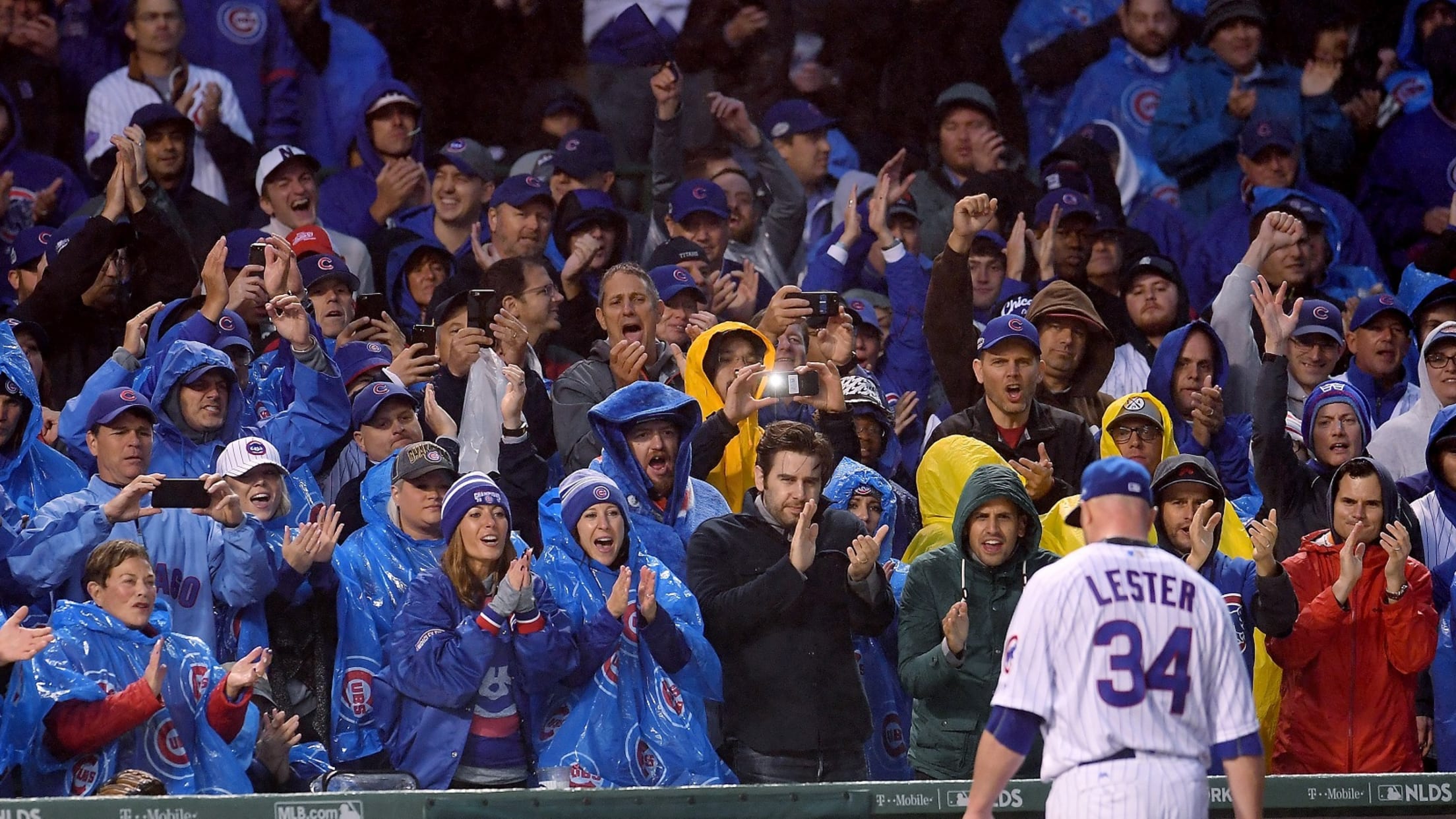 In the postseason, where every moment is magnified, even pickoffs are worthy of a standing ovation.
1. Stephen Strasburg had his own flu game
In Game 5 of the 1997 NBA Finals, Michael Jordan led the Chicago Bulls to a win with 38 points ... while suffering from the flu. On Wednesday, Chicago got itself another flu game when Strasburg held the Cubs scoreless over seven innings while striking out 12 just one day after being scratched due to either an illness or an allergic reaction to mold. Either way, Chicago's record in flu games currently stands at 1-1.
Even more great moments are sure to come in Game 5 of the NLDS presented by T-Mobile. To see them in real time, tune in Thursday at 8 p.m. ET on TBS.