Let's take a deep dive into the spontaneous Yoenis Cespedes bullpen session
There is something riveting about watching a position player pitch. We'll ignore any and all life responsibilities just to boot up MLB.TV and watch some back-up middle infielder toss 82-mph meatballs down the middle to the best hitters in the world. There's nothing quite like it.
Unfortunately, due to completely valid injury concerns, the position players that we get to see on the bump are rarely superstars. We can dream forever about All-Star outfielders toeing the rubber, but chances are we'll never get to witness guys like Bryce Harper, Yasiel Puig and Aaron Judge actually pitch in a game. This is why the footage shown on the Mets broadcast Monday night of Yoenis Céspedes -- outfielder, hitter, dinger-creator, pig-roaster, hair-dyer, but certainly not pitcher -- throwing a bullpen session was a sight for the ages.
So, as the internet's foremost Cespedexperts, we present to you: our 10 favorite things about the 27-second clip of Yoenis Cespedes pitching.
10. The Curveball
Of course he threw a curveball. If you're going to throw a fake bullpen, you have to feel out your entire repertoire. But it's the intensity with which he calls for the curveball that's hilarious:
Yoenis wants to throw his breaker, and he wants to throw it right now. Maybe in his next 'pen he can mix in the knuckleball he showed off back in Spring Training: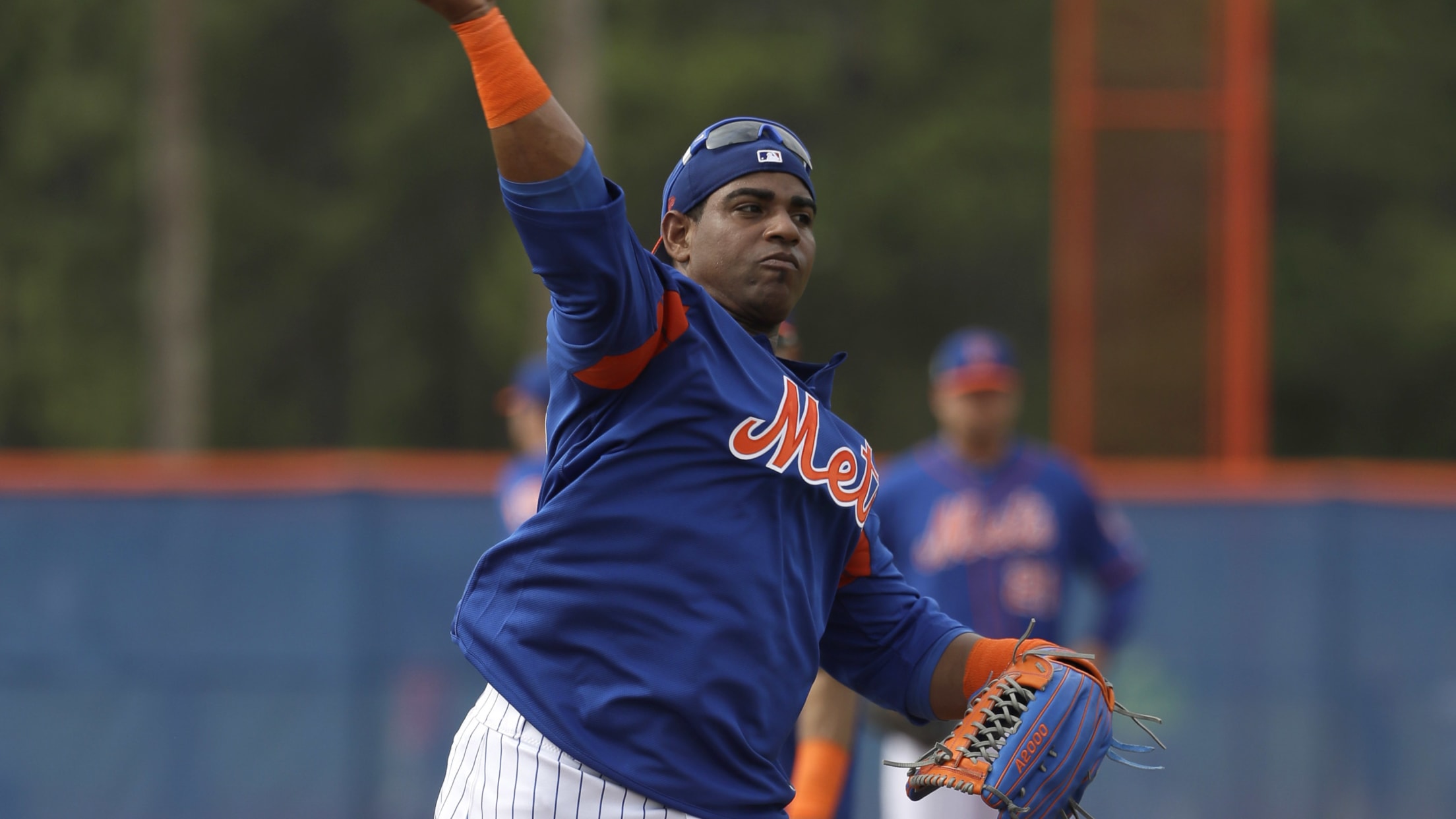 9. The Overhead Delivery
While it is not quite as common today, it's no secret that many of the game's greatest pitchers have used the overhead delivery. The question here is, which one inspired Yoenis to roll with this motion? Walter Johnson? Juan Marichal? Roy Halladay? Charlie Morton? We'll probably never know.
8. The Supervisor
That's Mets pitching coach Dan Warthen in the background behind Yo. Chances are that Warthen was already down in the bullpen doing his Actual Job -- working with the Actual Pitchers. But Warthen is also just like the rest of us: he had to see what in the world Yoenis Cespedes pitching looked like, so he stuck around for a couple extra minutes.
7. The Batting Gloves and the Flats
If you look closely, you can make out that Yo has some batting gloves in his left pocket. He's also wearing flats and not spikes. From these two clues, one of the following must be true: 1) Yoenis just finished hitting, or 2) Yoenis was about to go hit, or 3) Yoenis is a weirdo and always has batting gloves in his pocket just in case. We love that he took the time to go all the way down to the bullpen, but didn't bother taking the batting gloves out of his pocket.
6. The Demeanor
Yo seems to simultaneously be having the most fun he's ever had and also extremely frustrated that he's not hitting his spots -- just take a look at his headshake of disgust following his first pitch:
He clearly loves it, and he also clearly wants to be better.
5. The Build
Yoenis Cespedes is listed at 5-foot-10, 220 pounds. Pitchers are not built like Yoenis Cespedes. (To be fair, most humans are not built like Yoenis Cespedes.) In fact, only two pitchers in MLB history have been listed at a similar height and weight: Enrique Gonzalez, who pitched on and off in the bigs between 2006 and 2011, and Doc Adkins, who threw 27 career innings across the 1902 and 1903 seasons.
That. Is. It.
And those guys weren't exactly 220 pounds of pure muscle like Cespedes is. We've literally never seen someone built like Yoenis pitch. Ever. In baseball history.
4. The Catcher
Who is catching this Bullpen Heard 'Round the World? Here are the options ranked in order of least likely to most likely:
- Terry Collins: Collins never caught in his playing career.
- Travis d'Arnaud: Started at catcher in Monday night's game.
- José Reyes: Seems like the type of thing he would do with Yoenis.
- René Rivera: Yo's main golf-partner. Would totally catch his 'pen.
So my dad met @ynscspds and @ReneRivera13 today. I thought we should all take a moment to appreciate Cespedes' pants pic.twitter.com/z3BO4Kf2Fi

— Lauren Glaser (@lauren_glaser_) July 28, 2016
And finally:
- The bullpen catcher: Was probably already down in the pen and Yo asked him to stay for a bit.
3. The Glove
What in the world, Yo? So many questions. First of all: Is it a catcher's glove or a first baseman's glove? We're reasonably sure it's a catcher's glove, but if it's a first baseman's glove, why does he have a first baseman's glove? Is it his? If it's not his, whose is it? Did he ask to borrow it specifically for the bullpen? If it's a catcher's glove, where did he get it? It might belong to the catcher, but then what is the catcher using? If he went through the trouble of going all the way down to the bullpen, why didn't he just bring his own glove?
2. The Future
We'll probably never see Yo pitch in the bigs, but this moment gives the world a glimmer of hope. We now know that at very least, Yoenis likes pitching and practices it sometimes.
Just think about it: It's August 17th, 2027. The Oakland A's are down, 20-3, in the 8th against the 10-time defending World Series champion Houston Astros. Santiago Casilla and John Axford, both in their mid-40's, both still with the A's, have already pitched. Player-manager Ryon Healy must turn to a position player to eat some innings. And there's Yoenis, already in the DH spot, ready to hit some spots, miss some barrels and float some knucklers. #LetYoPitch
1. The Man Loves Baseball
We fans forget sometimes that for professional baseball players, baseball is a job. Yo and his bizarre antics are a reminder that baseball can be both job and game. The dude goes to the stadium everyday and has fun. He enjoys himself. He does what makes him happy and he shows it off for the world to see. This is why we love Yo, and hopefully, it's why you love him too.
So with the Mets out of the playoff hunt, at least Mets fans can dream of a late-September blowout at home in which Terry Collins tosses all caution to the wind, strolls out to the mound and confidently points towards our muscled-out, knuckleball-tossin', catcher's glove-wearin', BBQ-havin', Cuban hero waiting patiently out in left field.
Teams in this article:
Players in this article: