Luis Severino is the hardest throwing starter in baseball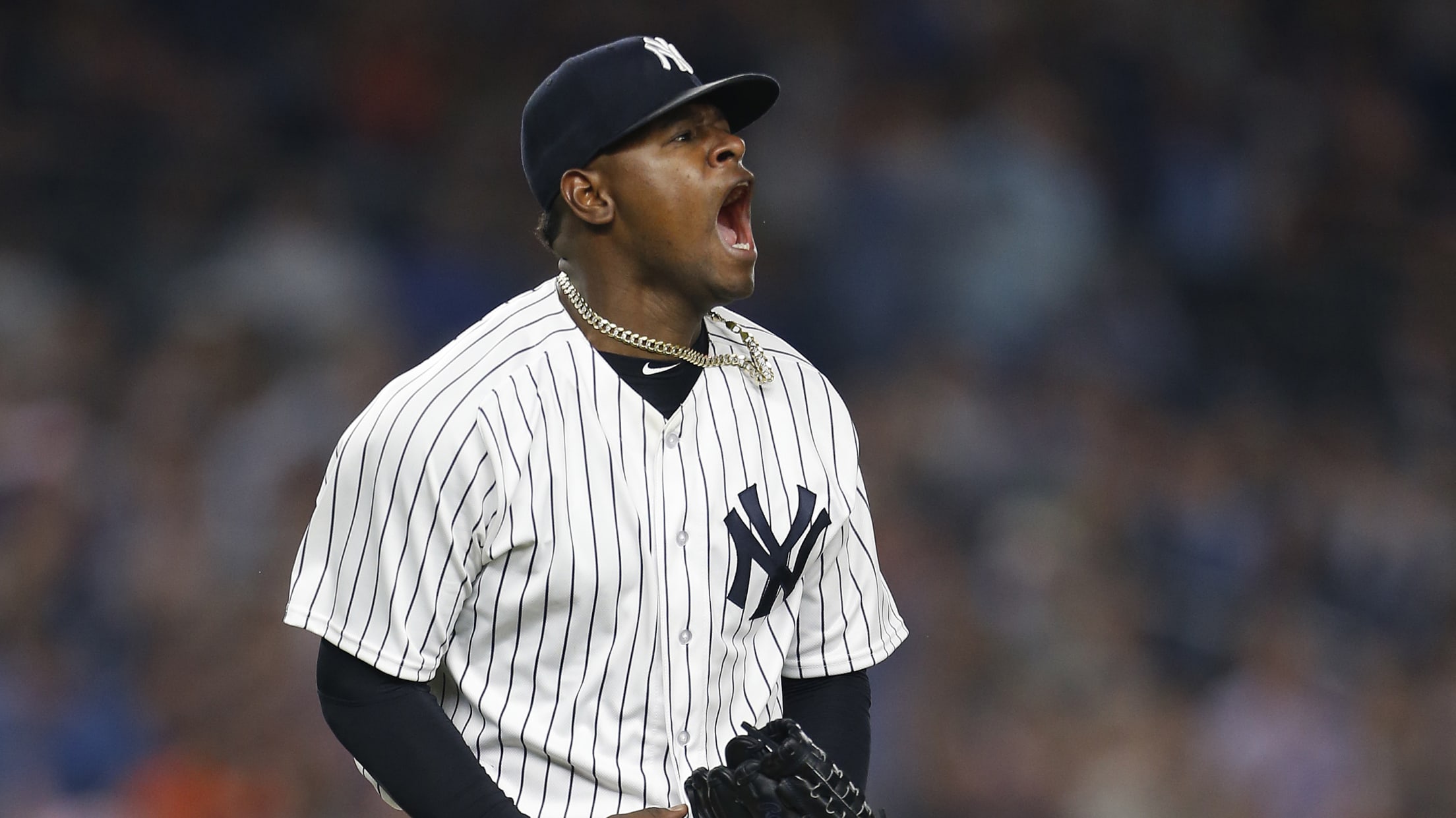 (Adam Hunger)
Tonight, Luis Severino will make his 18th start of the season. Fresh off seven scoreless innings against the Phillies on Tuesday -- his fifth scoreless start of the year -- Severino has firmly established himself as not just the ace of the Yankees staff, but one of the most dominant starting pitchers in the world. While his career trajectory has hardly been linear, one thing has remained consistent since Severino burst on the scene as a prospect to watch in 2014: He throws really, really hard.
Yet somehow, the 24-year-old right-hander has decided to crank his heater up another notch in 2018. This year, Severino's fastball is averaging 97.7 mph, the highest among all starting pitchers. 117 of the 1,692 pitches Severino has thrown in 2018 -- about 6.9% -- have been at least 99 mph. For comparison, his fellow flamethrowing teammate Dellin Betances has thrown 7.1% of his pitches at least 99 mph ... as a reliever.
And Severino appears to still be peaking. On Tuesday against the Phillies, Severino registered his highest velocity of the season, striking out Odúbel Herrera on some high heat at 100.6 mph:
He's also not just airing it out in the first few innings -- his velocity actually ticks up as the game goes on. This tendency was very much on display against Philadelphia:
Luis Severino average fastball velocity by inning yesterday:
1st 97.5 MPH
2nd 98.3 MPH
3rd 98.6 MPH
4th 99.1 MPH
5th 98.9 MPH
6th 98.0 MPH
7th 99.2 MPH pic.twitter.com/etBDtKLKkC

— Daren Willman (@darenw) June 27, 2018
If you were capable of regularly throwing 99 mph, you'd probably want to do that all the time, right?
Severino, on the contrary, has demonstrated otherwise. He only throws his heater 50.1% of the time, which ranks 80th among the 119 starting pitchers that have thrown at least 1,000 pitches in 2018. In fact, the slider is the pitch that Severino shows off more than the average pitcher: 37.6% of his pitches this year have been sliders, the fifth-highest percentage among all starters in baseball. And you can see why he likes throwing it:
Many envisioned Severino's 1-2 pitch punch having success at the Major League level, but not necessarily as a starting pitcher. Despite starting all throughout his Minor League career, Severino's mechanics and build prompted doubts about his ability to hold up over 30-plus starts in a Major League season.
Severino's sophomore season in 2016 represented a pivotal point in his young career. After a stellar rookie season in 2015, Severino struggled immensely as a starter, posting a 8.50 ERA in 11 starts. When the Yankees moved him to the bullpen with hopes of more success, he flourished, with a 0.39 ERA in 11 relief appearances. At that point, the Yankees could have reasonably opted to add Severino to their already-loaded pile of dynamite relievers. Instead, they offered him another chance at a rotation spot in 2017, and the rest is history.
In what seems like a blink, Severino has catapulted himself into the elite ranks of today's pitchers, and given the Yankees the bona fide ace they have long coveted. After several attempts to acquire a no. 1 starter through trades and free agency, there turned out to be one right in front of them all along. And boy, does he throw hard.