Watch this man learn from a pack of baseball cards that his wife is his kidney donor match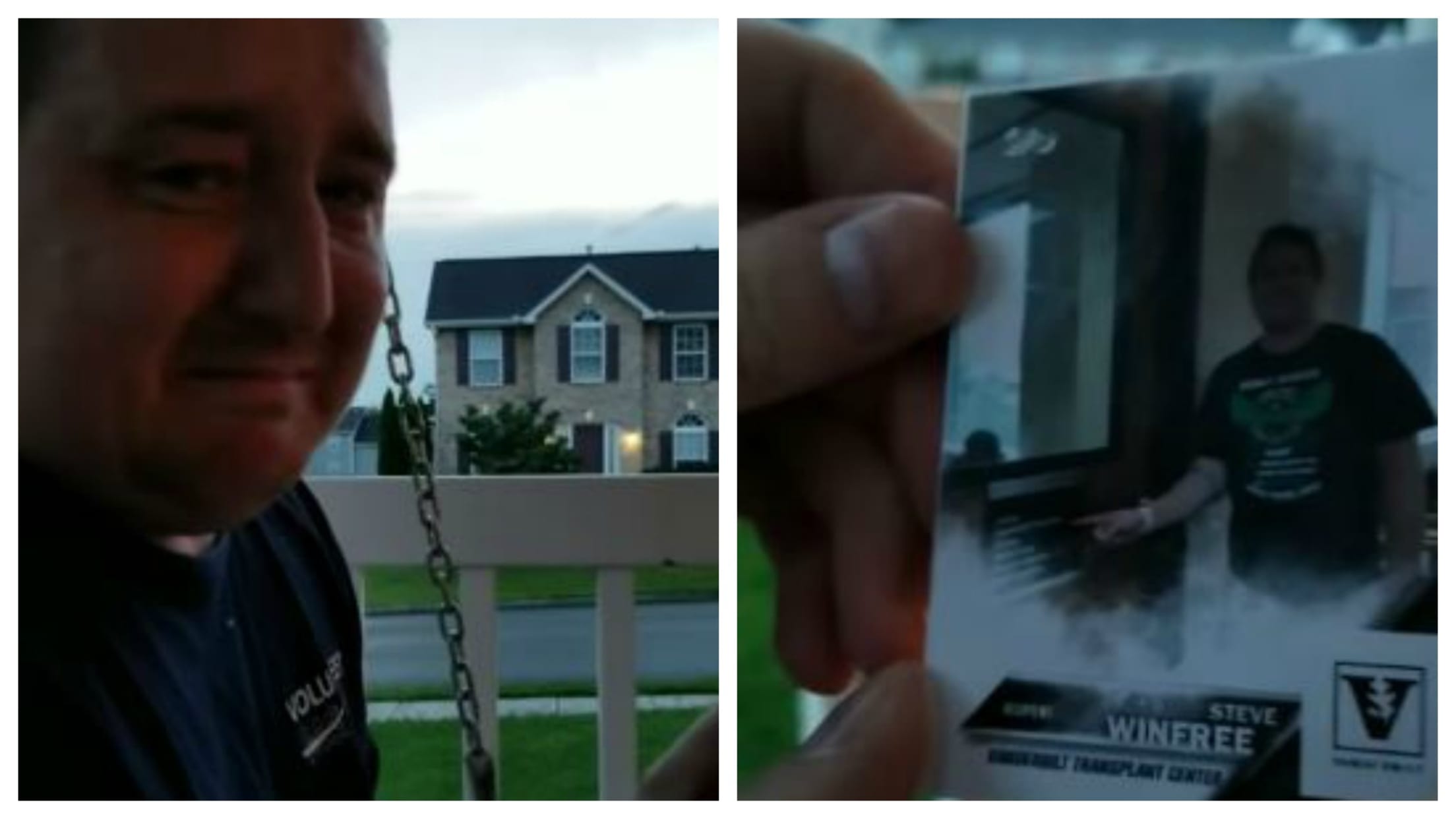 Very little in the world can match the excitement one gets when opening a pack of baseball cards to find a favorite player. But no rookie card or jersey insert can match what Steve Winfree found when he opened up a recent pack of Topps cards.
While his wife, Heather, filmed, Steve flipped through his haul that included Mike Trout and a Platinum Presence Clint Frazier. But the real treat came when he got to his very own Topps card. Flipping it over, Steve -- who had started dialysis for a kidney disease in November and was in need of a transplant -- began to read before choking up when he learned that his wife was a match. That's right -- this was no silly fact on the back of the card, but was the reveal that Heather was going to donate her kidney.
The couple says baseball cards are a type of stress relief and a hobby they can enjoy together so for Heather to pick up a pack at the local store wasn't out of the norm.
"There were a lot of times where he would be in the hospital and I would grab a pack and we would open them," she explained. "The lowkey fun gets our minds off of the every day stresses."
"She kept saying 'you have a special insert there,'" Winfree told MLB.com. "I knew something was up because she never films me."
Winfree, an Atlanta Braves fan, saw the word "recipient" where a player's position was usually located.
"I saw it coming," he said. "But I lost it and I asked her, 'You want to save my life?'"
Watch the moment below and just try not to tear up:
Naturally, Steve was pretty excited:
Heather told MLB.com she felt a bit guilty lying to Steve after she recieved the initial phone call she was a match.
"We were really stressed out during the week with everything going on," she said. "But I didn't want to break the news to him over the phone or anything."
They will go back to Vanderbilt where they started the process and Heather will undergo additional tests to make sure she's in well enough health to withstand the surgery. If all things go according to plan, the surgery should take place by the end of the month.
Perhaps the best part of all (other than the life-saving kidney, that is): Knowing that she was going to surprise her husband on camera that night, Heather made sure to tell him to go get his haircut at the more expensive shop. That's true love.