Check out the awesome flags, jerseys and patches from the Mariners' Griffey appreciation weekend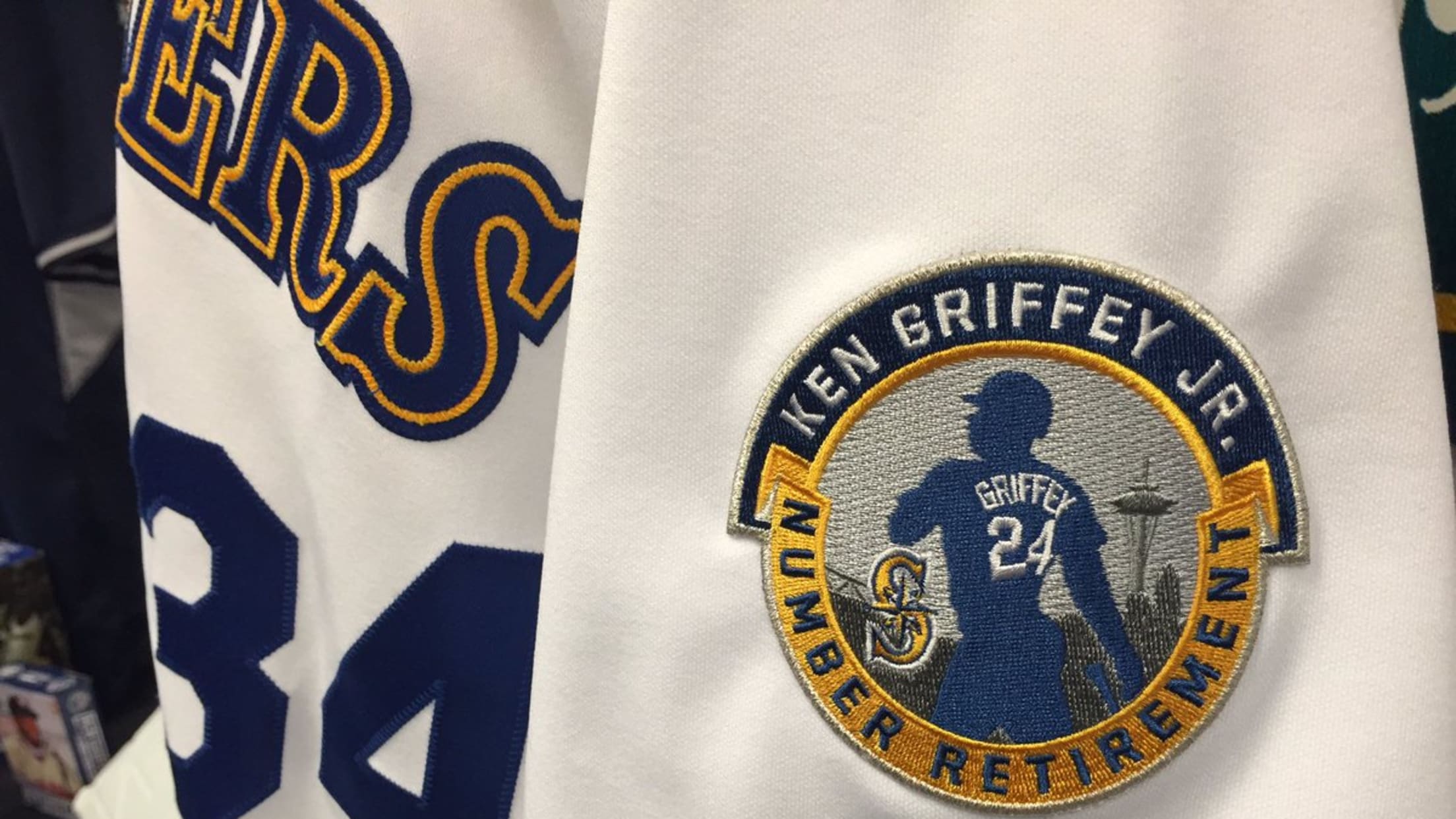 Most players don't get their numbers retired. And for the select few that do find themselves worthy of that honor, they certainly don't get a full weekend to revel in their greatness.
Then again, most players aren't Ken Griffey Jr.
On the heels of Junior's election to the Baseball Hall of Fame in July, the Mariners are honoring the man who defined the team and the '90s with a full weekend in his honor. While No. 24 will be hung from the rafters on Saturday, the festivities began Friday night as his number first flew atop Seattle's Space Needle.
Ken Griffey Jr. Weekend begins. #24EVER🏪https://t.co/WQxh7JAT9m

— Seattle Mariners (@Mariners) August 5, 2016
Griffey's wife, Melissa, told MLB.com, "It's nice to be here and have him do it. And realizing how big this flag is and how exciting it is."
Because it's Griffey, that flag came complete with a squadron of Blue Angels. Sadly, they weren't repainted and renamed the Teal Angels on Friday -- probably because of some weirdo military reason.
The @BlueAngels flying by the @Mariners Ken Griffey Jr. flag and the @space_needle! #seattle #seafair pic.twitter.com/mJQ7Clnvus

— Equal Motion (@equalmotion) August 5, 2016
Naturally, Griffey traveled to Safeco with his Hall of Fame plaque. Unless someone stole the real plaque and replaced this one with a fake because the real one has a map to buried treasure ... but nah.
.@baseballhall brought #kengriffeyjr to SafeCo @Mariners #Seattle @CityofSeattle @KIRO7Seattle pic.twitter.com/m3fkzhpymF

— Mike Griffith (@PhotogGriff) August 5, 2016
And the first 20,000 in attendance would get to take home a bobblehead commemorating this moment. Again, the plaque does not contain a hidden message leading to untold wealth.
Griffey Weekend begins tonight, and there's still time to join us. First 20K take this home. https://t.co/keK2XMCxOV pic.twitter.com/vc4RcAIDdR

— Seattle Mariners (@Mariners) August 5, 2016
The teams came out in throwback Mariners uniforms and caps (you know, the same one that Griffey wore in that card):
Those throwback lids. 👌#24EVER pic.twitter.com/1UmZDfkygn

— Seattle Mariners (@Mariners) August 6, 2016
PLAY BALL! #Angels vs. #Mariners.

📺 @ROOTSPORTS_NW
📻 @710ESPNSeattle
💻 https://t.co/6DJqub7fNm pic.twitter.com/WVj4ohuBNO

— Seattle Mariners (@Mariners) August 6, 2016
With King Felix flipping his headware around in homage:
.@RealKingFelix channels his inner Junior. pic.twitter.com/9V9sKVp2CL

— Cut4 (@Cut4) August 6, 2016
There was even a pretty sharp logo on the caps and sleeves:
Cool patch on @Mariners jerseys to honor Ken Griffey Jr. throughout the weekend. #GriffeyHOF #komonews. pic.twitter.com/Ch8I071Kzy

— Doug Pigsley (@DougPigsleyKOMO) August 5, 2016
The Mariners will be wearing that patch all weekend, as they retire the first number in Mariners history on Saturday, with fans being able to pick up a replica plaque at the gate before they take on the Angels.
Said Griffey about the weekend:
"I don't take it lightly and tomorrow is definitely one of those things that is special. It's pretty neat that I get to enjoy it with the people who have seen me from a teenager to a 40-year-old."