Mike Trout, Mookie Betts and Jose Ramirez might be the best trio ever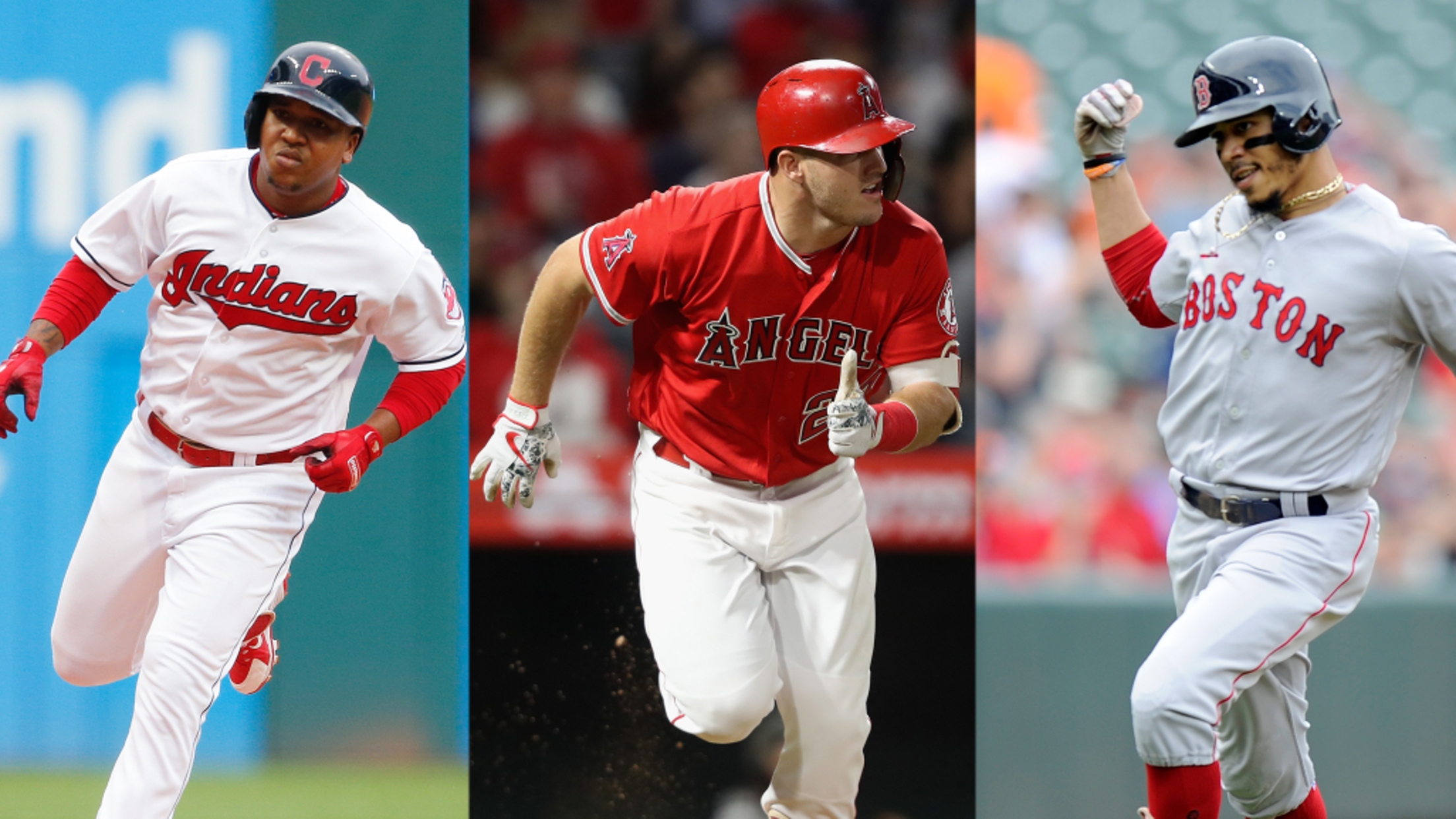 Mike Trout is currently on pace for the greatest season since, well ... ever. Trout is at the top or near the top of every offensive category, he's already flown by a bunch of Hall of Famers in career WAR and he looks to be the runaway favorite for the 2018 AL MVP.
But it's not only the #FishGod who is performing at ludicrous levels of play. Jose Ramirez and Mookie Betts have also been hilariously good in 2018. In fact, this 2018 "Big 3" have a chance to be one of, if not the, best Big 3 in a season in MLB history.
Here's how Trout, Betts and Ramirez stack up against some of the other awesome historic baseball trios.
1927: Babe Ruth, Lou Gehrig and Rogers Hornsby
In an era when dingers were significantly rarer than they are today, these three legends stood out for their ability to actually hit the ball over the fence. In fact, Ruth (60 HR), Gehrig (47 HR) and Hornsby (26 HR) accounted for 14% of all homers in 1927 and still all had batting averages over .350.
Together, they accounted for a whopping 34.3 WAR, the highest total in MLB history by a Big 3.
1961: Mickey Mantle, Hank Aaron and Roger Maris
While Maris dominated the baseball headlines as he broke Ruth's home run record by hitting 61 dingers, his Yankee teammate Mantle probably had the better season. He bested Maris in batting average, OPS and stolen bases while also playing a solid center field. Over in the National League, Aaron arguably put together the best season of his legendary career as the to-be Hall of Famer posted a .974 OPS with 34 homers and a league-leading 358 total bases.
1967: Carl Yastrzemski, Ron Santo and Roberto Clemente
Before there was Trout, there was Yaz. The Red Sox's incredible 1967 triple crown season was one of the greatest ever as he lead the American League in hits, home runs and RBIs while also posting a ludicrous 1.040 OPS and 12.5 WAR with very good defense. Santo brought home the Gold Glove at third base while also hitting 31 homers and leading the NL with 96 walks. Clemente led the NL in hitting with a .357 average while providing his usual phenomenal defense in the outfield.
2001: Barry Bonds, Sammy Sosa and Jason Giambi
All Bonds did in 2001 was hit a record 73 home runs while posting an OBP over .500. You know, normal baseball player stuff.
While Bonds deservingly won the NL MVP Award for that absurd stat line, Sosa's 2001 was even better than his more famous 1998 season as he knocked 64 dingers, drove in 160 runs and got on base at a .437 clip. What Bonds and Sosa were in the NL, Giambi was in the AL as he led the AL with a 1.137 OPS. All together, these three gents totaled 31.4 WAR, the third most in history by a big three.
2018: Mike Trout, Jose Ramirez and Mookie Betts
We've already talked about the endless wonders of Mike Trout, the current MLB home run leader who is on pace to smack over 50 dingers and finish the year with a whopping 14.4 WAR. After an uncharacteristically slow start, Ramirez has also been on fire, hitting 15 homers since May 1 -- also putting him on a 50-homer pace. While Betts was on the DL for a bit, he's back healthy again and has 18 homers to go along with a .340 batting average that has him second in all of baseball.
Now while Trout, Ramirez and Betts' raw offensive numbers might not look overwhelmingly better than these other trios, their defensive performance makes them uniquely valuable in a way that past sluggers haven't been. For most of baseball history, the best power hitters in baseball tended to be larger, slower, mountain-sized men resigned to either first base or an outfield corner like Ruth, Gehrig or Giambi. Their offensive prowess, combined with their defensive value, has them on pace for a combined 36.2 WAR, which would break the record set by Ruth, Gehrig and Hornsby in 1927.
Trout, Ramirez and Betts are freakishly athletic unicorns who not only hit for high averages and lots of power, but also play demanding defensive positions and play them well. That's why there's a decent chance they could be the greatest single season trio in baseball history.
Teams in this article:
Players in this article: