Mikie Mahtook gave Jose Ramirez a home run 'assist' by bumping the ball over the fence
This is a game Jose Ramirez should remember for a long time. While there is the occasional leaping attempt to rob a home run, with the ball bouncing out of the glove and over the fence, and while everyone remembers Jose Canseco's headed homer, Ramirez hit two homers in one game on Sunday that got some help from the opposition.
In the first inning of the Indians' 11th consecutive victory, 11-1 over the Tigers, Ramirez hit a deep drive to left field. Unsure whether the ball would make it over the fence, Mikie Mahtook prepared to play the ball if it caromed off the wall. Unfortunately, things would soon get hairy.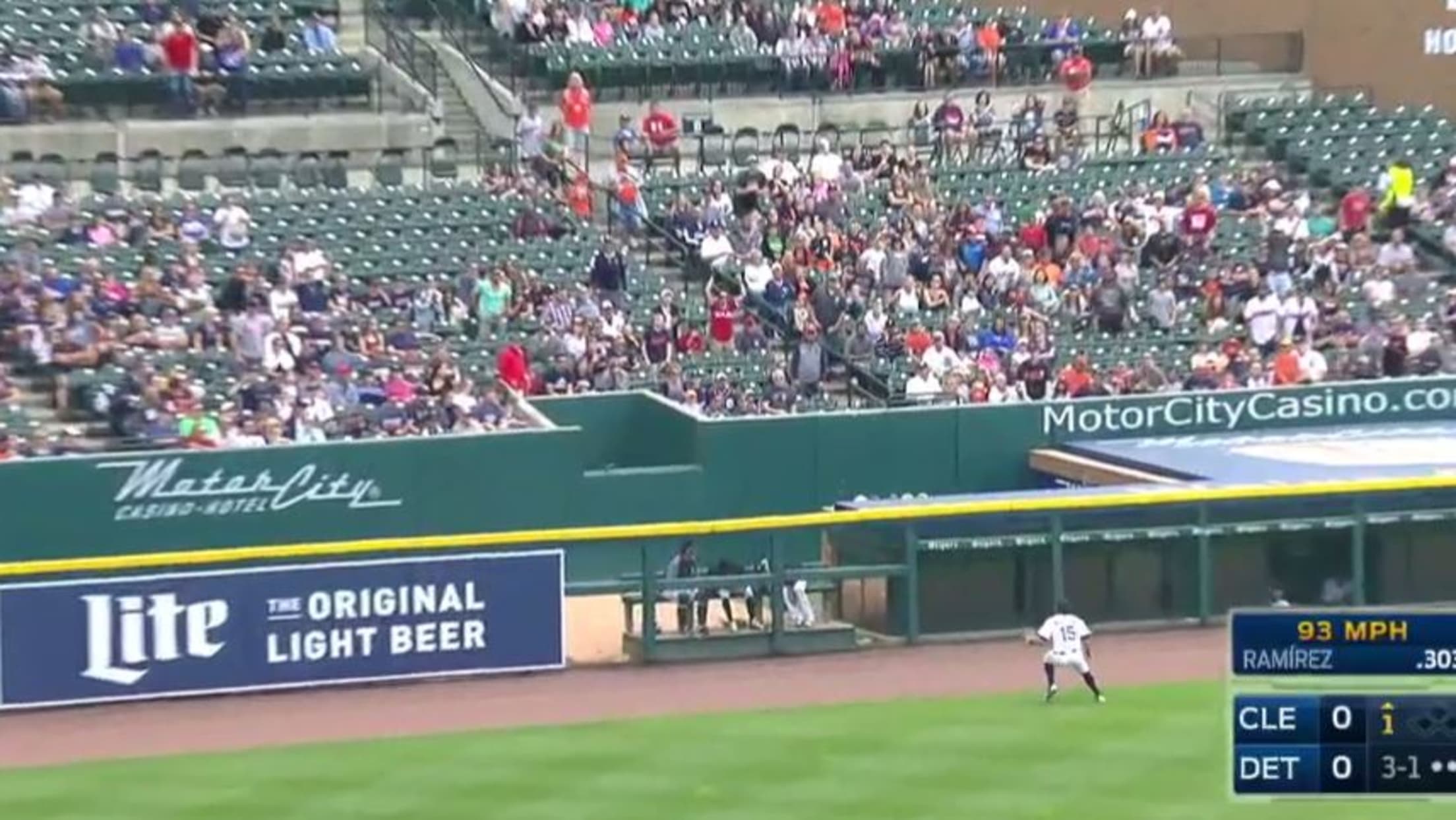 The baseball hit the top of the wall and bounced twice before arcing back into the air and toward the field. If the ball landed anywhere else, it either skips over the fence for a homer, or if it hits lower on the wall, Mahtook plays it off the ground. Instead, this gave Mahtook just enough time to race for the ball and limit how far Ramirez could advance on the bases.
He jumped and was ready to snag it with his bare hand. Except ... oh no. This was more like a layup or a volleyball bump:
Perhaps even stranger, Ramirez hit another home run in the sixth inning. Batting from the other side of the plate, Ramirez hit a liner to right field. Alex Presley leaped to make the snag and ... whoops, it bounced off his glove before hitting the fence and falling back into play, where it was called a home run.
"I have never seen that in my life," Indians manager Terry Francona said. "He had a great day, he hit five balls, but two of his home runs didn't leave the park. I've never seen that and I doubt if I ever will. But I'll tell you what: [Ramirez] took five really good swings. He scalded the ball today."
Ramirez went 5-for-5 on the day, with three doubles to go with his Tigers-aided home runs to firmly put a recent 0-for-17 slump behind him. "I said he'll be fine," Francona said. I told you he was a good hitter. And that's what good hitters do, they get to their level. Sometimes they do it in kind of unique ways or weird ways, but he's just a really good hitter."
This was Ramirez's third game with home runs from both sides of the plate this year, which set a franchise record, and his 74 extra-base hits leads the Majors. Though it's not an official stat, his two opposition-aided homers in a single game likely paces the league, too.
"You can't control that," Ramirez said through his translator, Sandy Alomar Jr. "But all you have to do is just keep working hard and you will have success."