Check out some of the coolest bobbleheads that you (and Dan Haren) own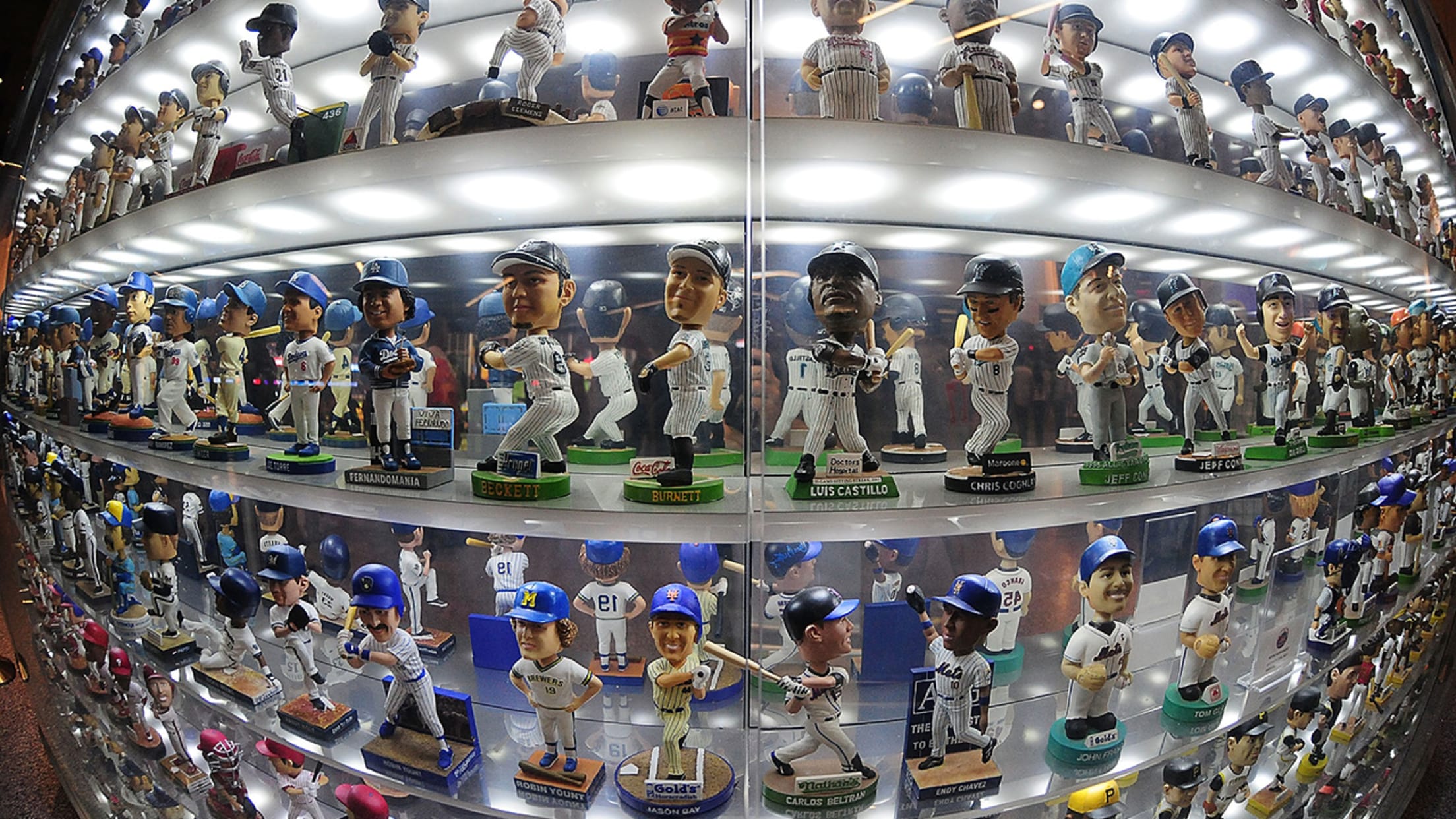 MIAMI, FL - SEPTEMBER 14: The Bobble Head Museum at Marlins Park is shown during a game between the Miami Marlins and the Cincinnati Reds on September 14, 2012 in Miami, Florida. (Photo by Jason Arnold/Getty Images) (Jason Arnold/Getty Images)
Why does National Bobblehead Day exist? Well, as the National Bobblehead Hall of Fame says, "Because bobbleheads are awesome."
We can't really disagree. Come on! They're little statues with heads that bounce up and down. That's just fun. And it looks like you think so too -- we asked you to send in pictures of your favorite bobbleheads, and you obliged. So, to celebrate this delightful national holiday, here are a few of our favorites:
Some people keep bobbleheads around to remind them of baseball milestones:
It's stopped on 719.....The only time he got me pic.twitter.com/TtbFkB7MCi

— dan haren (@ithrow88) January 5, 2017
Some people just like costumes:
@Cut4 I'm partial to the Jedi Council pic.twitter.com/zqB0fcBT4z

— colby simpson (@colby_simpson) January 5, 2017
custom Batman version of @wudeydo34 pic.twitter.com/zXrBN1C6HT

— Alex Rohlf (@rohlfa11) January 5, 2017
Or bobbleheads with sweet rides:
@RealCJ10 rescuing @FreddieFreeman5 of course! pic.twitter.com/in0nXLswzR

— LBJones (@LBrianJones) January 5, 2017
Greg Bird... riding an eagle. pic.twitter.com/DUwYUdGsf2

— Asher would follow Aaron Boone into Hell (@Low_rax) January 5, 2017
Bobbleheads with props? Definitely invited to the party:
the only bobblehead with 13 gold gloves of course #CardinalNation #thewizard pic.twitter.com/08dNLf4rA6

— cardsfan85 (@dhartke26) January 6, 2017
@SalvadorPerez15 trying to douse my laptop. Bad Salvy!! pic.twitter.com/FzFf5lYcan

— John Wilson 💙⚾️ (@Tatorsdad) January 5, 2017
hard to compete with Vin Scully but how's this? pic.twitter.com/Nehc8wbrHQ

— Joseph Frary (@joseph_frary) January 5, 2017
Bobble-beards -- well, giant mustache, really:
@PNats42 #Espibeard bobble head pic.twitter.com/ffZT6UVEzW

— Patti Abernathy (@NattiPatti) January 5, 2017
Bobble ... feet?
my Earl Weaver bobblefoot! pic.twitter.com/A5XG2WHSSG

— Aaron Chauncey (@aaron21222) January 5, 2017
And of course, perhaps the most popular submission, the bobble-GOAT:
Vin Scully hands down. pic.twitter.com/OUtVL7q1Jf

— Mattorious (@Matthewburt_) January 5, 2017
who else 🎙 pic.twitter.com/6v74a5OqX7

— Serena (@itsfedex) January 5, 2017
The 🐐 pic.twitter.com/q9yyV4hpjf

— Jason Hagman (@Jason_Hagman) January 5, 2017