The 9 MLB players who you just know go the hardest at the gym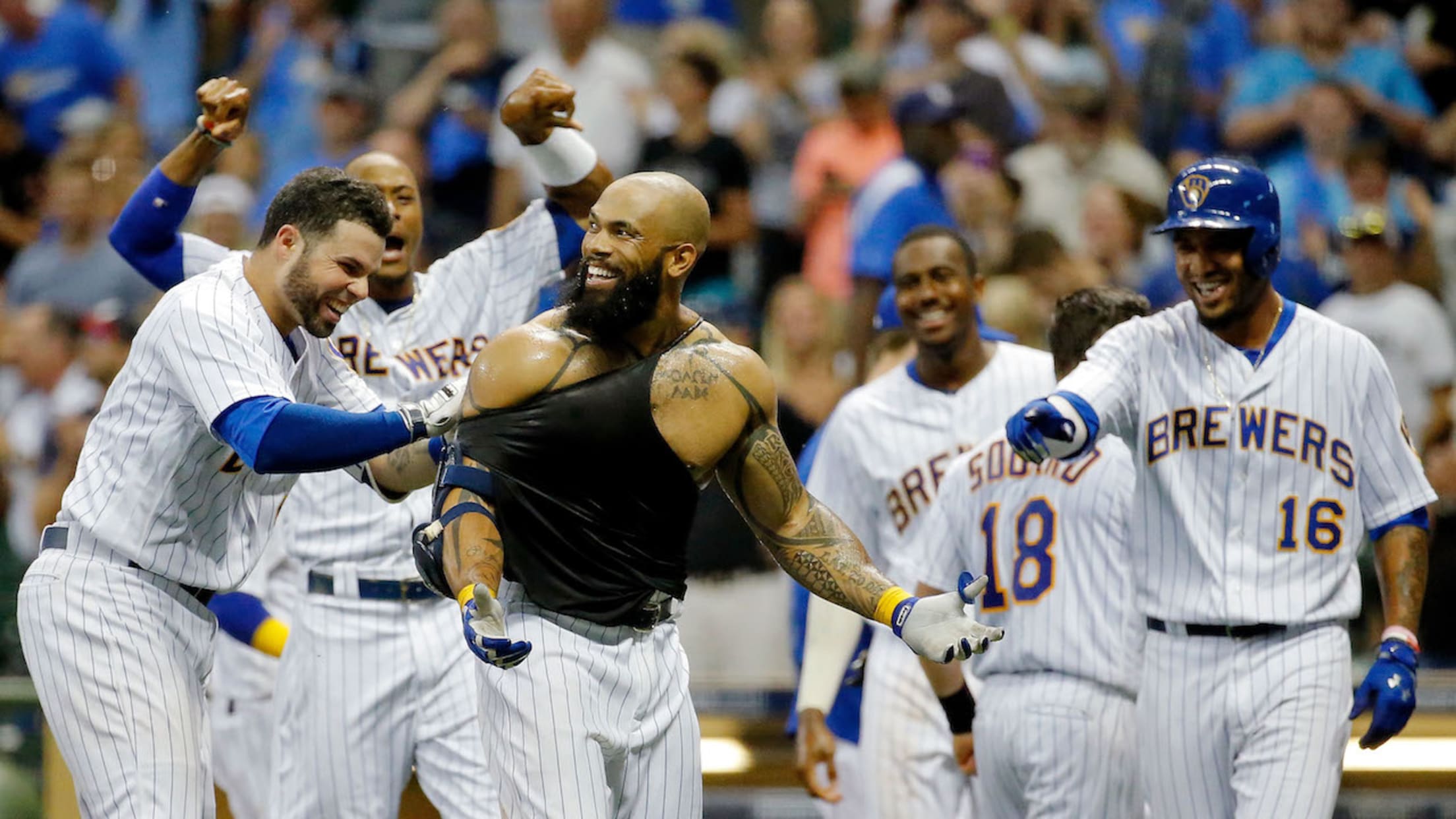 MILWAUKEE, WI - JUNE 16: Manny Pina #9 of the Milwaukee Brewers (L) tries to rip off the shirt of Eric Thames #7 after he hit a walkoff home run against the San Diego Padres during the tenth inning at Miller Park on June 16, 2017 in Milwaukee, Wisconsin. The Milwaukee Brewers won 6-5 in ten innings. (Photo by Jon Durr/Getty Images) (Jon Durr/Getty Images)
Baseball requires a wide variety of skills, from quickness to coordination to spatial awareness. But there's one skill that we fans tend to appreciate just a little bit more: good ol' fashioned strength. The kind of strength that equipment simply can't contain. The kind of strength that sends balls into low orbit.
So today, let's celebrate the strongest of the strong -- the group of MLB stars most likely to absolutely crush it at the gym.
Eric Thames
We could tell you that Thames is the size of a defensive end, or that he handles a bat the way we'd imagine Paul Bunyan handles a toothpick, but instead we'll just leave this here:
Giancarlo Stanton
A lot of players hit home runs. Only Stanton hits home runs that constantly run the risk of property damage:
The man somehow turned eating a Kit-Kat bar into a menacing activity:
@Giancarlo818 you need to start respecting the rules sir. pic.twitter.com/IvkUAphhJv

— Dee Gordon (@FlashGJr) June 1, 2015
Tyler O'Neill
You probably figured that Cardinals rookie O'Neill was ripped when you saw what he can do to a baseball, or when you took one look at his dad. In case you were still on the fence, though, his St. Louis teammates decided to make him go shirtless after a walk-off dinger:
We won by a walk-off home run for the 8th time this season, extending our franchise record. Our 11 walk-off wins this season are the most since we had 11 in 2008. pic.twitter.com/xsg7qMIkjp

— St. Louis Cardinals (@Cardinals) September 22, 2018
Yoenis Céspedes
Yo underwent season-ending heel surgery in July, so perhaps you've forgotten just how insanely strong he is. So, a brief reminder: He's "third deck at Citi Field" strong.
Noah Syndergaard
Syndergaard may not actually be a Norse god, but he does throw hard enough to literally brand his catcher, so we'll endorse his workout regimen all the same:
How hard does Syndergaard throw? Plawecki blocked a pitch w/ his chest. Theres now an imprint where his necklace was pic.twitter.com/Sd52ije5PZ

— Steve Gelbs (@SteveGelbs) April 19, 2016
Yoán Moncada
Sure, Moncada is technically a second baseman, but make no mistake: The man is a house.
A diet comprised exclusively of Twinkies will do that, apparently.
Franmil Reyes
In case you haven't heard that name before, here are a few of things you need to know about Reyes: 1) He stands 6-foot-5, 275 pounds, 2) he hits a lot of dingers and 3) those dingers often look like this.
Yasiel Puig
The man behind this throw probably does just fine on the bench:
Michael Lorenzen
"But wait," you're probably thinking. "Lorenzen is a reliever -- what is a reliever doing on this list?" To which we say: He's not your ordinary reliever, and neither are his biceps.