Celebrate Father's Day with a listen to some of MLB's greatest father-son broadcasting duos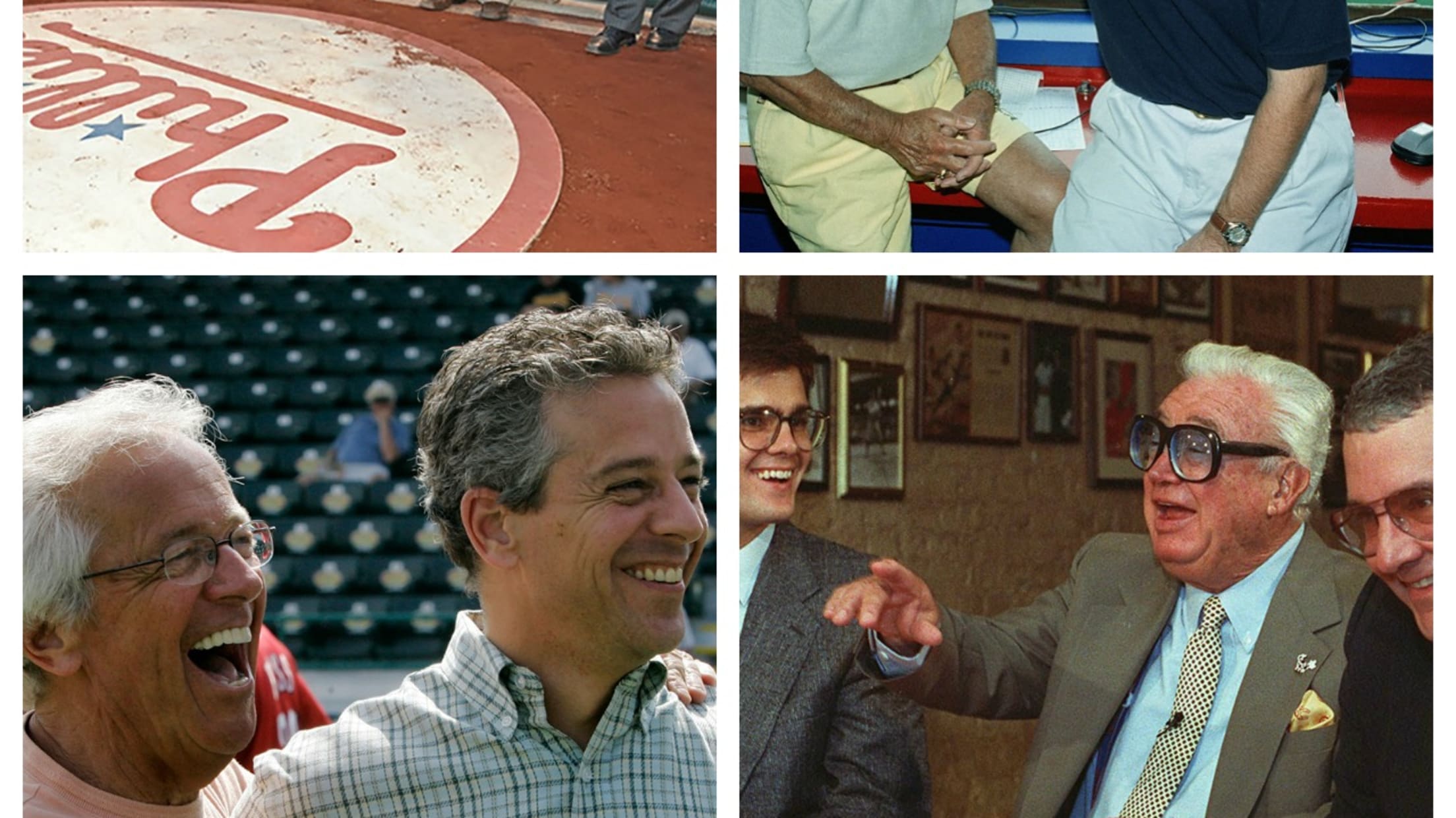 According to an old Hebrew proverb, "When a father gives to his son, both laugh; when a son gives to his father, both cry." Maybe this is why baseball is the language of fathers and sons: It's the constant that can reach across every divide, even those that span generations. Through it all, baseball marks the time.
With that in mind, what better way to celebrate Father's Day than with the dads who've passed the game down as a birthright? You know about Junior and Senior, Barry and Bobby -- but the broadcast booth has some memorable legacies of its own. Below are just a few.
Jack and Joe Buck
While studying sports broadcasting at Ohio State in the late '40s, one of Jack Buck's professors decided to offer some helpful advice after listening to his call of a college basketball game: "You'd better find something else to do for a living." Luckily for us, he decided to stick with it -- and after a few years calling games for a variety of Minor League clubs, in 1954 Buck was hired to be a part of the Cardinals' radio team ... alongside some guy named Harry Caray.
Buck was eventually promoted to lead broadcaster in 1969, and for the next 31 years, he was a fixture in St. Louis -- punctuating every Cards win with "That's a winner!" But despite all of the great professional moments, despite all the iconic calls -- and there were a ton of them -- his proudest moment came in 1987, when he welcomed a new broadcast partner to the booth: his son Joe.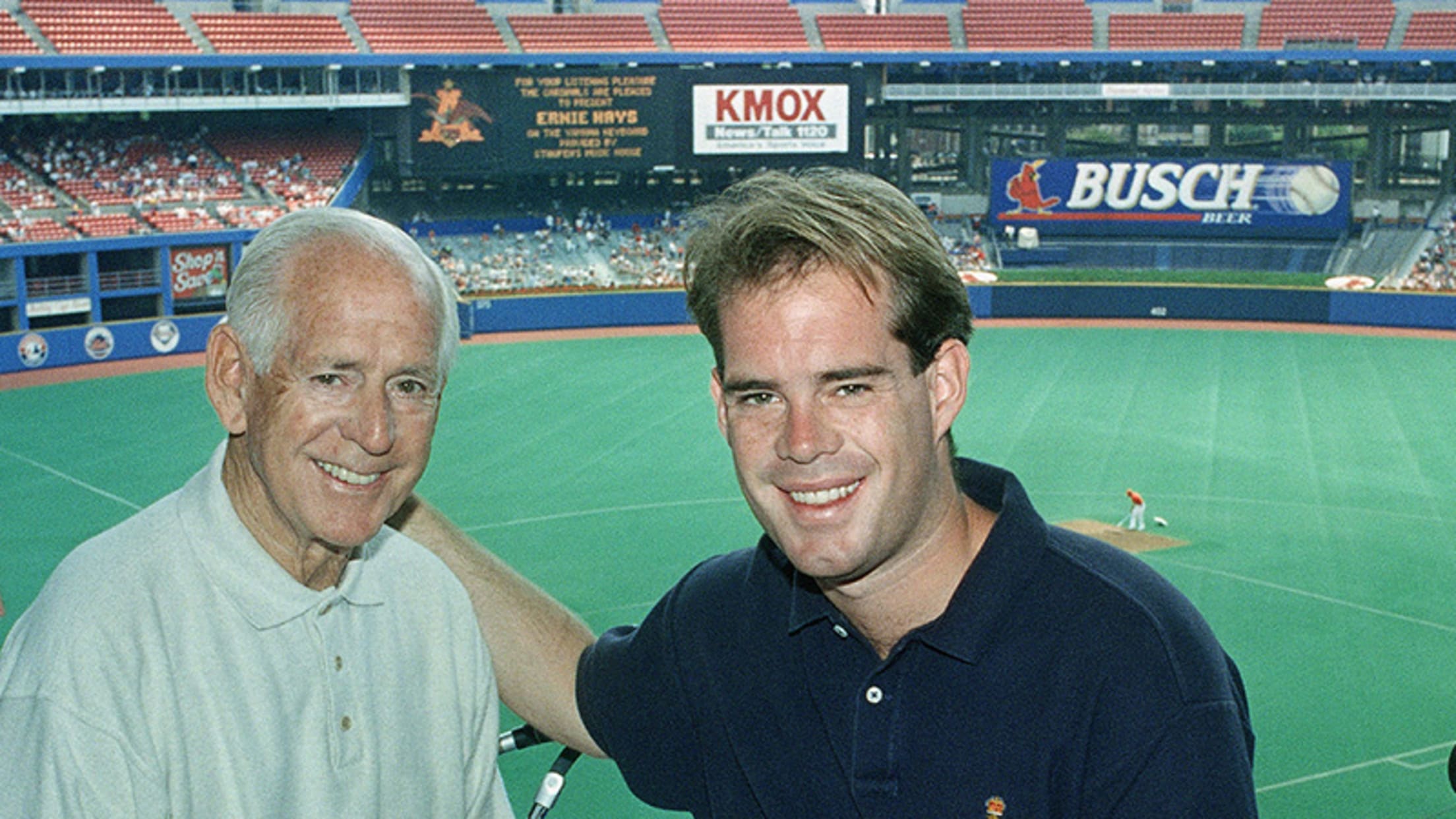 The younger Buck had spent much of his childhood on the road with his dad, hanging out in the booth and taking in the Major League life. And when he finally turned 18, Jack gave him the reigns -- Buck was left alone to call one full inning of the Cardinals game that night. He didn't disappoint, and as his father's health began to deteriorate in the '90s, Joe began calling every St. Louis road game.
Jack Buck passed away in 2002, just as his son was gaining a national audience with FOX Sports. But Joe never forgot where he came from, and who had given him his love for the game. And when the time was right, he paid tribute to his dad the best way he knew how.
Thom and Marty Brennaman
Over more than four decades, Marty Brennaman has become synonymous with Reds baseball. Amazingly, though, he only became a broadcaster by accident: He went to the University of North Carolina to become an actor, and only started calling sporting events when the news station he was working at needed a substitute anchor.
But it would only take a few years before he found himself in a daunting situation: Replacing Al Michaels as the voice of the Reds. Luckily, though, he didn't much care about what people thought: "I always say that if I praise you, I reserve the right to be critical of you," he once said.
Paired with color commentator and former pitcher Cincinnati pitcher Joe Nuxhall, Brennaman served as the voice of Cincinnati for decades, covering all of the team's biggest moments: His very first regular-season inning saw Hank Aaron tie Babe Ruth with home run No. 714, and from there his career spanned the Big Red Machine, a no-hitter by Tom Seaver, historic homers from Griffey Jr. and even the coronation of the Hit King:
Having grown up with Johnny Bench and Joe Morgan, it makes sense that Marty's son Thom would want to follow in his dad's footsteps. And he proved to be a natural: He made his debut in 1989, providing play-by-play on Reds telecasts, and worked his way through stops with the Cubs and D-backs. Then, in 2007, he came back home -- he went to work in the Reds' radio booth, working 90 games with his dad that year. It was "a dream fulfilled" for both of them, and to this day, they've got a place in the baseball record books: They're the only father-son broadcasting duo to have each called a perfect game (Marty with Tom Browning's, Thom with Randy Johnson) and a World Series-winning team (the 1975 Reds and 2001 Diamondbacks).
Harry, Skip, Chip and Josh Caray
"Let's face it," Harry Caray once said, "a broadcaster has to be an entertainer." Say what you will about Caray, but he was never boring -- this is a man who once declared that the Cardinals would win the pennant four games into the season after light-hitting Roger Craig surprisingly ripped a double to left.
He even got started in the industry in the most Harry Caray way imaginable: In the late '30s, the St. Louis native wrote a letter to the home of Merle Jones, general manager of KMOX, asking for the Cardinals broadcasting job. And after a couple of years cutting his teeth in smaller markets -- during which he allegedly came up with "Holy Cow!" as means to avoid swearing on air -- in 1945 he began calling St. Louis home games.
Caray would be the voice of the Redbirds for almost 25 years, but it was in Chicago that he'd cement his legacy. In 1971, he moved to the South Side, where he would work for a decade -- and where his renditions of "Take Me Out to the Ball Game" during the seventh inning stretch were born, when owner/showman extraordinaire Bill Veeck snuck a public-address mic into the booth after hearing Caray singing to himself. From there he moved over to Wrigley Field, where he became the man who launched 1,000 impressions:
Caray called Cubs games from 1981 up until his death just before the 1998 season, handing out beers to the Wrigley bleachers and becoming synonymous with the North Siders. But his legacy extended far beyond the Friendly Confines -- Caray didn't simply inspire his son, he inspired a whole family tree. Skip Caray, Harry's son, became an icon in his own right over more than three decades calling Braves games ... where he was joined in 1991 by his son, Chip, who joined him in the booth in Atlanta beginning in 1991.
And in May of that year, all three generations of Carays even got together in the same booth when the Braves visited the Cubs:
Another of Harry's grandsons, Josh, became a Minor League announcer, just for good measure.
Harry and Todd Kalas
As the pre- and postgame host for the Rays, Todd Kalas doesn't get back to his hometown of Philadelphia often. But when he does, he knows exactly where to go: Out past the left-field seats at Citizens Bank Park, right next to Harry the K's restaurant, where the 7 1/2-foot statue of his dad stands.
There are still signs of Harry Kalas all over the place at Phillies games -- from the TV booth that bears his name to his rendition of "High Hopes" that plays after wins -- and with good reason. Kalas joined the Philadelphia booth in 1971, and he remained there until he passed away in 2009 while preparing to call a Phillies-Nationals game in Washington. His was the voice of God (NFL Films even tapped him for voiceover duty) and he narrated the franchise's biggest moments: from no-hitters to walk-offs to the genesis of one of baseball's very finest nicknames: Chase "The Man" Utley.
Just how much did Kalas mean to the City of Brotherly Love? When the Phillies won the 1980 World Series, he wasn't allowed to be on the call -- MLB had instituted a rule prohibiting local broadcasts from producing live coverage of the Fall Classic. Philly fans were so outraged, they had Kalas and the radio crew recreate the call he would've made had he been there that night ... and followed it up with a write-in campaign to the Commissioner's Office that ultimately led to the rule being rescinded.
Above all of the memorable moments, though -- above even the first World Series title in almost 30 years -- was the fact that he got to call a Fall Classic with his son when the Phillies met the Rays back in 2008. Todd always wanted to follow in his dad's footsteps -- he studied broadcasting at Syracuse University, and started working in Tampa back in 1998.
"This is just great," Harry said at the time. "I'm honored Todd went into this business; he saw how much I love my job. It's so special."