Which MLB teams most closely match the contenders for the Iron Throne?
For the third year in a row, MLB is working with HBO in a partnership to promote the wildly popular "Game of Thrones." As the show enters its final season, 19 different ballparks throughout the country will host theme nights in April and May. What each team has in store is a mystery, but hopefully, we'll get at least one more appearance from DJ Hodor.
Sadly, the departed Hodor will not be with us (in living form, anyway) when the stars of the show finish the journey to answer two essential questions. Will the clashing houses find a way to unite and prevail over the white walkers and their undead army? And who will be left to sit on the coveted Iron Throne when all the dust has settled?
To commemorate the upcoming season, we've narrowed the field to 10 contenders and matched them up with the 10 MLB teams they most closely resemble. (Beware spoilers.)
Jon Snow - Astros
Travel back in time to the beginning years of the decade. Jon Snow looked like this ...
and the Astros looked like this.
They've both come a long, long way since then. At times, it almost seemed like they were dead in the water (or in Jon's case, in the snow), but they were resurrected and ascended to the crown. Last season, they bent the knee. Jon ceded his crown as King in the North to Daenerys Targaryen, and the Astros fell to the Red Sox in the American League Championship Series.
That being said, they could both find themselves kings again very soon.
Daenerys Targaryen - Dodgers
In a previous generation, it was completely normal for the Dodgers to reign as World Series champions. Following their move from Brooklyn to Los Angeles, they won the title three times in eight years, and after contending for several more crowns, they took home a pair of championships in the '80s.
Likewise, the Targaryens became a dynasty after sailing west from Dragonstone and Valyria. They conquered Westeros and ruled the lands for over 280 years until were ousted in rebellion and their only known surviving members -- including baby Daenerys -- were sent into exile a continent away.
Both the Dodgers and Daenerys have been trying to get back on top for quite some time now. The Dodgers have come ever-so-close with World Series appearance in 2017 and 2018, and after building an impressive resumé of her own with the help of dragons, Daenerys is back in Westeros.
Daenerys now has her eyes on first taking down the White Walkers, who killed and resurrected one of her dragons, but the Iron Throne is tantalizingly within reach.
Tyrion Lannister - Rays
Tyrion is a master of the titular game of thrones. His strategy was on its greatest display in season two, when he served as acting Hand of the King and had to suss out who could not be trusted.
Tyrion now serves a different ruler (Daenerys) and garners far more respect than his domineering father ever gave him.
The Rays were also overlooked for years while they dwelled in the AL East cellar from their inception in 1998 until rising all the way to the precipice of a World Series title in 2008. Despite formidable opponents within their division, they've used their savvy to remain in contention for the better part of the past decade.
Maybe 2019 will finally be the year for both Tyrion and the Rays to surprise and seize power.
Cersei Lannister - Red Sox
On the opposite end of the spectrum from the Rays are the Red Sox, the reigning World Series champions, and Tyrion's sister, Cersei. In the blink of an eye at the end of season six, she suddenly ascended to the Iron Throne.
Both Cersei and the Red Sox currently hold power, but they are both in tenuous positions. There is a vast field of other contenders, and they've both lost key allies -- brother Jaime Lannister for Cersei, and bullpen weapons Craig Kimbrel and Joe Kelly for Boston.
Given the superior strength of the rest of their forces, we have more faith in the Red Sox holding onto their crown than Cersei, but as the incumbent, she cannot be ignored.
Jaime Lannister - Nationals
As one of the fiercest fighters that Westeros has ever seen, it was devastating for Jaime when he lost his sword hand back in the third season. Thanks to encouragement from Brienne of Tarth and brother Tyrion, Jaime regained his confidence and now at last has a sense of humor about it.
More importantly, Jaime is still in the game and now riding north to join up with Tyrion, Jon and Daenerys.
The Nationals didn't lose heart when it looked like they had to move on from Bryce Harper, who was essential to their success since his debut in 2012. They signed Patrick Corbin to improve their rotation and look just about as dangerous to the rest of the NL East as they did before Harper's departure.
Sansa Stark - Brewers
It's been a slow rise to the top for Sansa. She went from naive daughter of a lord at the start of the series to prisoner of the crown in just a handful of episodes, and remained at the mercy of various captors until season six. Throughout it all though, she learned how to play the game and was thus quite ready when she finally found herself in a position of power. Now, Sansa is the Lady of Winterfell and a figure of utmost respect in the north.
The Brewers didn't have quite as much to overcome, but they have done some impressive work in a short amount of time. In 2015, they underwent a management overhaul and lost 94 games. Gradually, they retooled their team and made small gains -- a five-game improvement to 73 wins in 2016, 86 wins in 2017 and finally 96 wins and an unexpected division title in 2018.
The Brewers came just one game shy of the World Series in 2018. Given all they've learned, another step forward for both them and Sansa (who now has her more combative sister, Arya, on her side) would not be a shock.
Euron Greyjoy - Indians
It's tempting to just match the pirate-like Euron to, well, the Pirates or Mariners, but the Indians work better than the literal comparison. Their claims of power are both based on one truly great strength. For Euron, it's his massive armada.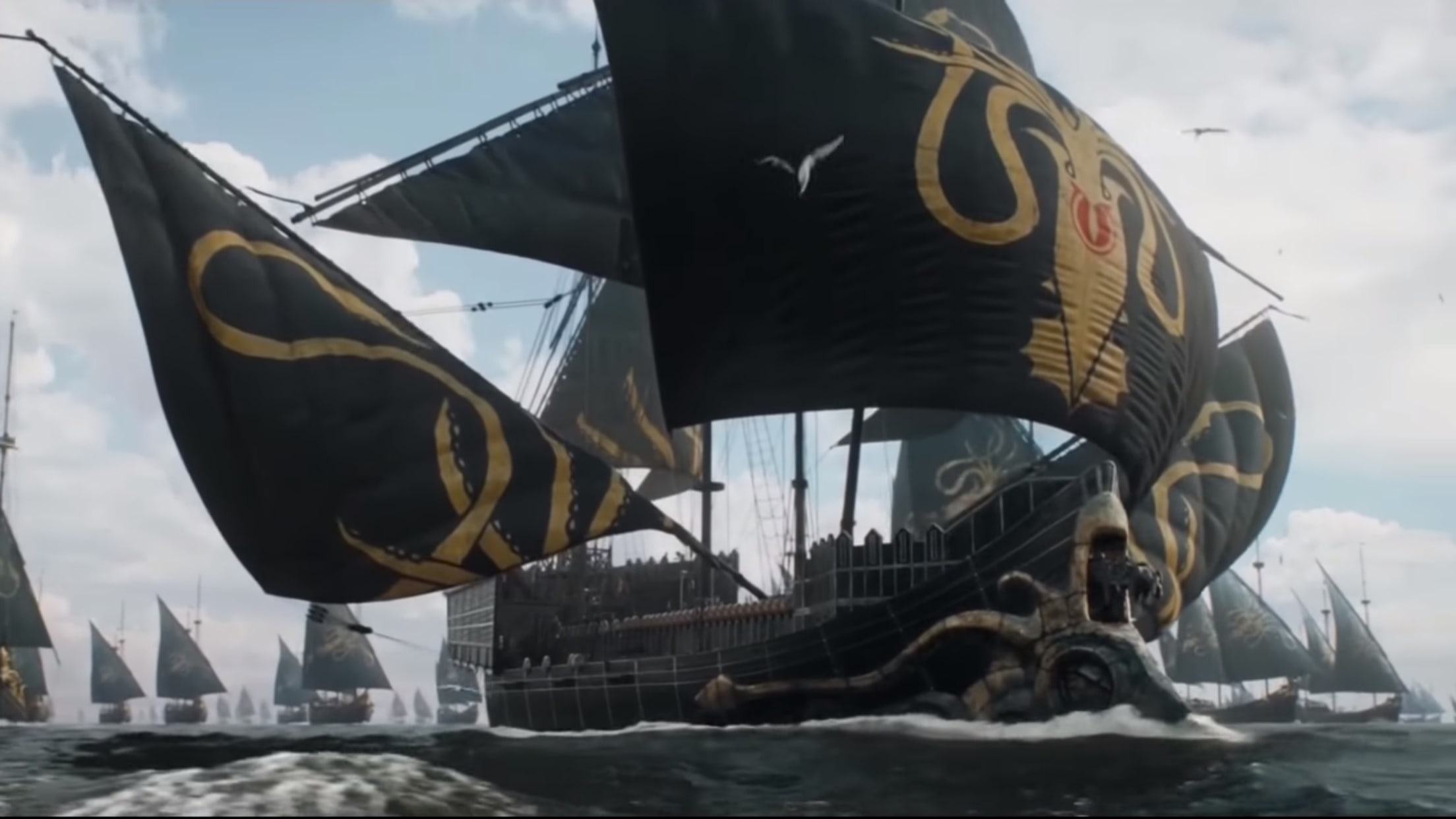 For the Indians, it's their starting rotation. Any team that can throw Corey Kluber, Carlos Carrasco, Trevor Bauer and Mike Clevinger at you in a short series is a potential threat.
Euron has long yearned for power, and he's not likely to settle on just being King of the Iron Islands. The Indians are desperate to finally snap their World Series drought, too. Thankfully, they'll be more merciful in their pursuit than the sadistic Euron.
Gendry - Cubs
Gendry is the last living link to the man who was king at the start of the series, Robert Baratheon. Because Gendry was not a product of his marriage to the queen, Robert did not acknowledge him and Gendry had no idea that he was connected to royalty until the third season.
All of the Baratheon family is gone except for Gendry. He might be just a smith, but his connection to the last universally recognized King of Westeros should not be forgotten.
People also seem to be overlooking the Cubs, who held the crown as recently as 2016. So many of the key parts of that championship team are still there -- Javier Báez, Kris Bryant, Anthony Rizzo and more. That lineup is not a threat that is easily dismissed.
Bran Stark - A's
For a long time, Billy Beane and his team have seemed to maintain a unique scope of the game that predicts where trends are going. They've changed philosophies multiple times since the vintage Moneyball days, and their capacity to surprise never ceases to amaze. Few people saw the 2018 A's as a contender in Spring Training, but they ended up running away with a Wild Card spot.
Is it a stretch to compare the A's foresight to Bran's three-eyed raven powers that let him observe anything he wants to see in the past, present and future? Possibly, but we also can't deny that Bran is literally called a "greenseer" and the A's wear green jerseys. Facts are facts.
The Night King - Yankees
Despite all these contenders, two certain menaces lurk in the back of everyone's mind in "Game of Thrones" and baseball. They're the threats that have always been there, no matter how much people want to ignore them.
The Yankees are the white walkers of baseball. So often, they've turned old enemies into allies (albeit through a less nefarious fashion than the Night King), and so often, the strategy has led to success. The decade of "peace" without a Yankees championship has been highly unusual. It's unlikely to last for much longer.
There might not even be an Iron Throne in Westeros by the time the Night King is done with it. But he may just end up ruling a continent of zombies from whatever position he wants.
Teams in this article:
Topics in this article: