All the best moments from the extraordinarily fun Oakland A's season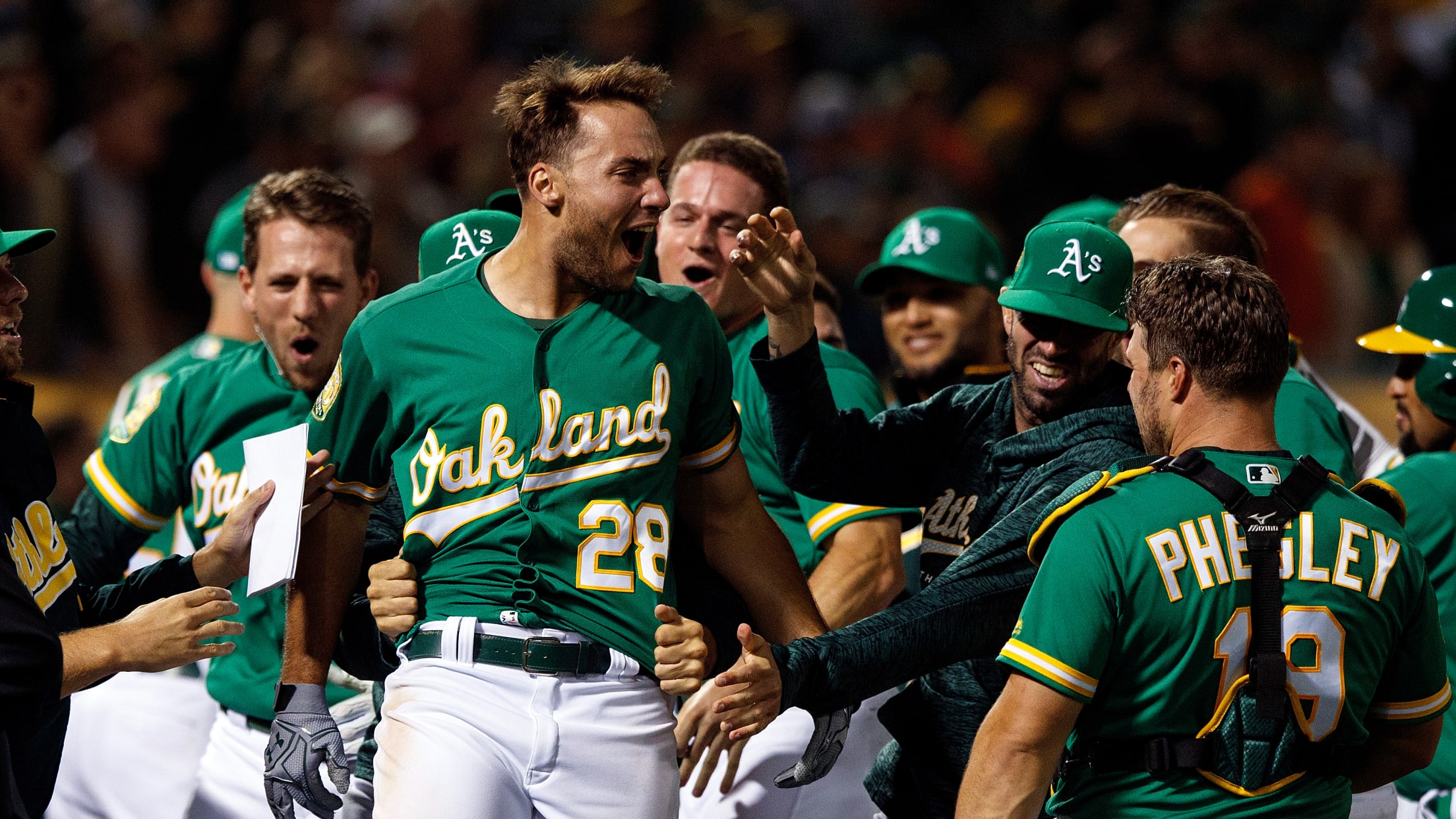 (Jason O. Watson)
Perhaps there's an alternate reality where the A's bullpen shut down the Bronx Bombers and turned Yankee Stadium into a library. Unfortunately for A's fans, that's not what happened in the AL Wild Card Game Wednesday night. There's certainly no shame in having your season ended by a barrage of Giancarlo Stanton and Aaron Judge laser beams -- it happens.
And for an Athletics team that many experts slotted into fourth or fifth in the AL West back in March, this is a year that deserves to be celebrated as the wonderfully bizarre and exhilarating roller coaster that it was. So as we bid adieu to the 2018 A's, let's take a look at some of the most exciting moments from their magical season.
Opening Day Walk Off
In hindsight, Oakland's walk-off win on Opening Day was emblematic of their season: timely hitting, followed by a run-of-the-mill Marcus Semien fly ball to center field that turned into a walk-off single.
Sean Manaea's No-No
If Manaea hadn't gone down with injury and had gotten the start in the Wild Card Game, who knows what might have happened. What's for certain is that the young lefty was quite literally unhittable back on April 22nd when he notched the first no-hitter for Oakland since Dallas Braden's perfect game.
Ramón Laureano's First Week
Perhaps the most unpredictable part of the A's unpredictable season, Laureano burst onto the scene with a super eventful first week in the big leagues. In his debut on August 4, the rookie outfielder slapped a walk-off single for his very first Major League base hit.
Then later that week, Laureano unleashed one of the most outrageous throws of the season.
Mike Fiers Joins the Squad
Acquired to help bolster the rotation in August, Fiers made a great first impression as an A by taping an A's logo over his old Tigers hat in his first interview after getting traded.
Mark Canha becomes a bat flipping legend
Mariners closer Edwin Díaz was pretty much nails in the ninth inning this season, but on May 2, Canha swatted himself a clutch go-ahead tater against the fireballer. More importantly, he also unleashed what must be considered the best bat flip of 2018.
After the game, a reporter asked Canha about his flip. The slugger's unapologetic response was so good it should be turned into a public service announcement to be shown on every baseball broadcast from now until the end of time.
Matt Chapman defensive magic
Much of the Athletics' success this season was thanks to Chapman and his all-world defense at the hot corner. There's a whole waterfall of incredible highlights to choose from, but this off-balance throw from foul territory is my particular favorite.
Khris Davis' walk-off tater celebration
You can't really tell the story of the 2018 A's without Davis, who led all of baseball with 48 homers. Oakland's DH had a ton of important homers throughout the season, but his walk-off dinger on September 23 against the Twins was particularly hype and featured a sweet basketball-themed celebration at home plate.
Teams in this article:
Players in this article: