Don Mattingly stepped back into the batter's box to show the Marlins how it's done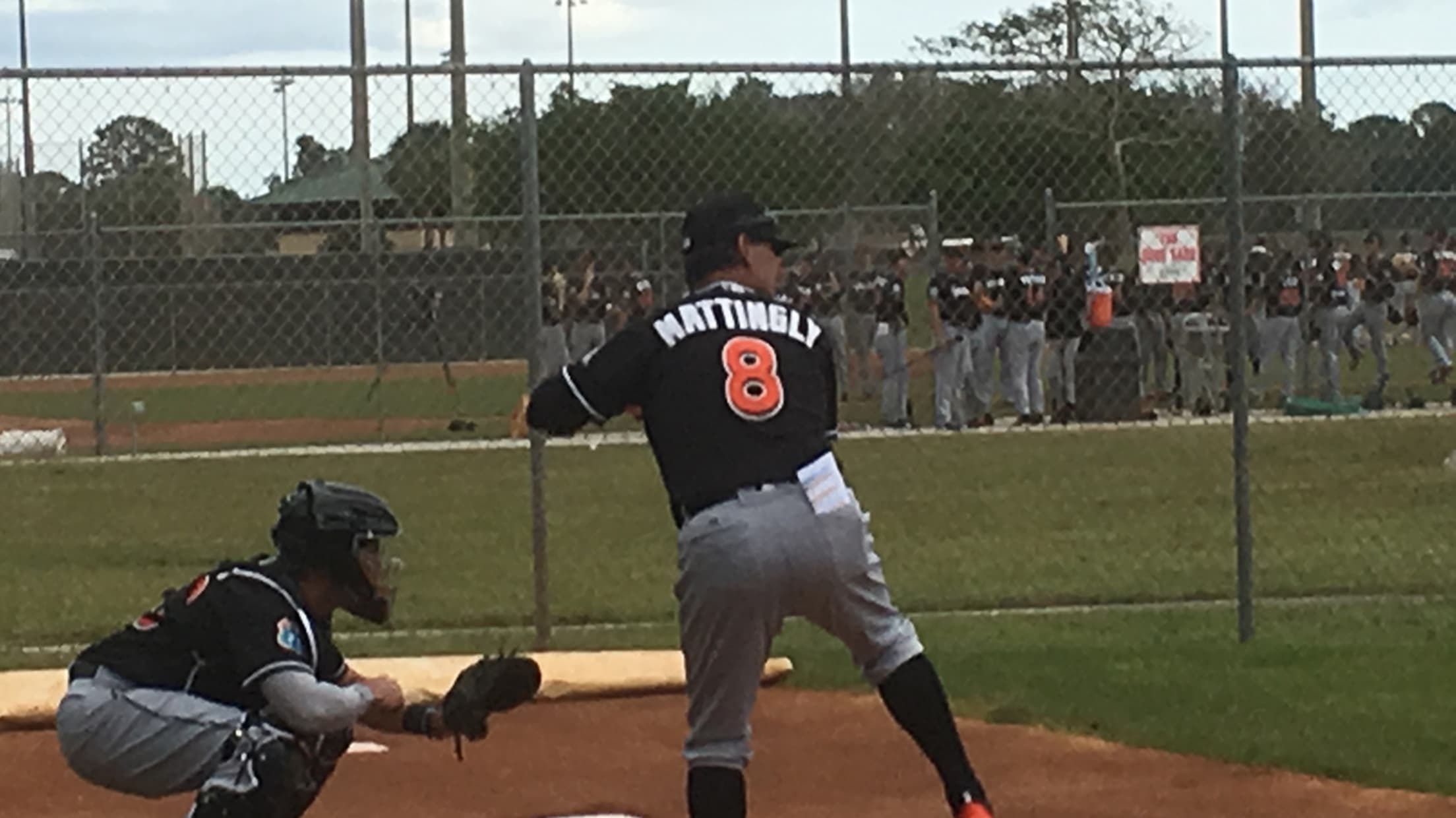 Don Mattingly's last big league at-bat came in 1995, when he capped his brilliant 14-year career with the Yankees. But the now 54-year-old Marlins manager isn't shy about stepping in against live pitching in Spring Training.
Donnie Baseball was back in the box on Monday, albeit without a bat or helmet, simulating a hitter against several hard-throwing pitchers.
"He still looks like he might be able to give a quality at-bat," Marlins president of baseball operations Michael Hill said.
It's common for someone, usually another player or coach, to sim an at-bat, giving the pitcher the feel of throwing with someone in the box.
But no one could recall a Marlins manager actually tracking 90-plus mph fastballs in the past 15 years..
"They call him Donnie Baseball for a reason," reliever A.J. Ramos said.
Mattingly stepped in, offering feedback to Ramos, Tom Koehler, Brad Hand and Bryan Morris.
Donnie Baseball, back in the batters' box. pic.twitter.com/OqNXT2Wxvw

— MLB (@MLB) February 29, 2016
A couple of days ago, he was in the box against Jose Fernandez.
A .307 career hitter, Mattingly knows a few things about hitting.
Stepping in gives him a better idea of just how his pitchers are throwing.
"To me, I get a better look like that than I do standing behind them," Mattingly said. "To see what looks like a strike and what doesn't. What their changeup does, if it's in the zone long enough? Just things you know a guy wouldn't swing at. Other pitches, guys wouldn't swing at because they know it's a ball right away. So you know which one is effective, which one is not."
Hitting coach Barry Bonds did the same thing a few days ago.
Koehler welcomes the feedback.
"If you can get feedback from these guys, what they're seeing, it's going to help everybody in here," Koehler said. "We've got pitching coaches to help us, but we also get two of the best at what they did. Anything that can help I think will benefit everybody."
Ramos said he threw all of his pitches except the cutter to Mattingly
"The cutter, a lot of times, when I miss, it's in," Ramos said. "I don't want to hit the manager."
Joe Frisaro is a reporter for MLB.com. He writes a blog, called The Fish Pond. Follow him on Twitter @JoeFrisaro and listen to his podcast.