Pinch-hit grand slam sends UC Santa Barbara to CWS for the first time in school history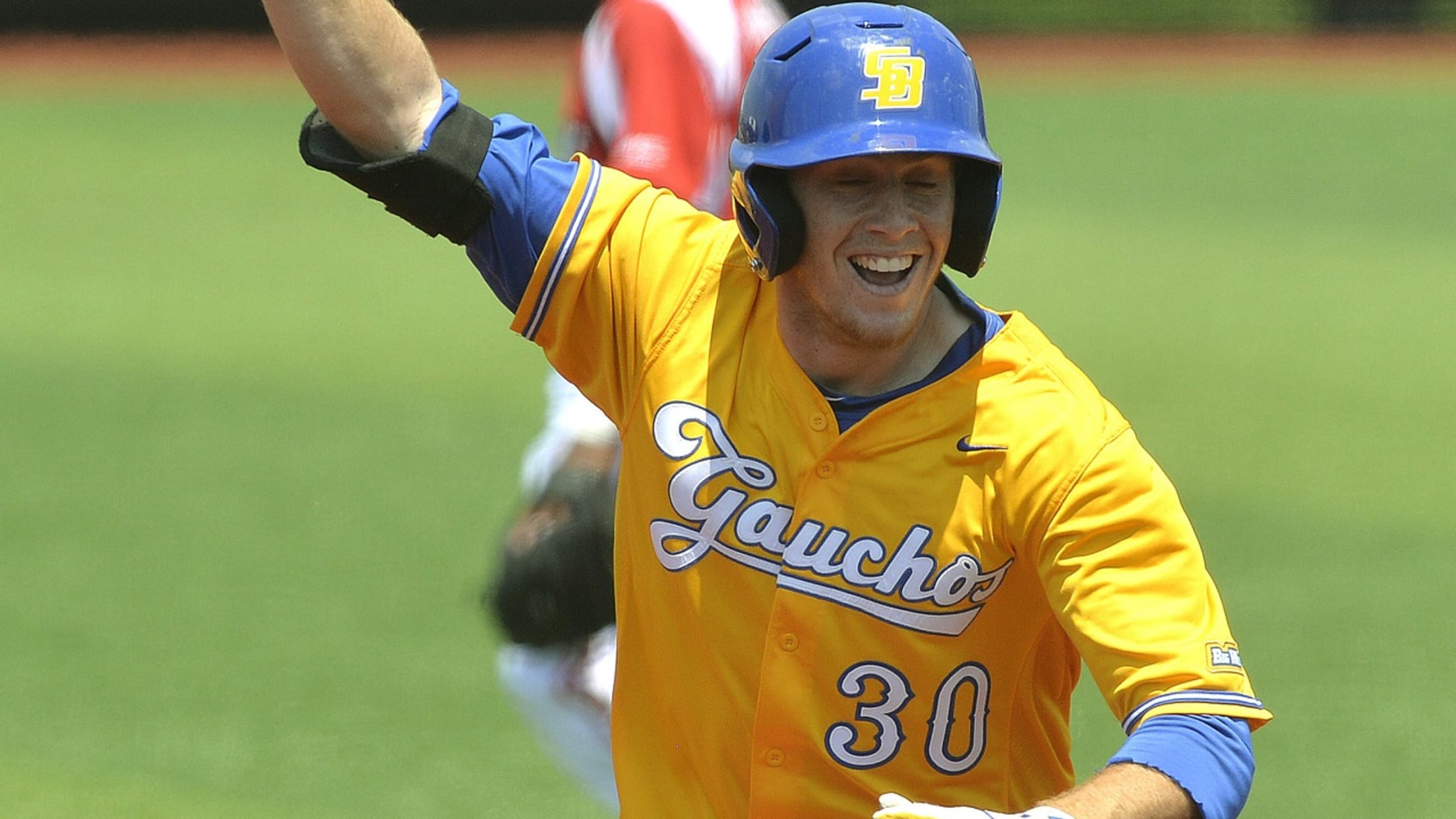 UC Santa Barbara Sam Cohen (30) celebrates after hitting a walk off grand slam to win their NCAA college baseball tournament super regional game against Louisville, Sunday, June 12, 2016 in Louisville Ky. UC Santa Barbara defeated Louisville 4-3. (AP Photo/Timothy D. Easley) (Timothy D. Easley/AP)
Bases loaded, bottom of the ninth, down three runs, and a chance to make school history.
That was the situation in front of Sam Cohen of the University of California, Santa Barbara Gauchos on Sunday afternoon. Up 1-0 in the best-of-three series against Louisville, down 3-0 in the game, with a golden ticket to Omaha waiting in the wings should the Gauchos pull this one out.
In stepped the pinch-hitter, Cohen, the potential winning run for a school that hasn't before qualified for the College World Series. Faced with the gravity of the situation ahead of him, Cohen coolly turned on a 1-2 pitch, walloping it deep into right and over the fence.
This is real...

A walk-off GRAND SLAM to go to Omaha by UC Santa Barbara's Sam Cohen! #CWShttps://t.co/avSzj06I9t

— NCAA Baseball (@NCAACWS) June 12, 2016
He'd been hitting pretty well -- .346 with a home run in his last 19 games -- but he'd only been in the starting lineup five times in that stretch. Still, manager Andrew Checketts thought Cohen might uniquely help against the opposing closer.
That closer, it's worth notinig, isn't some slouch either: The Louisville pitcher, Zack Burdi, was the 26th overall pick in this year's MLB Draft. Selected by the White Sox, he was one of the top closers in the nation this year, making Cohen's slam that much more impressive.
Given all that context, their celebration was pretty raucous:
Sam Cohen! Touch em all! UCSB is bound for the College World Series! pic.twitter.com/2ef1PYlijT

— UCSB Baseball (@UCSB_Baseball) June 12, 2016
Home SWEET Home!#RoadToOmaha pic.twitter.com/4sxBnGyEoq

— NCAA Baseball (@NCAACWS) June 12, 2016
Watch out for those Gauchos!
And the celebration wasn't limited to just the participants on the field, as a noted alum got into the act as well:
UCSB, Michael Young,'s alma mater, goes to CWS on walk-off grand slam. Young said he jumped into his pool, fully clothed in celebration.

— Evan Grant (@Evan_P_Grant) June 12, 2016
Because college athletics have a flair for the dramatic, this is now the second walk-off grand slam we've seen in the past week, after Auburn's heroics forced a Game 3 in the Women's College World Series ...