A pitch-by-pitch breakdown of one dominant inning from Cy Young Award winner Rick Porcello
In a tightly contested vote, Rick Porcello emerged victorious as the American League's 2016 Cy Young Award winner. Armed with a two-seamer that dips more than '90s rapper Freak Nasty and a squadron of breaking pitches, the Red Sox hurler led the league in wins with 22 and displayed excellent control with a best-in-baseball 5.91 strikeout to walk ratio.
How did he really do it, though? Let's use a single inning from 2016 to examine his dominance. No day was better than Sept. 19, when he pitched a complete game against the Orioles. Facing a lineup loaded with more power than a standard pickup truck commercial (and with the Red Sox holding a four-game division lead), the right-hander needed to keep runs off the board. All he did was pitch a complete game.
Let's investigate the sixth inning, when Porcello faced the heart of the order for a third time with the Red Sox leading, 5-1.
Adam Jones: 0 on, 0 out.
Pitch one: 89-mph four-seam fastball -- ball, 1-0.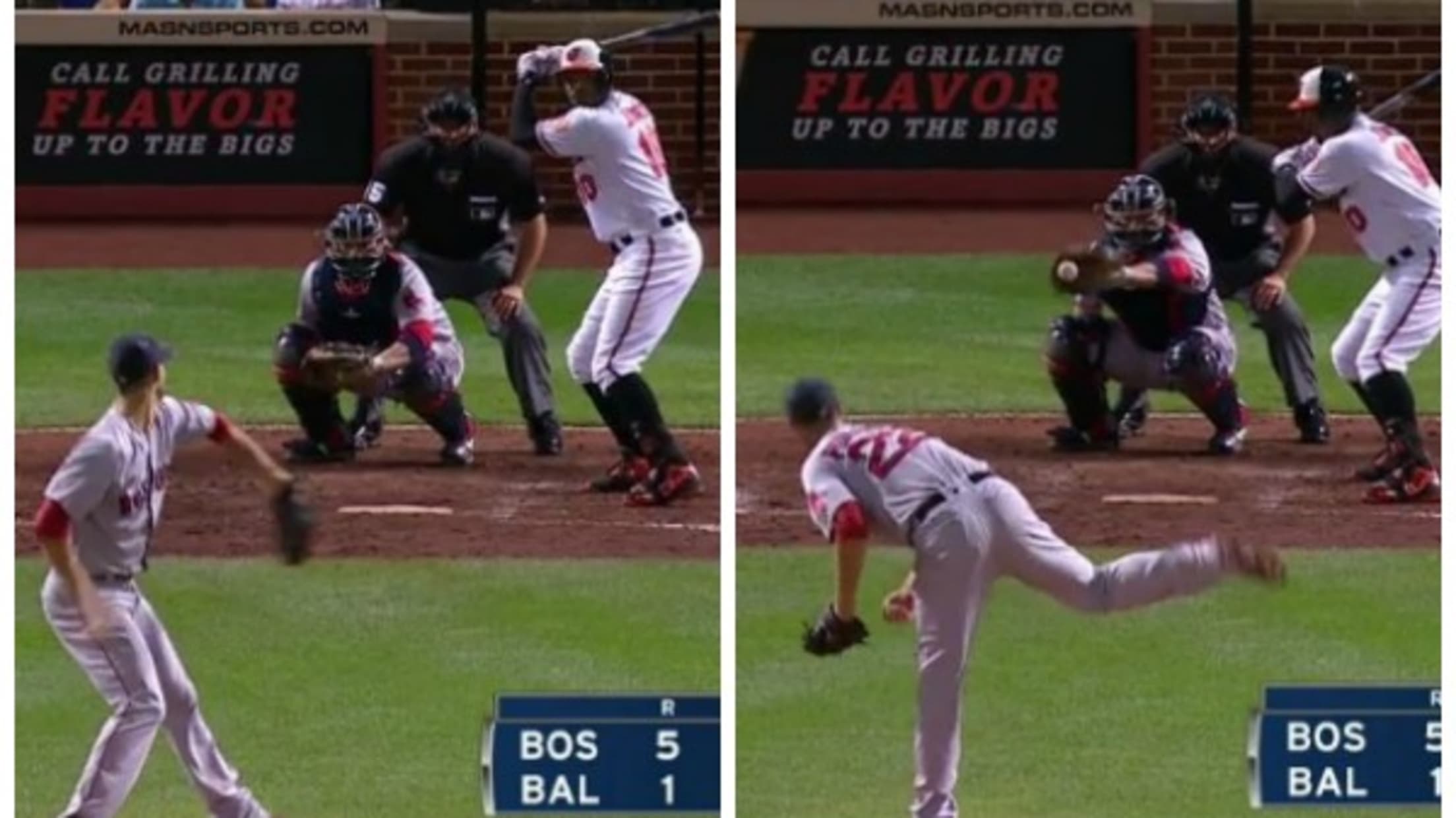 Porcello threw some kind of fastball -- whether four-seamer, two-seamer or cutter -- 61 percent of the time in 2016. While that was down from his Tigers days, when he threw one 70 percent of the time while relying on his sinker to get outs, it's certainly not a surprise when he throws it.
Pitch two: 87-mph two-seam fastball -- fouled off, 1-1.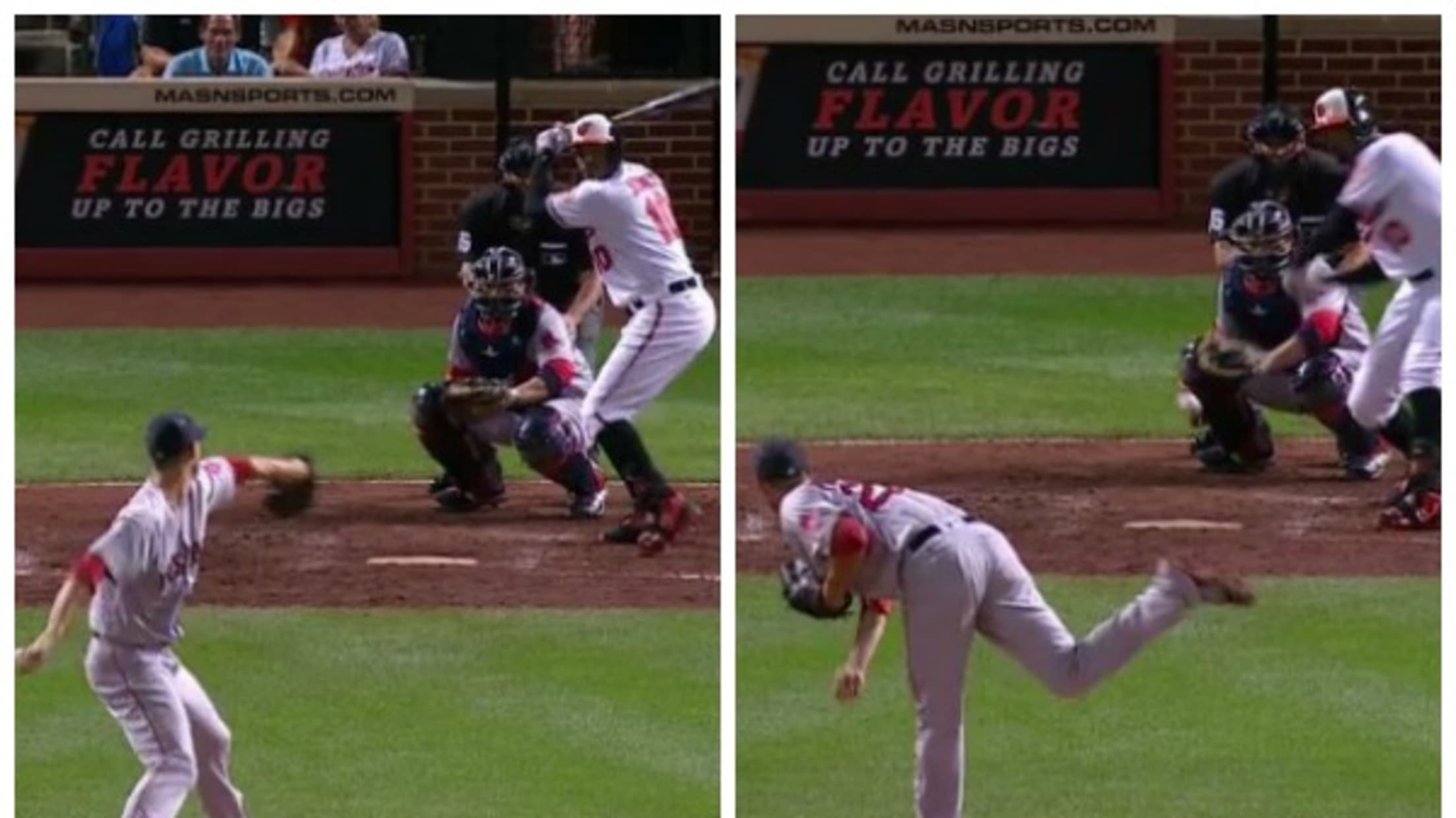 Here we have the Porcello of lore. After missing up and away, he spotted a late-breaking two-seamer that dove down and in to Adam Jones. Jones may have swung, but no one this side of Vladimir Guerrero could do anything with a pitch located there.
Pitch three: 79-mph changeup -- ball, 2-1.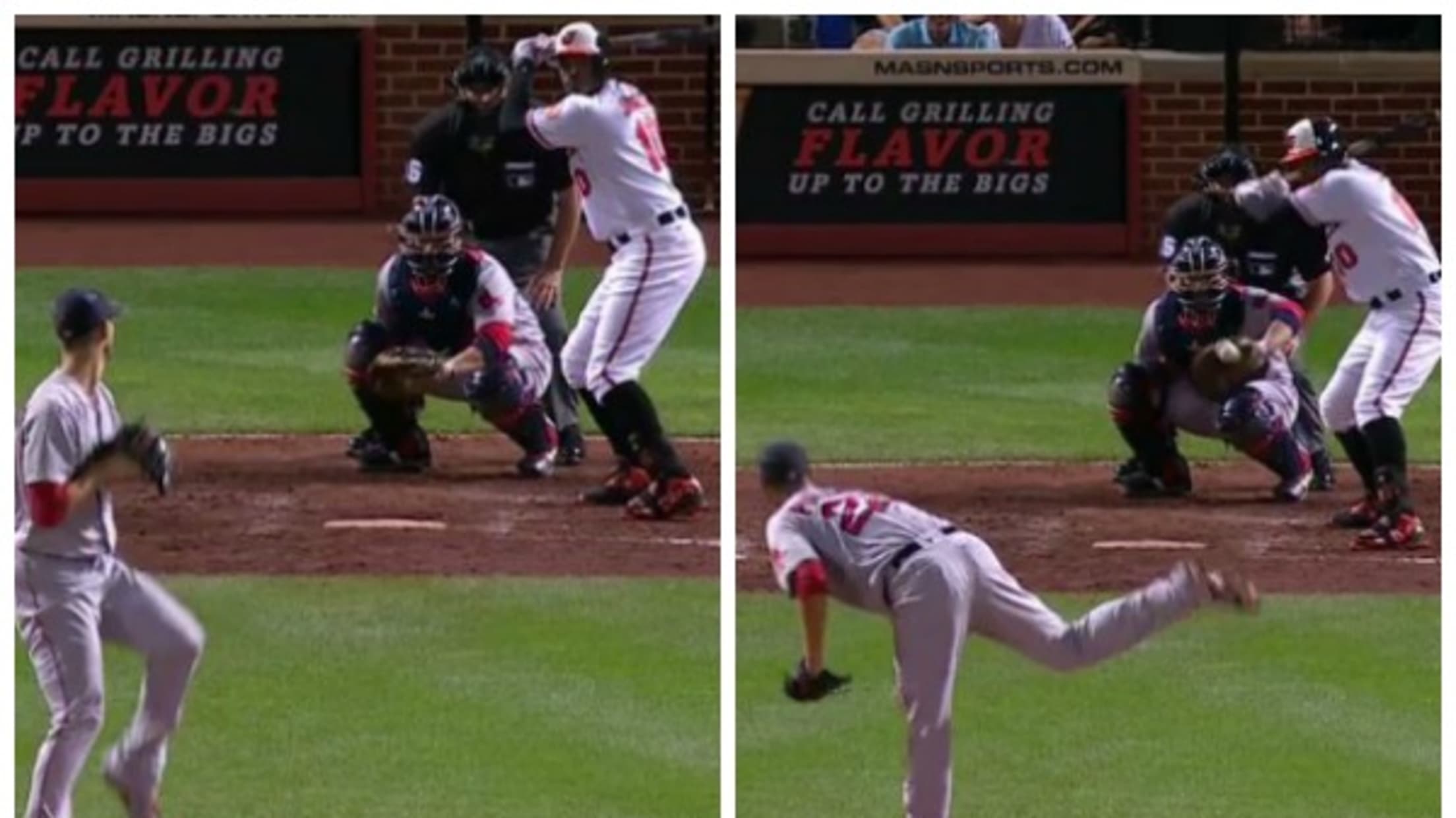 Aiming down and in again, Porcello missed a bit this time. Still, this changeup was another offering with plenty of dip and arm-side run, begging the question: How does anyone ever make solid contact?
Pitch four: 89-mph two-seam fastball -- flyout to center field.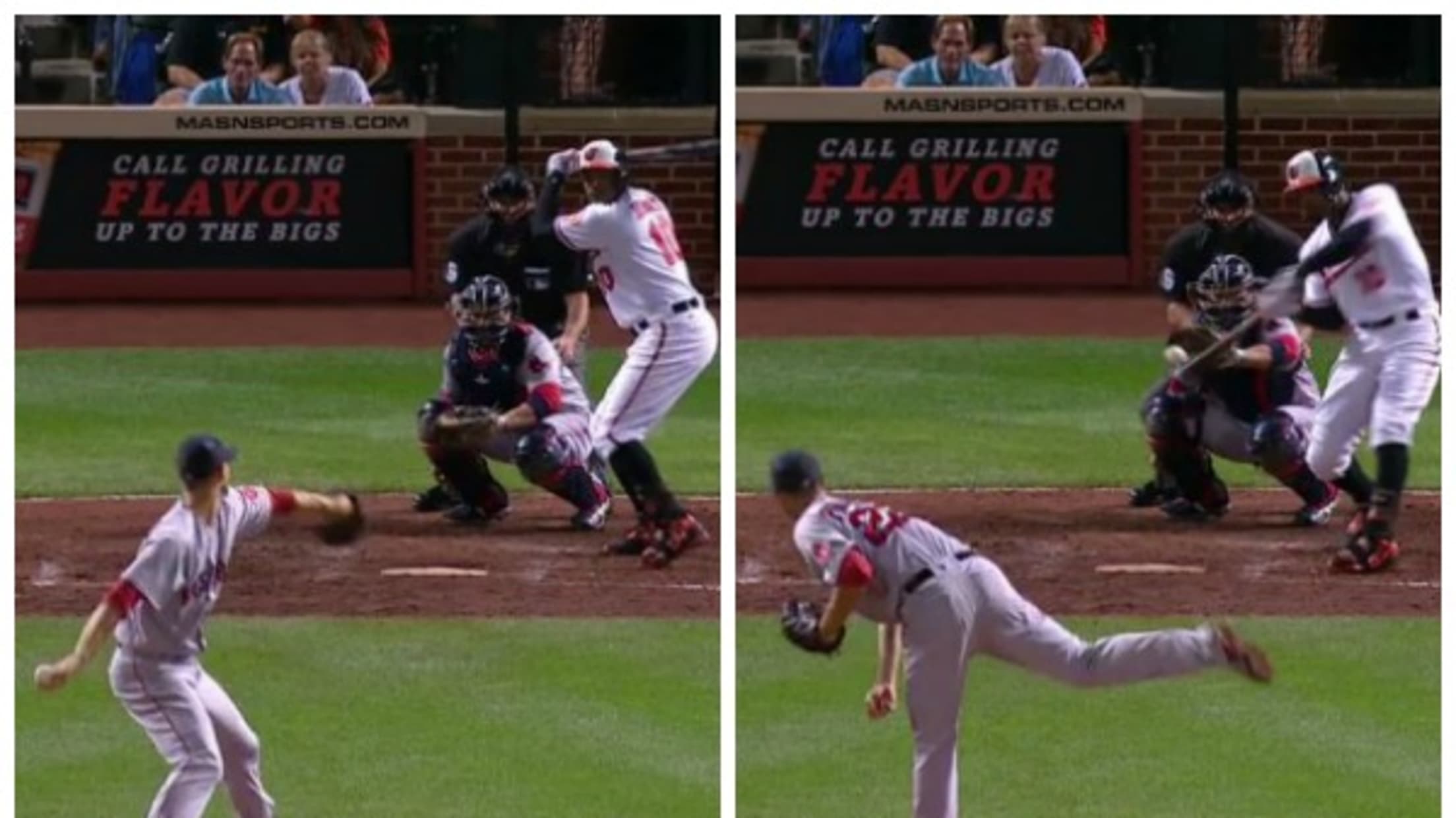 One pitch later, we got the answer to that question. Despite the Boston right-hander leaving the ball in a hittable zone, there was enough break to move it off the barrel of Jones' bat. Instead of a deep drive, Jones simply hit a sky-high fly ball to shallow center.
Hyun Soo Kim: 0 on, 1 out.
Pitch one: 89-mph two-seam fastball -- liner into center for a single.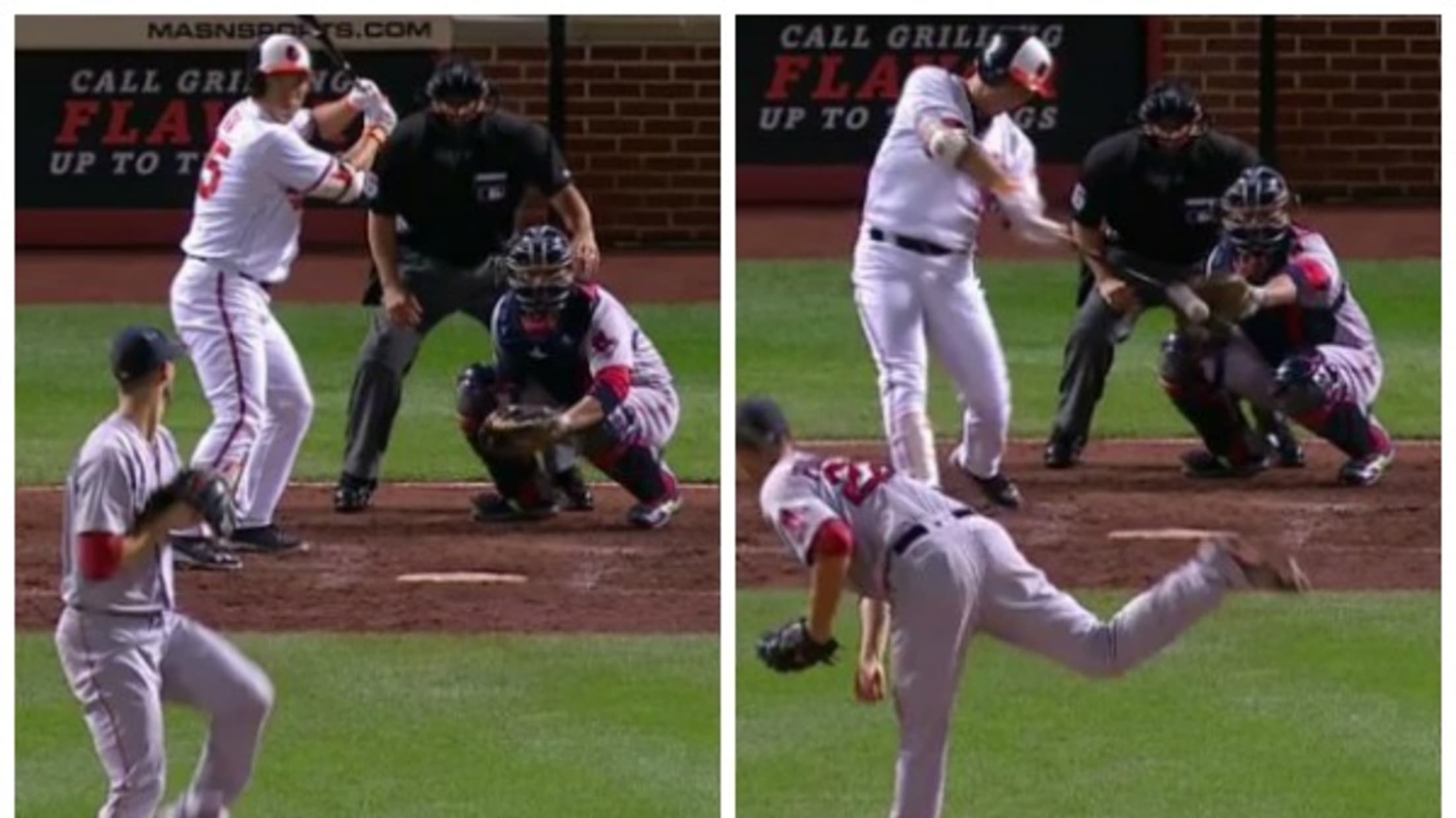 Facing a left-handed batter, Porcello made a mistake when he left his two-seamer straight down the middle. If anything, the arm-side run actually squared it up for Kim, who was rewarded with an easy single. He got away with this pitch to the previous batter, but this time he wouldn't be so lucky.
Manny Machado: Runner on first, 1 out.
Pitch one: 91-mph two-seam fastball -- called strike, 0-1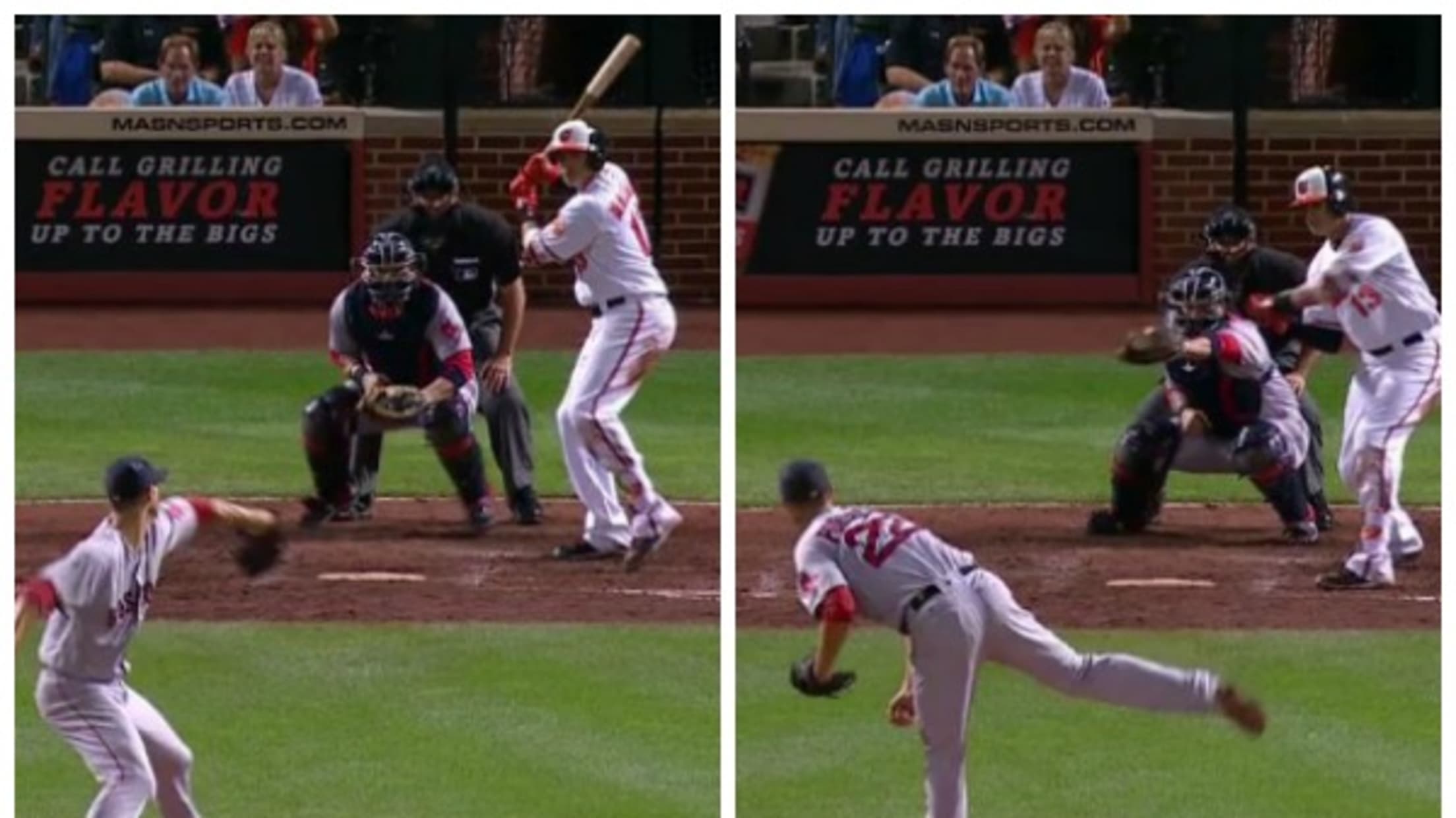 After hitting Machado for the first baserunner of the game in the fourth, Porcello now needed to face him again with a runner on. Despite missing his spot badly -- something that usually results in a ball -- Porcello got the strike here, as the pitch nipped the top corner.
Pitch two: 91-mph four-seam fastball -- fouled off, 0-2.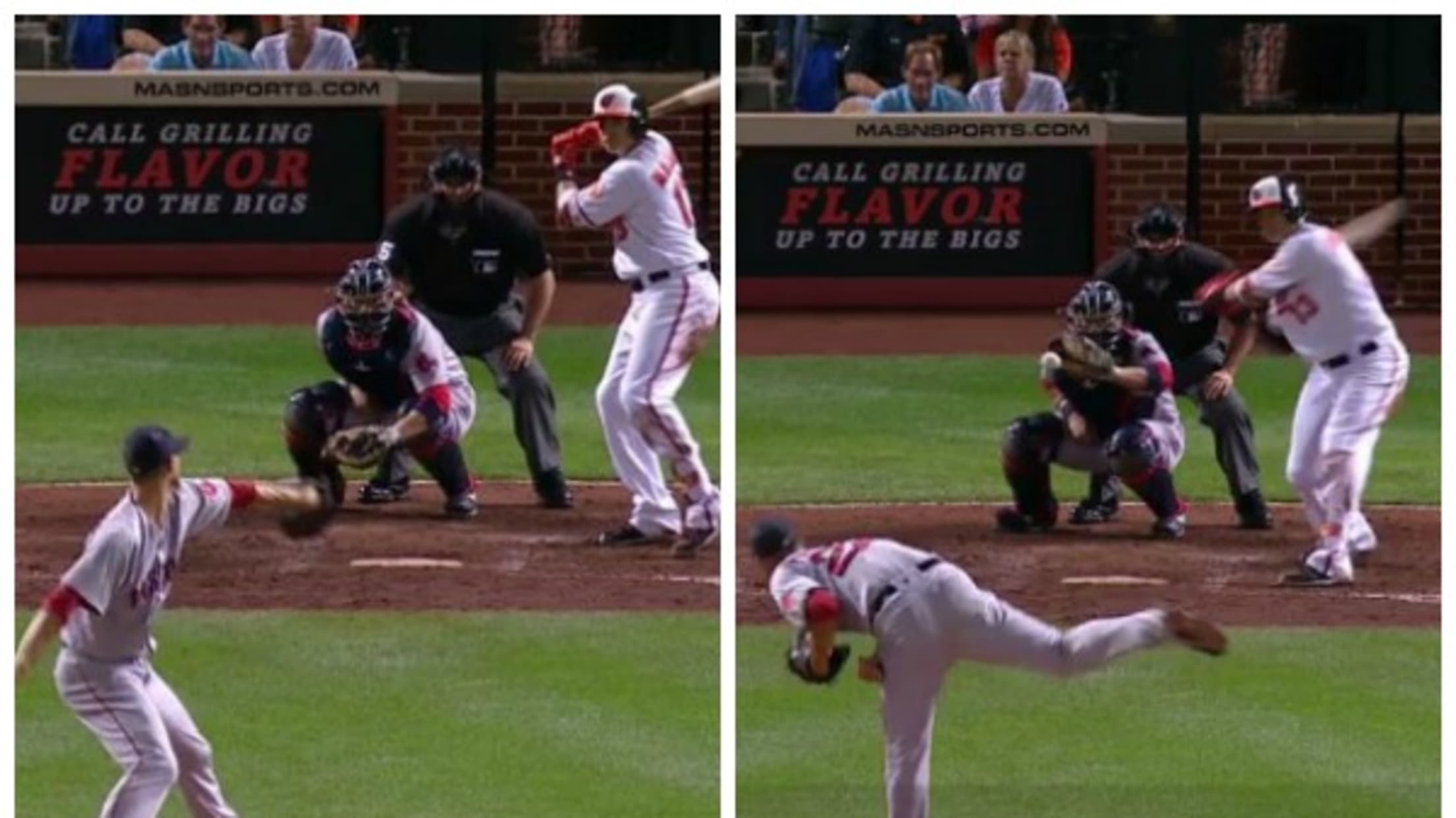 91-mph fastballs don't tend to beat Machado very often. But when they're placed letter-high and just on the outside corner, they're plenty tough.
Pitch three: 88-mph slider -- check swing and miss, strikeout.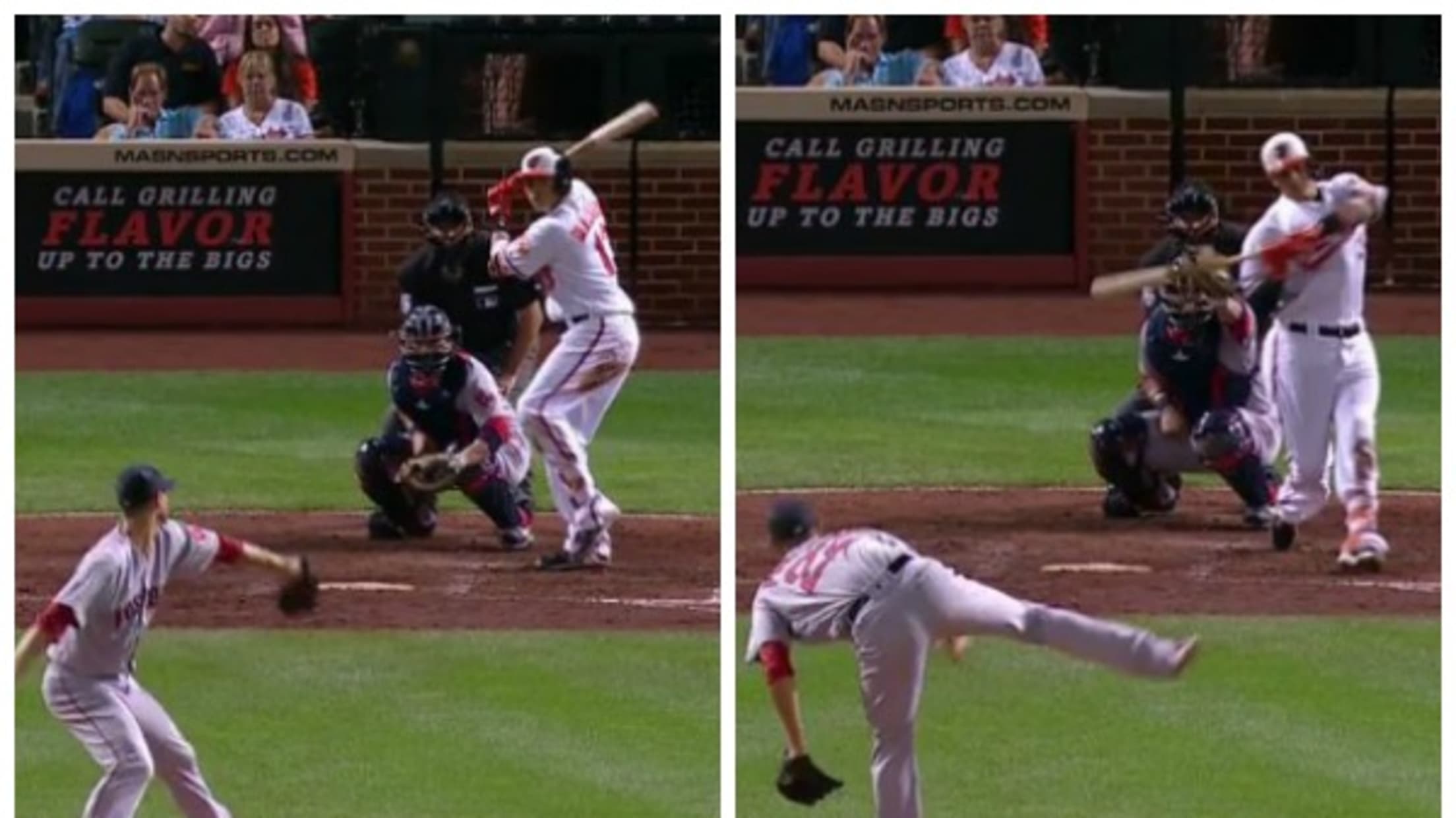 Of course, sometimes missing your spot -- by quite a lot -- works out, too. Baseball's weird.
Mark Trumbo: Runner on first, two outs.
Pitch one: 91-mph two-seam fastball -- fouled off, 0-1.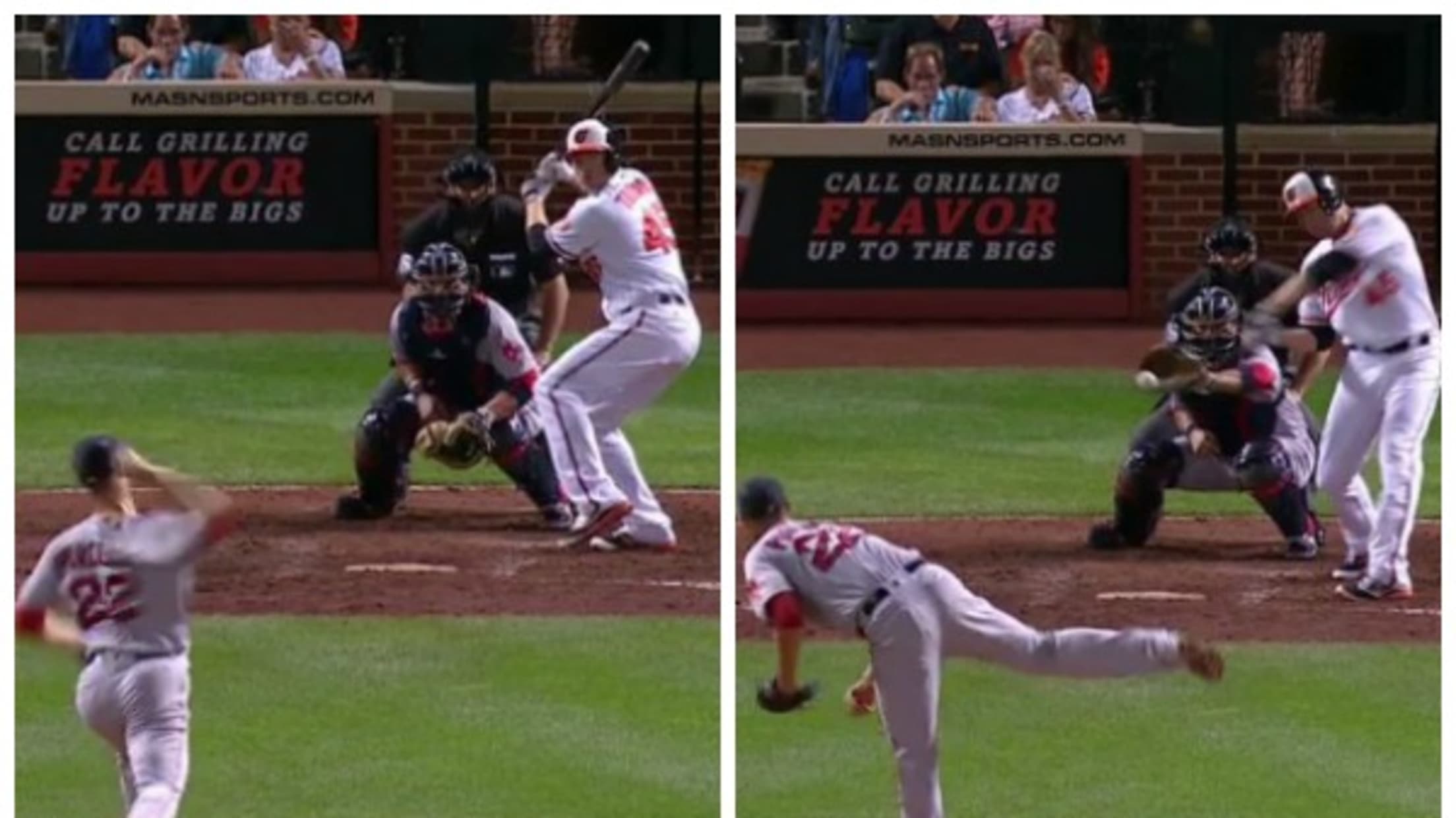 Trumbo crushed many pitchers this year, with a league-leading 47 dingers including three against Porcello. Two innings before this plate appearance, he even hit an RBI double.
He certainly could have added another home run to his total here as the eventual Cy Young winner missed his spot and left one center cut over the plate.
Pitch two: 76-mph curveball -- ball, 1-1.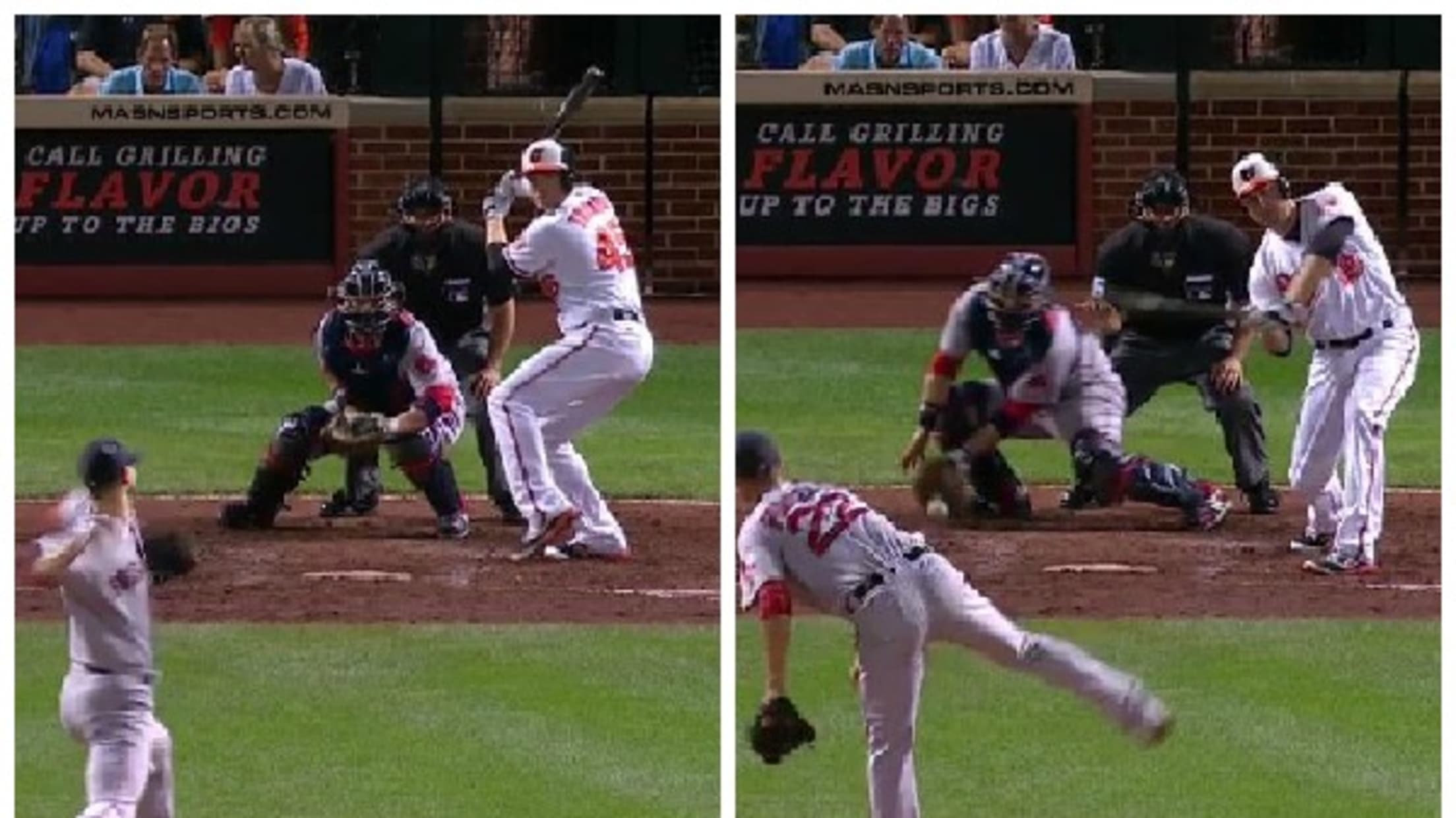 While the Red Sox right-hander missed with this pitch, it was a good miss. Trumbo clearly wanted to pull the trigger on the divot-making curve, even though it bounced in the dirt. Not many people hit home runs on balls in the dirt, so if avoiding a big hit was the goal, he accomplished it.
Pitch three: 91-mph two-seam fastball -- fouled off, 1-2.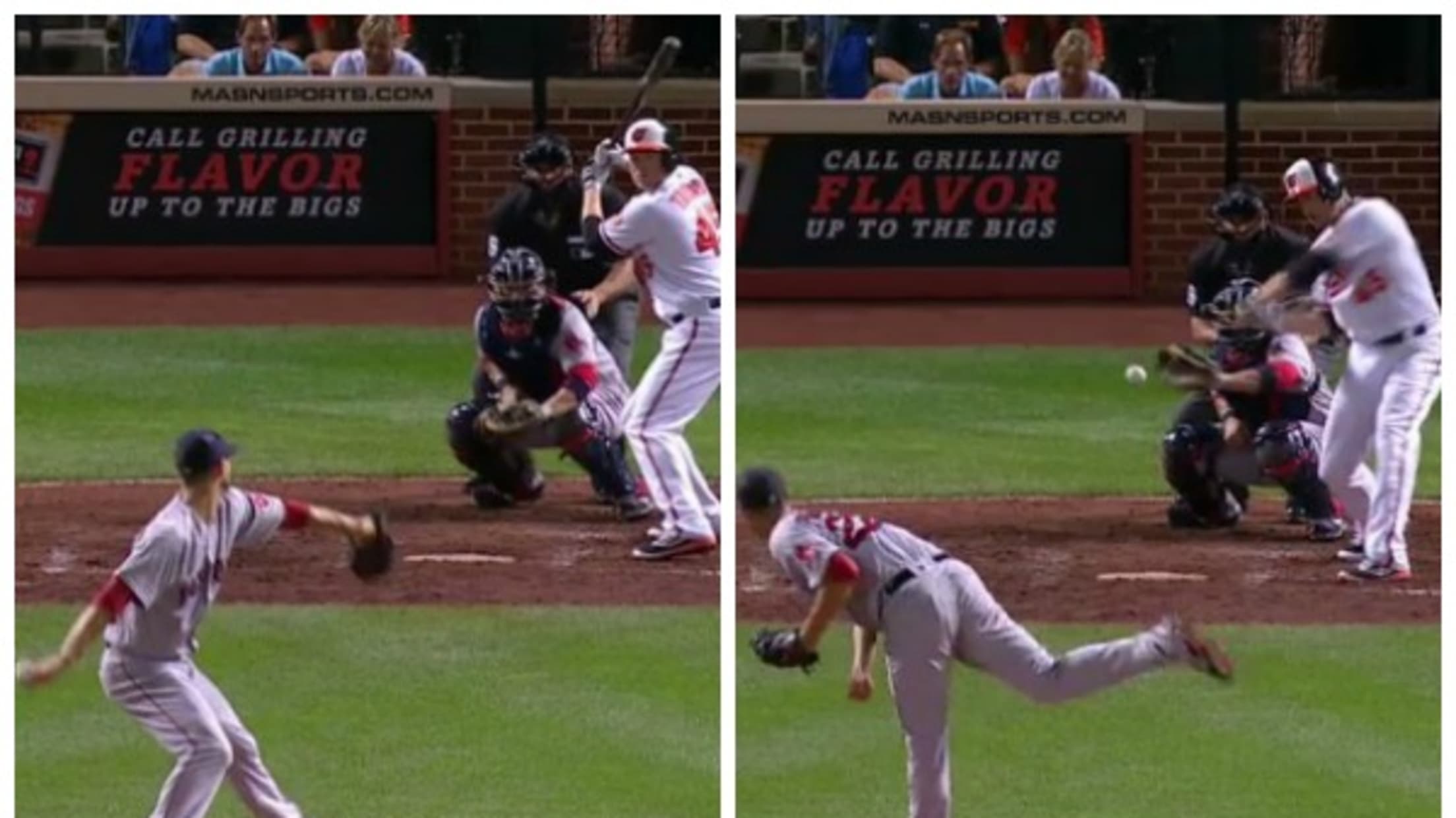 This pitch offered another chance for Trumbo to square up as Porcello again left it over the heart of the plate. But, the Red Sox hurler must have got just enough movement (or luck), and Trumbo was only able to foul it off.
Pitch four: 91-mph four-seam fastball -- ball, 2-2.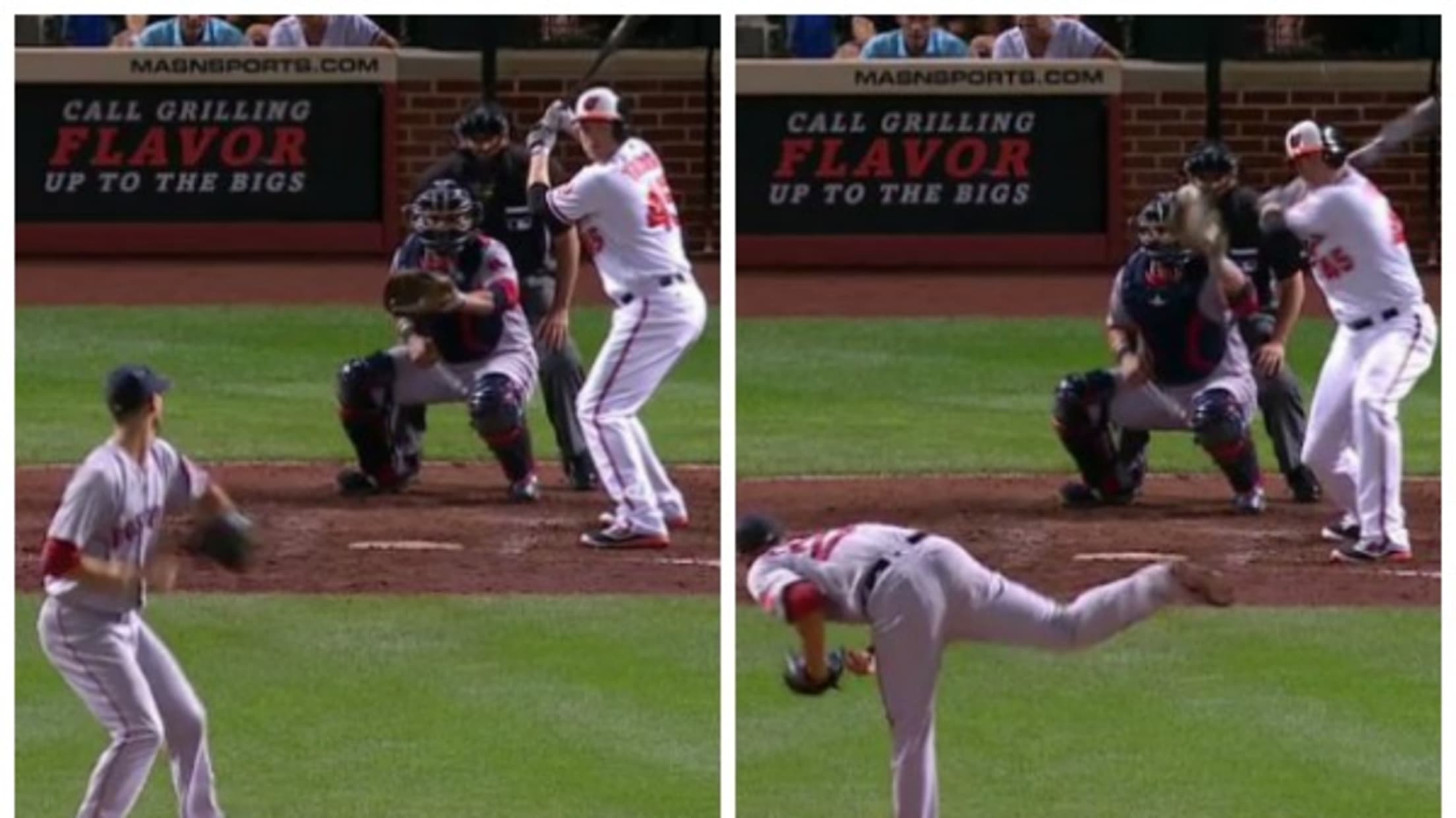 This was an interesting call. Because Trumbo previously offered at two high two-seamers and fouled them down the right-field line, Red Sox catcher Sandy Leon perhaps thought "maybe our best bet is to purposefully elevate a fastball." Rather than going with a sinking pitch, Porcello threw his four-seamer. Only problem? He missed too high for Trumbo to swing.
Pitch five: 91-mph four-seam fastball -- ball, 3-2.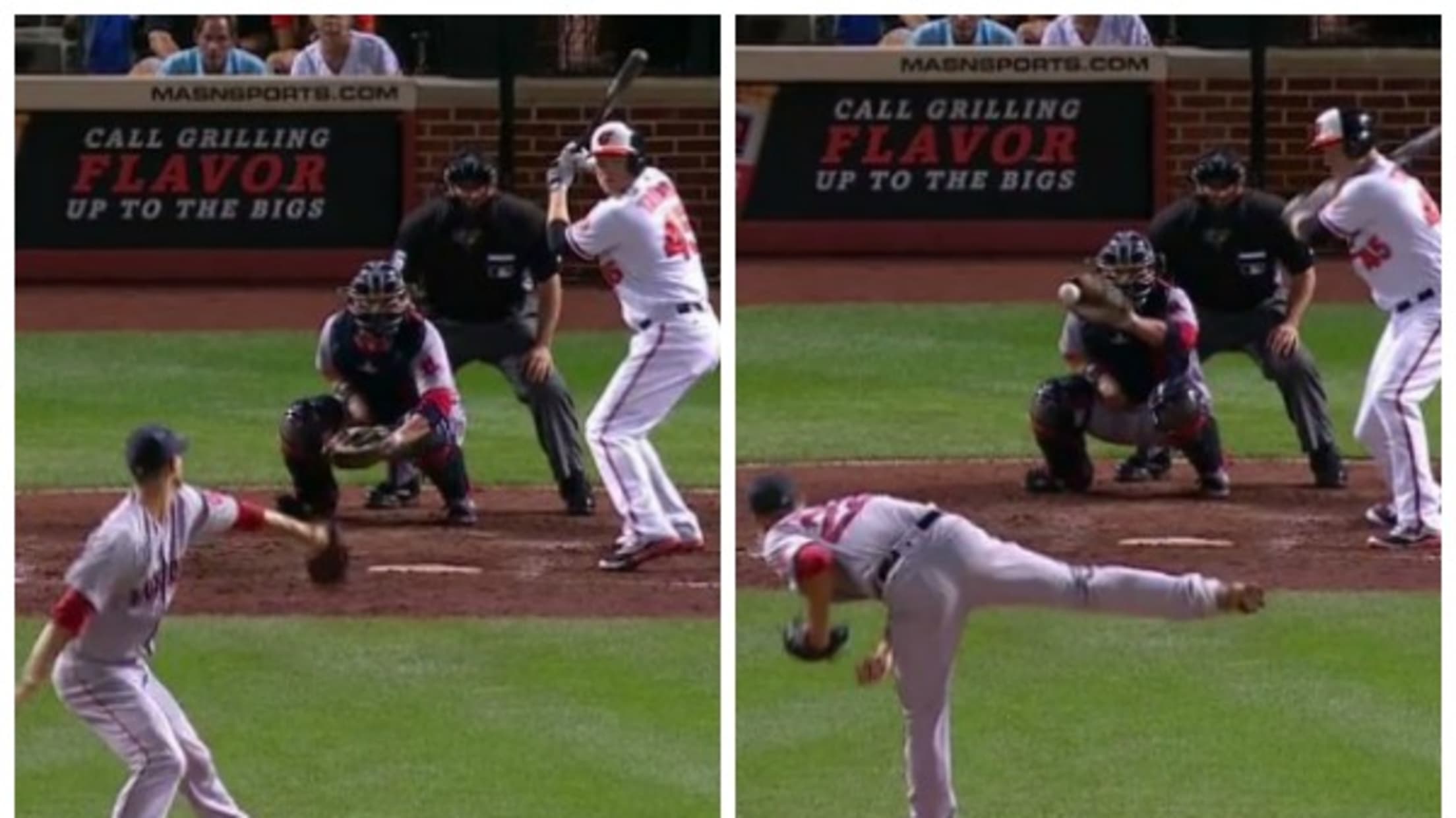 Up and in the pitch before? Then of course it was time to go low and away. Porcello again missed high, perhaps as a result of trying to ramp up the velocity against the slugger. After topping out at 89 mph against Jones and Kim, Porcello was in the low '90s against Machado and Trumbo.
Pitch six: 86-mph slider -- swung and missed. Inning over.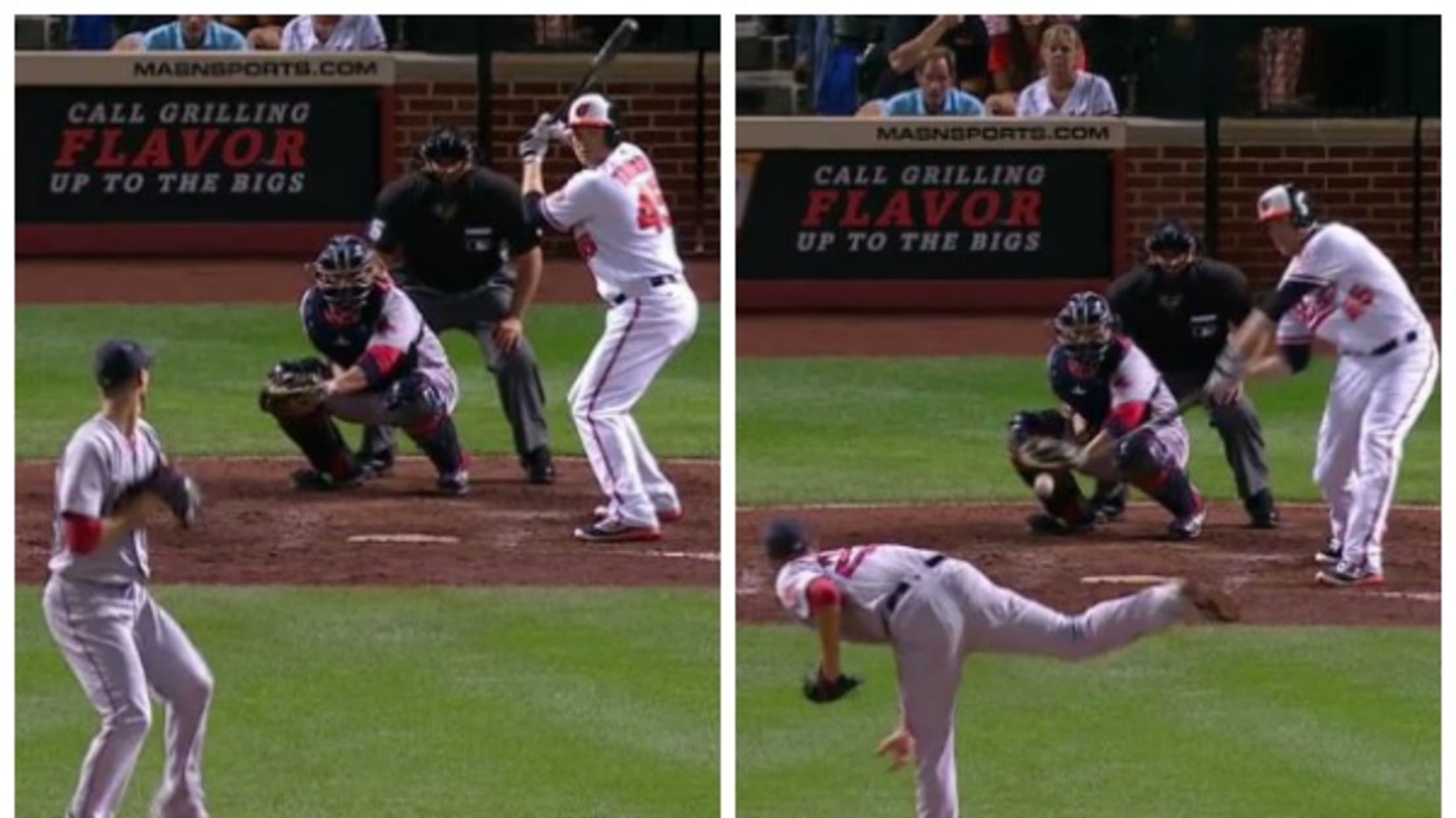 After missing the glove on the last few pitches, Porcello nailed it here. And just look at where Leon lined up: Despite the full count, his target was off the plate. Not wanting to give up a home run -- and knowing Trumbo's difficulties with breaking balls -- Porcello deftly hit the glove with his slider and, sure enough, Trumbo couldn't lay off.
The way this 14-pitch inning progressed can really be seen as a microcosm of Porcello's season: Pound the strike zone, let the two-seamer carry the brunt of the labor and work carefully with big sluggers ... before going for the big punchout.
Interested in how Porcello compares to NL Cy Young winner Max Scherzer? Click here to find out.
Teams in this article:
Players in this article: