Just try not to be moved by Aaron Barrett's emotional, long-awaited return to the Majors 
The journey back from injury rehab is often long and grueling, but what Nationals reliever Aaron Barrett went through was beyond the pale. Setbacks in any line of work are frustrating, and they're even worse when you're working your tail off anyway. It's like a project getting deleted when you're right in the middle of it -- you have to start all the way over, back at the beginning.
Barrett knows all about that kind of pain. He was drafted by Washington in 2010 and successfully worked his way through the system, cracking their Opening Day roster in 2014. He remained with the team for a year and a half, but constant elbow pain forced him to undergo Tommy John surgery in September 2015.
Just when Barrett thought that he was making serious progress, he cracked his humerus bone throwing a pitch in July 2016. It was brutal, especially since he was only a week away from starting his rehab assignment, and it put his hopes for a comeback of any kind in jeopardy. That kind of agony might force a lot of athletes to just call it a career.
Barrett pressed restart. He fought on.
Moments like this are one of the million reasons why I play and love this game! #Blessed #Thankful #Kollyns #AllStar #TheComeback pic.twitter.com/lf9Mz4ARa7

— Aaron Barrett (@aaronbarrett30) July 10, 2019
Barrett finally got back into rehab games in 2018, which he spent riding buses in short-season A-ball with the Auburn Doubledays. He had last pitched there when he was 23, and he was 30 this time around. He did it anyway.
The right-hander continued his mission in 2019 with the Double-A Harrisburg Senators. He became their lockdown closer, notching 31 saves and a 2.75 ERA. He did his time, excelled, and his self-confidence was rewarded when manager Matt LeCroy got to deliver the news that he was going back to the Majors in September:
The moment Aaron Barrett found out he was going back to the bigs. Congratulations, Aaron!
cc: @Nationals @masnNationals @MLB @MiLB @aaronbarrett30 pic.twitter.com/RSxQ1b9dMT

— Harrisburg Senators (@HbgSenators) September 3, 2019
That clip alone would have been enough to get you choked up. LeCroy and the rest of the Senators were almost as invested in Barrett's story as he was, and it showed.
Then came the moment when Barrett made his comeback official. It was Saturday night at SunTrust Park -- a perfect venue since he lives right outside Atlanta. Barrett tossed a scoreless fifth inning, striking out MVP contender Ronald Acuña Jr. in the process.
After Barrett got through the outing, the emotions of his journey back caught up to him in the dugout.
Aaron Barrett hasn't pitched in MLB since 2015.

After multiple arm injuries, the righty tossed a scoreless inning is his first outing back in The Show.

We are crying too. 😭 #BiggerThanBaseball pic.twitter.com/73bJfBkdvm

— MLB (@MLB) September 8, 2019
Barrett's manager and teammates were there to comfort him, especially fellow veteran Gerardo Parra.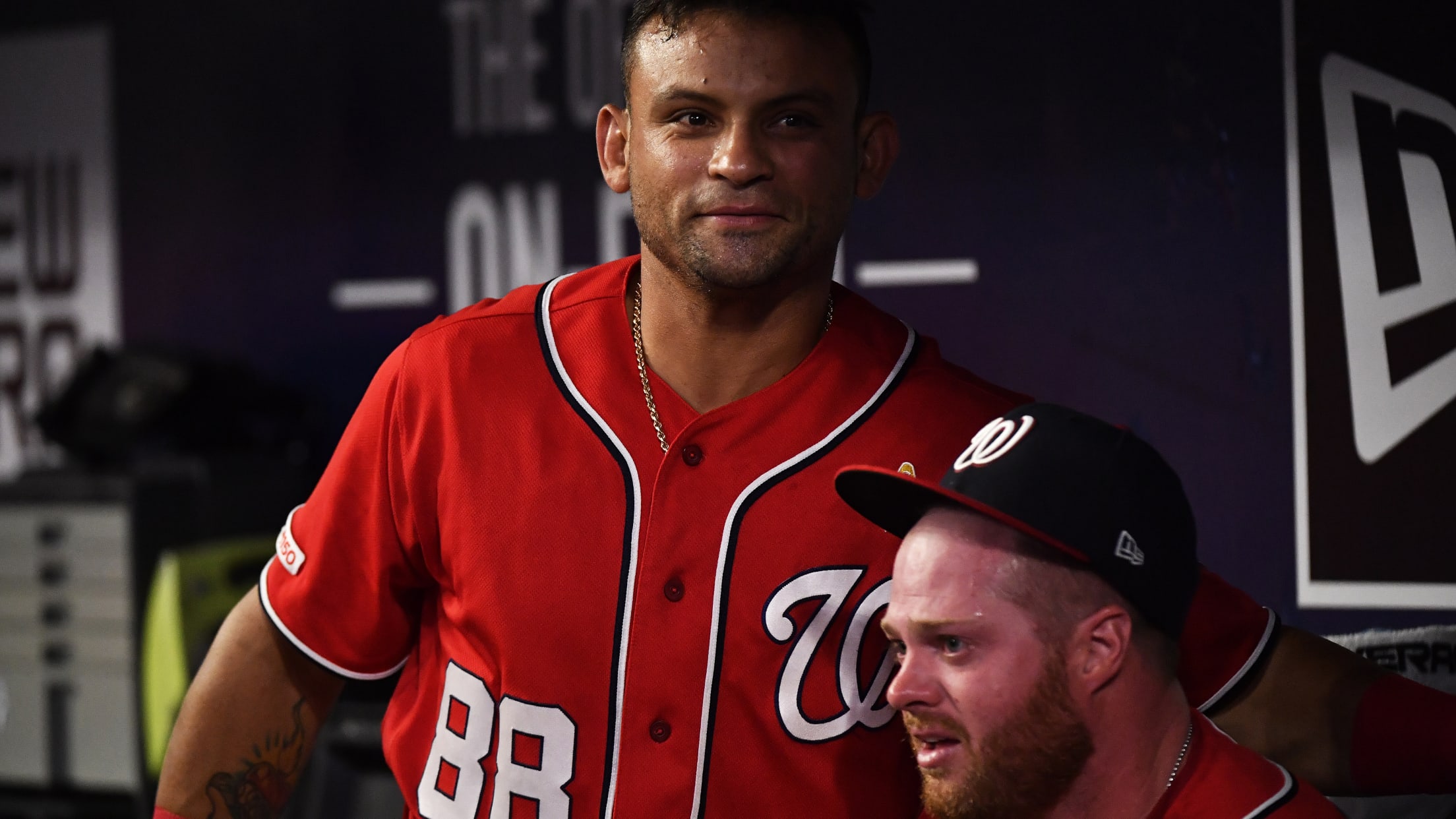 Anyone who's fought through adversity would understand how Barrett felt. For you, it might have been when you finally earned your diploma and walked across the stage at graduation. Maybe it was completing that long-awaited writing project. Or perhaps it was something as simple but meaningful as getting through all the thank-you cards from your wedding.
Barrett went through hell and back to return to the Majors. That's not only quite a bit of hard work, but also an admirable effort of determination and sheer will.
Let it all out, Aaron. You deserve this moment, and the tears are flowing for us, too.
Teams in this article:
Players in this article:
Topics in this article: