All of the sights, sounds and memories revisited at Yankee Stadium for #JeterNight
Prior to the second game of the Yankees' Sunday doubleheader against the Astros, Derek Jeter joined 21 Yankees greats by having his number retired. To celebrate his career, former teammates and various others have all taken a couple moments away from thanking their mothers to pay their re2pect to Jeter.
Thank you for the pleasure of playing alongside you for so many years. Congrats, Captain. #JeterNight pic.twitter.com/tLLITPOs51

— Alex Rodriguez (@AROD) May 14, 2017
Thank you for everything you've done on and off the field. You are a true inspiration. You helped change the game. This is for you, No. 2. pic.twitter.com/7PpXljNCBU

— Robinson Cano (@RobinsonCano) May 14, 2017
Not just a teammate. Not just a friend. You are family. To me, to the Yankees organization, to all of the game of baseball. Thank you, No. 2 pic.twitter.com/vHfqNrDZJy

— CC Sabathia (@CC_Sabathia) May 14, 2017
Carlos Beltrán even plans to honor Jeter's legacy with a special glass of wine.
Even non-Yankees got in on the Jeter-appreciation action.
Giants reliever George Kontos, who began his career with the Yankees, shared a special memory of an exchange with Jeter as his toast:
And now, onto Jeter's special pregame ceremony, where he and wife Hannah dressed to the nines for the nines for the occasion:
📷's: Derek and Hannah Jeter's drive to Yankee Stadium. #JeterNight pic.twitter.com/wwgLMap5JT

— The Players' Tribune (@PlayersTribune) May 14, 2017
At the Stadium, a truly lavish affair was in store for everybody in attendance or watching at home. Jeter himself unveiled his number retirement at Monument Park in center field:
Derek Sanderson Jeter. #JeterNight pic.twitter.com/SXo69GYWLh

— MLB (@MLB) May 15, 2017
Derek, Hannah, his sister and his nephew then enjoyed a golf cart ride from center field to the pitcher's mound area, where some of his old teammates (including Tino Martinez, Paul O'Neill, Jorge Posada, Mariano Rivera, David Cone, Andy Pettitte, Bernie Williams and C.C. Sabathia) had gathered for the ceremony.
'90s kids will understand. #JeterNight pic.twitter.com/iAzJuK9TBK

— Cut4 (@Cut4) May 14, 2017
Reggie Jackson also made an appearance, as did current Marlins manager and a previous Yankee captain, Don Mattingly, via a video message on the Jumbotron.
Legends. 🙌 pic.twitter.com/kvFLzt5CKB

— New York Yankees (@Yankees) May 14, 2017
There, Jeter and Hannah unveiled his plaque:
Derek Sanderson Jeter. #JeterNight pic.twitter.com/jObtPLTglL

— Cut4 (@Cut4) May 14, 2017
Lookin' good, Derek: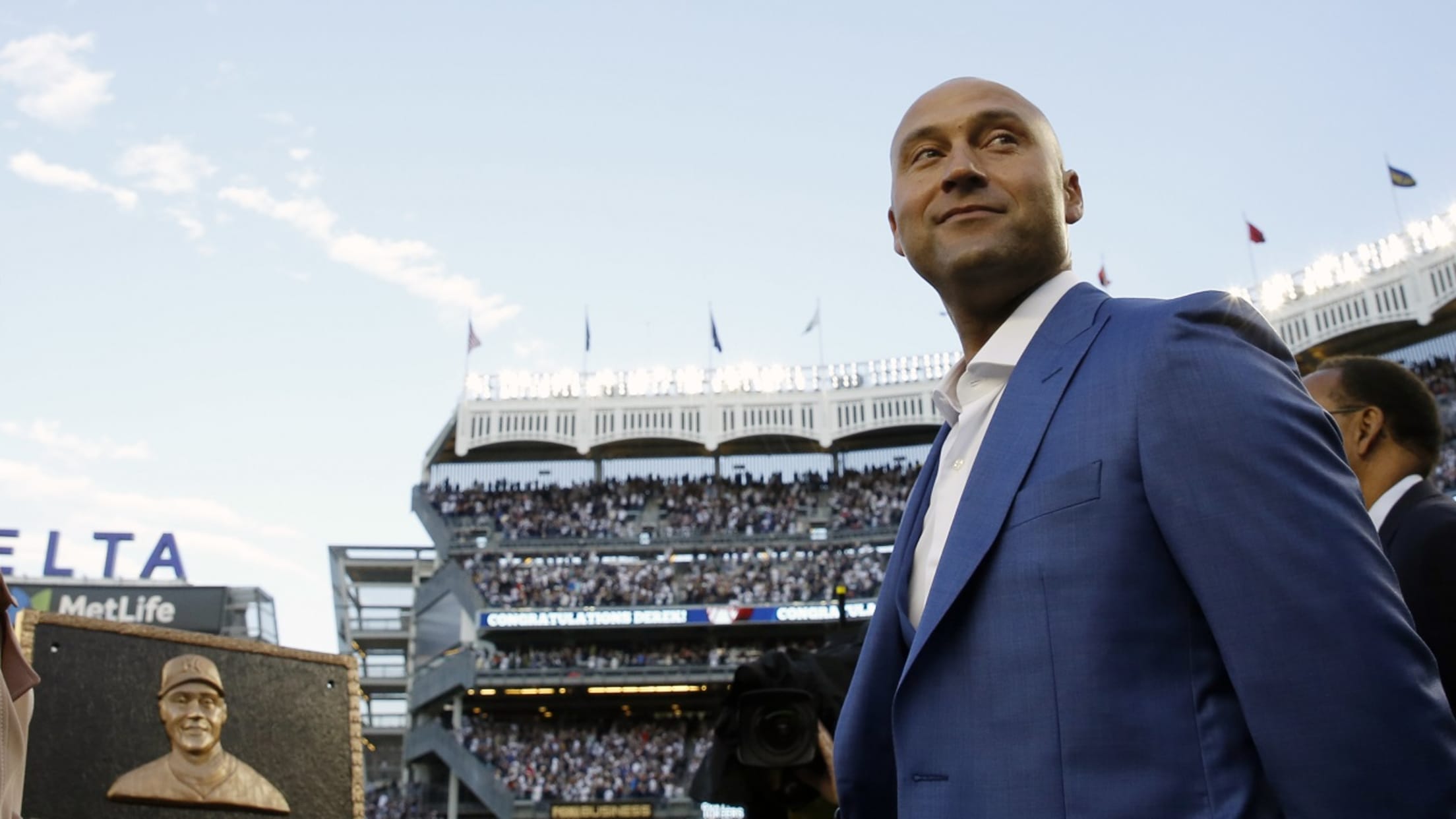 Before taking the microphone and addressing the stadium (and everybody watching at home):
The speech. #JeterNight pic.twitter.com/GpzcLfyDBo

— MLB (@MLB) May 14, 2017
And who better to toss out the ceremonial first pitch other than the Captain?
After his pitch, Jeter tossed the ball to a fan behind the dugout ... and that fan was Spike Lee:
As for the game itself, the Astros won, 10-7, on the strength of a six-run first inning punctuated by a grand slam from Alex Bregman -- who just so happens to wear No. 2 as a tribute to his childhood hero, Derek Jeter.
Enjoy the entire pregame ceremony below:
Teams in this article:
Players in this article: