Let's rank all eight -- yes, eight -- homers from the Yankees' wild 14-11 win over the Orioles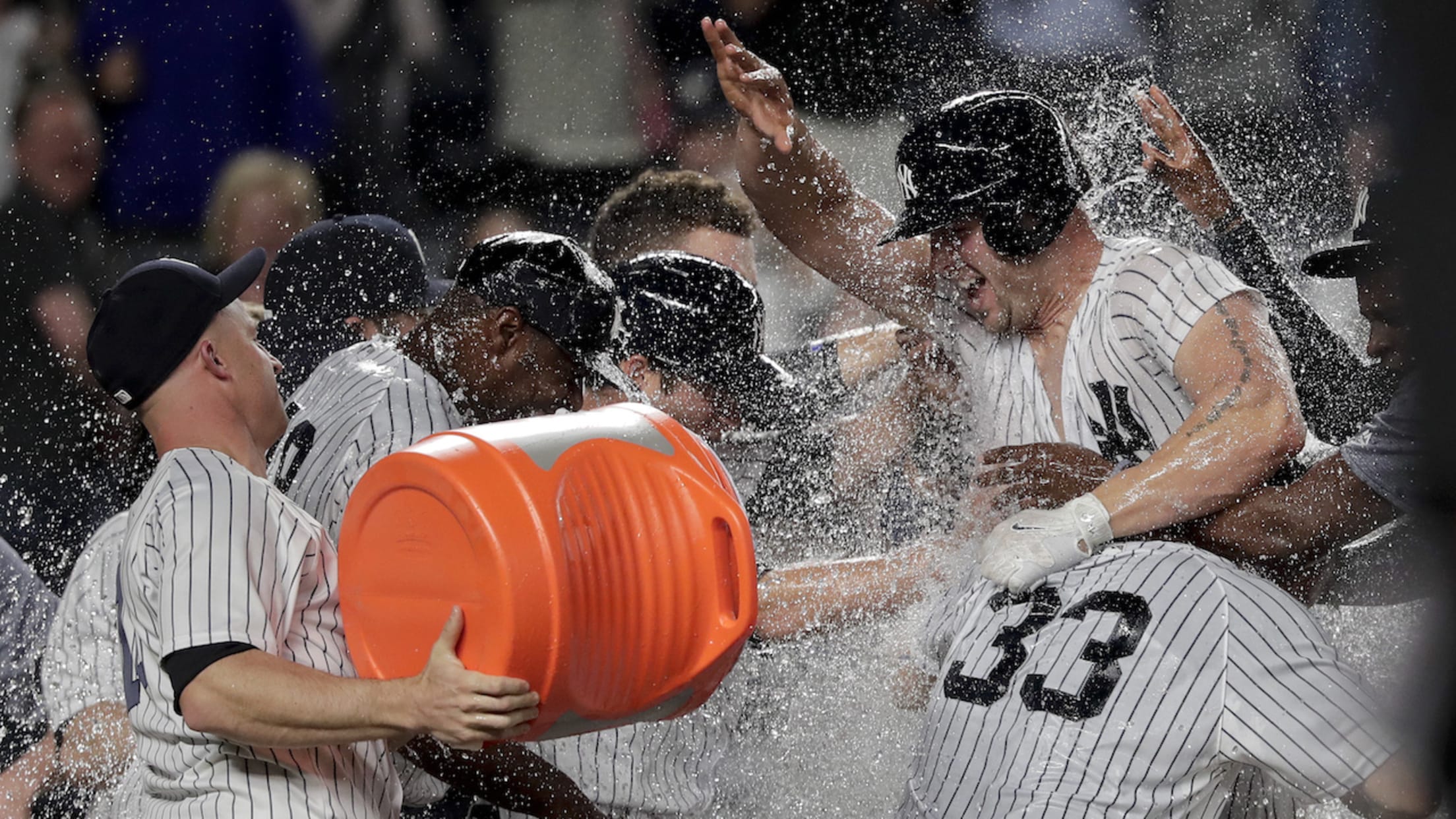 New York Yankees left fielder Matt Holliday, right, celebrates with teammates after hitting a three-run home run to win the game against the Baltimore Orioles in the 10th inning of a baseball game, Friday, April 28, 2017, in New York. (AP Photo/Julie Jacobson) (Julie Jacobson/AP)
If you happened to be doing something other than watching baseball on Friday night -- a crazy thought, we know -- don't worry, you only missed perhaps the best game of the year so far. Not only did the Yankees' 14-11 win over the Orioles include a furious eight-run rally, ninth-inning dramatics and a walk-off, but it also featured eight home runs. Seriously, eight, we double-checked and everything.
And these weren't just any dingers. These were record-setting, heart-stopping, Statcast-topping dingers -- so, naturally, we had to rank them all. Let's begin.
8. Welington Castillo, solo home run, top 4
Someone had to finish last, and while Castillo's homer extended Baltimore's lead to 4-0, he did get a little help from the short porch in right at Yankee Stadium.
7. Aaron Judge, solo home run, bottom 5
Just about every swing Judge takes these days feels like a world-historic event, but alas, his dinger in the fifth was simply a Statcast-estimated 419-foot line drive into the left-field bullpen. Ho hum.
6. Aaron Judge, two-run homer, bottom 6
Leave it to Judge to one-up himself in consecutive at-bats. His next dinger, a line drive to straight-away center, left the bat at a mind-boggling 119.4 mph, the hardest-hit homer of the Statcast era.
5. Mark Trumbo, grand slam, top 6
For a while, however, it looked like Judge would be the lone bright spot in a Yankees loss -- thanks in large part to Mark Trumbo, whose sixth-inning grand slam extended the Orioles lead to 9-1. Oh, and it traveled a full 459 feet.
4. Jacoby Ellsbury, grand slam, bottom 7
Of course, the shenanigans were just getting started. With Baltimore leading 11-4 in the seventh, Jacoby Ellsbury stepped to the plate with the bases loaded sitting on 99 career homers -- and exactly zero grand slams. Why not check off two milestones with one swing?
3. Matt Holliday, three-run walk-off homer, bottom 10
After a late-inning rally for the ages, the Yankees led off their half of the 10th with two consecutive walks, setting the stage for newest Yankee Matt Holliday. And while anything from a base hit to a fly ball advancing the runners would have sufficed, there was only one way for this to end:
"But wait," you're thinking, "how can the game-winning homer not take the top spot?" And while we see your point, just wait until you see the two that beat it out.
2. Manny Machado, solo homer, top 5
Over more than eight seasons at the new Yankee Stadium, many sluggers had tried to hit the ball up and over the restaurant above Monument Park in center field. Some had even come pretty close -- like Carlos Correa , for example. But none had ever managed to do it ... until Friday, when Manny Machado boldly sent a baseball where no baseball had gone before.
That blast traveled 470 feet, the longest home run of the season, and presumably won Machado a free steak.
1. Starlin Castro, game-tying two-run homer, bottom 9
Thanks to five RBIs from Ellsbury, New York had turned an 11-4 deficit into an 11-9 game with one out in the ninth. With All-Star closer Zach Britton currently on the DL, Baltimore manager Buck Showalter called on Brad Brach to shut the door -- not a bad option, considering the righty hadn't allowed a single run in 13 innings this season.
Alas, no one told Starlin Castro that:
Castro's dramatic dinger tied the game, touched off bedlam in the Bronx and set up Holliday's heroics an inning later. And besides, when you channel your inner Adrián Beltré , you more than deserve to be No. 1.
Teams in this article:
Players in this article: