Ranking all the reasons why Ken Griffey Jr. is a Hall of Fame pop culture icon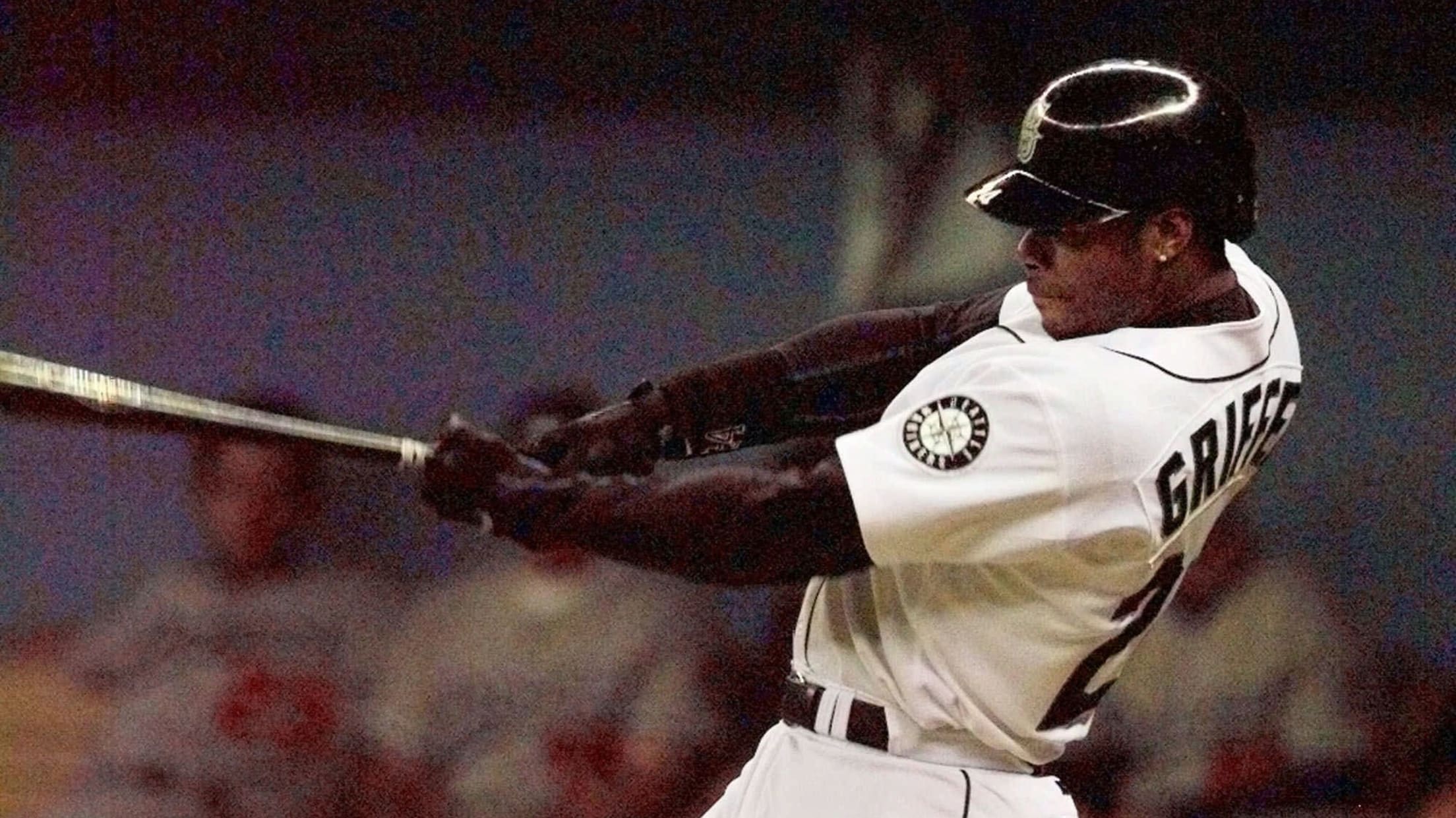 There may be players who hit more homers or win more awards than Ken Griffey Jr., but it's hard to imagine any future MLB star having as much impact on both the game and pop culture. Griffey was the icon for an entire generation of baseball fans who came of age in the 1990s, exuding skill and charisma in ways that few outside of Hollywood's movie stars ever have. He was not only a scout's dream and a fan favorite, but a marketing machine, too. <o:p>
Why, exactly, was this one player so important to so many people? Was it the swing? The commercials? That dazzling smile? To figure that out, on the night of his election to the Hall of Fame, let's rank each facet of Griffey's career on the Ken Griffey Jr. Rookie Card Meter -- using one of the most sought-after cards of all time as the barometer for Griffey's star power.<o:p>
Five Griffey rookies is best. One is the worst. Kapisch? <o:p>
There is low art -- like getting a caricature of yourself on rollerblades at the zoo. There is high art -- like what fills the halls of the Louvre. And then there is Griffey's swing. It's part ballet, all smooth, graceful moments and violent kicks. It's part action film directed by Justin Lin, explosive and endlessly entertaining. It's part horror film (if you're a pitcher, that is): His swing the thing in the basement that you just know you'll have to confront at the end of the day.
Rating: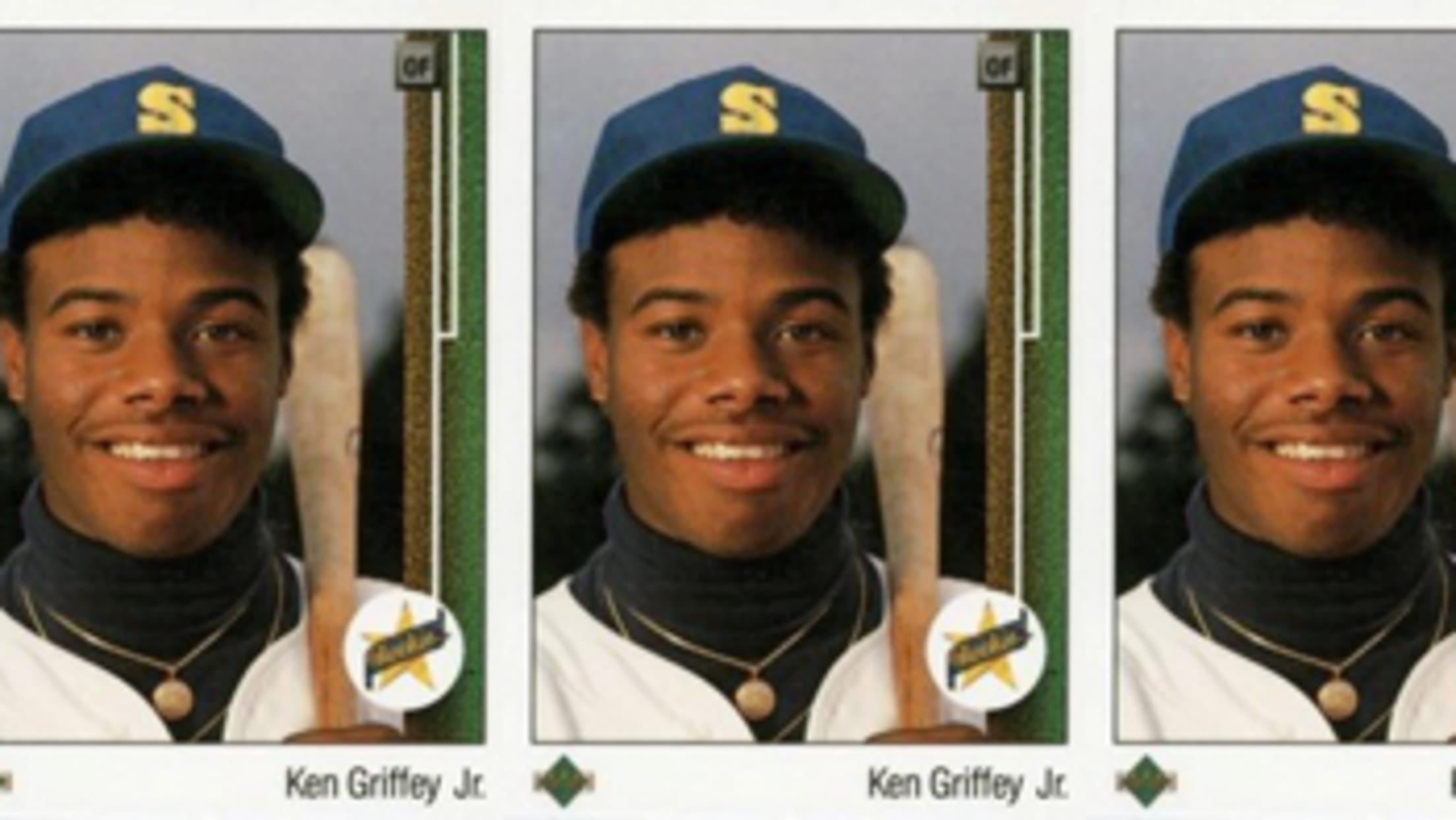 Just as Griffey's swing was seemingly effortless, so too was Griffey's backwards hat. Taken as an anti-authoritarian stab by some in the game, including Buck Showalter, it was simply Junior being Junior. It was easy. It was cool. It was different. While there's no formal census data to draw from, I'm certain millions of kids saw it and immediately flipped their caps around on the field. The bigger question is how many baseballs were dropped after being lost in the sun because of it.
Rating: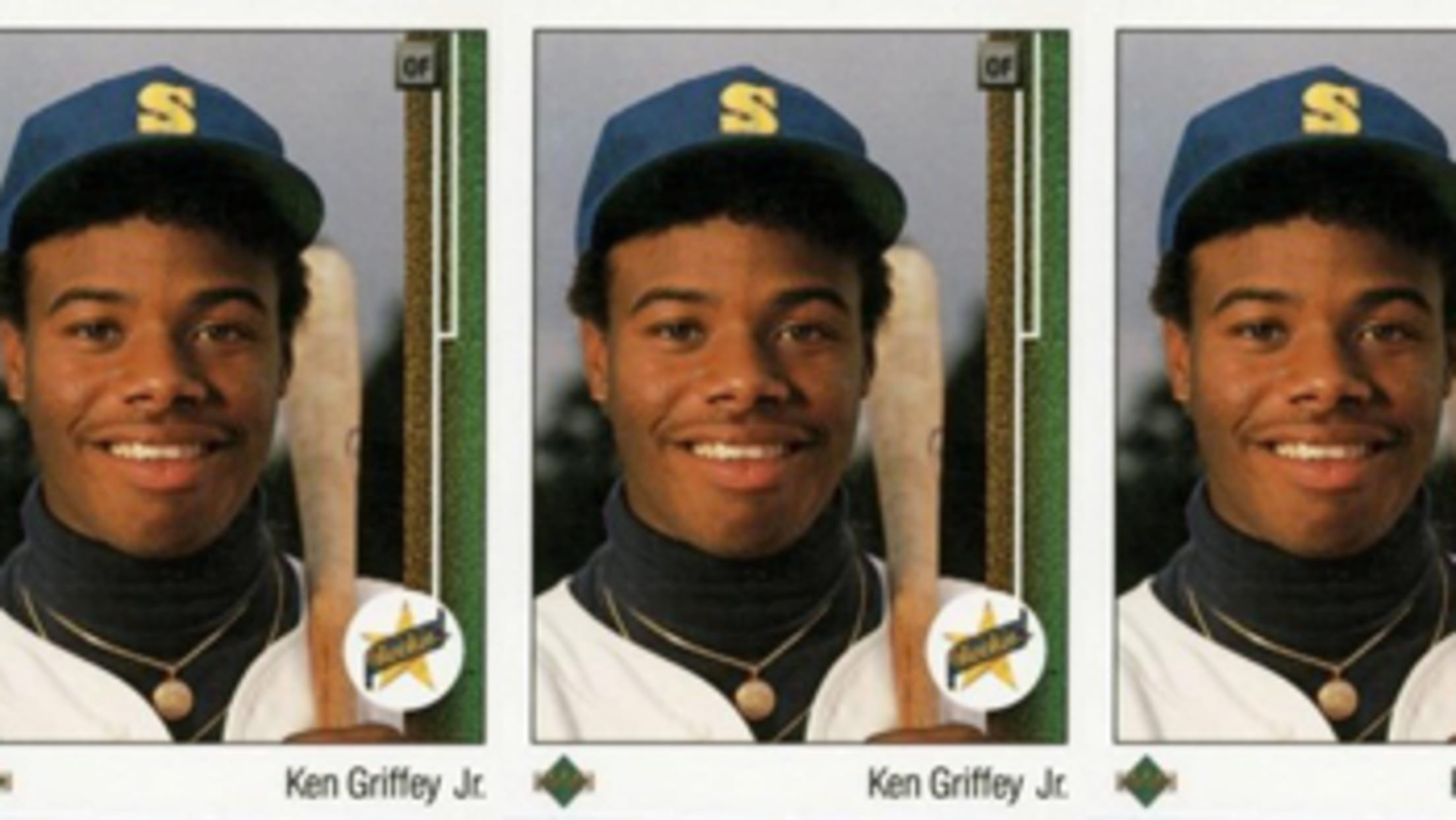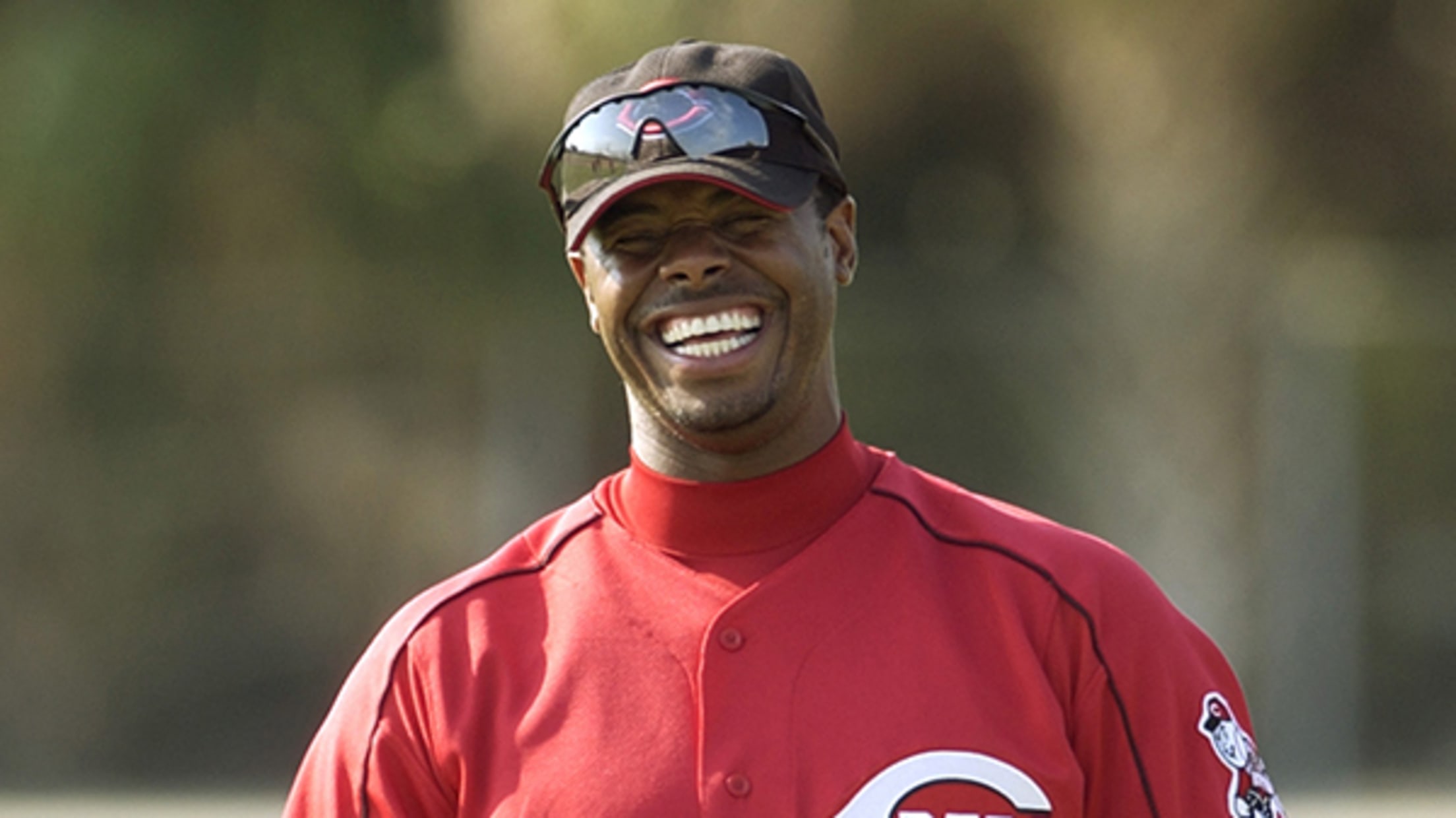 Baseball is meant to be fun, and thanks to that smile -- the kind that could easily be placed on the poster for any number of Julia Roberts romantic comedies during the mid-90s -- we knew Griffey was having fun, too.
Rating: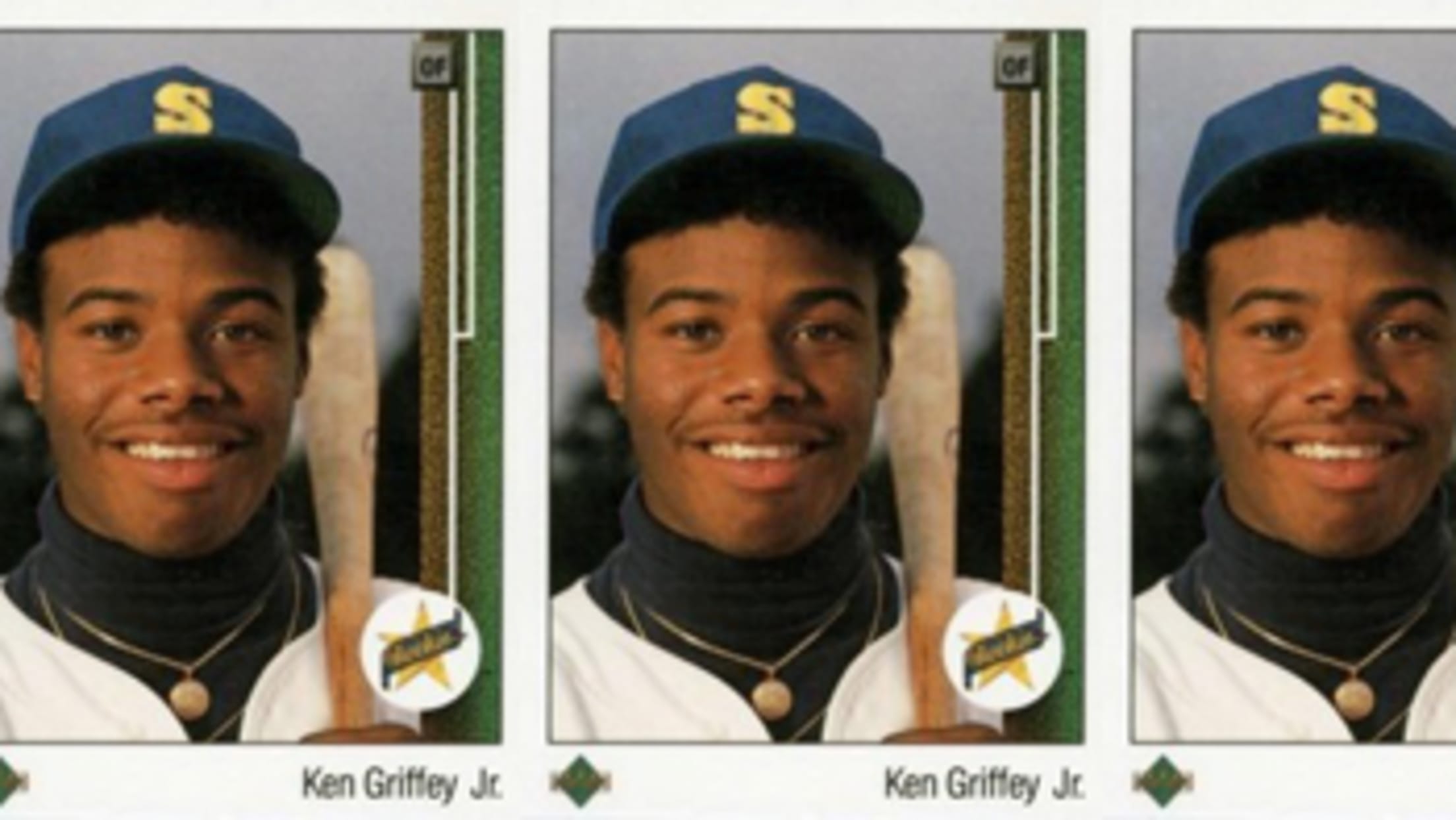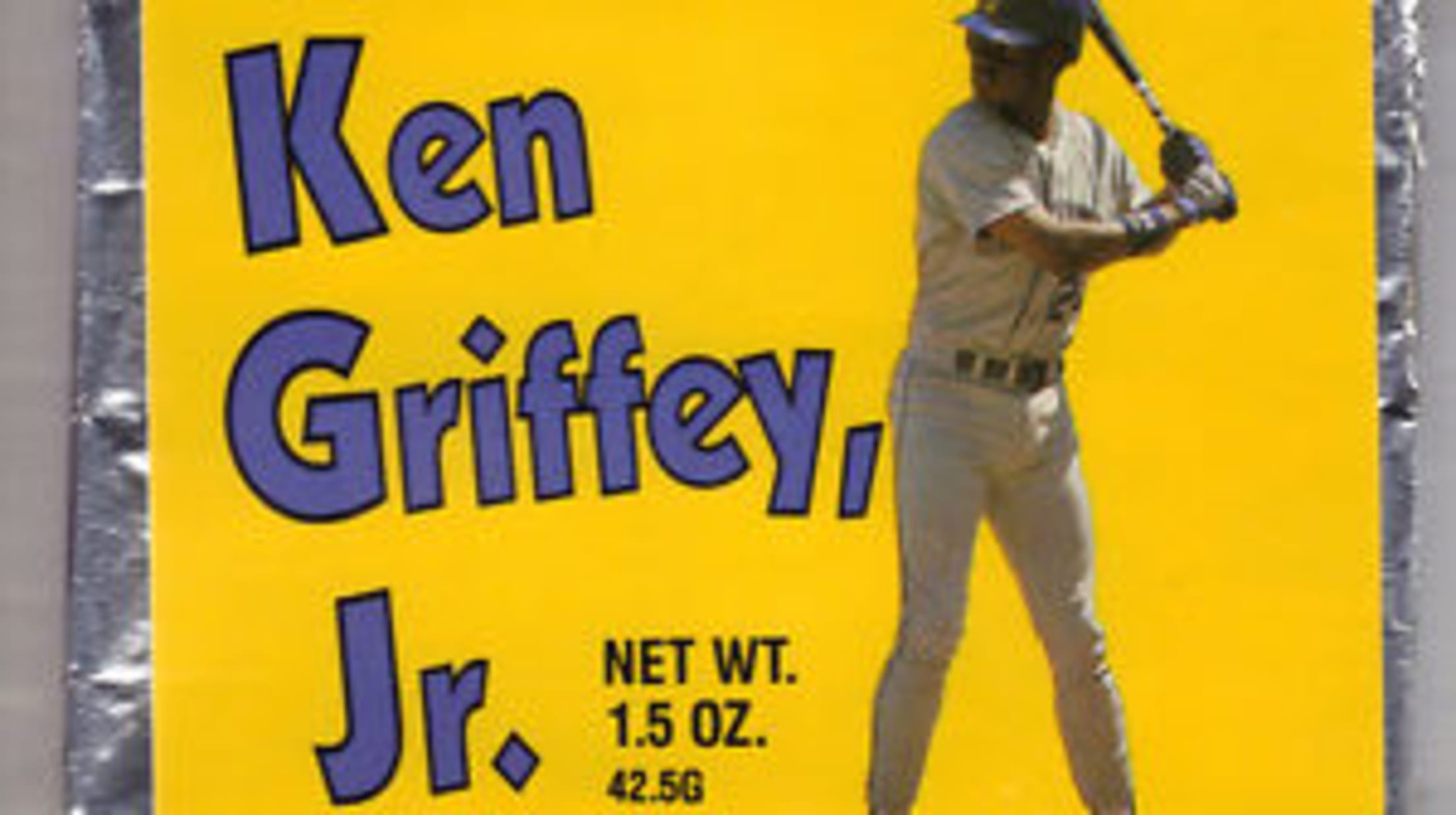 (via eBay)
From Baby Ruth to Reggie!, the Reggie Jackson-themed candy bar that sadly didn't double as the straw that stirs the drink, you know you've made it when you have a candy bar named after you.
Sadly, the Ken Griffey Jr. chocolate bar didn't stick around for long, and there are only a handful left on eBay or forgotten in the back of refrigerators. I know I'd eat one if it was ever re-released, so we can only hope that some company picks up on it with the news of his induction.
Rating: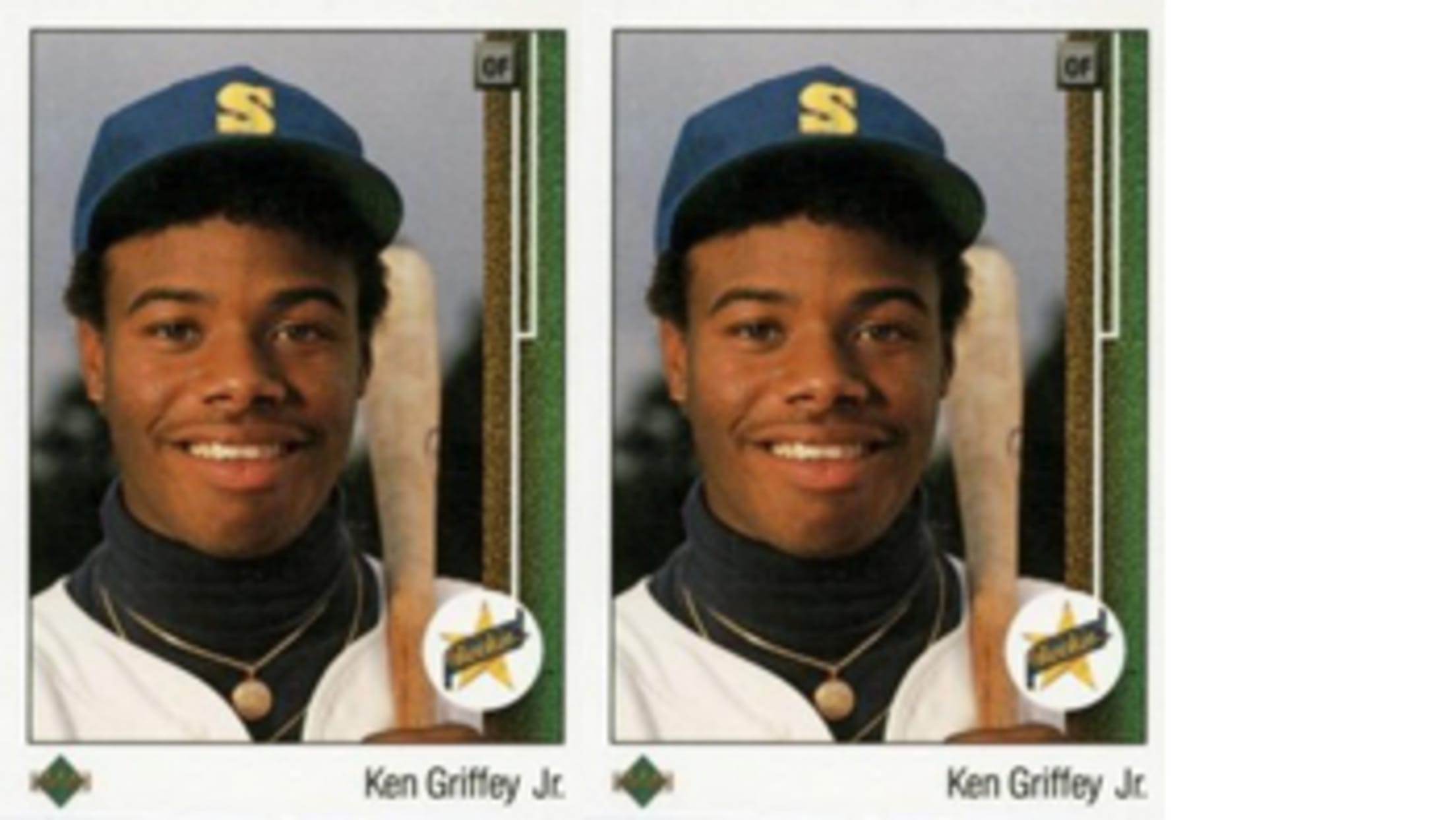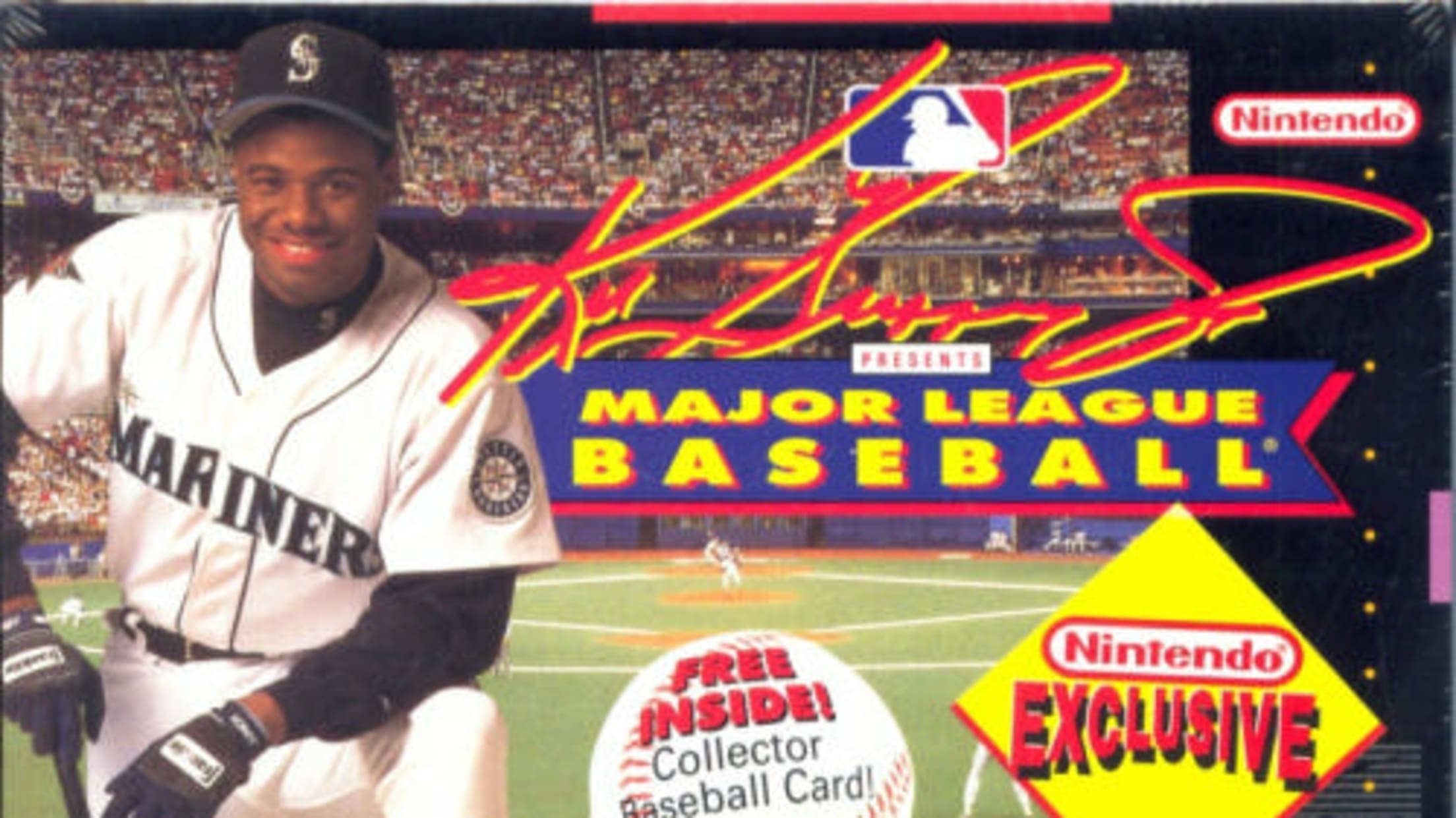 Many fans experience some of their fondest and earliest memories of the sport through video games. Long before you're ready to fully digest and take part in a three hour affair, you're more than happy to sit on your couch and mash dingers with Ken Griffey Jr. on your SNES. My first baseball memory is playing a SEGA video game as both teams, just so I could hit endless Griffey home runs. Keeping track of my stats on a legal pad, I remember once driving in 63 runs with Junior in a single game.
So getting your very own video game, especially one as well-made and loved as this one, is about as iconic as you can get. That people still come back to this one is even more impressive.
Rating: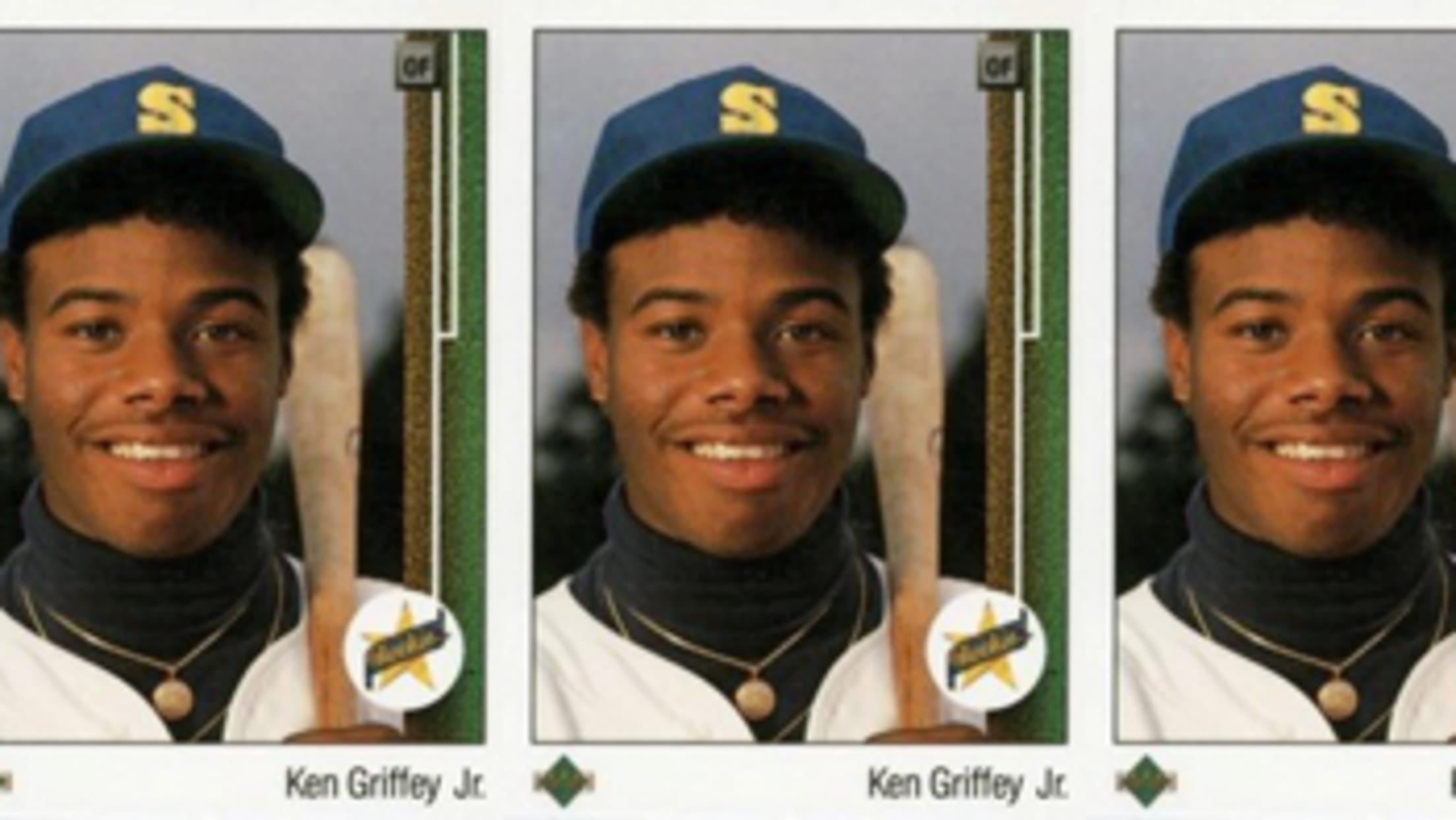 While Junior played a huge role in the Mariners' upset of the Yankees in the 1995 ALDS, hitting five home runs during the series, the most iconic moment belongs not to him, but to Edgar Martinez. Martinez hit the game-winning double, inspiring broadcaster Dave Niehaus for the memorable call.
Still, it's poetically fitting that it was Junior racing around the bases, finding himself at the bottom of the pile at home plate, still the heart of the team even when he wasn't the driving force.
Rating: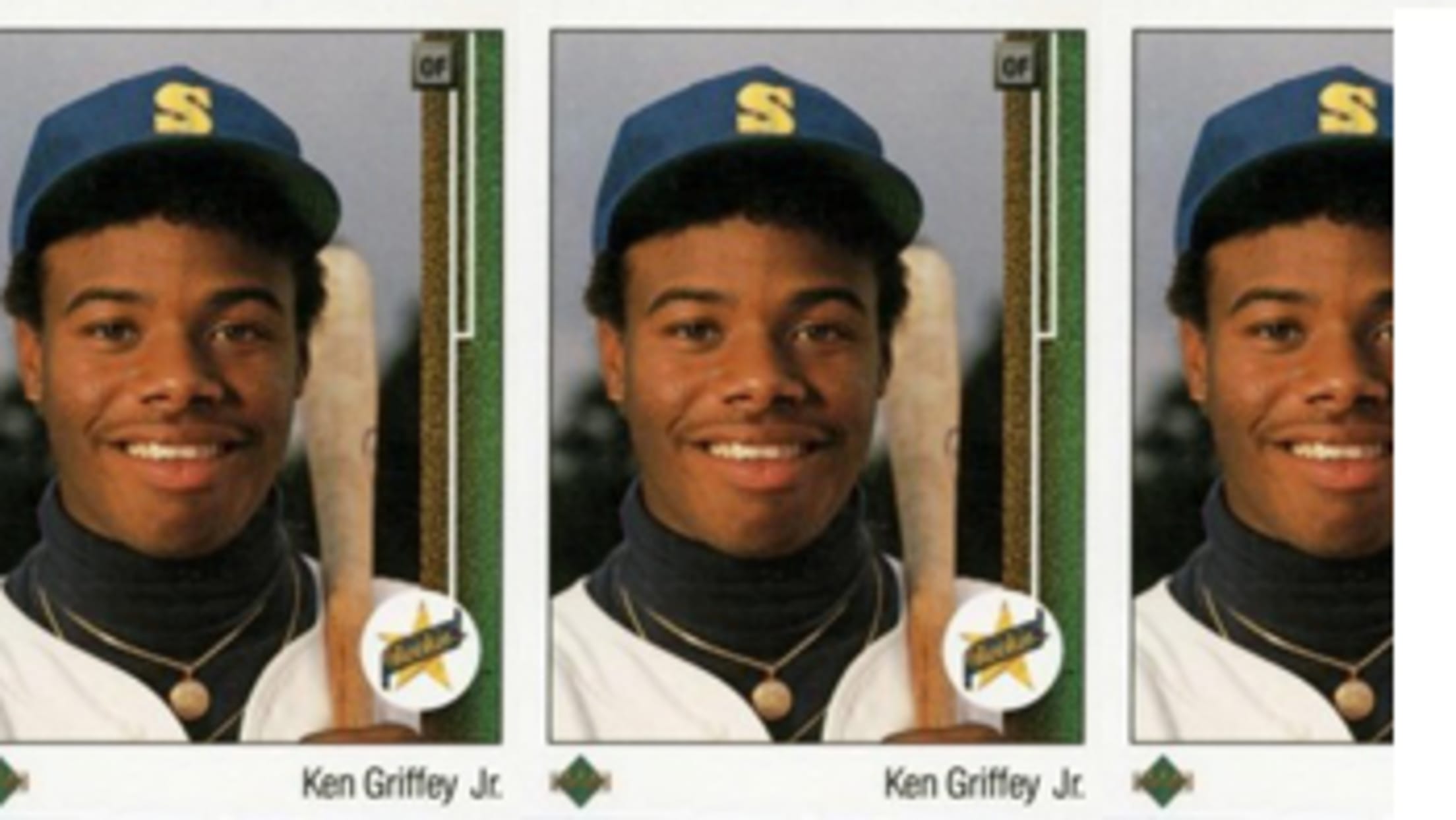 Modern, advanced metrics seem to indicate that Griffey may not have been the great defensive center fielder that we thought he was. And this is where I plunge my head in the sand and stick my fingers in my ears and refuse to listen.
Before Griffey's hamstrings needed to be treated like Ikea furniture, with screws in place to keep them attached to the bone, his work in center field was liquescent, his legs pumping in smooth, hypnotic motion over the Kingdome's fluorescent turf.
When you watch Griffey rob home runs, you don't think of the metrics.
And when you watch him leap into the wall, snapping his wrist and missing a giant chunk of the season, you don't think, "Hey. Be careful. Think of the other things you could do on the field if you just let this one drop in for a hit." You think, "Oh my god, what a catch." Then you think the other things and softly sob in the corner.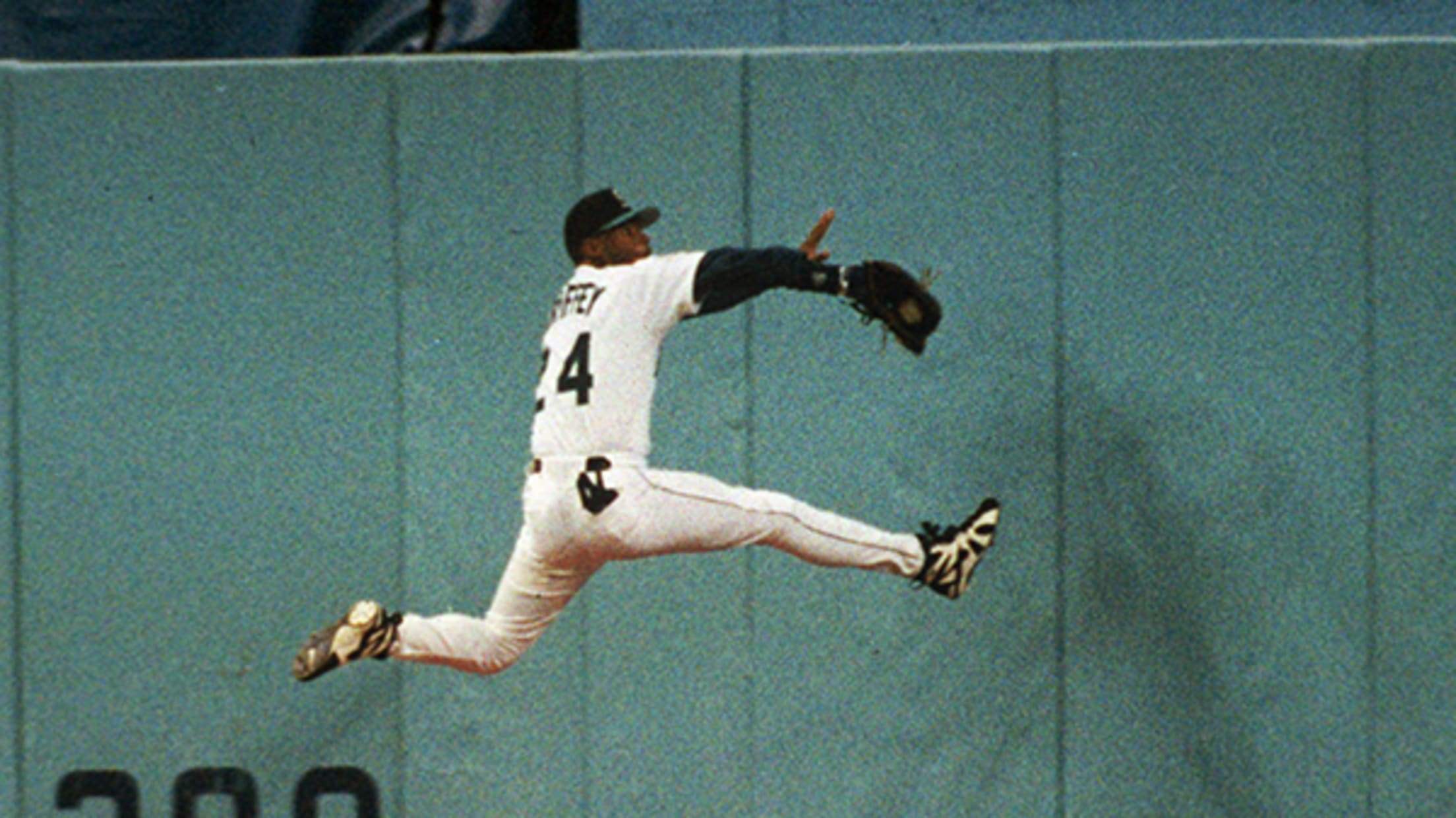 Rating: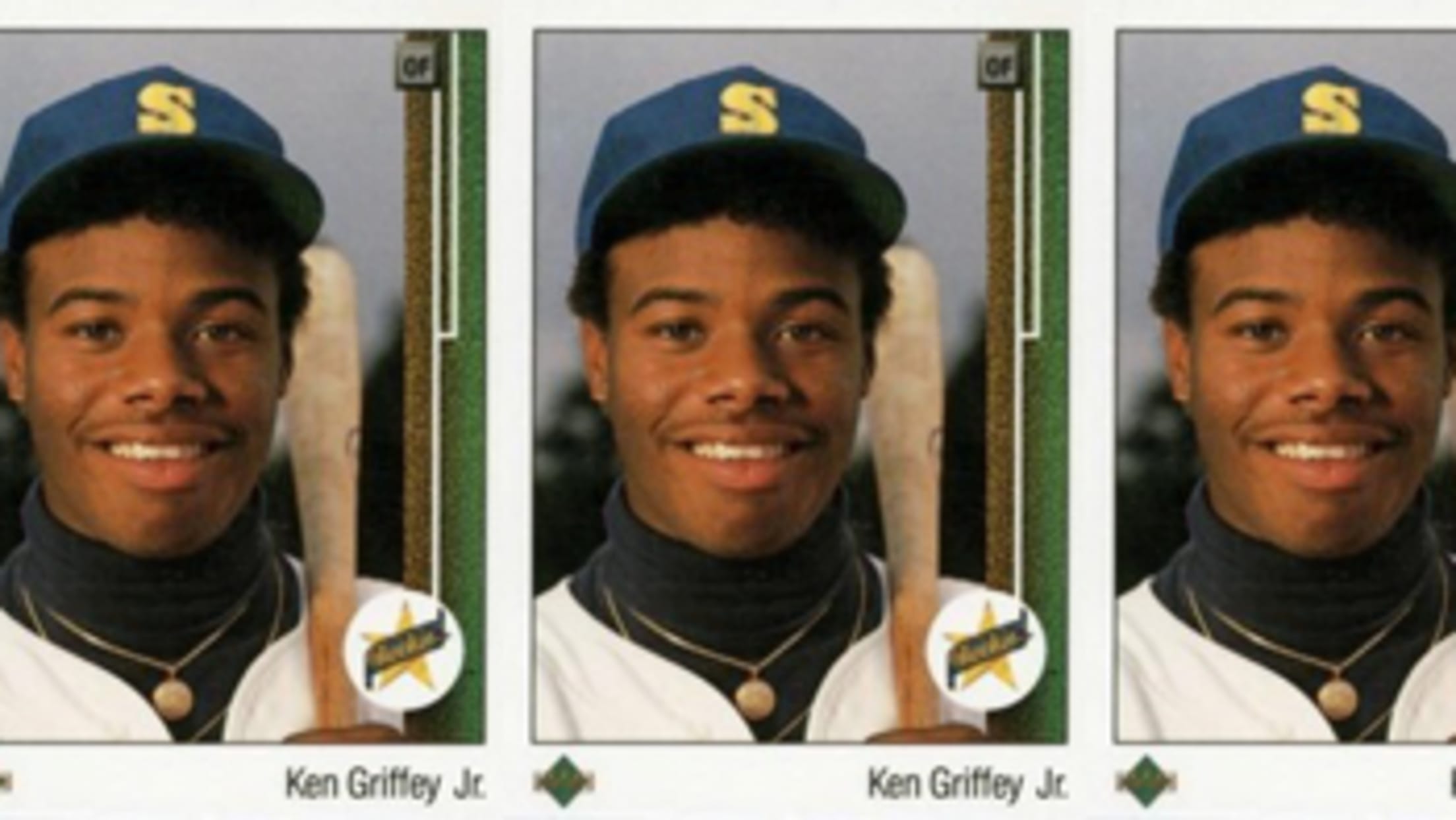 Baseball is a sport predicated on tradition and family. There was a whole movie with Kevin Costner about that. (Other than Waterworld, I mean.) But while there had been father-son duos in the game's history, never before had they shared the same field together.
When Griffey Jr. and Griffey Sr. homered, not only in the same game, but back-to-back, it felt more like something from myth instead of real life. It's basically a sign that Junior was the chosen one.
Rating: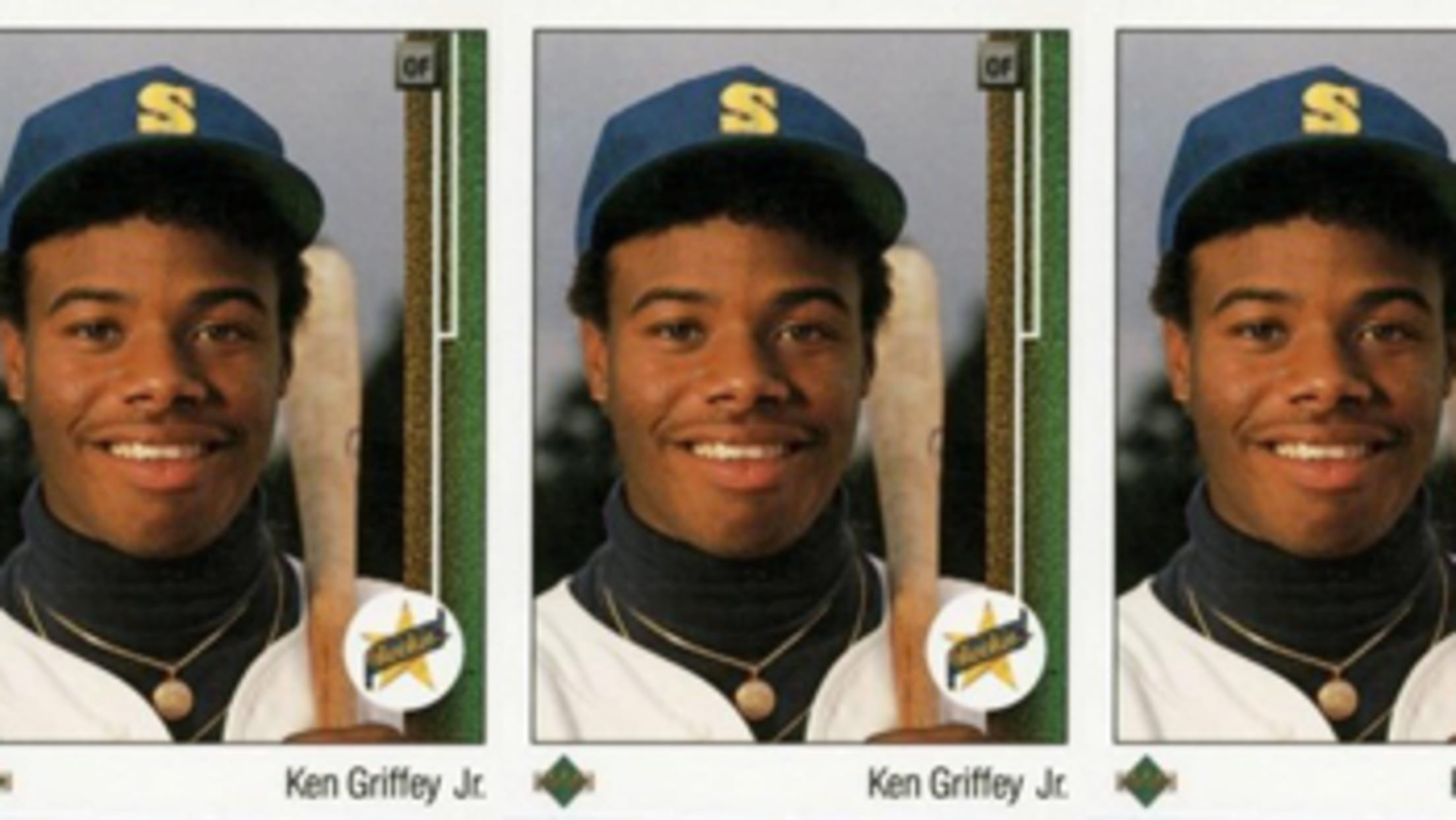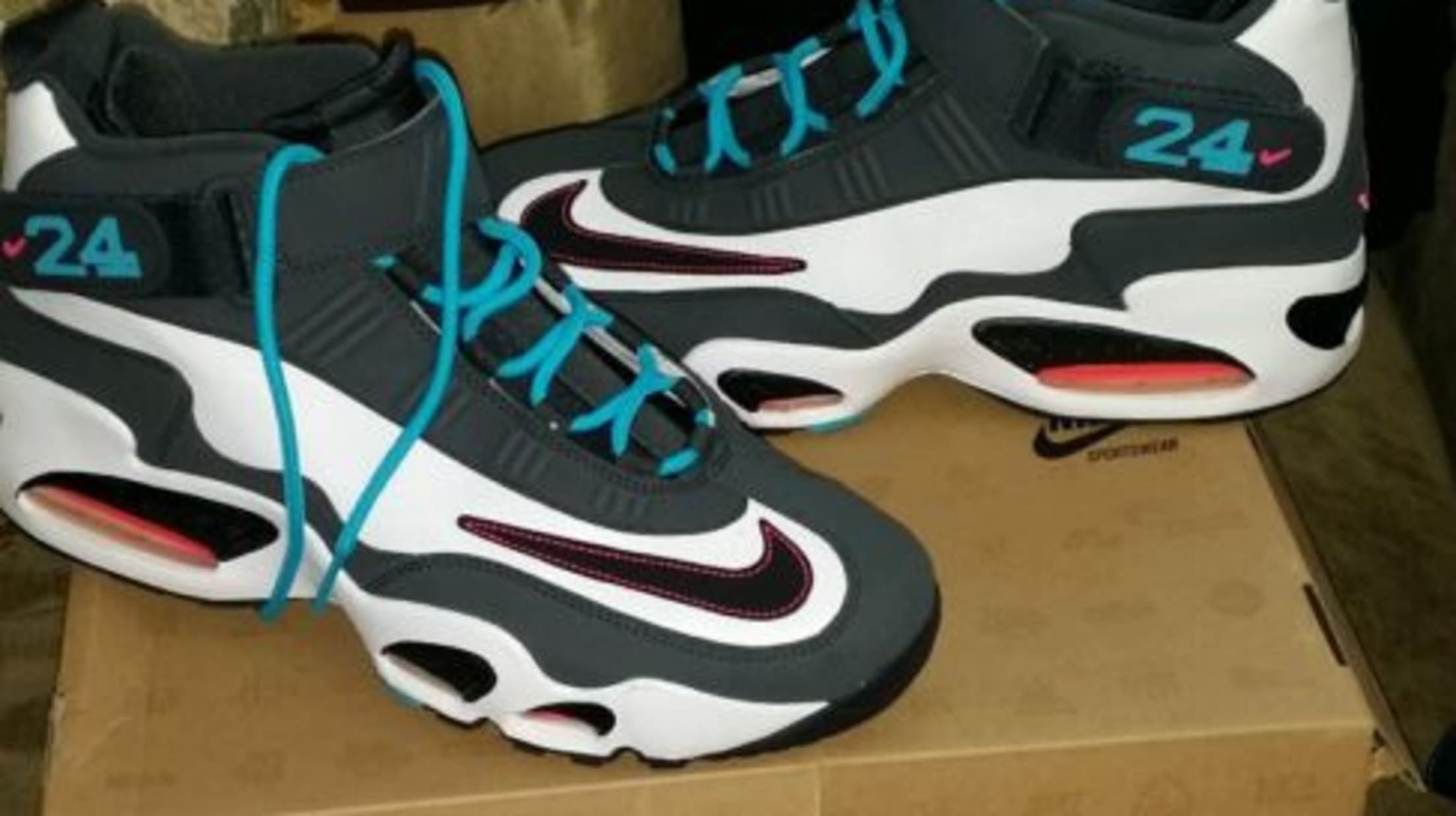 (via eBay)
With the caveat that I still desperately want to own a pair of these shoes -- especially in the teal colorways -- the Air Max Griffeys never quite took over the world. A small subset of the world, sure, but the whole thing? With the shoes replacing wingtips as standard office wear? Sadly not.
Rating: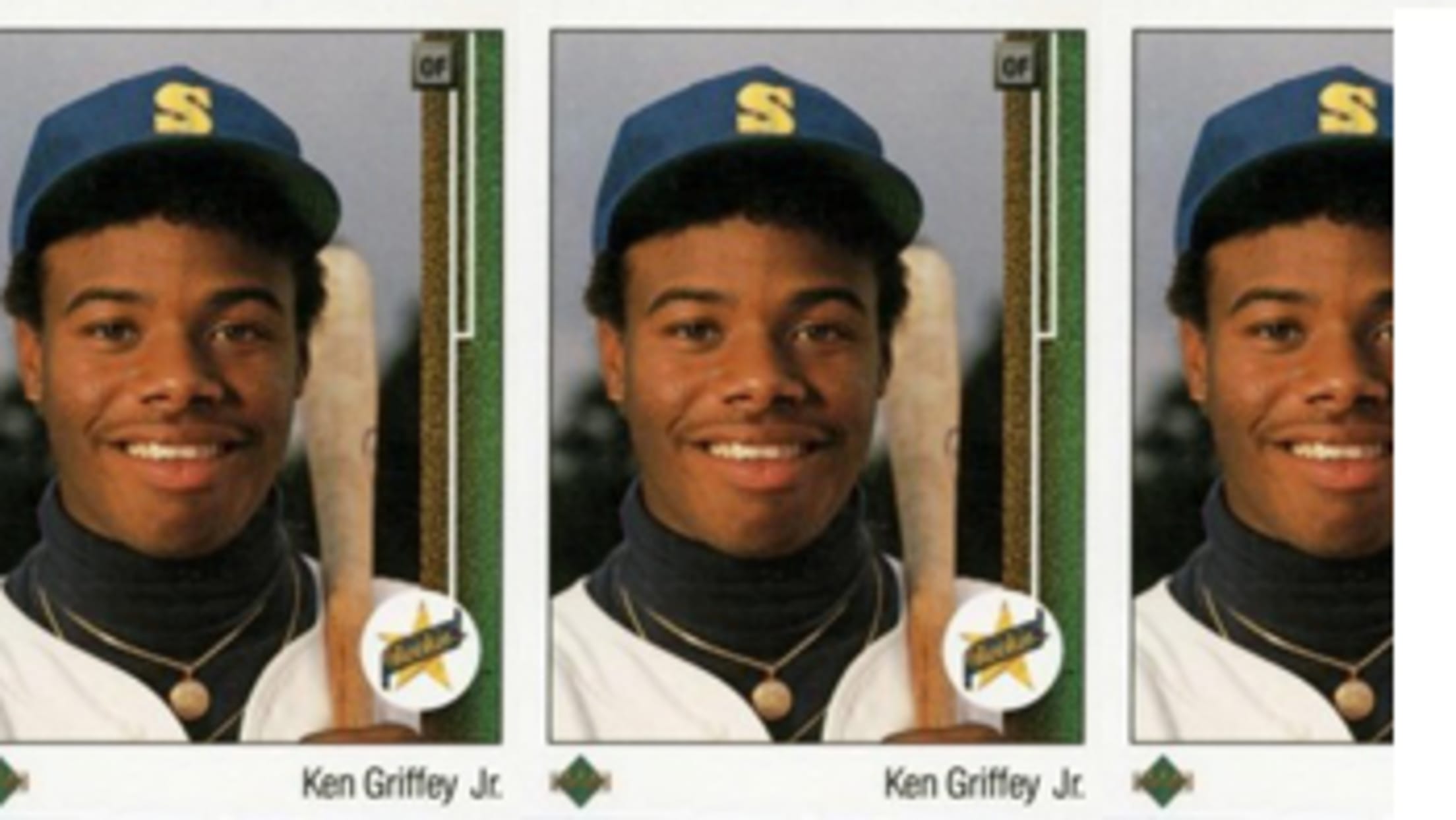 "Little Big League" was a children's sports movie about a little kid becoming manager of the Twins and helping to shape them into contenders. Even then, as Michael Baumann pointed out, this was a movie where Ken Griffey was the home run-hitting, home run-robbing villain, who, somehow, simply because of how likable he was, you were rooting for.
That's insane. All hail Griffey.
Rating: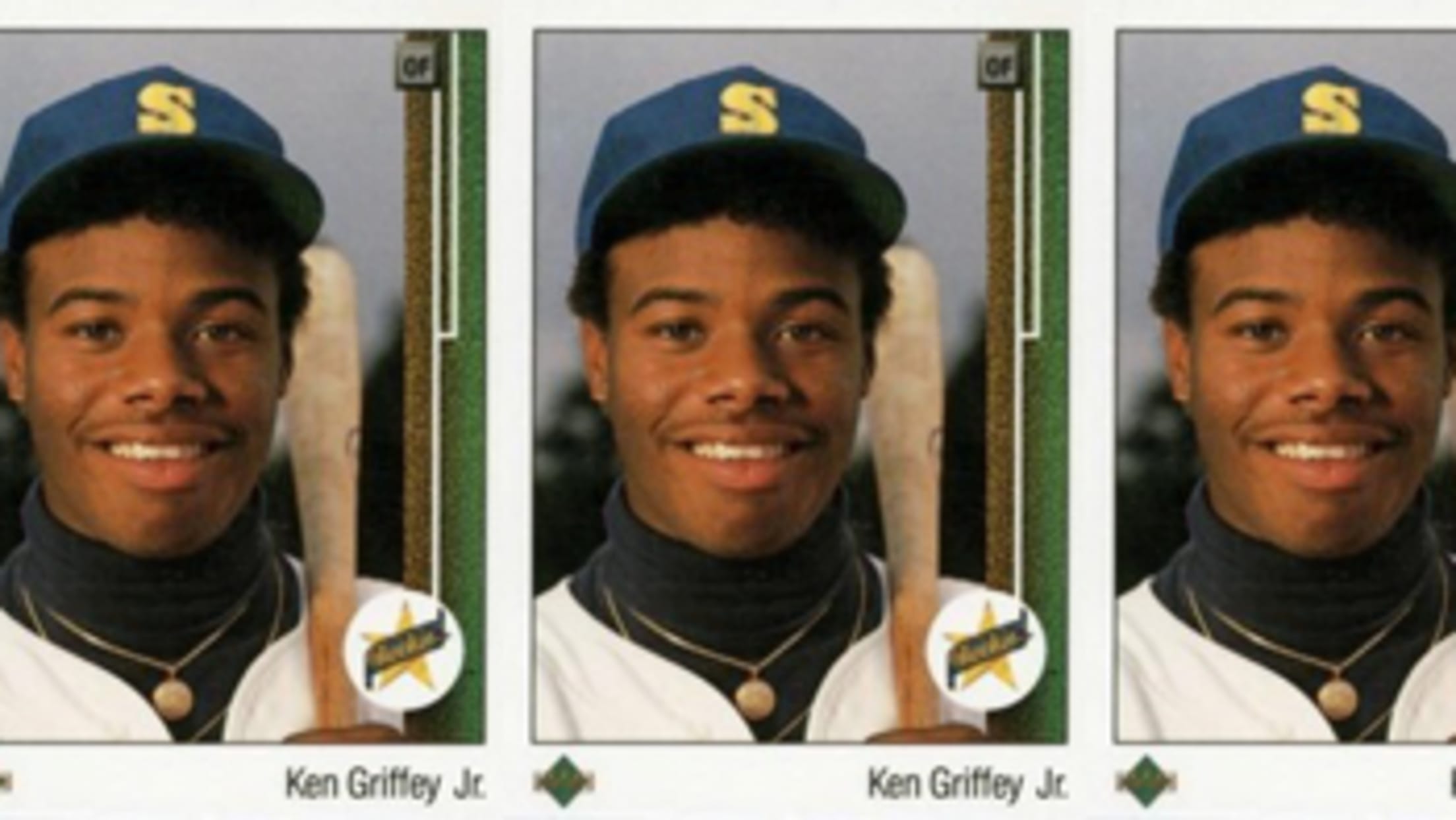 Griffey didn't just take over movies, though. He also became a fixture of the small screen. He, and his "grotesquely swollen head," was the star in one of The Simpsons' greatest episodes.
He teamed up with that other multi-platform '90s icon Will Smith and took to the Fresh Prince of Bel-Air:

Ken Griffey Jr. cameo on The Fresh Princeby 23city
He and his father even appeared on the TV-adaptation of Harry and the Hendersons. The dude wasn't just a baseball player, he was an absolute entertainment icon.
Rating:
In a sport predicated on failure, this was Griffey's only real miss. A sports-themed restaurant chain Griffey owned along with Andre Agassi, Wayne Gretzky and others, the All-Star Cafe came and went in a world that had grown tired of celebrity-focused eateries. It probably didn't help that it was also a subsidiary of Planet Hollywood, which suffered the same fate.
Rating: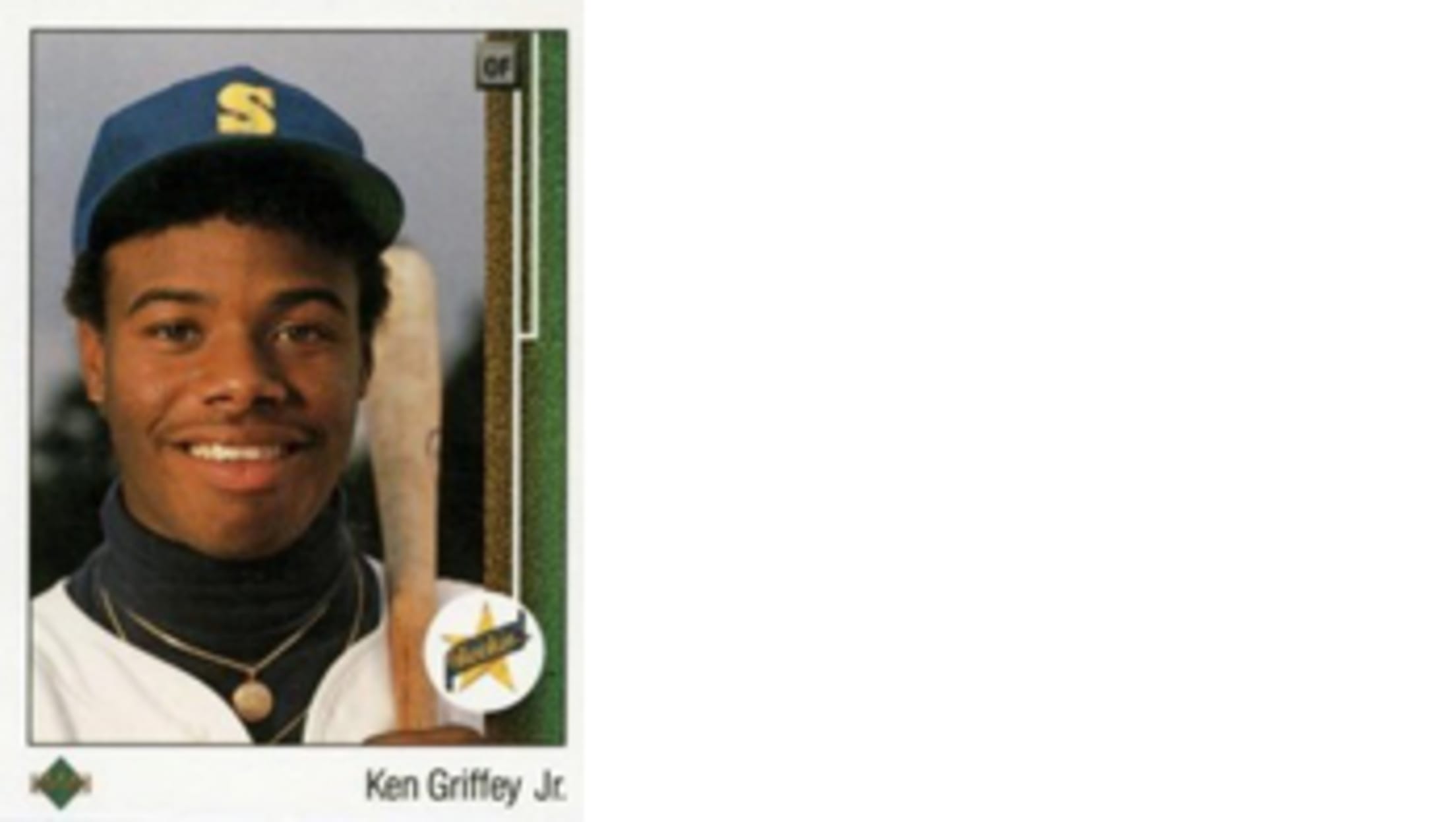 Griffey was blessed with a lot of abilities. Unfortunately, great rhythm and flow was not one of them. Though, that fact does make Kid Sensation's "The Way I Swing" oddly charming. It's even better that Griffey appears to be aware of his limitations as he raps, "Ken Griffey is a swinger, not a singer/A def rhyme-bringer/A home run hitter, but I'm not a dope-slinger."
Even if Junior isn't exactly the greatest hip hop artist in the world, his mark is still felt. Just this year, Macklemore included Griffey, dressed in his rookie card finest, in his video "Downtown."
Rating: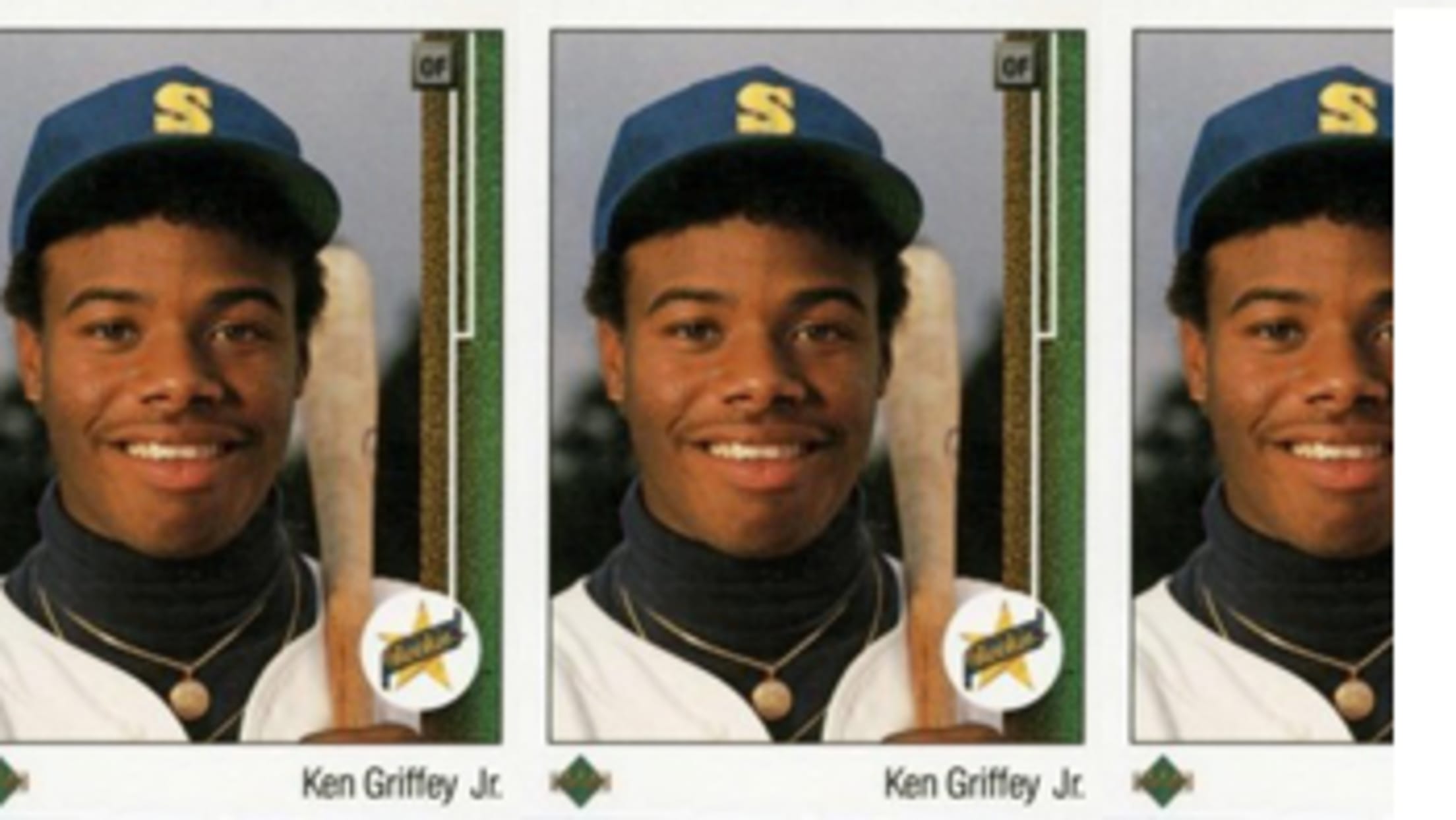 Do you really think it's a coincidence that Griffey is getting elected to the Hall of Fame just months before the 2016 election? And on the 20th anniversary of his first failed campaign for the highest office in the land? (He probably only failed because he was under the required age of 35. Though if anyone could get the rules changed, it's Griffey.)
You might not remember Dole's campaign in '96, or even Gore's in 2000. But you'll always remember Griffey '96.
Though we never did get that answer on the flat tax. Turns out, at least one person really did vote for him, too.
FACT: In the 1996 Democratic Presidential Primary in Rhode Island, Ken Griffey Jr. received a vote. #Mariners pic.twitter.com/kyGWed4ZVp

— Untitled Goose Joe Veyera (@JoeVeyera) January 6, 2016
Rating:
While Junior may not have become Commander-in-Chief, he was truly unstoppable as a pitchman. No one was quite so likable, quite so bankable, quite so charismatic whenever he was put in front of a camera.
You don't need to put much of a metaphorical spin on the love that everyone, regardless of their team of choice, had for Griffey -- even when you watch a commercial where he runs across every state to rob Don Mattingly of a home run.
He was a big enough star that most probably wished he could clone himself and simply play every position at once:
Even at a time when Griffey was battling injuries and Sammy Sosa was hitting 60 home runs a year, Griffey was still the hero.
Griffey's commercials didn't even need to reference baseball at all. Instead, he got to be a buttoned up All-American pitchman with his dad for a local car dealer.
If you turned on a TV between 1991 and 2010, you probably saw the smiling center fielder -- which is the kind of brand exposure you can't even buy anymore. Griffey didn't just dominate the game, he dominated the world. The Hall of Fame has a lot of players in its wings, but there may be no one there who is quite like Griffey.
Rating: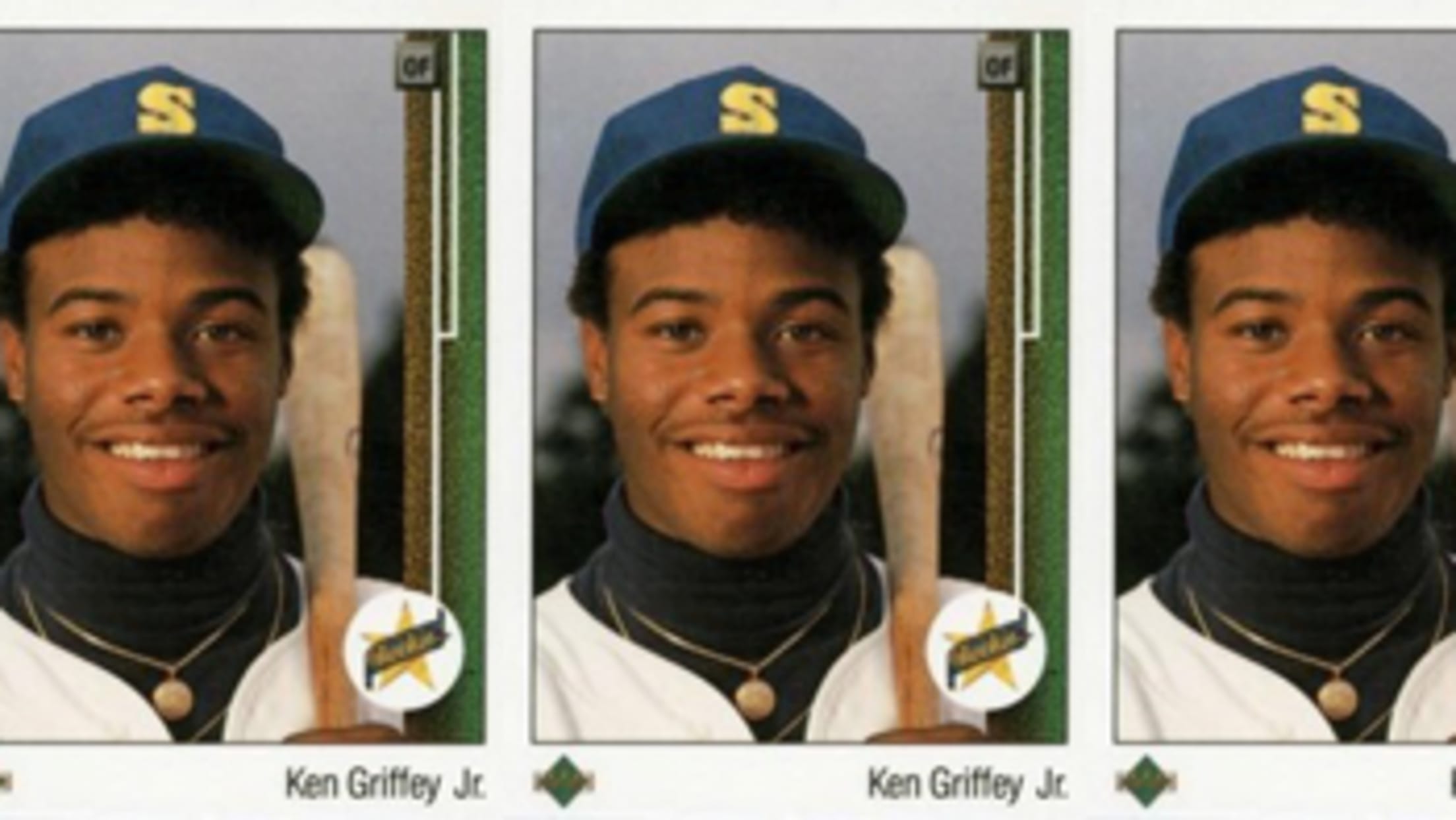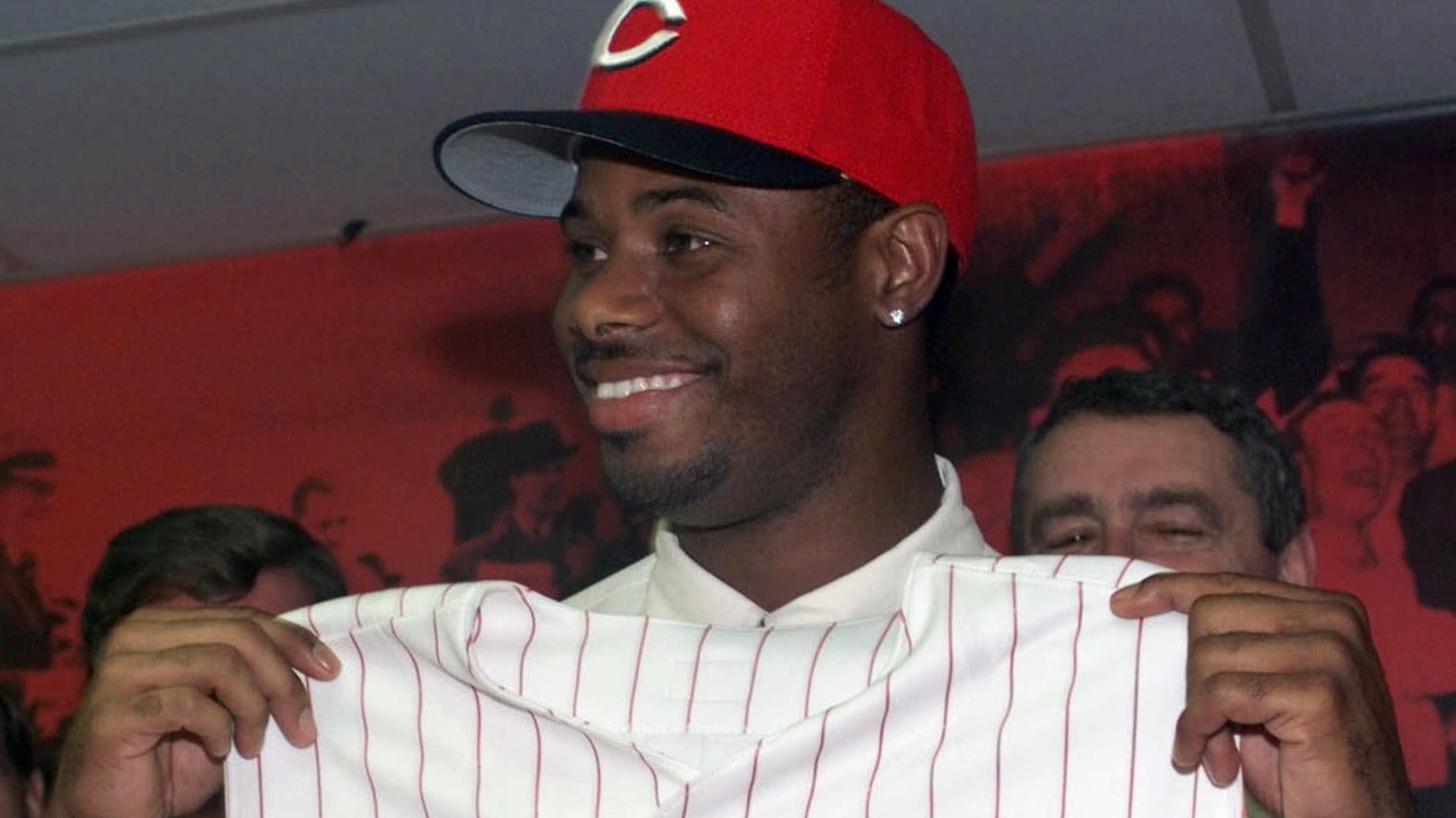 When Griffey left the Mariners after the 1999 season, he went to pretty much the only place he could go without hurting Mariners fans' feelings. After all, Griffey was returning to his hometown of Cincinnati. He was going back to the team where his dad saw his best success, even changing his number to 30 to honor his father. And, while he still got a hefty pay raise, it was also not the highest offer he could have received on the open market.
Sadly, Griffey's years in Cincy were mostly a struggle. After hitting 40 home runs in his first season, helping the Reds to a one-game Wild Card playoff against the Mets after the two teams finished tied, Griffey lived through a string of injuries that made it seem like his very body was against him. His speed was sapped, his mobility decreased and, at times, even that perfectly balanced swing was hampered by the rebellion of his muscles.
Of course, this being Griffey, that meant he still hit 210 home runs in his nine seasons with the team. That included hitting his 500th and 600th home runs. Here's No. 500, with a proud father looking on:
Following a brief 41-game stint with the White Sox, notable mostly for a handful of home runs and giving fans a jersey with plenty of hipster cachet, Griffey went back to the Pacific Northwest.
As Griffey learned when he signed before the 2009 season, he actually had two homes now -- one in Cincinnati and another in Seattle, where an entire city of people would happily carry him on their shoulders if he asked.
Even at the age of 39, a little thicker in the midsection and now limited mostly to DH duties, Junior's at-bats were still must-watch affairs. Even if he hit just .214, Griffey still hit 19 home runs in 2009. The swing, the one that we dream about when we close our eyes, was still there. And it was great to see it in front of the Seattle faithful again, even if it was in beautiful Safeco and not the indoor bio-engineered environment of the Kingdome.
Sadly, Griffey's body betrayed him once again, forcing him to have offseason knee surgery. Returning to the club the next year, he had no power in his legs to drive off of, and we watched balls that he used to drive into the stands land at the warning track. 108 plate appearances into the 2010 season, Junior still hadn't hit a home run, leaving a disappointing goose egg on his stat line when he announced his retirement midseason.
While we may have liked Griffey to have hit a home run and walked off the field that day, it was still magical seeing him end his career in a Mariners jersey.
Rating: