Every perfect game in Major League history, ranked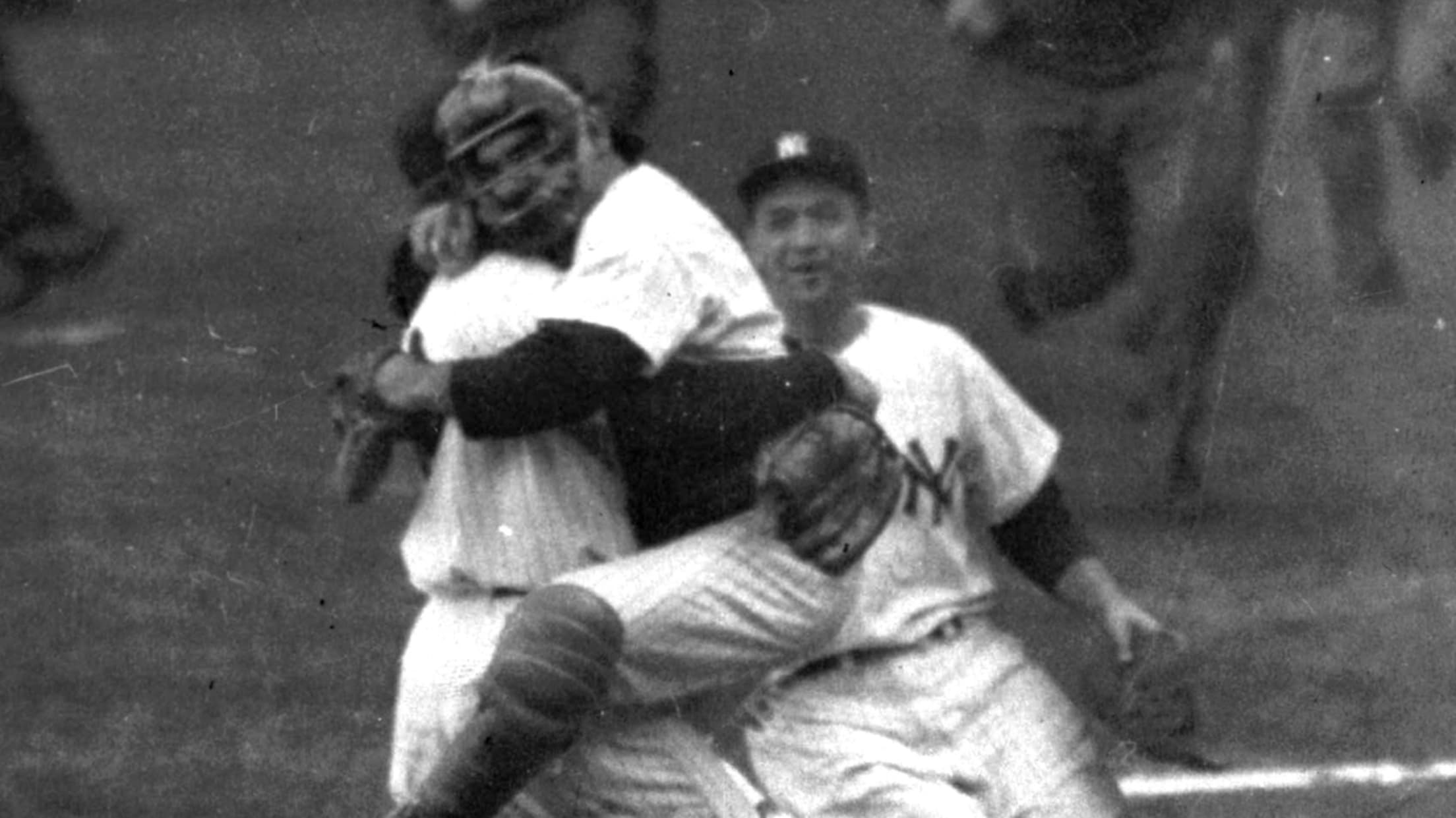 First thing's first: It's not easy to choose between perfect games. The word "perfect" is right in the name, after all, and there aren't differing degrees of perfection -- each pitcher on the list faced 27 batters and retired them all. It's an astounding achievement, and it's earned them a place in arguably baseball's most exclusive fraternity. (Consider: 77 pitchers have made the Baseball Hall of Fame, but just 23 have thrown a perfect game.)
All that being said, some of those 23 are just a little more perfect than others -- whether they featured a boatload of K's, were saved by an iconic defensive play or just plain changed the course of baseball history. And that's where we come in: We've ranked every single perfect game in Major League history, in ascending order of historical awesomeness, to determine just which was the most perfect of all.
Disagree? Be sure to let us know in the comments. (And before we begin, a quick shoutout to the three pitchers -- Ernie Shore, Pedro Martinez and Harvey Haddix -- who managed to throw nine perfect innings but were denied a perfecto.)
23. John Montgomery Ward, June 17, 1880
Baseball was a very different game back in 1880: Eight balls were required to draw a walk, pitchers weren't allowed to throw overhand and the front edge of the pitcher's box was just 45 feet from home. By any rulebook, though, the 20-year-old Ward was masterful, retiring all 27 Buffalo Bisons he faced to become the youngest pitcher to throw a perfect game.
22. Mike Witt, Sept. 30, 1984
The Angels had already been eliminated from postseason contention heading into the final day of the 1984 season, but Witt wasn't content to limp into winter. The lanky right-hander (he weighed 185 pounds at 6-foot-7) dominated the Rangers, striking out 10, while Reggie Jackson's seventh-inning RBI proved to be the difference in a 1-0 win.
21. Len Barker, May 15, 1981
Most perfect games involve at least some suspense towards the end, but Barker seemed to cruise from out No. 1 to out No. 27: He never reached a three-ball count, and struck out seven of the last 11 Blue Jays he faced. (Barker's catcher, Ron Hassey, would later become the only backstop to catch two perfect games -- but we'll get to that.)
20. Philip Humber, April 21, 2012
Humber might get the nod for least likely perfect game of all-time: Heading into play that day against the Mariners, he was on his third team in seven years and boasted a career ERA over 5. But for nine innings, at least, the righty was better than anybody. He needed just 96 pitches to blank Seattle, although the final out did cause some controversy:
19. Randy Johnson, May 18, 2004
Johnson left his fingerprints all over the record books during his Major League career, from most strikeouts by a lefty to most consecutive seasons with 300 or more K's. He was even the oldest player to hit a home run, until Bartolo came along.
And, on May 18 against Atlanta, he became the oldest pitcher to throw a perfect game at 40 years, eight months and eight days old. (He even struck out 13, because of course he did.)
18. Tom Browning, Sept. 16, 1988
Earlier in the 1988 season, Browning took a no-hitter into the ninth against the Padres, only to watch Tony Gwynn break it up with a one-out single. Against the Dodgers, however, the lefty didn't leave any doubt: He threw 72 of his 100 pitches for strikes and fanned seven to notch the 12th perfect game in big league history -- and the only one thrown against a team that would go on to win that year's World Series.
17. Charlie Robertson, April 30, 1922
Robertson was making just the fifth start of his Major League career, against a loaded Tigers lineup that had set an American League record for batting average the year prior. But the 26-year-old's performance stunned Detroit -- so much so that player/manager Ty Cobb complained to the umpires that Robertson was doctoring the ball. Robertson's uniform was checked, and Detroit held on to two game balls, but nothing was ever found.
16. Roy Halladay, May 29, 2010
How good was Roy Halladay against the Marlins? To answer that question, let's play a quick game of "How many times will Carlos Ruiz have to move his glove?"
Doc was, well, Peak Doc: He struck out 11, including six looking, and needed more than 12 pitches in an inning just twice. (Note: This would not be his only no-hitter of 2010.)
15. David Wells, May 17, 1998
Things weren't going well for Wells early in the '98 season -- he entered his start against the Twins with a 5.23 ERA, fresh off a seven-run drubbing from the Rangers. A few hours later, though, things were looking up: Boomer struck out 11 Minnesota batters for the Yankees' first perfect game in over 40 years and earned himself a nice ride home for his efforts.
14. Félix Hernández, August 15, 2012
Just months after Humber's perfect game at Safeco Field, King Felix answered with one of his own for the home team, cementing his claim as the best pitcher in the AL with nine masterful innings against the Rays. Hernandez struck out 12 on the day, and it's the last time a perfect game has been thrown in the Majors -- and the only time a ballpark has hosted two different perfectos in one season.
13. Catfish Hunter, May 8, 1968
A 22-year-old Hunter might not have had the iconic mustache yet (that would come four years later, thanks to owner Charlie Finley), but he was just as dominant on the mound, striking out 11 -- including a hat-trick for Harmon Killebrew -- and only reaching a three-ball count twice. He even went 3-for-4 at the plate and drove in three of the A's four runs for good measure.
12. Kenny Rogers, July 28, 1994
After the game, Rogers -- who had just become a full-time starter with Texas the year prior -- claimed to have not been thinking about the perfect game until he walked out for the bottom of the ninth. If you tend to roll your eyes at the notion of jinxes, consider that that's exactly when Rogers nearly had it broken up ... until Rusty Greer saved the day:
11. Lee Richmond, June 12, 1880
As we mentioned earlier, it was a bit easier to throw a perfect game back in 1880. Batters couldn't reach base by getting hit by a pitch, for starters, and foul balls could be caught on one bounce for an out -- something that Richmond benefitted from three times during his start against the Cleveland Blues.
Still, he occupies a special place in baseball history: He was the first player to ever throw a perfect game -- "the most wonderful game on record," as a local newspaper labeled it at the time. The game itself featured all kinds of shenanigans, from a brief rain delay that forced Richmond to repeatedly dry the ball off with sawdust to a would-be single in the fifth inning that right-fielder Lon Knight turned into a 9-3 putout.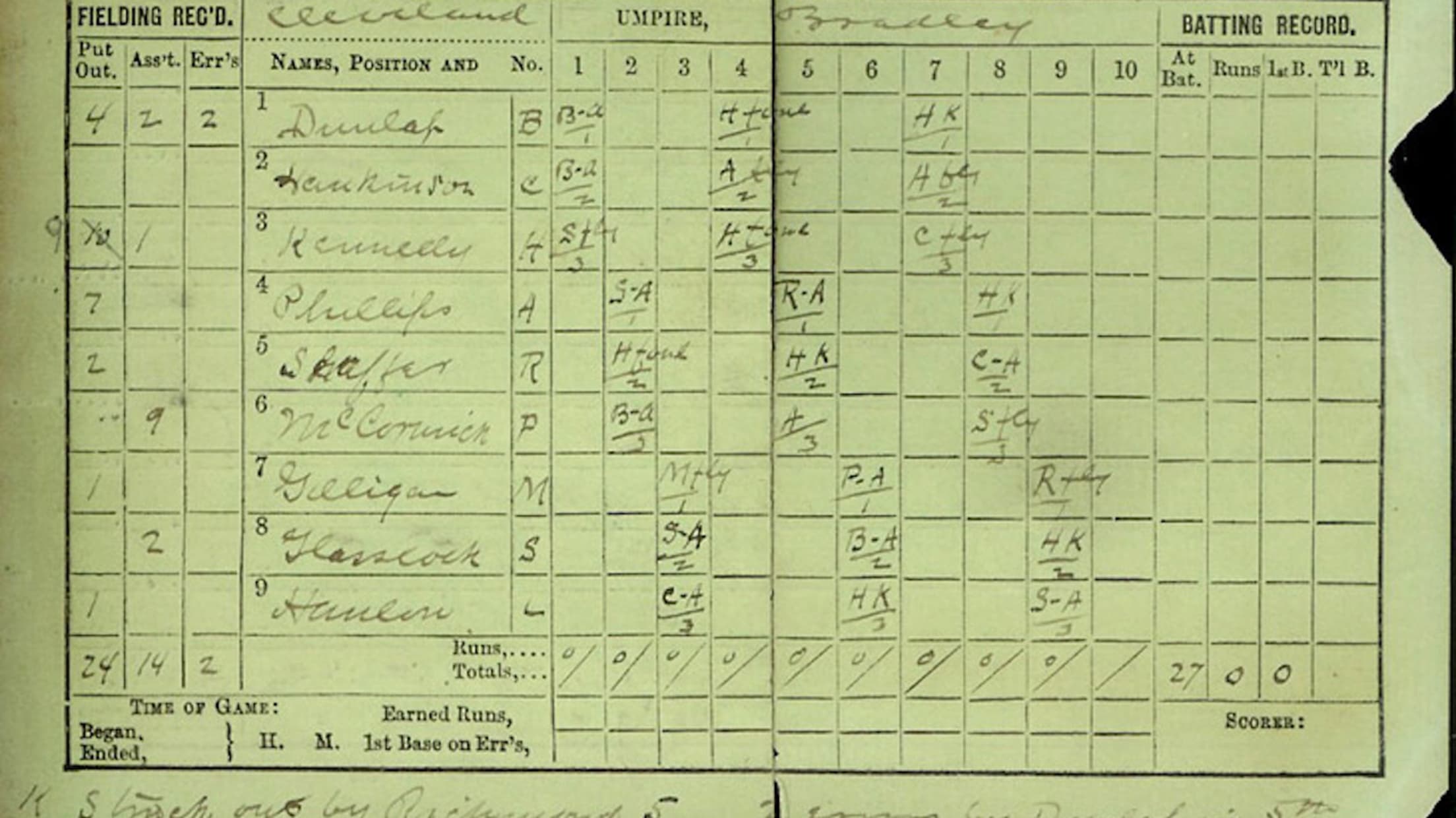 10. Matt Cain, June 13, 2012
Even by the standards of a perfect game, Cain was jaw-droppingly dominant against the Astros: 14 of the 27 outs he recorded came via strikeout, and it remains the fourth-highest game score of any nine-inning start in Major League history.
Of course, for as great as Cain was, he wouldn't have been perfect were it not for some advanced scouting. Prior to the game, Giants coaches advised right fielder Grégor Blanco that he should play Houston's Jordan Schafer more towards the right-center gap. That was a good call:
9. David Cone, July 18, 1999
July 18, 1999, wasn't any ordinary day in the Bronx. It was Yogi Berra Day -- the legendary catcher was being welcomed back to Yankee Stadium for the first time in over a decade. The team even brought Yogi onto the field to catch the first pitch from his old battery-mate, Don Larsen, in honor of Larsen's perfect game some 43 years prior.
As it turned out, though, Cone had an even better tribute: He went out and threw a perfecto himself. It wasn't always easy -- Paul O'Neill made a diving catch in the first inning, and Ricky Ledee nearly lost a fly ball in the sun with one out in the ninth.
Luckily, Ledee managed to hold on, and Cone recorded the 27th and final out with Larsen and Berra looking on.
8. Dennis Martinez, July 28, 1991
Martinez came very close to washing out of baseball entirely: After alcohol and shoulder issues derailed his career in Baltimore, the Orioles traded "El Presidente" to the Expos, who would only offer him a Minor League deal for the 1987 season.
Four years later, there he was, etching his name into history at Dodger Stadium -- the first Nicaraguan to make it to the big leagues had become the first player born outside the U.S. to throw a perfect game. It meant so much that, after celebrating on the infield with his teammates, Martinez made it back to the Montreal dugout and collapsed in tears.
7. Addie Joss, October 2, 1908
Perfect games are so singular that It's easy to think of them as their own discrete events, removed from the context of a season and a pennant race. But perfect games are also, well, games -- and in terms of actual impact, perhaps no perfecto was bigger than the one thrown by Addie Joss.
Joss' Cleveland Naps (yes, seriously) entered play against the White Sox in a tight three-way race for the AL pennant: a half-game back of the Tigers in first and one game up on Chicago in third with just six games left in the season. Tension at the ballpark ran so high that, in the words of one local sportswriter and truly legendary wordsmith, "a mouse working his way along the grandstand floor would have sounded like a shovel scraping over concrete." In other words, it was an ideal time to pitch the game of your life.
Joss was amazingly efficient, throwing just 76 pitches en route to the second perfect game in the modern era. And as it turned out, perfection was exactly what Cleveland needed: Future Hall of Famer Ed Walsh was great for the White Sox, allowing just one run and striking out 15. The Naps eventually lost the pennant by a half-game to Detroit, but you can't blame Joss.
6. Mark Buehrle, July 23, 2009
It was the Platonic ideal of a Buehrle start: The lefty induced just six swings and misses over 116 pitches, but only two Rays made hard contact all day. The first was Evan Longoria, who lined out to short in the fourth. The second was Gabe Kapler, who hit a fly ball to deep left-center in the ninth that very nearly ended the whole thing.
It is an immutable law of the baseball universe that, for every no-hitter or perfect game thrown, there must be a Great Defensive Play that saves the day at some point. We've seen plenty of examples of this in recent history. But, all due respect, no Great Defensive Play has been as great as Dewayne Wise's leaping, falling, juggling grab:
Of course, no moment in recent White Sox history would be complete without the dulcet tones of one Hawk Harrelson. So, without further ado, let's all say it together: ALEXEI.
5. Cy Young, May 5, 1904
Cy Young and Rube Waddell really, really did not like each other. Young was the grizzled veteran, a living legend still going strong in the twilight of his Hall of Fame career. Waddell was the brash newcomer, a kid from rural Pennsylvania with a loud mouth, a blazing fastball and a penchant for wrestling alligators in his spare time. Waddell's Philadelphia A's had won the 1902 American League pennant. Young's Boston Americans had won the 1903 World Series. They were the two best pitchers on the two best teams in the American League -- and in 1904, the feud finally bubbled over into a full-blown rivalry.
Waddell had already faced Boston twice that season, outdueling Young himself on April 25 and tossing a one-hitter on May 2. He was on top of his game ... so, naturally, he started talking some trash: Waddell openly challenged Young in the press, daring the icon to face him again.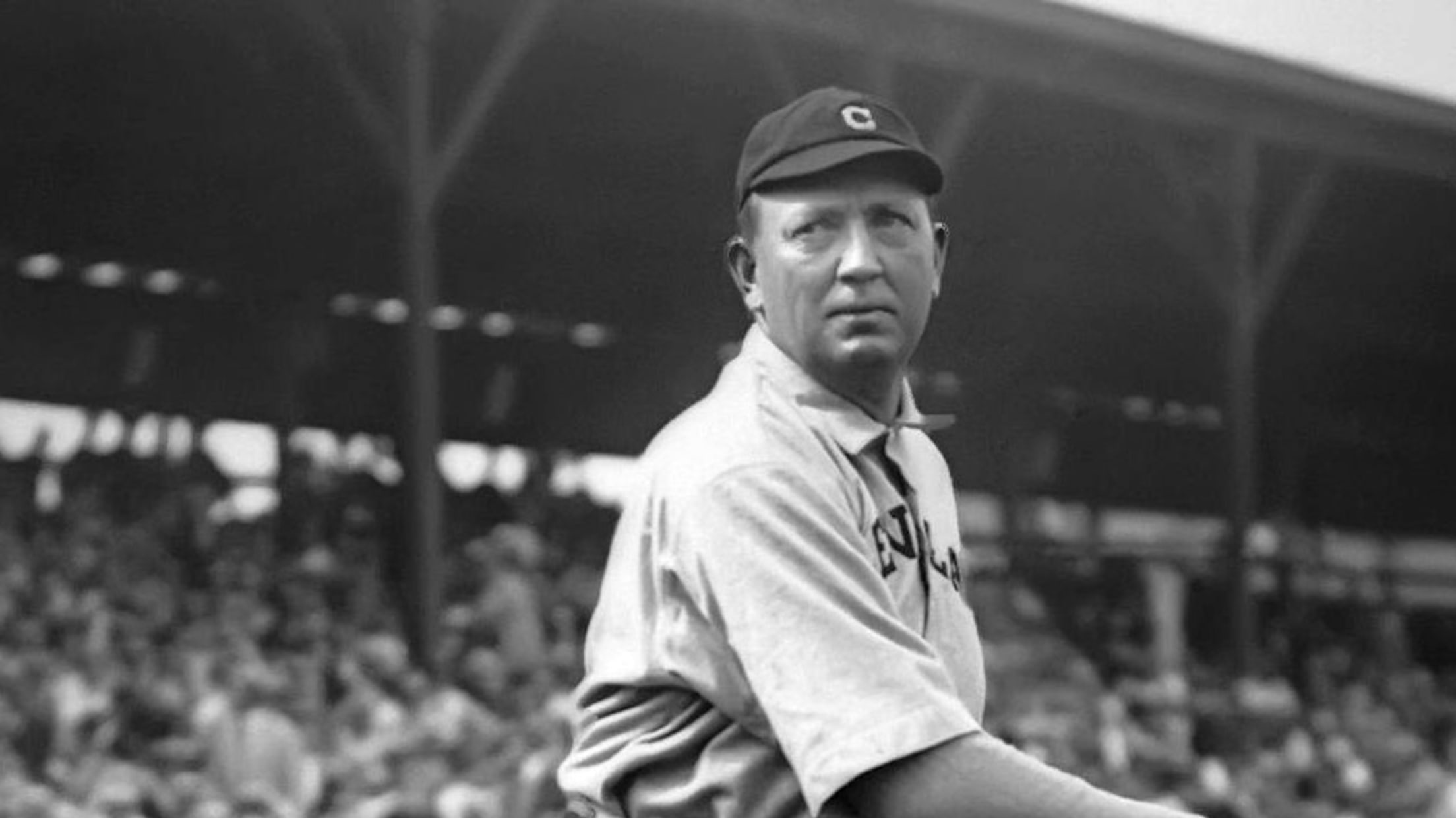 A massive weekday crowd of 10,627 packed into Boston's Huntington Avenue Grounds for one of the most anticipated games of the season. Waddell struggled, at least by his standards -- he surrendered 10 hits in all, and after escaping some early jams, the Americans finally got to him for three late runs. Young, on the other hand, was perfect.
The big righty got some help from his defense -- particularly his personal catcher, Lou Criger, who nearly fell over the Boston bench grabbing a foul pop -- but for the most part he was dominant, striking out eight and inducing weak contact all day. Inning after inning went by, until finally, Young was one out away from perfection ... and Waddell was the batter standing in his way. (Not that Rube was a particularly good hitter -- A's manager Connie Mack let the pitcher bat for himself because he liked the drama.)
Young got his counterpart to fly out, sealing the first perfect game in the modern era and the first in the young history of the American League. As the crowd stormed the field around him, Young made sure to seek out Waddell, and asked him one simple question: "How do you like that, you hayseed?"
4. Dallas Braden, May 9, 2010
When Braden was a senior in high school, his mother, Jodie Atwood, passed away from cancer. He spent the next few years in the care of his maternal grandmother, Peggy Lindsey, who watched the lefty grow from a community college pitcher to a Texas Tech University ace to a late-round MLB Draft pick to a Minor League overachiever to, finally, a big league starter.
Understandably, Mother's Day was difficult for him: "It hasn't been a joyous day for me in a while," Braden told the San Francisco Chronicle's Susan Slusser. Mother's Day 2010, however, offered a bit of a silver lining: Braden -- with just 17 Major League wins to his name -- threw a perfect game against the Rays ... with Lindsey in the stands watching.
Braden and catcher Landon Powell combined to form one of the unlikeliest batteries to ever pull off a perfect game. Prior to Braden's start, Powell had been an Athletic for all of 18 days -- he only received the call from Triple-A Sacramento because of an injury to Mark Ellis, and he was only catching that day because of an injury to regular backstop Kurt Suzuki.
But Braden had gone through the A's Minor League system with Powell, and shook him off just once all day. The lefty was in command from the start, throwing 77 of his 109 pitches for strikes and facing just four three-ball counts. Tampa Bay never seriously threatened to put anything together, and when Braden got Gabe Kapler to ground out to end it, he knew exactly who he wanted to see:
"It's very special," Lindsey said. "Dall and I are very close. He just said, 'I love you,' and I said, 'Your mom would have been so proud.' I think that's what he was thinking, too."
"To know that I can still come out and compete and play in a game on that day makes it a little better," Braden added, "and with my grandma in the stands -- to give her this, together, is perfect."
3. Jim Bunning, June 21, 1964
Bunning had a lot on the line as the 1-2-3 innings piled up against the Mets: the first regular-season perfect game since 1922, the first modern-era perfect game in the NL, the first perfect game by a Phillie, the first man since Cy Young to throw a no-hitter in both the American and National Leagues. To top it all off, it was Father's Day, and one of Bunning's daughters and his wife were on hand at Shea Stadium.
Under such circumstances, you might assume that Bunning was all business, and that he and his teammates observed any and all superstitions -- including, of course, the iron-clad rule that One Shall Not Talk to a Pitcher With a Perfect Game Going. Except, well, he did the exact opposite: Throughout the game, Bunning strolled up and down the dugout, talking and joking with his teammates to keep them loose -- "jabbering like a magpie," as catcher Gus Triandos said.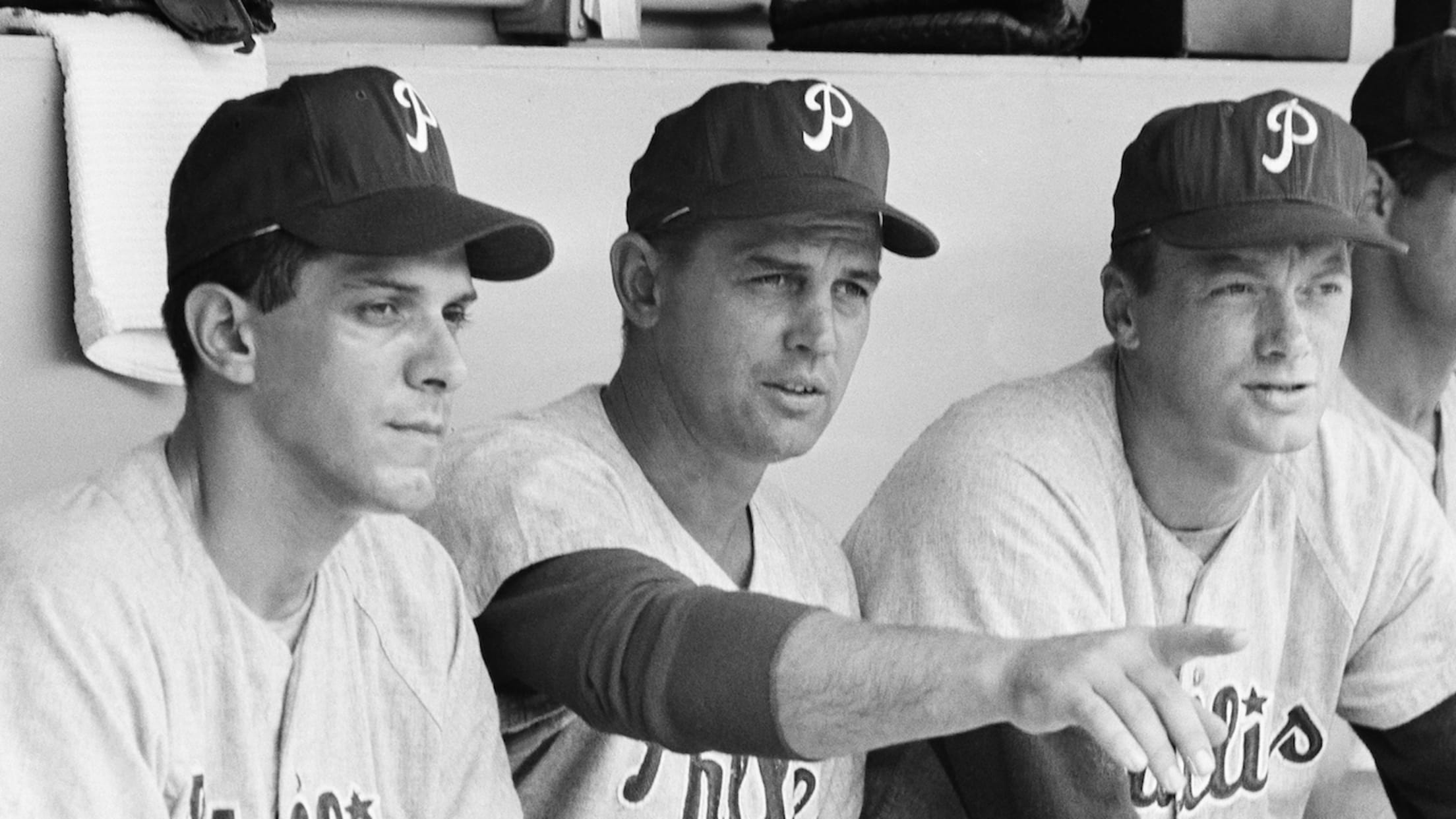 A few weeks earlier, Bunning had a no-hit bid spoiled in Houston despite being left completely alone by his teammates, so he figured the practice was useless. He even asked Triandos to tell him a joke during a mound meeting in the ninth inning -- "I know it relaxed me and I hope it relaxed the whole team," he told MLB.com's Todd Zolecki in 2014.
Rather than being immediately smited by the Baseball Gods, Bunning kept rolling, striking out 10 Mets -- including John Stephenson to seal the deal:
2. Sandy Koufax, Sept. 9, 1965
There are plenty of ways to express just how brilliant Koufax's perfect game was. It was his fourth career no-hitter, a new Major League record, and the first perfecto thrown at night. Koufax's 14 K's and 101 game score are both tied with Matt Cain for the highest ever in a perfect game. You could even just gape at that legendary curveball for a little while and wonder how anyone ever hit him:
But it wasn't just one of the greatest individual pitching efforts in baseball history -- it's quite possibly the best-pitched game in baseball history. Koufax's counterpart, Cubs starter Bob Hendley, nearly matched the Hall of Famer pitch for pitch: He surrendered just one hit and one walk all night. It's still the only game that featured only one hit and one man left on base. The perfect game may well have been for naught, but L.A. was able to scratch across an improbably unearned run in the fifth thanks to a sacrifice bunt and an error.
It wasn't much, but it was all Koufax would need. The lefty faced just three three-ball counts all night, and aside from Byron Browne's lineout to center field in the second, no Cub even put pressure on the Dodger defense. Even more impressive, Koufax did it all with just two pitches: his fastball and his trademark curve. Legend has it that, before the game, Chicago outfielder Al Spalding identified a hitch in the lefty's delivery that revealed which pitch he was about to throw -- but the Cubs still couldn't touch him.
And, as if things could get any better, we've even got a Vin Scully call to enjoy. Scully used to make a point of reciting the date of the game, along with the attendance and the time of day -- he wanted to give the pitcher a time capsule that he could return to in the future. His call that night -- the fourth Koufax no-hitter he announced -- was predictably perfect:
But, for as great as Sandy Koufax was, there can only be one No. 1 -- a first in baseball history, and one of the game's most iconic moments ...
1. Don Larsen, October 8, 1956
It's a game that needs no introduction: the first and only perfect game in postseason history, in the World Series no less.
Larsen had drawn the start in Game 2 at Ebbets Field and took the loss, lasting only 1 2/3 innings as the rival Dodgers stormed to a 13-8 win. But the Yankees battled back at home, taking the first two games at Yankee Stadium to tie the series at two games apiece. It set up an all-important Game 5 in the Bronx -- with Larsen, New York's fourth starter, getting the ball again.
This time, however, the 26-year-old righty was in complete command. After Pee Wee Reese worked the count full in the top of the first, no Dodgers batter saw a three-ball count -- "I had great control," Larsen later said, "I never had that kind of control in my life." Despite a star-studded lineup that included the likes of Reese, Jackie Robinson, Duke Snider and Gil Hodges, the closest Brooklyn came to a hit was a Hodges fly ball in the fifth that was tracked down by Mickey Mantle -- who'd just spotted Larsen a lead in the bottom of the fourth with a homer:
From there, it was smooth sailing. Larsen retired Reese and Snider in the seventh, then Robinson and Hodges in the eighth, as the Yankee Stadium crowd prepared to explode. Carl Furillo flew out to right. Roy Campanella grounded out to second. Finally, up walked Dale Mitchell, one out away from perfection. We'll let Scully (yep, him again) take it home:
Mitchell tried to check his swing, but home-plate umpire Babe Pinelli -- in his last game ever behind the plate -- called it a strike. (Though whether or not it actually was a strike is a matter of some debate.) Yogi Berra could hardly contain his excitement, and gave us one of the most famous images in baseball history:
New York went on to win the series in seven games, avenging their loss to Brooklyn in the '55 Fall Classic. As for Larsen, he would pitch 10 more years in the big leagues, mostly with the Yankees and Giants. He also inspired possibly the most aspirational lede in the history of sports journalism, from New York Daily News writer Joe Trimble: "The imperfect man pitched a perfect game yesterday."