Ranking the top totally real reasons why Shohei Ohtani chose the Angels
On Friday afternoon, Shohei Ohtani sent shockwaves through the baseball world with the news that he will sign with the Angels. They were one of seven teams remaining in the Ohtani sweepstakes, though a decision was not necessarily expected this soon.
So, you might be wondering, why did Ohtani choose the Angels? Well, we have our suspicions. Let's rank the top reasons.
6. If Nick Jonas can learn from Albert Pujols, then surely Ohtani can
Earlier in 2017, the singer teamed up with Pujols for charity and spent some time in the Angels' batting cage under the legendary slugger's watchful eye:
Coach @PujolsFive approved ☑️

💪: @nickjonas pic.twitter.com/PzRlvtX7vb

— Los Angeles Angels (@Angels) September 17, 2017
It's no stretch to say that the former NPB Home Run Derby champion Ohtani doesn't have quite as much to learn about hitting from Pujols as Jonas did, but hey, it can't hurt to be able to ask for advice at the plate from a guy with 614 career dingers.
5. It's nice to be the benefactor of Andrelton Simmons' magic
It's one thing to watch Andrelton Simmons' incredible defense on highlights. It's quite another to be the lucky pitcher who gets to benefit from it, and no matter how talented Ohtani's previous shortstops might have been, they'd be hard-pressed to be better than "Simba."
Yeah, that will shave some points off the ol' ERA.
4. Ohtani is a huge fan of the Rally Monkey
Maybe he'll even get the chance to pet it!
On a related note ...
3. Ohtani was a low-key big fan of the 2002 Angels
Is it such a stretch to imagine that an 8-year-old Ohtani was cheering on the likes of Troy Glaus, Garret Anderson and Jarrod Washburn as the Angels won their first World Series title? If nothing else, he has surely imagined a moment similar to Troy Percival closing out a championship at least once. We know it was on his list of goals, anyway.
2. Easy access to Disneyland
The iconic attraction hailed as "the happiest place on Earth" sits just five miles from Angel Stadium of Anaheim. That has to be tempting. And hey, the division rival Astros have already proved that you're never too old to have fun at a Disney park.
1. Ohtani really wants to surprise Mike Trout at his wedding
Trout's wedding might be just a day away, but it's not too late for a last-second guest! Trout himself even sent an excited tweet after the news broke about Ohtani signing with his team.
We're sure that Trout would love to meet his new teammate as soon as possible, even at his wedding. It would be even more perfect if Trout had a huge wedding cake that Ohtani could hide in: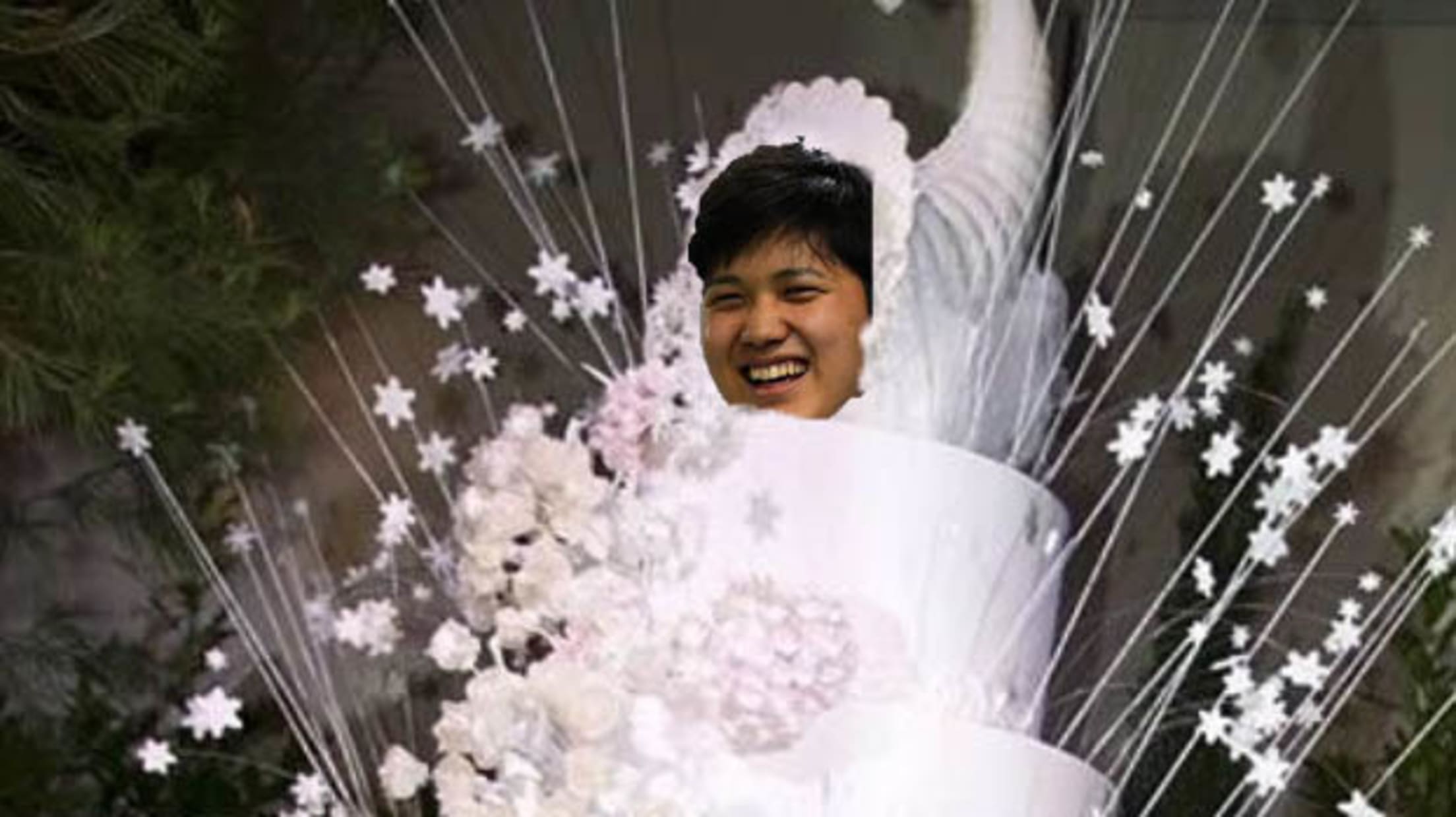 See? Trout would be so stoked. That's the dream.
Teams in this article:
Players in this article: