One reason why every Major League team should be excited that it's officially 2018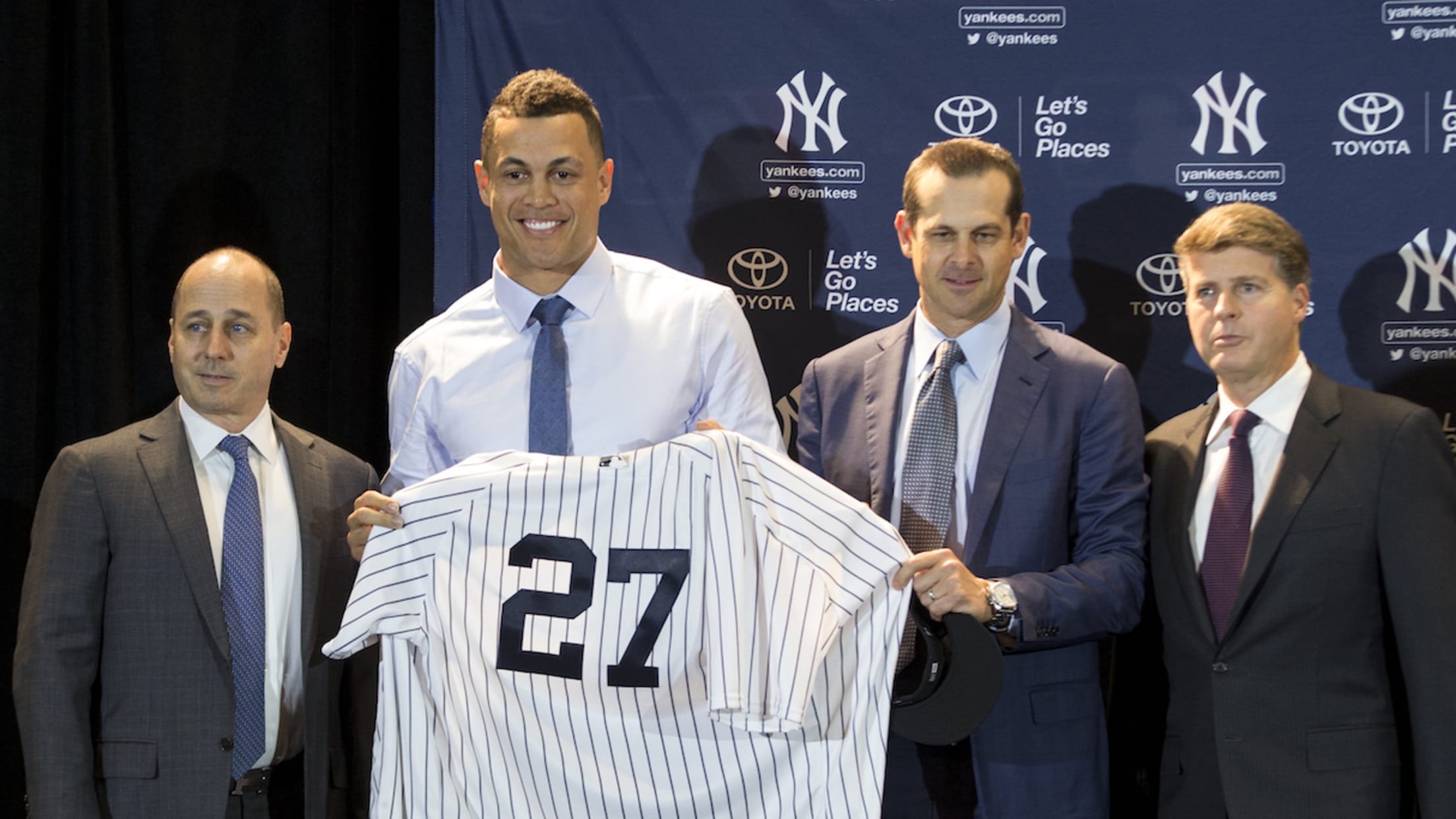 Yankees General Manager Brian Cashman, left, stands next to new Yankee Giancarlo Stanton, center, and his new jersey with Yankee Manager Aaron Boone, right middle, and Yankee Owner Hal Steinbrenner, right, during the Major League Baseball winter meetings in Orlando, Fla., Monday, Dec. 11, 2017. (AP Photo/Willie J. Allen Jr.) (Willie J. Allen Jr./AP)
New Year's Day is full of hope. The entire year is in front of us, full of possibility and potential. The same is true for our favorite Major League teams: Who knows what the 2018 season might hold?
So, in that spirit of optimism, here's one reason every single club should look forward to what this year has in store.
Angels
Two words: Shohei Ohtani. The Japanese sensation can hit, touch 100 mph on the radar gun and dance with the best of them -- and in just a few months, Angels fans get to watch him share an outfield with Mike Trout.
Athletics
Dingers, dingers and, just to be sure, even more dingers. The Yankees (241 home runs) and Astros (238) got all the long-ball love last year, but Oakland was quietly right behind them at 234 -- and that was before it added hometown kidStephen Piscotty last month, who's just a year removed from a 22-homer season in St. Louis.
Astros
With Carlos Correa, Dallas Keuchel and reigning AL MVP José Altuve in the fold, Houston will have plenty of reasons to be excited for the foreseeable future. The 2018 season, however, will bring something special: the raising of the first World Series banner in franchise history at Minute Maid Park.
Blue Jays
Marcus Stroman broke out in 2017, throwing 201 innings and finishing with the ninth-lowest ERA in baseball. Not only will Toronto fans get to watch a full season of Marcus Stroman: Established Ace this year, but they'll also get a Marcus Stroman shimmy bobblehead.
Braves
Trust us: You're going to want to remember the name Ronald Acuna. The outfielder tore through three levels of the Minors in 2017, including a blistering .344/.393/.548 line in 53 games at Triple-A Gwinnett ... and he just turned 20 on Dec. 18. If that wasn't enough, MLB Pipeline's No. 7 overall prospect capped it all off by taking home MVP honors at the Arizona Fall League:
Brewers
Thanks to mainstay Ryan Braun and wildly athletic and silly sluggers Keon Broxton and Domingo Santana, the 2018 Brewers might just boast the most entertaining outfield in baseball. (Oh, and don't forget top prospect Lewis Brinson.)
Cardinals
Just landing star outfielder and baseball destroyer Marcell Ozuna during Winter Meetings would've been enough for a great offseason. But St. Louis went ahead and also acquired a man who once ate a lizard before a game:
Cubs
From 1945 through 2014, the Cubs made exactly three appearances in the NLCS. From 2015 to 2017, the Cubs made ... exactly three appearances in the NLCS. With the lineup looking as strong as ever and Brandon Morrow now in tow to help anchor the bullpen, Chicago could realistically make its fourth consecutive Championship Series -- which would tie the 2011-2014 Cardinals for second-longest in NL history.
D-backs
While it's never easy to say goodbye to a bullpen luminary like Fernando Rodney, there is a silver lining here: It now opens up the closer role for Archie Bradley, who has both the beard and the flair necessary for the position (in addition to, you know, being a very good pitcher).
Dodgers
You'd think that a team as good as the Dodgers probably wouldn't have much left in the farm system -- that's the traditional tradeoff for a big league club that just won the NL pennant. Sadly for the rest of the Senior Circuit, however, no such luck: The 2018 season should bring top prospect Walker Buehler into the rotation and the return of Mexican phenomJulio Urías, who looked awfully good before being sidelined last year with a shoulder injury.
Giants
For as weird as it will be for the rest of us to adjust to the sight of Evan Longoria in something other than a Rays uniform, Giants fans now get to watch one of the best two-way players in baseball. Plus, he already looks good in black and orange: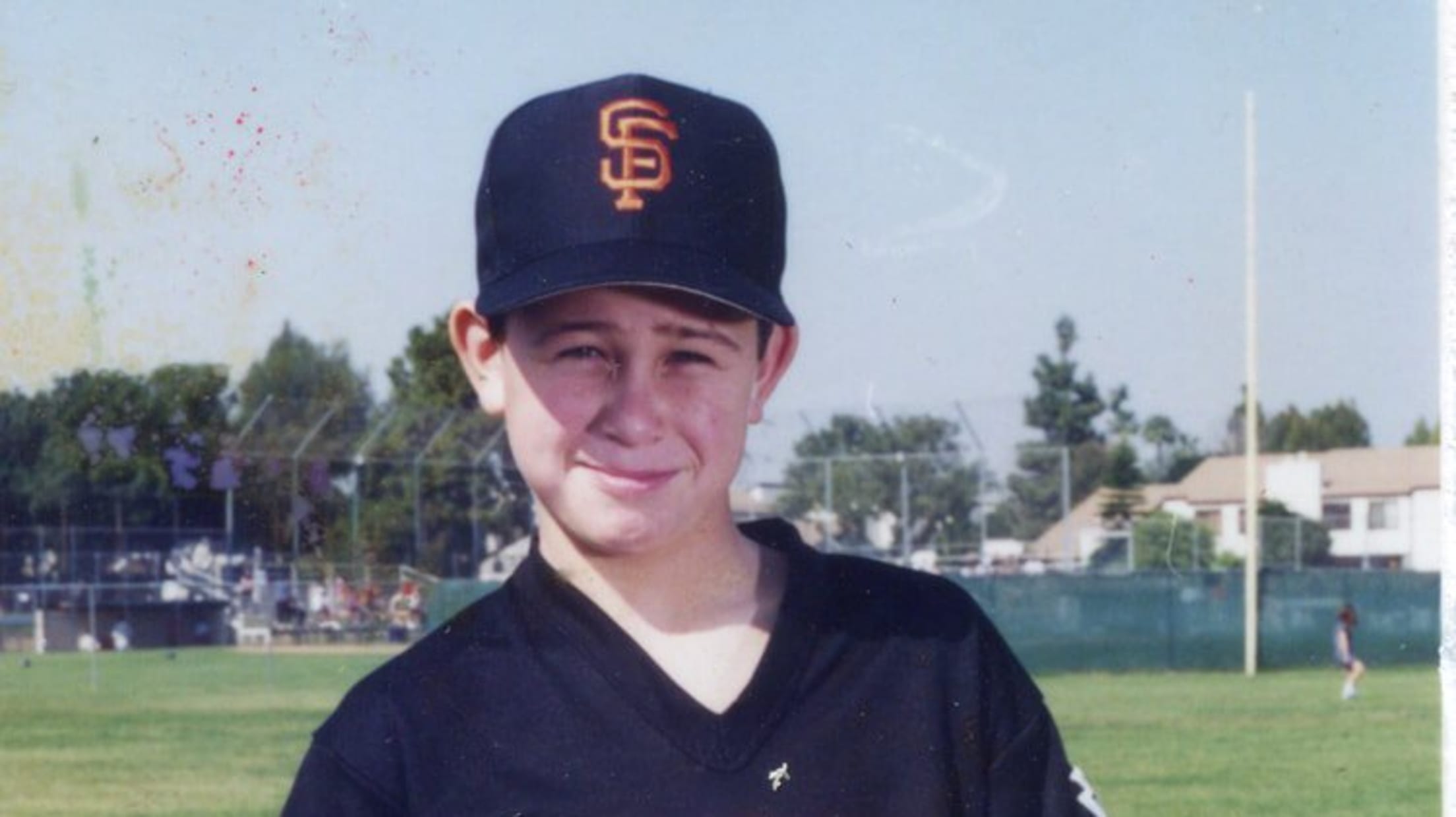 Indians
Despite a record-breaking winning streak, the 2017 season ended on a sour note in the ALDS. But now it's officially next year, the slate is wiped clean and Cleveland should again have one of the very best teams in baseball. Remember: In addition to that winning streak, Cleveland claimed 102 victories in 2017. Fans can look forward to more of the same in 2018.
Mariners
Dee Gordon was a human highlight reel as a second baseman. But now, thanks to the transactional wizardry of Seattle GM Jerry Dipoto, the baseball world will finally get to see Flash unleash his speed in center field. We can't wait to see what Statcast has to say.
Marlins
It's impossible to replace Giancarlo Stanton, but don't forget: Starlin Castro is seriously one of the most entertaining players in baseball.
Mets
During Mickey Callaway's five seasons as Indians pitching coach, Cleveland's staff led the league in strikeout rate, ranked fourth in ERA and bagged two Cy Young Awards. It seems safe to say he'll have some fun managing Jacob deGrom and Noah Syndergaard. (It doesn't hurt that he's also incredibly handsome.)
Nationals
Adam Eaton got off to a blistering start to his Nationals career, hitting .297/.393/.462 over the first month of 2017 ... until a torn ACL prematurely ended his season. Eaton's waited and waited to step back onto the field, and he enters 2018 healthy and looking to help Washington all the way into October.
Orioles
The Tim Beckham that Baltimore traded for at last year's Trade Deadline was a respectable player -- an average shortstop with the bat and the glove. The Tim Beckham that Baltimore ended up getting was something else entirely: He hit 10 homers and posted a 131 OPS+ over 50 games, and now that he's back for a full season, he and Jonathan Schoop form perhaps MLB's most underrated double-play combo.
Padres
San Diego, meet your new shortstop, Freddy Galvis. We think you two will be very happy together:
Phillies
Rhys Hoskins' MLB debut: 50 games, 18 homers, a 1.014 OPS and one truly unforgettable promotional event. Now it's time to see what he can do over a full season.
Pirates
It got lost a bit in the shadow of Cody Bellinger's assault on National League pitching, but Pittsburgh first baseman Josh Bell hit 29 dingers last year -- the most ever by a switch-hitting rookie in the NL. Can he build on his breakout year? Only time will tell, but no matter what, his hair will remain on track for the Hall of Fame.
Rangers
The Rangers finished third in the Major Leagues in home runs last year, thanks to a crazy deep lineup and the dinger stylings of one Joey Gallo. On a related note, here's Willie Calhoun, the 5-foot-8 bowling ball of a left fielder that Texas got in last year's Yu Darvish trade. And no, he doesn't wear batting gloves:
Rays
Generally speaking, the impending debut of your team's top pitching prospect is more than enough cause for excitement. Of course, Tampa Bay's top pitching prospect, Brent Honeywell, just so happens to also throw a screwball:
Reds
True, the Reds finished at 68-94 last year, and they're probably still a couple of years away from contention. But the first step in that process may well come in 2018, when Cincy fans get their first look at top prospect Nick Senzel -- a third baseman who tore up Double-A to the tune of a .973 OPS last season.
Red Sox
David Price spent the first two months of the 2017 season on the DL, then was finished it in the bullpen due to elbow inflammation. But don't get it twisted: Price posted a 2.84 ERA in his final six starts and was lights out in relief in the ALDS.
Now it's a new year, and Price is healthy and motivated. Look out.
Rockies
For a team that fell short in the NL Wild Card Game and is now looking to take the next step in the postseason, what could be better than bringing over one of October's most proven shutdown relievers -- a guy who picked up a 2.1-inning save in a do-or-die NLDS Game 5 just a few months ago? Colorado fans: Say hello to Wade Davis .
Royals
It wasn't that long ago that Jorge Soler was one of the most exciting young players in baseball -- built like a linebacker with moves like a running back. He struggled in his first year with the Royals, but he'll enter next season at age 26 and can still do stuff like this:
And this:
And, well, this:
Tigers
Detroit acquired Cubs prospect Jeimer Candelario -- yes, Candy's son -- at the 2017 non-waiver Trade Deadline and, in a very short audition with his new club, the third baseman put up a 131 OPS+. He should get plenty of playing time this season for the Tigers, and we're pulling for him -- if only so the "Baby Ruth" nickname can take off.
Twins
Really, we're not sure anything could make us more excited for our team's upcoming season than "they signed Fernando Rodney":
White Sox
Chicago prospect Michael Kopech ended the 2017 season in Triple-A, where he struck out 17 batters in 15 innings and posted a 3.00 ERA in three starts. All of which means that there's a good chance the South Side will get to see this fastball in 2018:
Yankees
You know where we're going with this one: Why have one gargantuan 50-homer outfielder when you can have two? Yeah, 2018 is going to be a good year.