Ronald Acuna Jr.'s Game 3 grand slam at an electric SunTrust Park is what the postseason is all about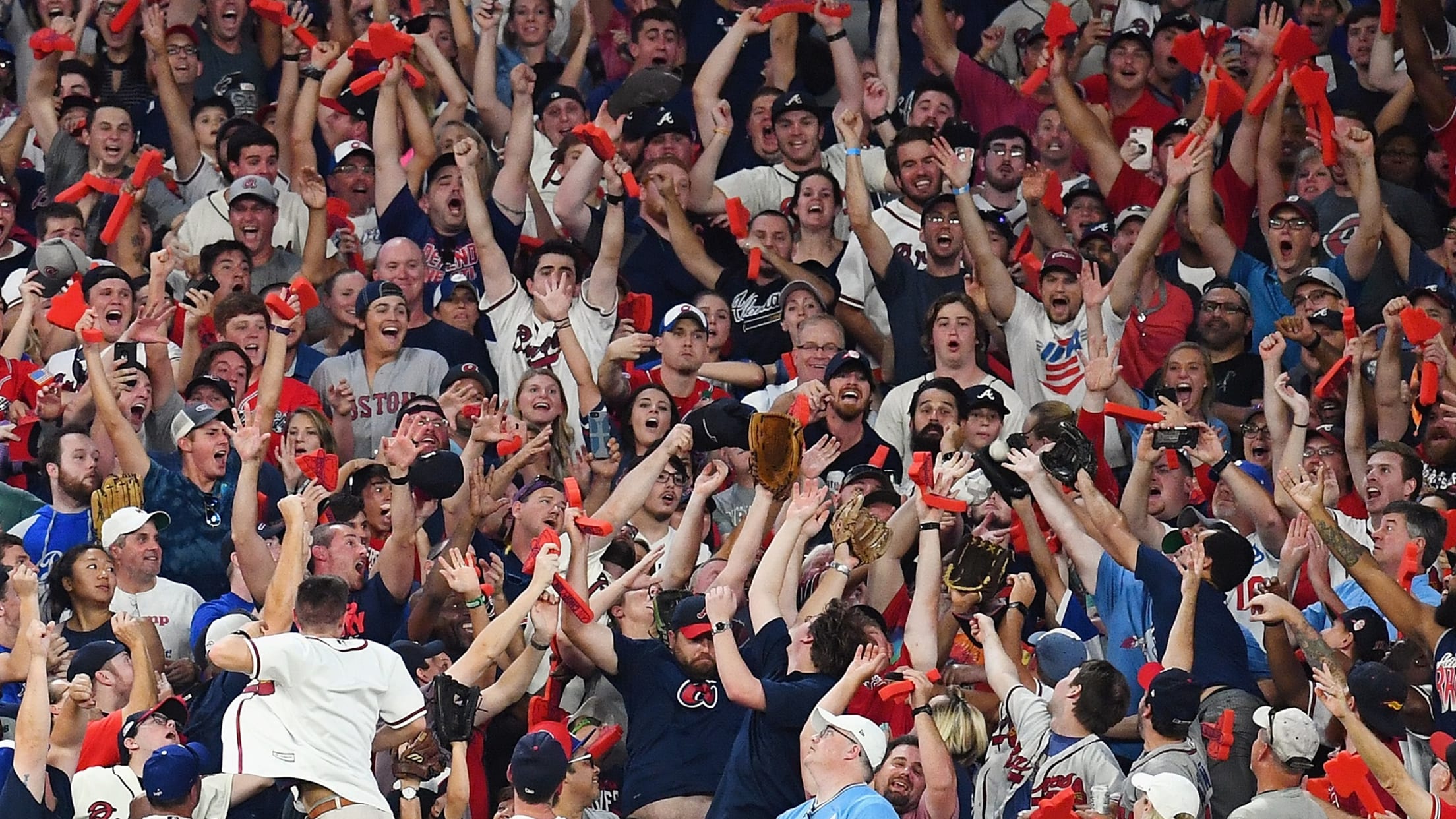 during Game Three of the National League Division Series at SunTrust Park on October 7, 2018 in Atlanta, Georgia. (Scott Cunningham)
With their backs to the proverbial wall in Game 3 of the NLDS on Sunday, the Braves knew they had to break through on offense -- and facing Walker Buehler, that seemed like a tall task after the Dodgers right-hander breezed through the first inning with just five pitches.
Despite the Braves being one loss away from elimination, fans packed SunTrust Park for the game, loudly cheering on their team and giving the whole scene a sense of electricity that you really only get in the postseason. It's as if the fans were willing the Braves to do something.
It's time...

LET'S PLAY BALL! #ChopOn | #ForEachOther pic.twitter.com/u6bBfNBZ2u

— Atlanta Braves (@Braves) October 8, 2018
In the second inning, Buehler walked Nick Markakis and then picked up two quick strikeouts. Then things began to turn. Ozzie Albies singled to center (winding up on second base after Cody Bellinger bobbled the grounder) and Charlie Culberson was intentionally walked, bringing up pitcher Sean Newcomb with the bases loaded. He walked, giving Atlanta a 1-0 lead.
Buehler, experiencing some of the most intense pressure he's seen in his young career, nearly walked Ronald Acuña Jr. ... but then served up a grand slam. SunTrust was alive:
This is not a drill.@ronaldacunajr24, GRAND SLAM. 😱😱😱 pic.twitter.com/kbPCTF2FSZ

— MLB (@MLB) October 8, 2018
The ballpark was pulsating with October excitement:
Just like that, everything turned, and it was suddenly 5-0 Braves. Postseason baseball comes at you fast.
Acuna also made history with that blast:
20-year-old @ronaldacunajr24 became the youngest player in baseball history to hit a grand slam in a postseason game. Prior to tonight, Mickey Mantle was the youngest to hit a grand slam, doing so at the age of 21 in the 1953 World Series.#ForEachOther pic.twitter.com/dCrjLHBZtq

— Atlanta Braves (@Braves) October 8, 2018
Speaking of Braves fans ...
Show & prove, Caitliñ. https://t.co/mKY36ylmtu

— Cut4 (@Cut4) October 8, 2018
The team saw that, Caitlin.
October 8, 2018
But, because this is a sport that always keeps players humble, Acuna's misplay on Justin Turner's third-inning single allowed an extra Dodgers run to score, pulling them to within 5-2.
You really can't ever get comfortable in this game -- a point that was proven yet again later in the game, when two fifth-inning homers by the Dodgers' Chris Taylor and Max Muncy tied the game at 5-5, and again in the sixth when Freddie Freeman gave Atlanta the lead with a solo shot of his own.
Freeman's homer held up, as the Braves won the game, 6-5, to force a Game 4 on Monday in Atlanta. Expect more drama ...
Teams in this article:
Players in this article: