Distance, opposite-field power and style: Scooter Gennett's four-homer night had it all
If you had Reds infielder Scooter Gennett on your list of Players Most Likely to Hit Four Homers in a Game this season, you must have access to Biff's Sports Almanac or something.
Gennett, who entered Tuesday night's Cardinals-Reds game with three homers on the campaign, did just that on Tuesday night -- clubbing four homers and driving in 10 runs in Cincinnati's 13-1 win to become just the 11th player in NL history to accomplish the feat (and the first since Mark Whiten in 1993 to do so with a grand slam). Oh, and Gennett is also the first Red to ever do it.
It all looked so easy, too:
Gennett. The best a man can hit. pic.twitter.com/ekgeeyqMe1

— Cincinnati Reds (@Reds) June 7, 2017
The offensive barrage was a mixed bag of home runs, some traveling a long way and others jumping off the bat with authority. It all began with a grand slam in the third inning that Statcast tracked with an exit velocity of 102.4 mph, a launch angle of 30 degrees and a measured distance of 404 feet, which would be his second-longest of the night:
The deepest homer of the bunch came in Gennett's next at-bat in the fourth, a 419-foot shot to center field with a 23-degree launch angle and an 103.2-mph exit velocity:
Having already hit homers to right field and center field, Gennett branched out a bit in the sixth -- slapping one down the left-field line with a projected distance of 368 feet (his shortest of the night), a 97.1-mph exit velocity (the lowest of his four homers) and a 31-degree launch angle (his highest of the night):
The stage was then set. With one more potential at-bat, would Gennett get his chance at four homers? Well, you know he did -- and it was maybe his most impressive of the night, with just a 20-degree launch angle. It was a line-drive homer with a 104.2-mph exit velocity that juuuuuust cleared the wall in right field and made the seemingly impossible a reality:
After the game, Gennett caught up with Zach, the young fan who caught the fourth home run, for a photo-op on the field: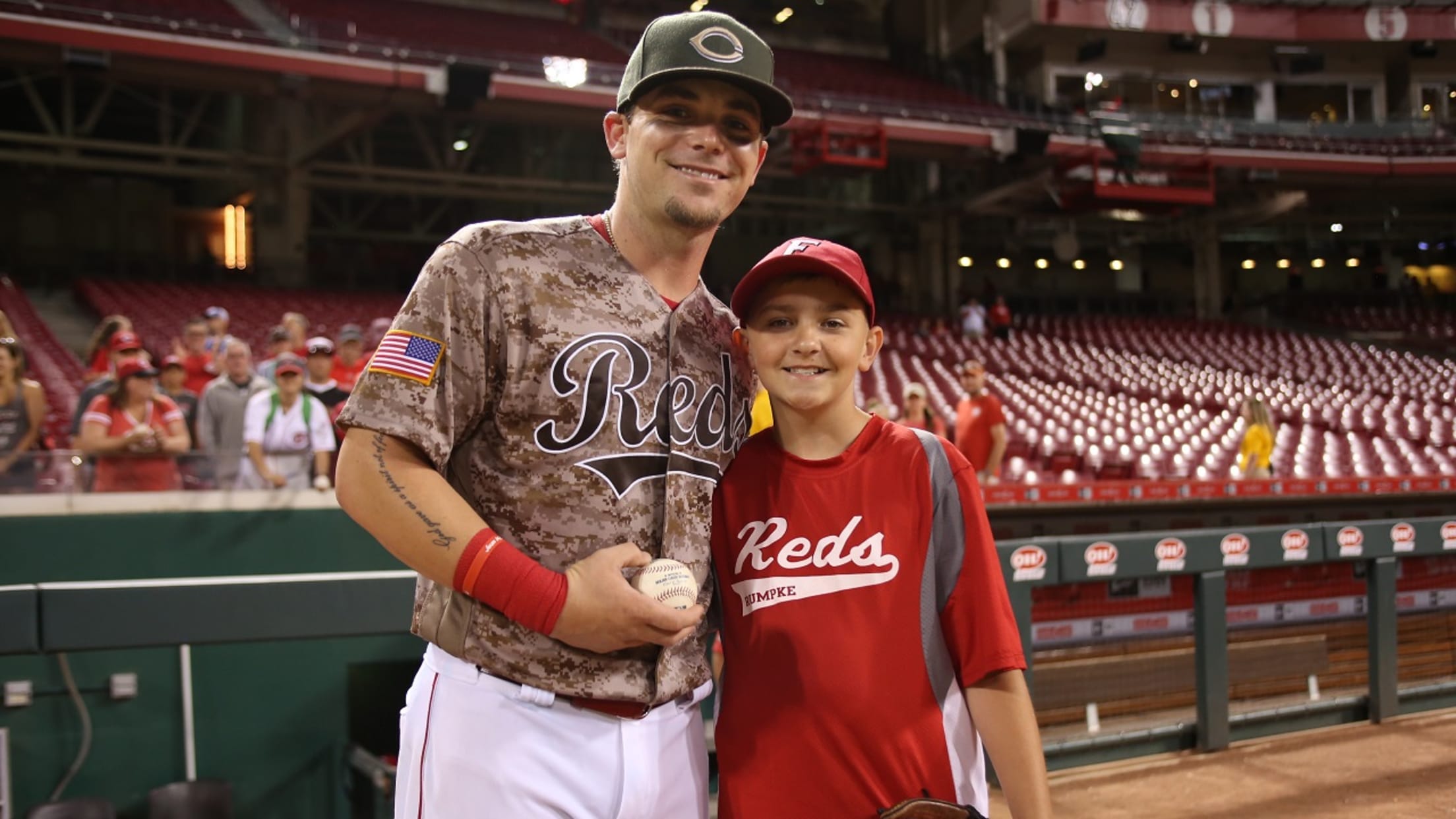 Have a night!
Great game for @Sgennett2 as well. First @Reds to hit FOUR HR in a game? Scooterrific!

— Johnny Bench (@JohnnyBench_5) June 7, 2017
Scooter Gennett having a decent night at the plate pic.twitter.com/yk1ouNh0St

— Daren Willman (@darenw) June 7, 2017
Which of Gennett's homers was your favorite? Vote below:
Teams in this article:
Players in this article: