Tim Tebow and Bartolo Colon aren't the only underdogs to watch at Spring Training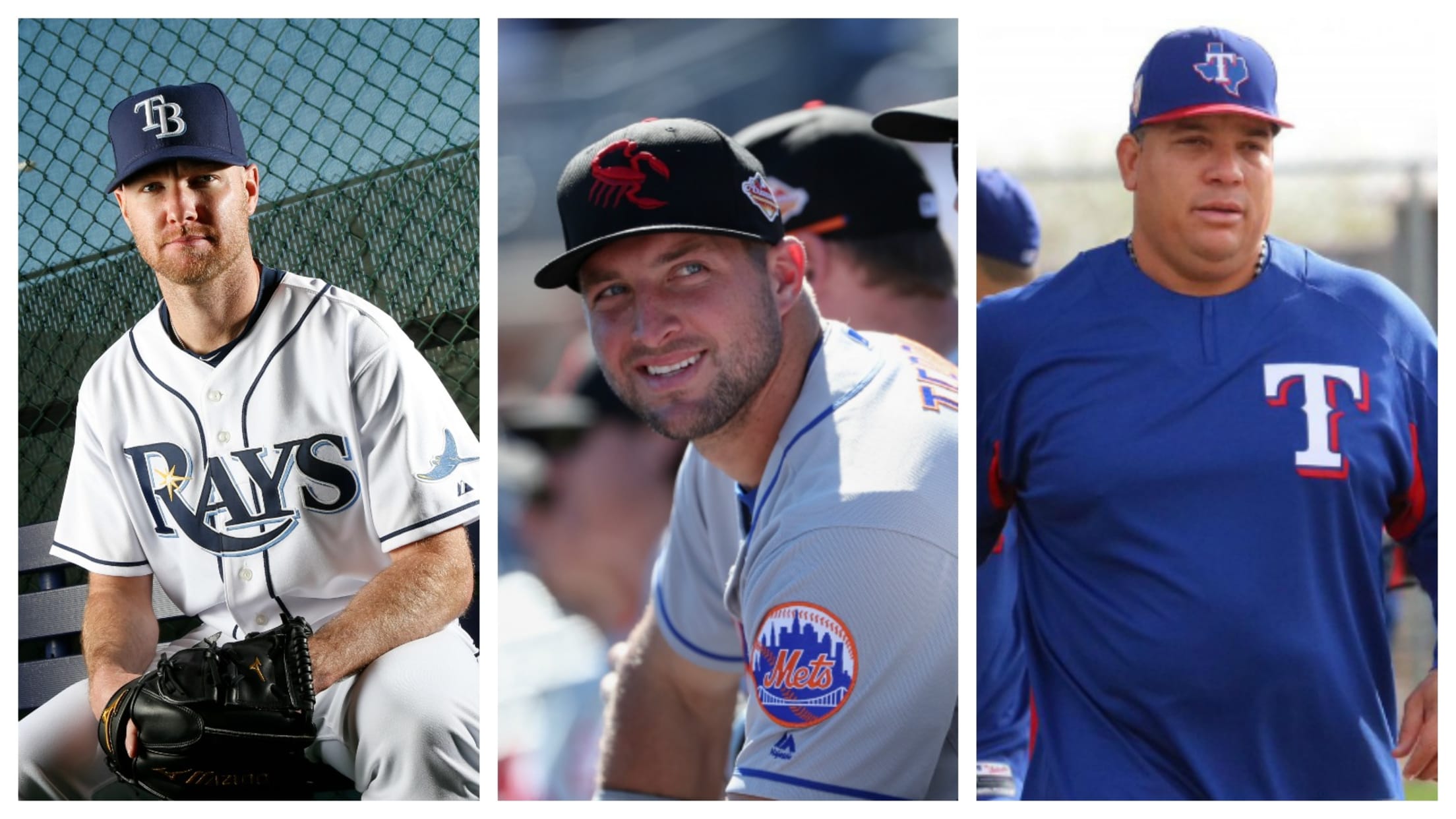 Spring Training is the amuse-bouche for the baseball season. As fans, we get to hear the snap of the mitt and the crack of the bat again. Stars get a few swings in and then lounge by the pool, while the young rookies hustle and sweat and hope to win a job.
Every team's 40-man roster earns an automatic invite to Spring Training, but teams are allowed to bring a handful of extra players in. Those are the veterans that are looking to shock the world by making the roster out of Spring Training and prove they've got what it takes at the big league level -- the non-roster invitees.
These are some of the most compelling players to watch during Spring Training. So, let's look at seven of them today.
Jonny Venters - Rays
With a name made for a 1960s spy show, Venters was one of the most dominant forces for the Braves in 2010-11, posting a minuscule 1.89 ERA over 171 innings. Had he been able to squash them into one year, Venters would have garnered plenty of Cy Young consideration.
Unfortunately, the only thing less predictable than whether your date is going to show up or not is a reliever's health and effectiveness. So, after down year in 2012, injuries sidelined Venters until he returned to the Minors to pitch four innings in 2016 and 23.2 in 2017 -- striking out over a batter per inning in that time.
Bartolo Colon - Rangers
Yep, Party Bart is technically just a non-roster invitee. After struggling with the Braves and Twins last season, the 44-year-old is bringing his endless variety of fastballs to Texas on his mission to never stop pitching.
There's a decent chance that the command genie will get a shot in the rotation, too: Relievers Mike Minor and Matt Bush are expected to get looks at the rotation this spring as well, and Martin Pérez will be on the shelf until mid-April.
Eddie Gamboa - Orioles
With only 13 1/3 Major League innings to his name -- and a 1.35 ERA when he got his first taste in 2016 -- Gamboa and his floating knuckler will look to latch on to the Orioles rotation:
Eddie Gamboa got his call to the big leagues after 9 years in the minors. #RaysOnDemand pic.twitter.com/0sGrU8tbav

— Tampa Bay Rays (@RaysBaseball) September 2, 2016
Though his 5.52 ERA in 130 1/3 IP between Double- and Triple-A last year doesn't look great, it was elevated by the offense-rich Pacific Coast League stadiums and some bad knuckleball luck. If you want more evidence for that, he flummoxed batters in the Mexican Winter League this year to the tune of a 2.85 ERA. Or, as this translated tweet says, brought "dizzy to the Tomatoes."
Eddie Gamboa😎 ha colgado tres ceros y trae mareados a los Tomateros.🔥🏹 #FinalLMP pic.twitter.com/xpCoo9Vkwa

— PlayBall (@playballnetwork) January 28, 2018
Jordan Schafer - Cardinals
Shohei Ohtani won't be the only two-way player in camp this spring, as the Cardinals have Schafer, too. Last year was supposed to be the former Braves outfielder's big chance on the mound as he reported to Cardinals camp after pitching 49 1/3 innings in the Dodgers system. Unfortunately, he didn't wind up on the mound after sustaining an elbow injury.
He can run, he can hit, he can pitch. Is @JordanSchafer the #STLCards next secret weapon? #CardsSpringTraining #CardsInsider pic.twitter.com/2weH4YdhJz

— St. Louis Cardinals (@Cardinals) February 20, 2017
Though he didn't get to pitch, Schafer did look good at the plate, going 14-for-40 in the Minors. Whether he pitches or hits, he'll look sharp doing it:
Jeremy Barfield - Red Sox
Like so many players in the Majors last year, Barfield -- the son of former All-Star Jesse Barfield -- found his power stroke.
After topping out with 17 home runs in Stockton in 2010, Barfield smashed 27 homers for the independent Sugar Land Skeeters in 2016. The Red Sox snatched him up in 2017, but despite playing in only 95 games in their system, Barfield hit 28 dingers -- good for a .957 OPS.


The Red Sox outfield is pretty stacked, so will be hard for him to break in, but that's the kind of power that any team can use. Plus, he's got his bat flips down:
Willians Astudillo - Twins
If you thought that the age of launch angles and endless 95-mph fastballs meant contact hitting was a thing of the past, you'll love Astudillo.
A career .311 hitter in the Minors, he's never struck out more than 20 times in a season. But the 5-foot-9, 225-pound catcher saved his best for Triple-A last year: In 122 plate appearances, Astudillo hit .342/.370/.558 with 4 home runs. Even better: He struck out all of five times.
He kept it up in the Venezuelan Winter Leagues this offseason, hitting .319/.365/.461 with six homers and four strikeouts.
Cuadrangular para Willians Astudillo🔥y coloca el marcador a favor de Venezuela🇻🇪 3 carreras por 2 #SerieDelCaribe2018 pic.twitter.com/HhetGX1npV

— Beisbol del Caribe (@beisboldecaribe) February 5, 2018
Tim Tebow - Mets
I get it: You think Tebow can't do it. But … what if he can?
Maybe you thought he was going to flame out in his professional debut, but he hit homers and played remarkably well for a former NFL quarterback that hadn't played competitive baseball since high school.
So, yeah, maybe he won't look great against big league arms during Spring Training. But he's already been better than anyone guessed, so maybe he'll keep doing it. And isn't that worth watching?