Six deep sleepers who could wake up and lead MLB in key stats this season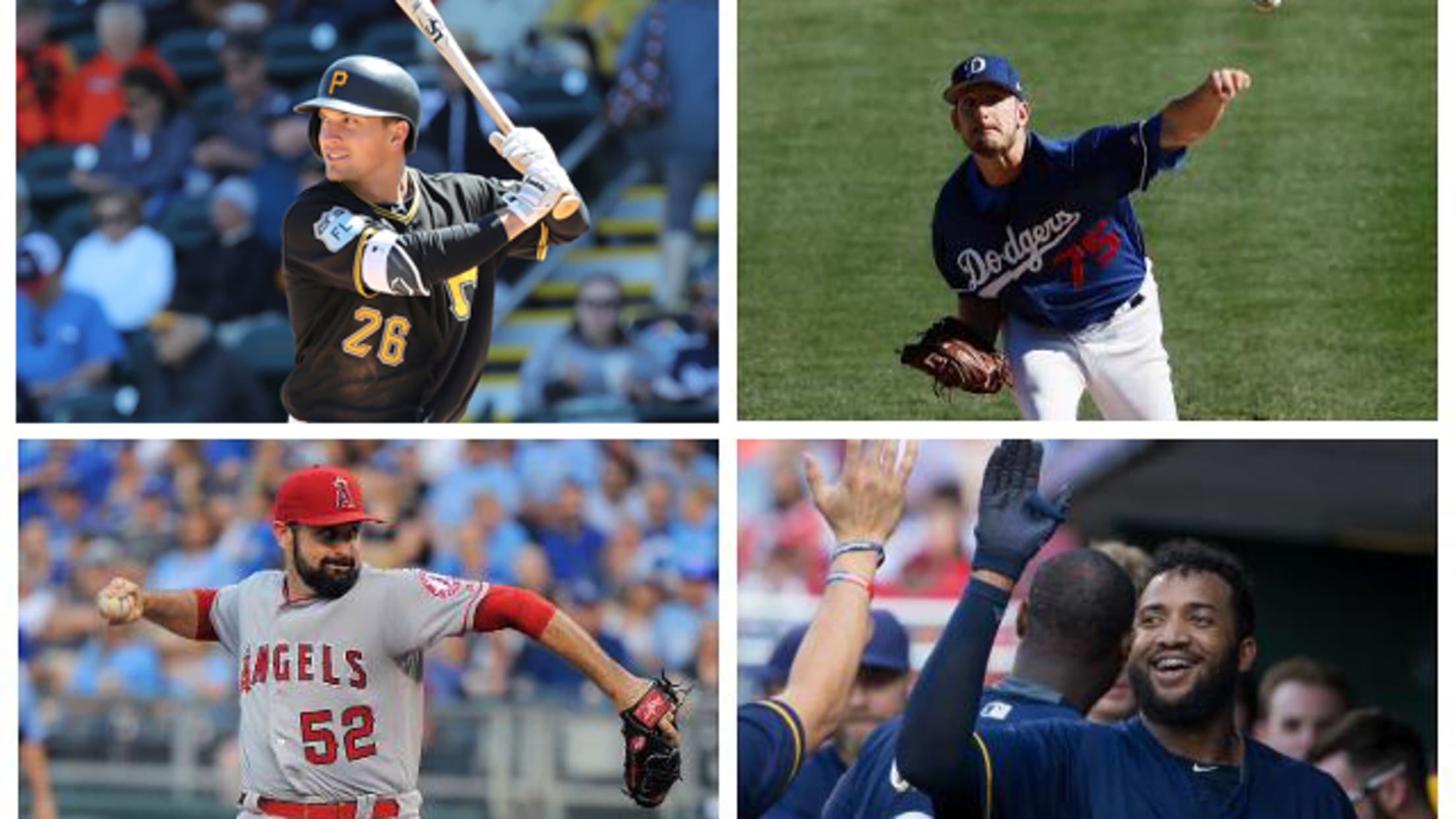 A superstar having another great year? Ho hum. Mike Trout hitting 30-plus home runs with a .300 batting average --- yeah, we've seen that. Instead of hyping the superstars, let's look at the sleepers -- including some of the deepest sleepers out there -- that could find themselves atop the leaderboards at the end of the year.
After all, it's the sleepers that win fantasy drafts and make you look like a baseball genius.
Most home runs
Last year, Mark Trumbo and Nelson Cruz finished first and second in home runs, with Brian Dozier surprising everyone by finishing third after a torrid second half when he simply chose to never hit to right field. Who could be 2017's Dozier?
Look no further than the Brewers' Domingo Santana. While shoulder and elbow issues limited Santana to only 281 plate appearances last season, he still managed to knock out 11 home runs and, more impressively, post the 11th-best average exit velocity in the Majors -- just .1 mph behind Trumbo.
Sure, he'll miss the ball a lot, but he's on a rebuilding Brewers team that won't penalize him for that. Forty home runs with a .200 batting average and 200 strikeouts? Sounds like fun.
Most stolen bases
Think Billy Hamilton has this category wrapped up? Think again. Hamilton didn't even lead the league last year as his 58 bags were topped by Jonathan Villar, who was one home run away from the first 20 home run/60 stolen base season since Rickey Henderson.
This year, he may not even lead his team. Though José Peraza, the Reds' young second baseman, was caught nearly a third of the time last year, he still stole 21 bags from his callup on June 15 until the end of the season.
Now that he's had a taste of Major League pickoff moves, if Peraza can post another .352 OBP -- compared to Hamilton's career mark of .334 -- he may be able to beat the center fielder on the bases, even if he doesn't stand a chance in a foot race.
Best batting average
Last year saw the National League batting race come down to the wire, with Daniel Murphy and DJ LeMahieu battling it out before the Rockies second baseman came away with the title. Bet you weren't expecting that.
With the thin air and vast, open spaces in the outfield of Coors Field giving Charlie Blackmon a chance at the title, let's go for an even deeper sleeper. The kind of sleeper that lays down at 10 pm on Friday and doesn't rouse until the smell of crisp bacon wakes them up at 10 am the next morning.
That is the Pirates' Adam Frazier. Never a top prospect, the former sixth-round draft pick hit .301/.356/.411 as the surprise of Pittsburgh's 2016. Perhaps we should have been ready for that given the contact skills and patient batting eye that led the infielder to hit .324 and .333 in his final two stops in the Minor Leagues.
Lacking eye-popping tools, Frazier is currently set to backup nearly every position. But the Pirates had a similar player with that profile in 2006, when Freddy Sanchez took over third base and beat out Miguel Cabrera for the batting title. Can history repeat itself?
Most strikeouts
Though this may be the most difficult title, with Max Scherzer, Clayton Kershaw, Chris Sale and Justin Verlander likely having the category on lock, there's one sleeper whose name may show up when all is said and done: Nate Karns.
Though he struggled with command last season, necessitating a move between the bullpen and rotation, he still struck out over a batter per inning as a starter. Armed with a killer knuckle curve, batters can look foolish against the right-hander.
A fly ball pitcher, Karns' trade to the Royals can only help. Kauffmann Stadium is perhaps the only place better than Safeco for limiting some of the dangerous fly balls that he allows, which should help him earn the innings he'll need to rack up the whiffs.
Lowest ERA
Look at a list of the ERA leaders in the Majors, and it's usually a collection of high draft picks and explosive fastballs. That's not the case for the Angels' Matt Shoemaker. A former undrafted free agent with a fastball in the low-90s, Shoemaker's struggles in 2015 and at the start of 2016 (8.49 ERA through his first seven starts) made his impressive rookie campaign seem like a mirage.
Then a funny thing happened: Shoemaker followed the Rich Hill model and started throwing his splitter nearly half the time. Rather than rely on the mediocre fastball, Shoemaker baffled hitters with his impressive off-speed pitch.
Over his next five starts, the Angels' starter struck out 48 batters, allowed only one walk and surrendered just eight earned runs. This was no small sample hot streak, either. From May 21 until a line drive back to the mound ended his year early in September, Shoemaker went 130 ⅓ IP with a 2.83 ERA and a 121/17 K/BB ratio.
Those numbers are awfully similar to Johnny Cueto -- and he's in the middle of a six-year, $130 million contract.
Most saves
Kenley Jansen, Mark Melancon and Aroldis Chapman all signed big money deals this offseason, but you can never be sure who will finish the year with the most saves. After all, if you pegged Zach Britton and Brad Boxberger to lead the American Leaggue the last two years, you may be a psychic.
Look no further than Angels setup man Cam Bedrosian this year. With Huston Street currently on the shelf due to a strained lat following an injury-ravaged 2016, Bedrosian could grab the job and never give it back. After ditching his changeup and focusing on his slider last year, Bedrosian dominated with a 1.12 ERA and 11.8 K/9.
With Trout and Pujols on the roster, the Angels could surprise in the standings, giving Bedrosian more than enough leads to protect.
Teams in this article:
Players in this article: