Matt Shoemaker is using a unique strategy to post numbers like Greg Maddux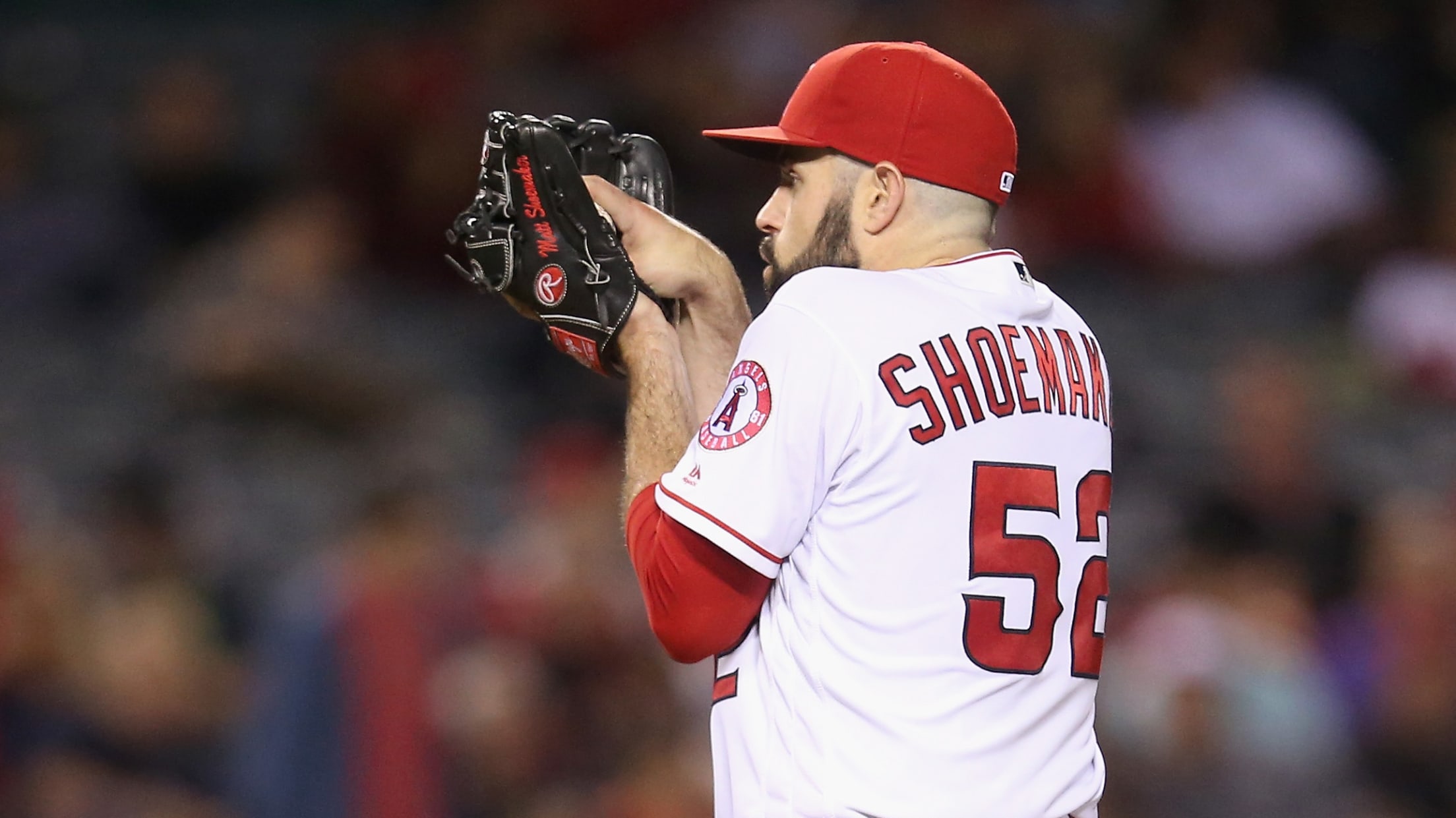 the Cleveland Indians the Los Angeles Angels of Anaheim at Angel Stadium of Anaheim on June 11, 2016 in Anaheim, California. (Stephen Dunn)
Thanks to scouting, advanced stats and the continued proliferation of video at all levels of the game, it's rare that we're completely surprised by a player's performance. Even a shocking "breakout" has usually been predicted by someone, somewhere. But how does one explain Matt Shoemaker pitching so phenomenally well?
It's a fascinating question certainly worth investigating. Shoemaker has a 1.83 ERA over his last six starts after posting an 8.49 mark going into mid-May. Among starters with at least 20 innings pitched in April, Shoemaker was tied for the second-worst ERA, behind Jorge De La Rosa -- who was placed on the DL for a month -- and Taylor Jungmann, who is plying his trade in Triple-A. Instead of joining those ranks, Shoemaker has flipped the switch and gone from arguably the worst pitcher in the Majors to racking up a stat line that would impress Clayton Kershaw.
<o:p>
That's not hyperbole, either. Since May 21, Shoemaker has a 55/2 K/BB rate in 44 1/3 innings. He's not nibbling around the edges of the zone, and he's not getting extraordinarily lucky on balls in play. Shoemaker is challenging hitters with strikes and leaving them completely flummoxed. <o:p>
The right-hander's recent run includes a streak of 49 straight strikeouts without a walk. The only other pitchers to pull that off are Greg Maddux and Curt Schilling. One's a Hall of Famer, the other has Hall of Fame-type credentials. Shoemaker is a 30-year-old undrafted free agent with a career ERA+ of 98 and a fastball in the low-90s.
It's rare for players like Shoemaker to even reach the Majors, much less suddenly pitch like the greatest in the history of the sport. With the game becoming more and more velocity driven, too, how has the Angels starter done it?
By fully embracing a unique arsenal and pitching unlike any other hurler in the league -- possibly in the history of the game. Armed with an 86-mph split-finger that dives down in the zone, Shoemaker has been throwing the pitch 49.4 percent of the time since the beginning of his hot streak, up from 24.4 percent to start the year. Batters could flip a coin and guess right on a pitch that's not much harder than a batting practice fastball and still they're unable to hit it.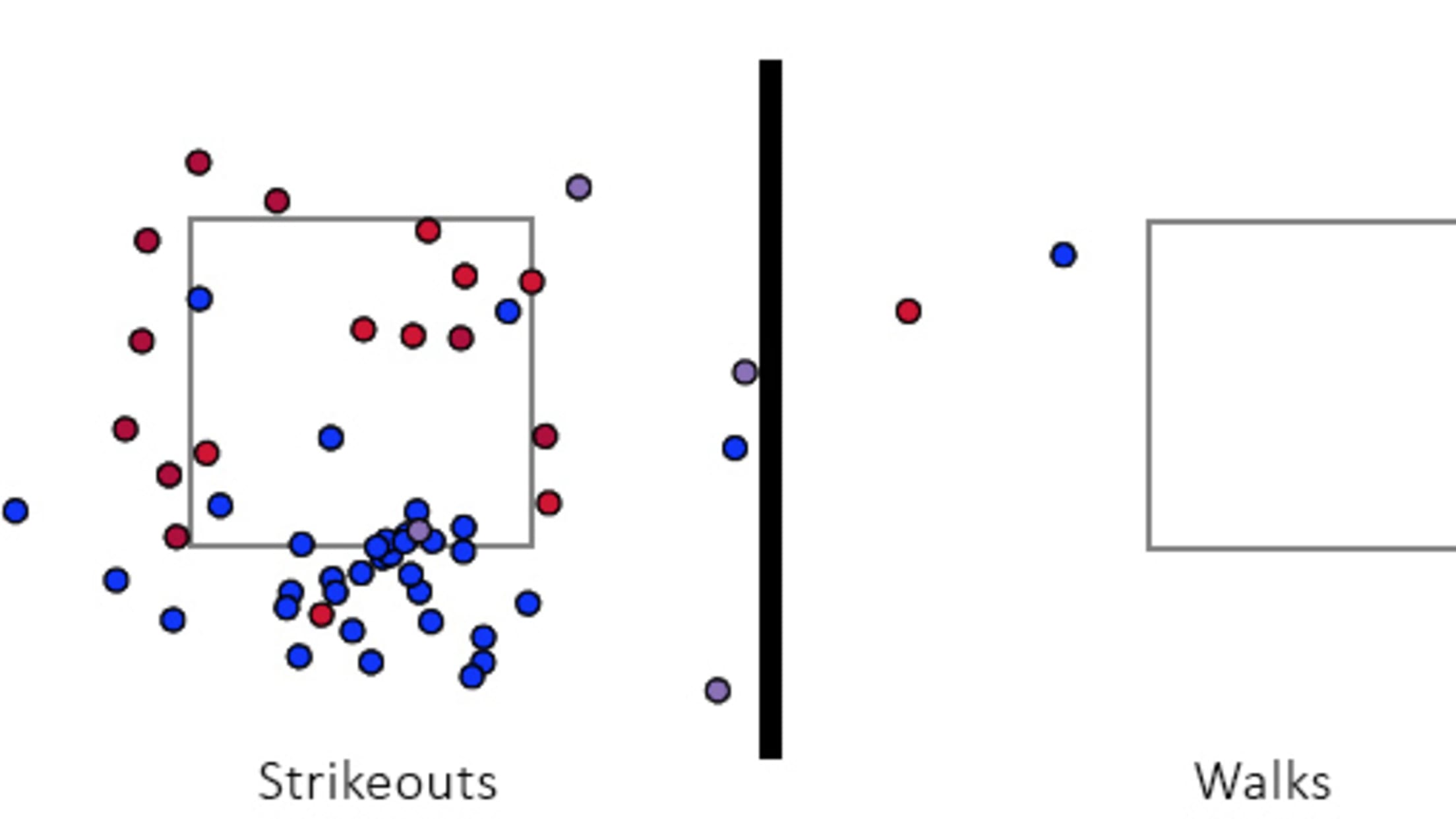 (All those blue dots: Splitters.)
Shoemaker talked about the pitch with MLB.com's Mark Chiarelli:
"I think it's been more effective. But also, I've been throwing it with more intent -- more aggressiveness." He continued, "Just to have that mental, like, 'Hey I'm going to throw this pitch aggressive, an aggressive quality strike.' Not just up there throwing the ball. I want to make a quality pitch right there."
We've seen that aggressiveness from his fastball, too, which has crested over an average velocity of 93 mph for the first time in his career in June. But while that surely helps the split-finger, it doesn't fully account for his Kafka-like metamorphosis.
When Shoemaker discusses his full repertoire, we see how he's working backwards. "The biggest thing is also a mix of pitches. Fastball, slider, split, curveball. When I'm throwing them all for strikes it's a lot tougher for hitters. It messes up their timing and that's what I'm going for."
Again though, pitchers simply don't rely on what is essentially a changeup (in fact, that's how it's categorized in PitchFX), to get batters out. We've forever been taught that you need a good fastball to set up your secondary offerings, otherwise it's back to the buses in the Minor Leagues for you.
The only starters similar to Shoemaker who rely so heavily on one pitch with below-average velocity are Bartolo Colon, who throws a variety of slightly different mid-80s fastballs, and Rich Hill, who throws a mid-70s curveball 40 percent of the time. But Colon is a back-of-the-rotation starter over the age of 40 who won a Cy Young Award a decade ago with traditional ace-type stuff, while Hill is 35 years old and reinvented himself after suffering every arm injury imaginable. Even then, the difference between Hill's curve and fastball is close to 17 mph. It's about six for Shoemaker.
What does this all mean, though? Has Shoemaker transformed into a Kershaw-esque Cy Young candidate? The answer is probably not -- because a) Those pitchers are incredibly rare and b) No matter how well Shoemaker has pitched these last six weeks, it's hard to believe he'll maintain this pace going forward.
Is it just incredibly good luck after a string of incredibly bad luck then? Again, probably not. His absolute decimation of batters is more than the smiling eyes of fate. But then, Kevin Mench once homered in seven consecutive games.
Could it be the sign of a pitcher adjusting and batters not adjusting back yet? At this point, our best answer is ... the shrug emoticon. Ask again about this incredibly fascinating performance after another trip around the league.
We'll get our next chance to see the splitter in action when Shoemaker takes on the Astros on Wednesday afternoon. He might want to be careful, though: According to Fangraphs' weighted pitch runs, Houston's batters are the second best in the league against sinkers and split-fingers.
Teams in this article:
Players in this article: