A lovable squirrel scampered around the field in Cleveland and avoided capture
All of us are just looking for purpose in life. This extends to the animal kingdom, as creatures of all shapes and sizes are out there, day after day, doing their thing.
One adventurous (or perhaps just lost) squirrel's life plan led him to Progressive Field on Saturday afternoon, where he zipped around the infield as various members of the Twins and Indians stood and watched the saga unfold.
This critter emerged somewhere along the right-field line, ran through the infield and headed toward home plate -- attracting a lot of attention from Indians fans, not to mention Miguel Sanó at third base: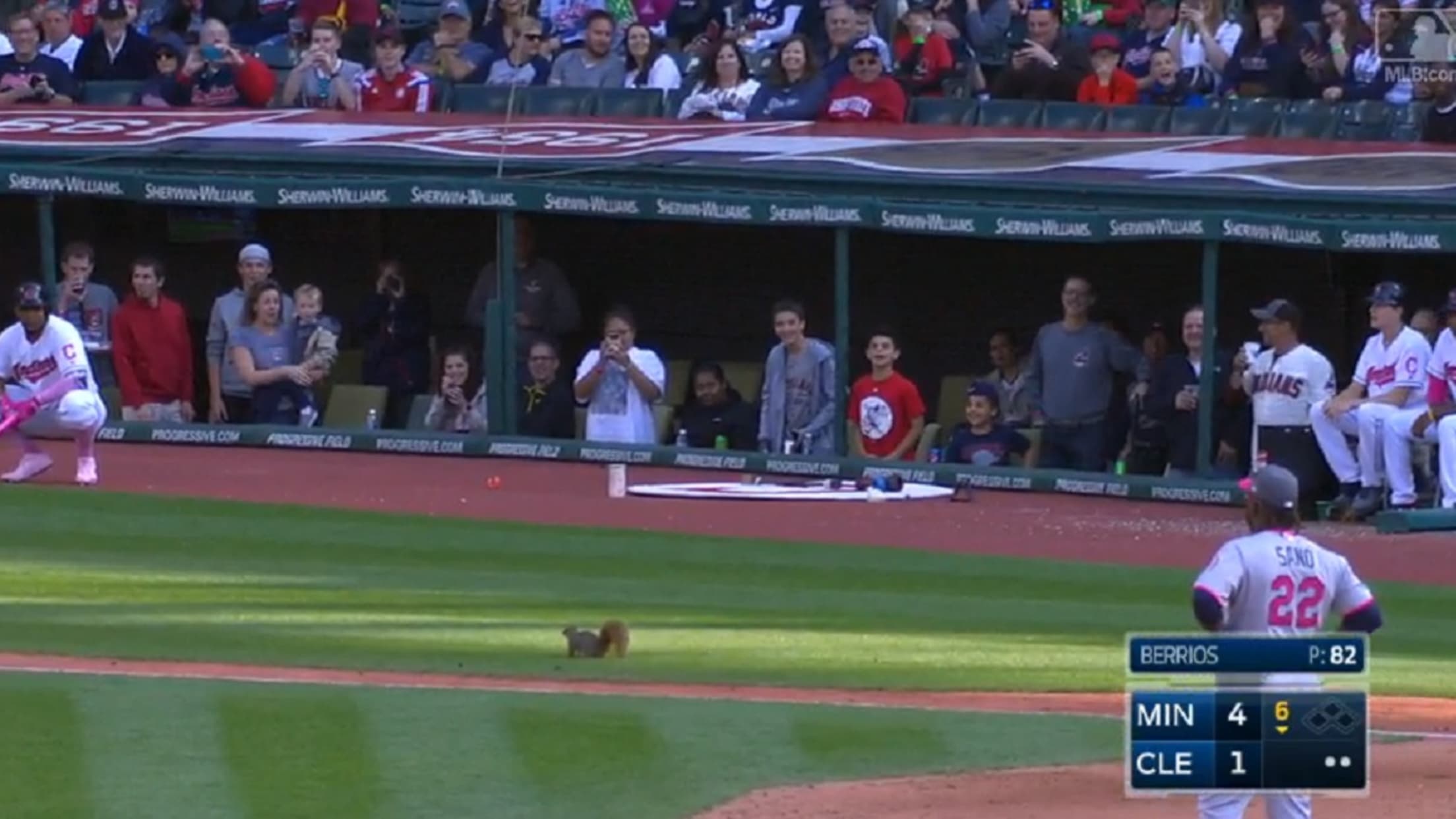 Those at the game weren't the only ones captivated by the squirrel's journey, though. Far from it:
Hey @Indians, your squirrel is wrecking havoc off the field too #RollTribe pic.twitter.com/mXMlbiBQGi

— Evan Willmann (@evanwillmann19) May 13, 2017
After a few minutes of this, the squirrel took off down the left-field line, with members of Cleveland's grounds crew in pursuit (as seen in the clip atop this post).
Squirrels are fast, though, so that didn't happen. Instead, the lightning-quick rodent leapt up into the stands and disappeared somewhere ... but where? The TV cameras didn't catch it, and nobody seemed to really know.
Since the Indians didn't mount an epic comeback in their 4-1 defeat to Minnesota, it's unclear whether this squirrel is, in fact, a bona fide #RallySquirrel. But those narratives tend to reveal themselves over time, so this could just be the origin story.
For what it's worth, Indians shortstop Francisco Lindor had fun with the on-field guest, as he told MLB.com's Jordan Bastian after the game:
"I thought it was kind of funny. I saw it coming and I was like, 'Here we go. Rally squirrel.' The guys behind home plate got scared. They didn't want to open the door for the squirrel. It's cool. It's part of the game. It's a family atmosphere. Everybody here enjoyed it. We enjoyed it. It's too bad we weren't winning. If we were winning, probably someone would've jumped out of the dugout and try to chase it down. We're having fun. We're having a blast. We'll see what happens."
On the other side, MLB.com's William Kosileski asked members of the Twins for their take on the situation. First up, manager Paul Molitor:
"I still can't figure out how long they were going to let that thing roam around out there before someone was going to try to do something."
Twins right-hander José Berríos, who was on the mound when it all went down, had to adjust his mindset slightly:
"I saw that before on the TV when I was a young guy and watched the game as a fan. When I saw it, I lost concentration a little bit. But I went forward with the game and had fun with it."
Minnesota outfielder Max Kepler, meanwhile, seemed to be the first to spot the squirrel when it entered the field of play:
"I saw it crawl down the wall. No one really reacted to it until it was on the field. When he went up in the left-field bleachers, everyone panicked."
Of course, Saturday was definitely not the first instance of a squirrel invading the field of play at an Indians game:
Here's hoping, though, that another reprisal of the midges isn't on the way, too.
Teams in this article:
Players in this article: