The St. Paul Saints painted 56,000 dots on the field for a massive game of Twister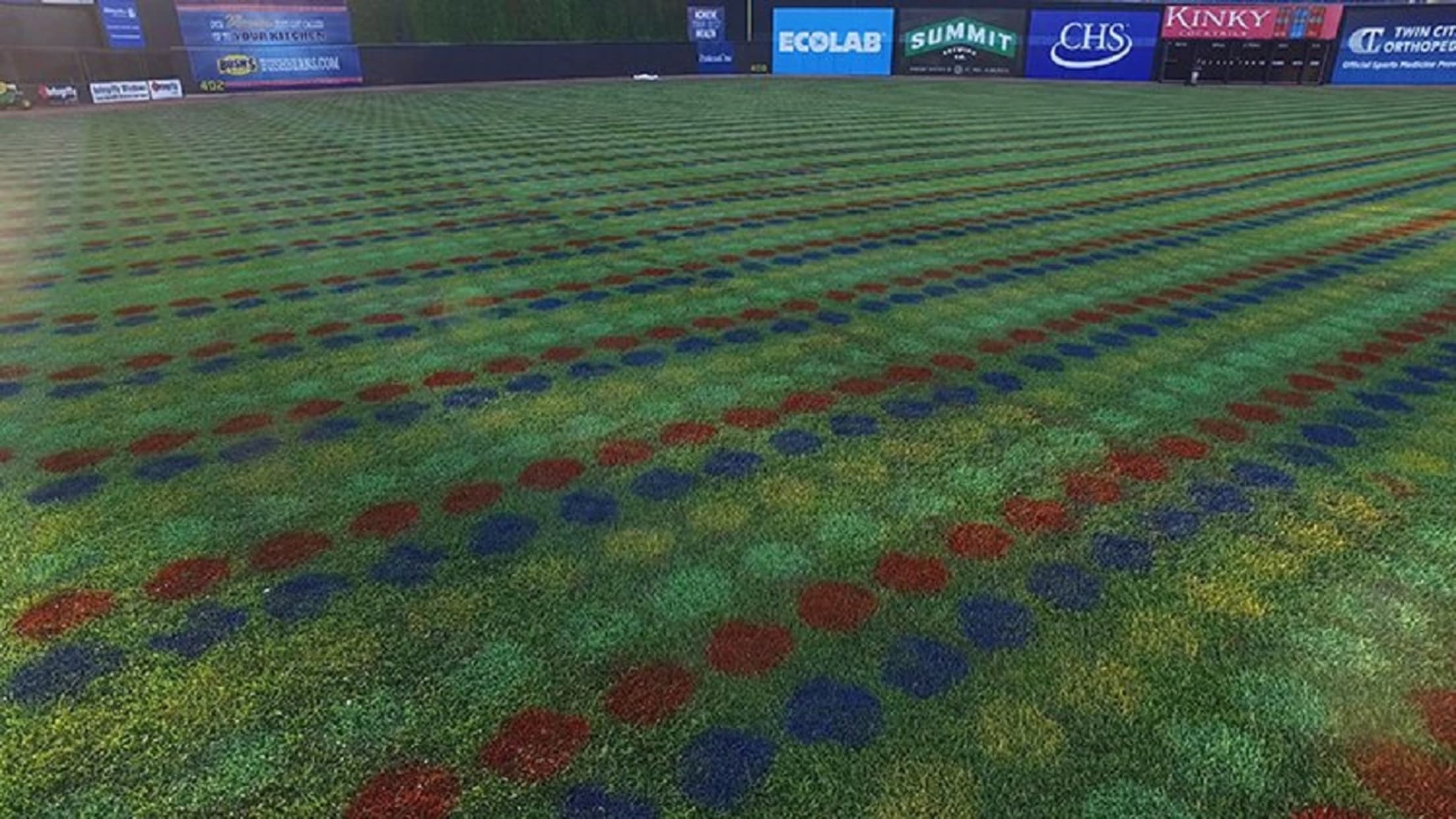 Take a bow, St. Paul Saints. You might have put together one of the most impressive ballgame promotions ever.
After their game against the Wichita Wingnuts on Tuesday night, the Saints (of the American Association of Independent Professional Baseball) put together the biggest Twister board of all time, probably ... and they did it on the field itself.
No, really:
When you were at our ballpark last week @espngolic & @MGolicJR57 we told you we would paint our field into a Twister board. Game is tonight. pic.twitter.com/JPuOQykBZh

— St. Paul Saints (@StPaulSaints) August 22, 2017
Obviously, this was a massive undertaking, and also one the Saints documented throughout.
Get a good look at how green that outfield grass is now because tomorrow morning you won't recognize it. #Twister #NoSleep #PromoOfTheYear pic.twitter.com/9SHiY7Zu9b

— St. Paul Saints (@StPaulSaints) August 22, 2017
Field eye view of the first Twister row. From the grass in back of 2nd base to the outfield wall. #Twister #NoSleep #PromoOfTheYear pic.twitter.com/1eZI7yFLKF

— St. Paul Saints (@StPaulSaints) August 22, 2017
90 minutes in and all of straightaway center is done. It's going to be epic when we're finished. #Twister #NoSleep #PromoOfTheYear pic.twitter.com/7dTXCjAqZ1

— St. Paul Saints (@StPaulSaints) August 22, 2017
Nearly 5 hours in and we're closing in on the left & right field corners. @twincitiesortho. #Twister #NoSleep #PromoOfTheYear pic.twitter.com/X4ddCQHvLf

— St. Paul Saints (@StPaulSaints) August 22, 2017
We hit hour 8 and the finishing touches being put on one of the most epic promotions ever @twincitiesortho #Twister #NoSleep #PromoOfTheYear pic.twitter.com/lGlvy3LadH

— St. Paul Saints (@StPaulSaints) August 22, 2017
Here's a fascinating behind-the-scenes look at what made this all possible:
Tonight is our Largest Game of Twister presented by @twincitiesortho. This is how we made it happen! #FunIsGood https://t.co/g9cQtwAG3y

— St. Paul Saints (@StPaulSaints) August 22, 2017
The levels of effort and energy put into this are just ... wow. Take a bow, everyone involved.
The Saints wound up losing to the Wingnuts, 8-3, but on a field covered in Twister dots:
Here is your complete highlights from the Saints 8-3 loss to the Wingnuts pic.twitter.com/qo4AfIycws

— St. Paul Saints (@StPaulSaints) August 23, 2017
And after the teams left the field, the game was on:
Roughly 24-hours after we began painting 56,000 Twister dots fans get to enjoy. Thanks to all who helped make this an unforgettable promo pic.twitter.com/oOoAWznVwj

— St. Paul Saints (@StPaulSaints) August 23, 2017