Let's look back on the 10 best moments from a jam-packed Players Weekend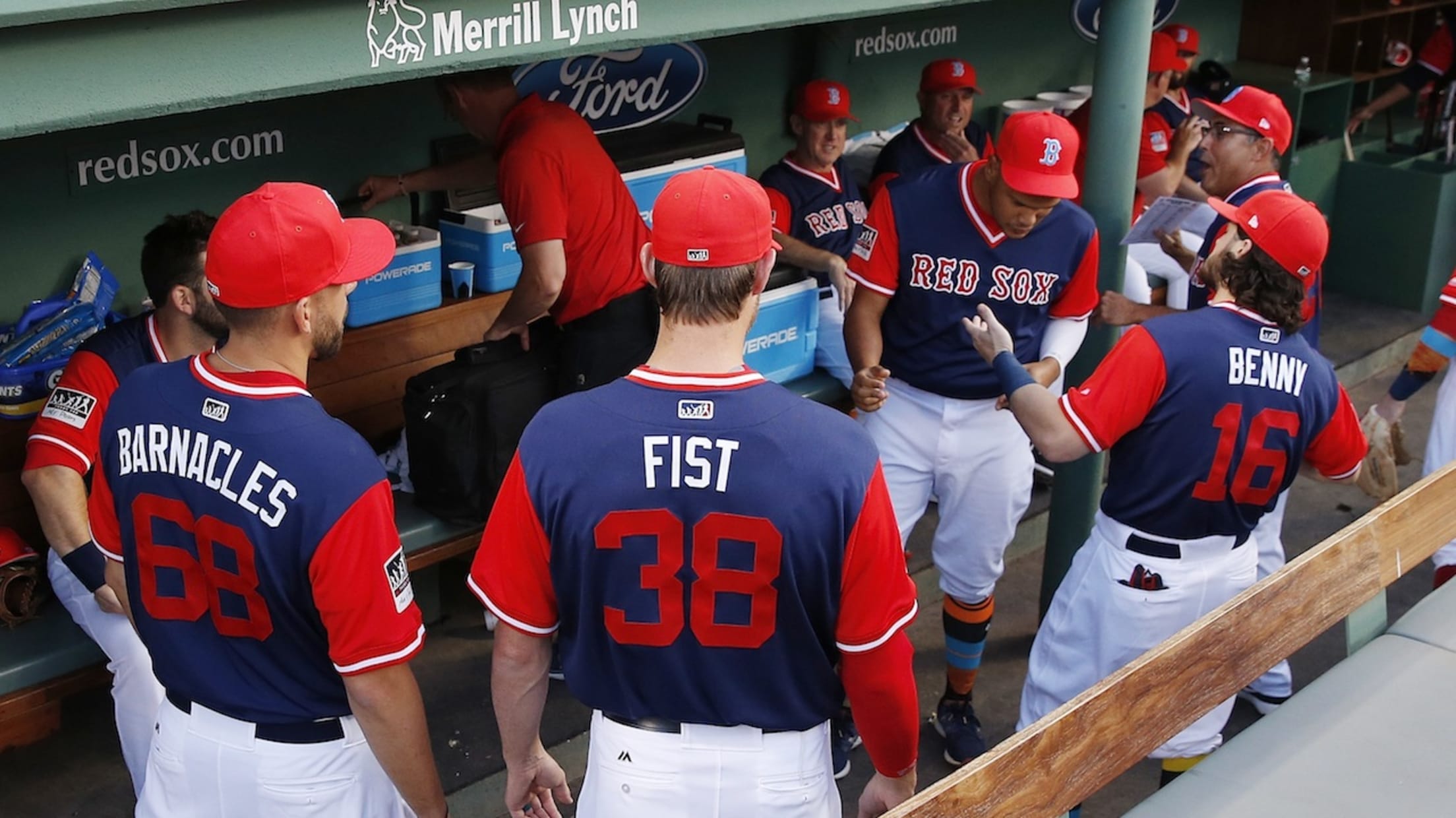 Boston Red Sox players wear uniforms with their nicknames on the back to celebrate Players Weekend before a baseball game against the Baltimore Orioles in Boston, Friday, Aug. 25, 2017. (AP Photo/Michael Dwyer) (Michael Dwyer/AP)
Players Weekend, we hardly knew you. It seems like just yesterday we were ranking nicknames, eagerly anticipating the sight of our favorite big leaguers dressed out in every way imaginable. And now, after threedays of shenanigans, it's gone.
But, before we turn our attention to pennant races and the postseason, let's take one more look back at all the best moments that Players Weekend had to offer.
The Sherriff and the Outlaw
Kevin Kiermaier has gone by the nickname "Outlaw" for some time now (there's even a bobblehead and everything), so it's only natural that he put it on the back of his jersey over the weekend. Last Tuesday, the Cardinals called up 27-year-old reliever Ryan Sherriff -- too late for him to select a custom nickname for the back of his jersey. You can probably see where this is headed.
During Tampa Bay's 7-3 win over St. Louis on Friday, Sherriff was called on to make his Major League debut ... against none other than Kiermaier, in a law-and-order showdown for the ages:
Eventually, justice prevailed, as the Sherriff forced the Outlaw to ground into a fielder's choice.
I Believe The Raptor
An underrated upside to Players Weekend: players using their nicknames to construct hilarious sentences. Like, for example, the Brewers, who just want to believe in a world in which raptors still exist:
The Raptor wouldn't lie. #PlayersWeekend pic.twitter.com/ML9JuUw8id

— Milwaukee Brewers (@Brewers) August 27, 2017
Or Mark Melancon and the Giants, who have begun workshopping the Sharknado sequel of your wildest dreams:
Can someone let @SYFY know that we are currently writing their next great shark horror movie franchise - Sharkhorse Park? #PlayersWeekend pic.twitter.com/CIoKldSXOd

— Mark Melancon (@Mark_Melancon_) August 28, 2017
The Phillies go full Little League
In addition to Players Weekend, this past weekend also marked the end of a thrilling Little League World Series, which Japan won. The Phillies broadcast decided to link both occasions during their lineup introductions, asking each member of Philly's starting nine to give both their nickname and their favorite big leaguer:
George Springer channels the power of the rainbow
There were plenty of fantastically outlandish bats on display over the past three days, from Adam Duvall's solid gold to Bryce Harper and his many emojis. But none were more colorful than Springer's (and teammate Marwin Gonzalez), whose lumber was inspired by the classic rainbow unis Houston wore during the '70s and '80s.
As pointed out by @CrawfishBoxes here's Marwin's star on the barrel, and Springer with the same bat. Can those become permanent? pic.twitter.com/mxM6ENNa9I

— Ryan Gonzalez (@RyGo_17) August 26, 2017
With a bat like that, of course Springer went out and hit a dinger:
The Wild Horse gets loose
Yasiel Puig got his nickname during his magical rookie season in 2013, when Vin Scully dubbed him the "Wild Horse" for the passion he brought to every aspect of the game -- and particularly running the bases. Puig put "Wild Horse" on the back of his jersey this weekend, and then he went out and made Vin proud:
Francisco Lindor lounges in style
Lindor understood that Players Weekend was, well, all about the players -- both on and off the field. And to help promote that atmosphere of weekend relaxation, he got his entire clubhouse some extremely comfy-looking bathrobes:
Lindor got robes for everybody. If they wear them for the game, that's some next-level Players Weekending. pic.twitter.com/pJhMfmyJ6s

— Anthony Castrovince (@castrovince) August 27, 2017
Sonny Gray makes a grocery run
Before you ask, no, Gray isn't sure why his nickname was "Pickles".
"When we came up with these nicknames, I was in Oakland, and that's just what a few guys called me," Gray told MLB.com's Bryan Hoch. "I just kind of put it. I don't know. When we did this, everyone was just throwing stuff out there. I don't have a good answer, man. I really don't."
But hey, since it's a thing now, he might as well embrace it -- so, after he threw seven strong innings in a 6-3 win over the Mariners on Saturday, he did some shopping:
So, so many shoes
Players sported all kinds of kicks this weekend, from the colorful: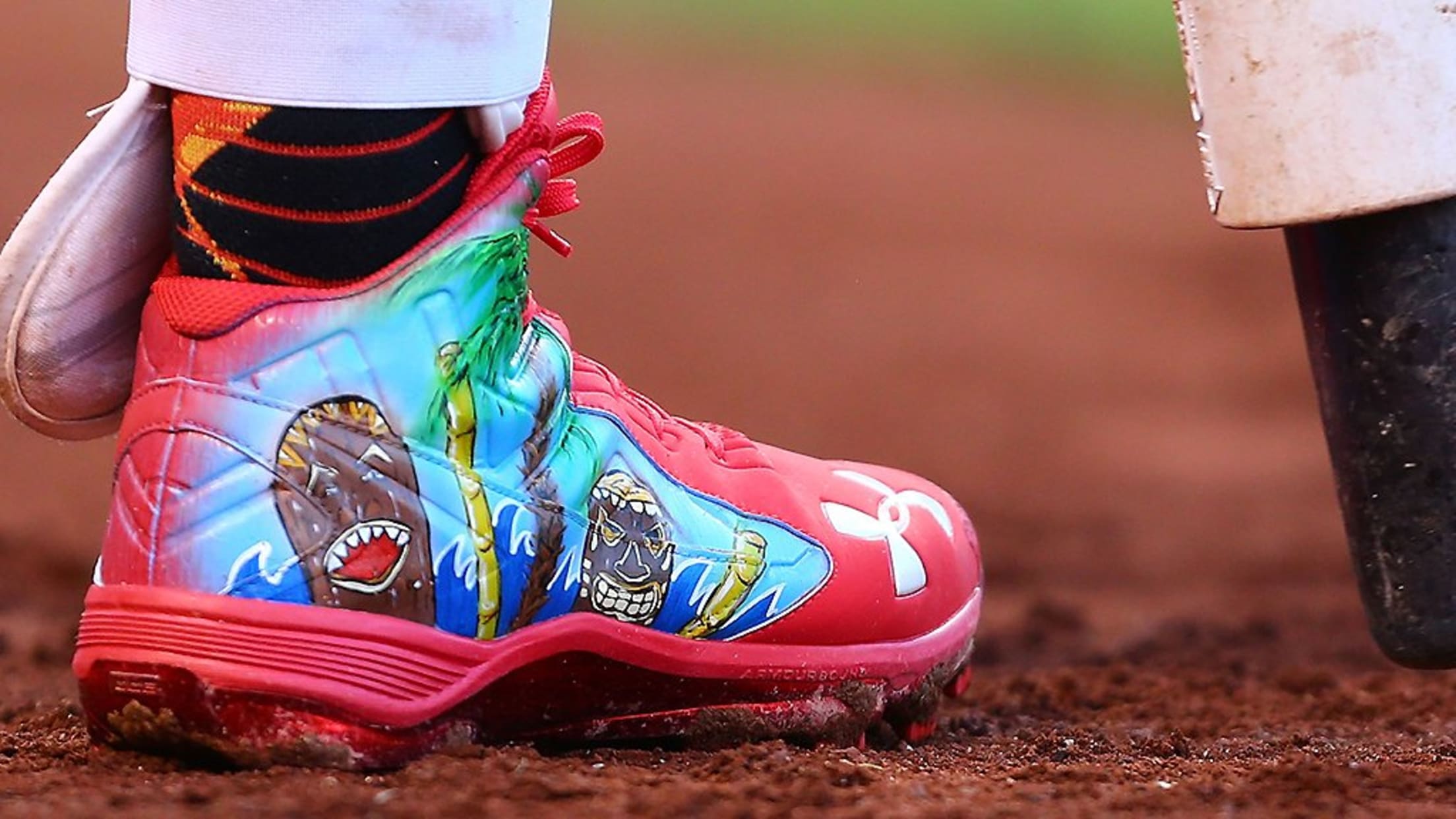 To the cartoon:
To the classy:
Season Finale. #PlayersWeekend #GameOfThrones #GOT pic.twitter.com/JBFr5YytbP

— CC Sabathia (@CC_Sabathia) August 27, 2017
Brad Ziegler, unicorn
Most players simply went with a nickname that they liked. Ziegler, however, didn't just choose "Unicorn" because he likes mythical creatures -- no, he is truly one with the unicorns:
It's true. #Unicorn #PlayersWeekend pic.twitter.com/g1DjqfaTu4

— Brad Ziegler - FANTASY FOOTBALL - The Athletic (@BradZiegler) August 25, 2017
Mitch Haniger learns the importance of application deadlines
Alas, Players Weekend wasn't a hit with every player. Haniger would've loved to have a nickname, he just forgot to submit one:
#playersweekend forgot to submit a nickname 😬 pic.twitter.com/yZRbi63yvZ

— Mitch Haniger (@M_Hanny17) August 25, 2017
Don't worry, Mitch -- hopefully you'll get another chance during the next Players Weekend.