Update: Make that the 22 best moments from the Indians' 22-game winning streak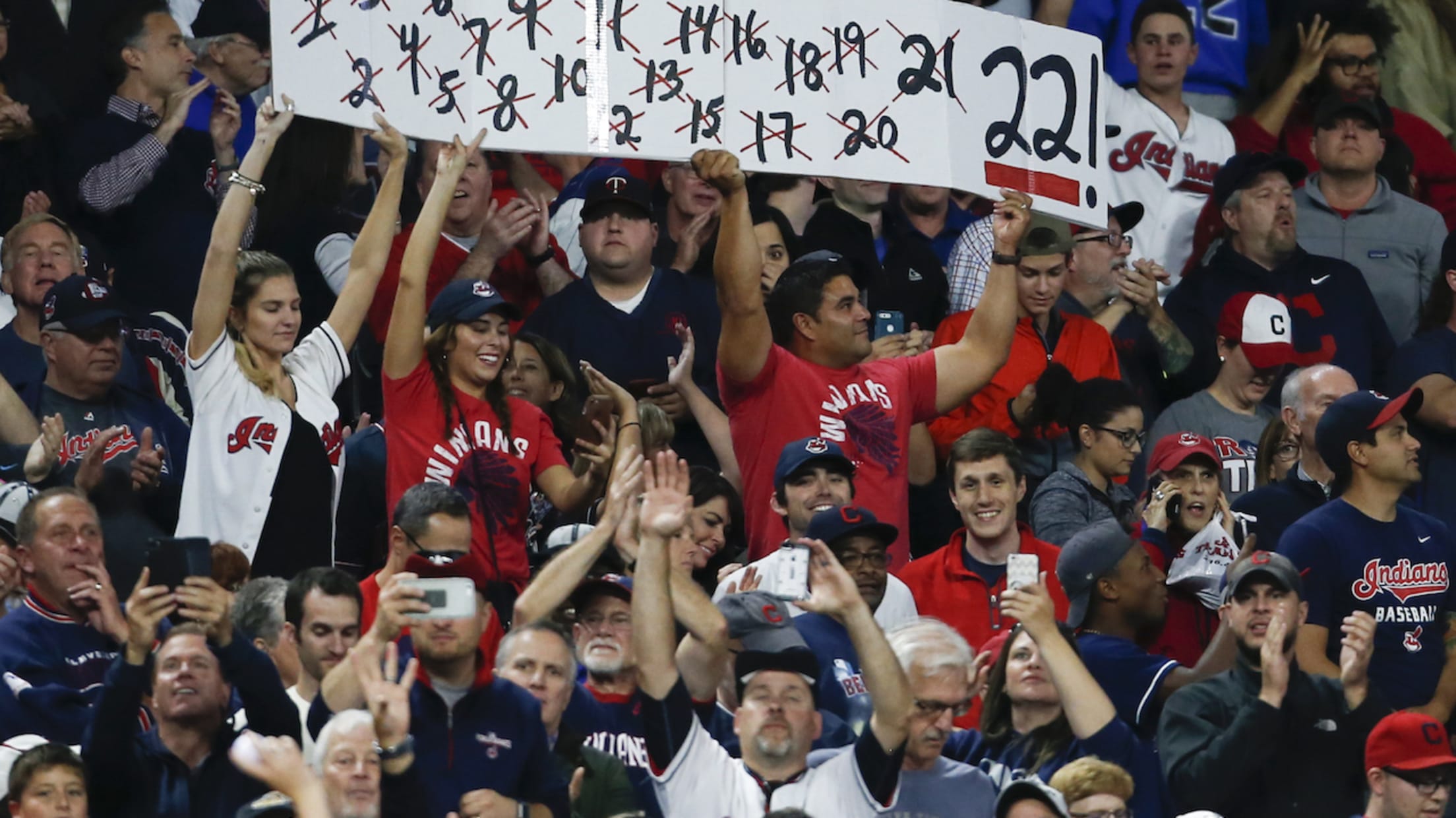 CLEVELAND, OH - SEPTEMBER 14: Cleveland Indians fans cheer after the Indians defeated the Royals 3-2 in ten innings at Progressive Field on September 14, 2017 in Cleveland, Ohio. The Indians defeated the Royals 3-2 for their 22nd win in a row, an MLB record. (Photo by Ron Schwane/Getty Images) (Ron Schwane/Getty Images)
Last week, we put together a list of the 14 best moments from what was then a 14-game winning streak for the Indians. It seemed appropriate at the time -- a way to celebrate an awesome and historic run before it came to an end.
Except, well, a funny thing has happened: The run hasn't ended yet. Thanks to a wild late-inning rally, Cleveland pushed their streak to 22 games with a 3-2 win over the Royals on Thursday night. It's now the second-longest winning streak ever, behind only the 26 in a row won by the 1916 Giants.
So, in honor of their new place in Major League history, let's try this again. Presenting the 22 best moments from the Indians' historic winning streak, subject to change when the team inevitably wins 15 more in a row.
The ninth-inning rally
For a while, it looked like the streak wouldn't even reach 22. Behind a solid start from Kansas City's Jakob Junis, the Indians trailed 2-1 heading into the bottom of the ninth.
But with two outs and two strikes on Francisco Lindor, Cleveland got up off the mat. Lindor delivered a game-tying double into the left-field corner, and just one inning later, after a hustle double by Jose Ramirez, Jay Bruce sent everybody home:
Welcome back, Andrew Miller
Lost in all that commotion: Miller made his return from the DL on Thursday night, escaping a jam in the seventh and raising the terrifying possibility that Cleveland's league-best bullpen could get even better.
No. 21
Entering Wednesday's matinee against Detroit, the Indians had a chance to make history: No team in the history of the American League had ever won 21 straight games. Behind a solid outing from Mike Clevinger and homers from Jay Bruce and Roberto Pérez, Cleveland did just that.
A shoutout from LeBron
After Rajai Davis tied Game 7 of last year's World Series with a dramatic home run, it really seemed like LeBron James might go full Super Saiyan up in his box. So of course, after that historic 21st win in a row, James gave the Indians a special shoutout.
Corey Kluber is unfair
You know, just the AL leader in ERA who at one point this season managed to strike out eight or more batters in 14 (!) straight starts.
Kluber's most recent outing came on Tuesday against the Tigers, and he was, well, Corey Kluber: He threw a five-hit shutout, and his stuff was as nasty as ever.
Back-to-back
Heading into the bottom of the sixth inning on Sept. 10, the Indians and the Orioles were tied at 1. Two swings later, Cleveland had a 3-1 lead it wouldn't relinquish:
So, so many baseball figurines
It started back in 2015, when the Indians fashioned an only somewhat terrifying Jose Ramirez doll out of a baseball. This summer, the tradition has taken off -- and now everyone from Carlos Carrasco to Trevor Bauer to Josh Tomlin has one.
A club record
Of course, you can't set Major League history without making team history first. And, on Sept. 7, Cleveland did just that, riding five home runs to an 11-2 win over the White Sox -- their franchise-record 15th in a row.
Can anyone figure out Tyler Olson?
Just about everybody involved in the Indians' pitching staff over the past few weeks has been lights out, but there's been arguably no more pleasant surprise than reliever Tyler Olson. A seventh-round pick back in 2013, the lefty has broken out after struggling over his first two years in the Major Leagues. His line this year: 22 appearances, 15 innings, 15 K's, zero runs allowed -- all with a fastball that barely tops 90 mph.
Carlos Carrasco is back
Another key to the streak: Carrasco has rediscovered the form that made him one of the best pitchers in the AL from 2014-2016. The righty has made four starts during Cleveland's streak and was lights out in all of them: He threw seven shutout innings against the Royals, seven one-run innings against the Tigers and, on Sept. 6, a three-hit shutout in Chicago.
The bullpen will take it from here
With a bullpen this great, who needs starting pitching? Danny Salazar lasted just 2/3 of an inning on Sept. 5 against the White Sox, but a parade of seven relievers threw 8 1/3 shutout innings.
Francisco Mejía arrives
Bradley Zimmer was Cleveland's top prospect, but after he graduated to the big club, that honor fell to catcher Francisco Mejia -- who you may remember from the 50-game hit streak he put together last year.
Mejia made his Indians debut on Sept. 1, and on Labor Day against the White Sox, he notched his first Major League hit and RBI.
Carlos Carrasco, future broadcaster
Look, there's a lot of downtime for starters during games in which they're not pitching, especially when their team has made winning look as easy as Cleveland has. So you can hardly blame Carrasco for turning an in-dugout interview into his broadcasting audition -- we're particularly fond of the screeching bird noise that accompanied Edwin/"Edwing" Encarnacion's trip to the plate:
Jose Ramirez gets a little boost
Ramirez is hardly in need of help at the plate: He's been arguably Cleveland's best player over the winning streak, slashing .423/.462/.944 with seven homers. But still ...
Jay Bruce hits a ... triple?
Bruce, for all of his many talents, is not known for his speed. So, when Francona called his number as a pinch-hitter in the ninth inning of a tie game against the Tigers back on Sept. 1, of course he delivered with a triple. He also went on to score the eventual game-winning run, because the Baseball Gods are not without a sense of humor.
Francisco Lindor does Francisco Lindor things
No list like this would be complete without a Lindor defensive highlight, so without further ado, here's Mr. Smile making a ground ball in the hole look like no big deal:
Bathrobes for everyone!
Arguably no one has a better time on and around the diamond than Lindor. So for Players Weekend, you knew he would have no trouble getting into the spirit of things -- which is why he got them all custom bathrobes to wear around the clubhouse:
Lindor got robes for everybody. If they wear them for the game, that's some next-level Players Weekending. pic.twitter.com/pJhMfmyJ6s

— Anthony Castrovince (@castrovince) August 27, 2017
The nine-run second inning
You don't win 22 games in a row without being able to win in a variety of ways, from pitcher's duels to nail-biters. Back on Aug. 27 against the Royals, though, Cleveland's lineup decided to make it easy: They dropped nine runs in the second inning, courtesy of three homers.
Bradley Zimmer goes airborne
According to MLB Pipeline, Zimmer was Cleveland's top-ranked prospect in each of the last three years -- and if you'd like to know why, here's Exhibit A:
One inning later, Zimmer broke up Royals starter Jason Hammel's perfect game bid.
Cody Allen makes history
Even with Andrew Miller on the DL for most of the streak, the Indians bullpen hasn't missed a beat, leading the Majors with a 2.05 ERA over the last month thanks in part to guys like closer Allen -- who set a team record for most strikeouts by a reliever back on Aug. 25:
Has anyone seen Joe Smith's pants?
Most Major Leaguers were able to handle the uniform madness of Players Weekend seamlessly. However, because Indians reliever Smith accidentally wore the wrong pair of pants -- and because his manager is Terry Francona -- he was made aware of his wardrobe mishap on the mound, in front of all of his teammates:
Hello, Yandy Díaz
Signed by the Indians out of Cuba in 2013, Diaz made his Major League debut back on Opening Day. He struggled over the first two weeks of the season before being sent down to Triple-A. He was called back up in May, went hitless over three games and was sent down again. He entered play on Aug. 24 hitting just .186, with Chris Sale on tap that night.
Naturally, Diaz went 4-for-5 with two doubles, a triple and two RBI. Apparently something clicked, because over Cleveland's winning streak Diaz has slashed .333/.467/.450.