The baseball community comes together to mourn the passing of Jose Fernandez
Early Sunday morning, reports surfaced that Marlins ace José Fernández had passed away in a boating accident in Miami. The Marlins have confirmed the tragic news in a statement:
The Miami Marlins organization is devastated by the tragic loss of Jose Fernandez. Our thoughts and prayers are with his family at this very difficult time. Today's game against the Atlanta Braves has been cancelled.
MLB Commissioner Rob Manfred also issued a statement:
All of Baseball is shocked and saddened by the sudden passing of Miami Marlins pitcher Jose Fernandez. He was one of our game's great young stars who made a dramatic impact on and off the field since his debut in 2013. Our thoughts and prayers are with his family, the Miami Marlins organization and all of the people he touched in his life.
Fernandez, a two-time All-Star, came to the United States from Cuba as a 15-year-old in 2007. He made his debut with the Marlins in 2013, winning NL Rookie of the Year. He was 24.
After learning of the news, the baseball community offered an outpouring of condolences. Flanked by Fernandez's Marlins teammates, Marlins president David Samson honored Fernandez during a team press conference Sunday morning:
"In my experience with that young man - I spent 3 1/2 hours with him on a dais at the baseball writers' dinner in 2013; he was in very close proximity to me - it's just a tremendously engaging young man," Pirates manager Clint Hurdle told MLB.com's Adam Berry. "We had a lot of commentary that night. Since then, whenever we played them, he'd come up and put his arm around me like he's an old soul. 'Hey, papi! How you doing, man?' When I walked around that corner today, I saw his picture and thought it was another news story. Then I stopped and saw the caption. It took my breath away."<br>
&nbsp;<br>
"It's just sad. It's so horribly sad on so many different levels that there'll be no more of that, there'll be no more of him, there'll be no more of that emotion on the mound, that skill-set, that human being, that young man with such a gift, such a great smile. I've been trying to live that life for a while now. I wasn't always in that place. It just makes all the more sense when things like this happen. Be where your feet are. Enjoy the moment. There'll be a day where there won't be another day."

Harold Reynolds spoke about Fernandez's impact on MLB Network:
As did Ken Rosenthal:
Eric Hosmer grew up in Miami, and told MLB.com's Jeffrey Flanagan what the pitcher meant to the city:
"I appreciated him that much more because that's where I'm from and it's my hometown. I still have a lot of family members, cousins, down there that play baseball, and the first question they have asked is what it was 'What was it like to face Jose?'

He means so much to those kids growing up in Miami. He was such an energetic guy and he brought a lot of passion. He reminds me a lot of Salvador [Perez] with the kind of energy he brings into a room. Jose was very influential to the kids down there in south Florida."
David Ortiz requested that the Rays' retirement ceremony in his honor be replaced by a moment of silence for Fernandez:
"It's a tragedy for baseball," Ortiz said. "Jose was a star on the field but was an even better person. Rest in peace, my friend."
Yasiel Puig hung a Dodgers No. 16 jersey in the L.A. dugout prior to Sunday's game against the Rockies.
"He was a very, very close friend of mine," Puig told MLB.com's Ken Gurnick. "He was one of the first people I knew here and I was thinking just a couple of weeks ago we were having dinner in Miami. He was a very good guy and I also liked the way he played baseball, the way he treated his mom, his grandma, his teammates and other ballplayers like myself. The next time we play Miami, it wonít be the same."
Nolan Arenado also has family in Miami and Cuban roots:
"It's terrible, terrible, waking up this morning and reading a hundred texts from our family in Miami and people," Arenado told MLB.com's Thomas Harding. "It's just a sad thing. I can't believe it. He's so young. He was a star in the game and one of the best pitchers in the game. It's just a crazy thing. It's terrible. I feel so bad for his family and the Cuban community, and mostly his family."
"It hits home with my family, being from Cuba and the things he had to go through to get here, and what his family has had to go through to get here, too. He had to do a lot of things to get them over here. To see that happen is just so sad and terrible."
Terry Francona told MLB.com's Jordan Bastian:
"What a [tragedy], on so many levels. We get so consumed with baseball, but on a personal level, man it just kind of feels like you get punched in the stomach a little bit. I remember reading his story when we went down there four years ago. I remember reading the story and listening to people talking about it. And then I think it was probably that year at the New York sportswriter's dinner, he won Rookie of the Year. And he did it in Spanish and I think at the end he said, 'I'll do this next year in English.' And if I'm not correct, his English was flawless. I just remember watching that and thought it was pretty cool. But, man, it doesn't matter what the story was, you know what I mean? Man, it's a kid. Somebody's mom is heartbroken. That's a tough one."
MLB.com's Alykhan Ravjiani spoke with Yankees manager Joe Girardi:
"It's sad, a very sad day," Joe Girardi added. "You think about all the people's lives that this affects and how difficult it must be down there right now. It must be awful. I don't know how you ever get over it. It affects the whole community, families. It's going to affect people who didn't even know him, just because of his ability to pull the community together and what he had been through in his life and how important he was down there."
Astros starter Lance McCullers Jr. met Fernandez when the two were high school stars in Tampa, and the two eventually became workout partners.
"I knew him pretty much right when he came over from Cuba in Tampa," McCullers told MLB.com's Brian McTaggart. "We started training together in the summers and offseasons and that kind of developed into a really good friendship that had been kept up with ever since."

"It's a little surreal," Jake Marisnick added. "You come up around a guy and just a guy of his character and how he loved playing the game - off the field, on the field, everything he did was unreal. So to wake up this morning and see that - I saw it on Twitter first, I saw somebody tweet something about it - and I looked further into it and it was kind of disbelief."
Phillies center fielder Odúbel Herrera spoke to Fernandez just last week after a game at Citizens Bank Park.
"I liked talking to him because he was a humble guy," he told MLB.com's Todd Zolecki. "It's nice when you encounter people like that. We both liked to play the game the same way with a lot of energy and a lot of passion. He was very happy on the field like I am. He was great. It's really good to remember that you have to play the game with joy, with happiness, and to take every moment out of it."
Bruce Bochy selected Fernandez for the 2013 All-Star Game as manager for the National League.
"It just breaks my heart," Bochy told MLB.com's Chris Haft. "This kid was a special pitcher and a great guy who did a lot for his community. It's a blow to baseball."
Reds pitcher Anthony DeSclafani broke into the Major Leagues with the Marlins in 2014, the same season Fernandez underwent Tommy John surgery.
"I've been around him, you don't want to think it's real," DeSclafani told MLB.com's Mark Sheldon. "He was always in and out of the clubhouse, I'd talked to him, obviously, numerous times, gotten some advice from him after tough games. He was telling me to forget about it and move on, stuff like that. He was a big guy, a big face of that franchise. There's no doubt about it that he was passionate about the game and loved the game. Everybody saw that."
Daniel Murphy faced Fernandez several times, playing with division rivals New York and Washington. He was also the last batter Fernandez ever faced, hitting a weak grounder to cap off Fernandez's eight-inning, three-hit, 12-strikeout masterpiece.
"My heart goes out to his family for their loss," Daniel Murphy told MLB.com's Bill Ladson. "There are no words to describe the loss for the Fernandez family, the Marlins and baseball in general. I got to spend some time with him at the All-Star game. What a great guy. I really enjoyed speaking with him. It's a sad day."
Orioles manager Buck Showalter managed Marlins skipper Don Mattingly with the Yankees.
"I'll talk to Donny today or tomorrow," he told MLB.com's Brittany Ghiroli. "Things like this, you try to keep a grip on what's real and what's not. The things that are really important. I know Jon[athan Schoop] was saying, he gets frustrated and then wake up to that type of news, you think about how silly your anxiety about something or frustration about something really is compared to what's really, really important and what's real. We press on and we know the game out here is important to the standings, but there's some other … looking forward to having some of this stuff explained to me some day. Because I don't have answers why.
Several members of the Brewers will step to the plate at Miller Park without walkup music to honor Fernandez.
"It doesn't feel real," Ryan Braun told MLB.com's Adam McCalvy. "It's impossible to process the fact that he's actually gone. It doesn't make sense that this larger than life personality and persona is gone. It's really devastating and heartbreaking, for his family first and foremost, but for his teammates, for the Marlins, for baseball, for sports. An amazing person."
Milwaukee manager Craig Counsell added:
"How he performed on the field and just how he was kind of reminds you of the joy that this game can bring you. I think that's what makes this so sad today, is that he reminds you of the joy of what the game can bring you. And when you start to understand his life and the backstory of his life, you understand why he played and lived with such joy and great competitiveness and [was so] carefree. And joy -- joy is the word that comes to mind. That's what I think of right now is that we should celebrate his joy, the joy that he lived his life with and played baseball with. And it should be a thing that we should carry with us and learn from him."
Jacob deGrom told MLB.com's Anthony DiComo:
"He was very fun to watch play the game. I don't think anybody really brought more energy out there to the field, and even when he was in the dugout, you'd look over there and he'd been rooting on his team, probably more than anyone you've ever seen."

"You don't want to take this for granted, and I don't think he did. I think every day he went out there and he gave 100 percent, and he put it all out there on the field. It's a very tragic accident. You never know how long you'll get to play this game."
Cardinals manager Mike Matheny told MLB.com's Jenifer Langosch:
"The first thought is just the sick feeling in my stomach and just begin to pray for his family. I know his baseball family is going to have a big platform and lots of opportunities to speak about this. But he's got a family family that is wrecked right now. Their lives are turned upside down and I think they're trying to find the next breath. That sinks in in these situations."
And St. Louis catcher Brayan Peña said it was:
"Very painful news for everybody, but especially for the Cuban community. He was one of those guys that everybody loved. He was one of those guys that everybody knew exactly what he meant to our community. For us, that's a big loss. Our thoughts and prayers are with the family and the Marlins organization and the fans, but it hits a little bit closer because he was part of our Cuban family."
While Joe Maddon talked about the joy he felt watching Fernandez play:
All teams held a brief moment of silence prior to Sunday's games, while ballparks offered their own tributes -- from Citi Field: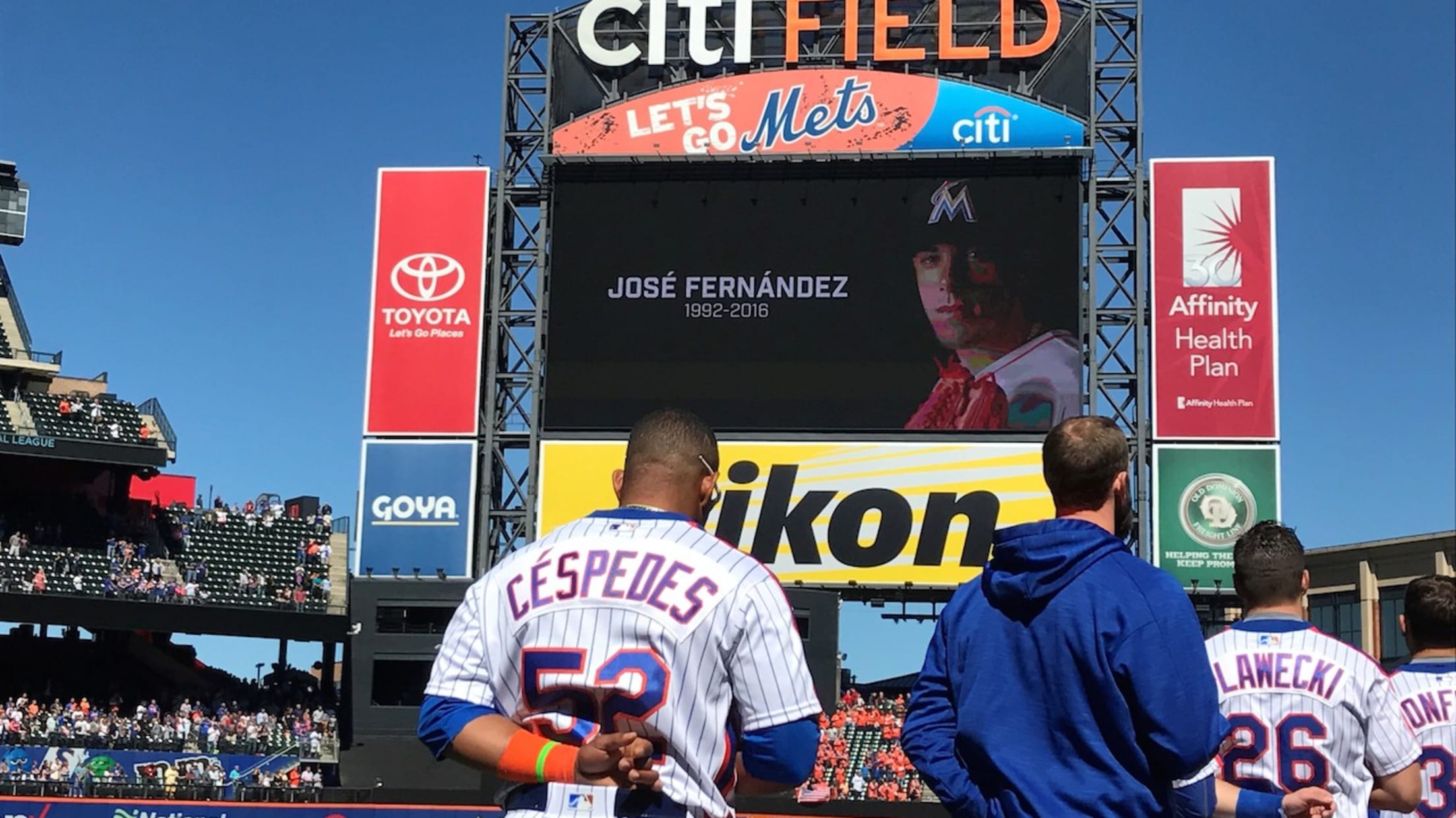 To Tropicana Field:
To Progressive Field: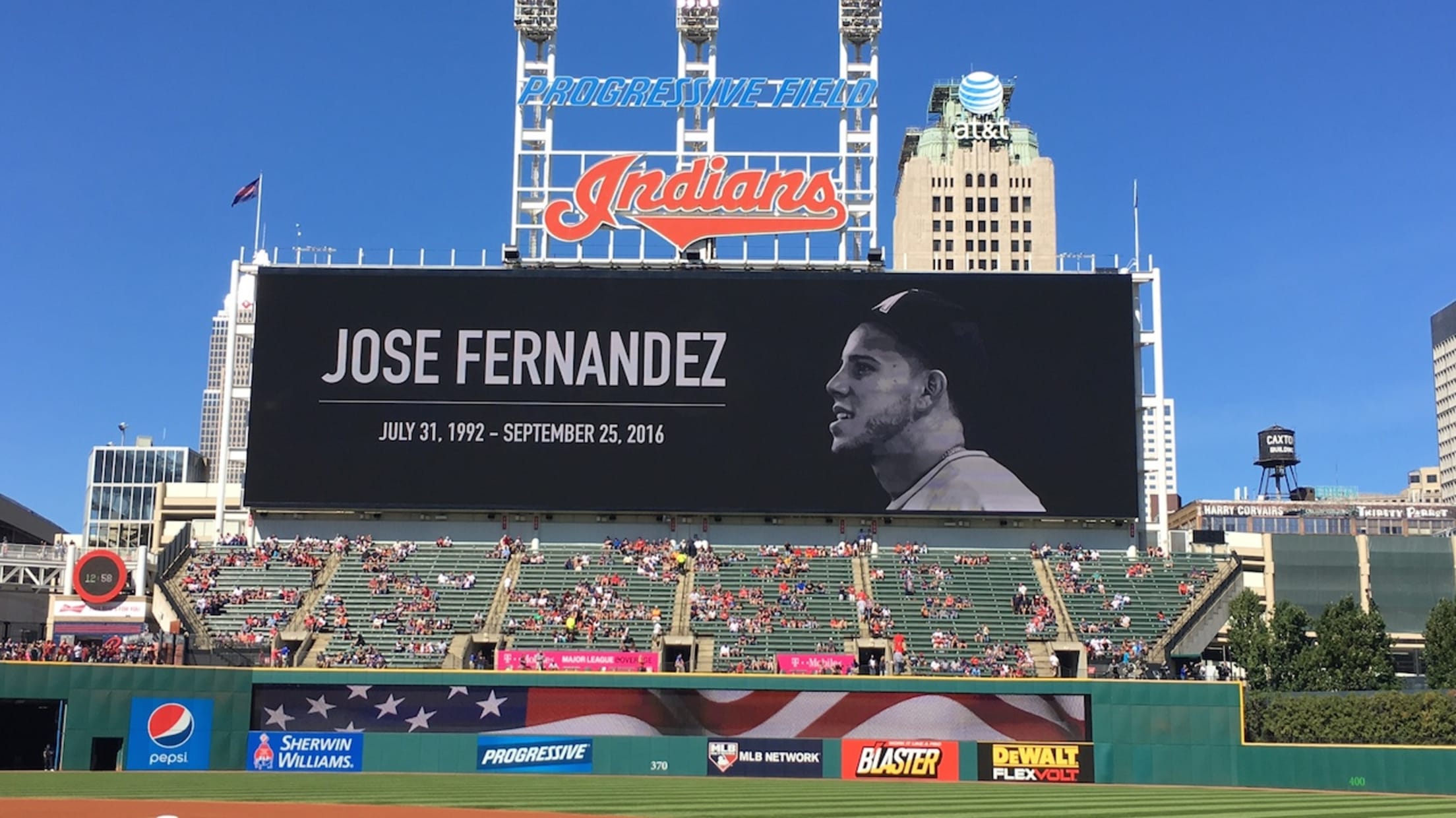 And, of course, Marlins Park: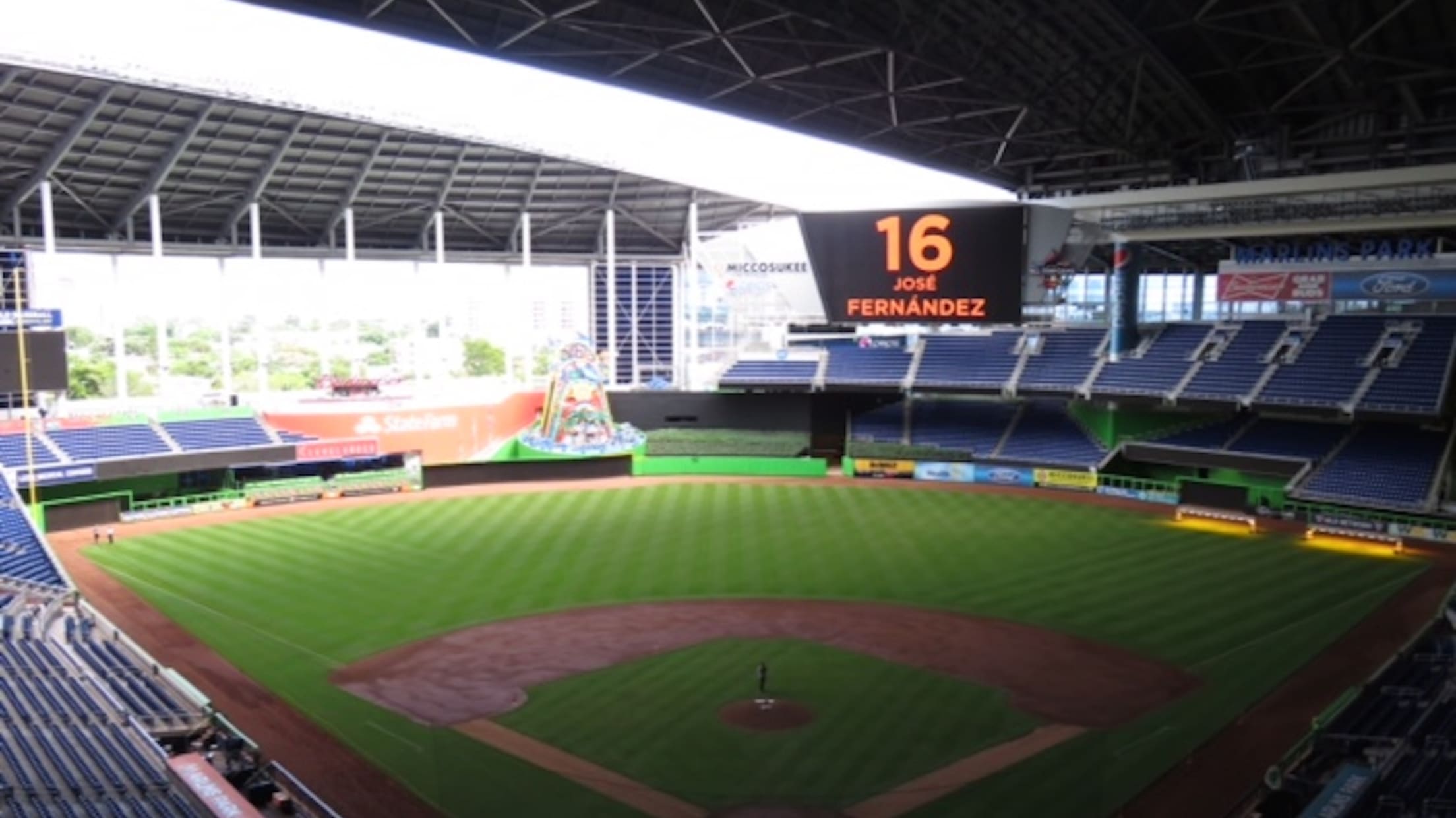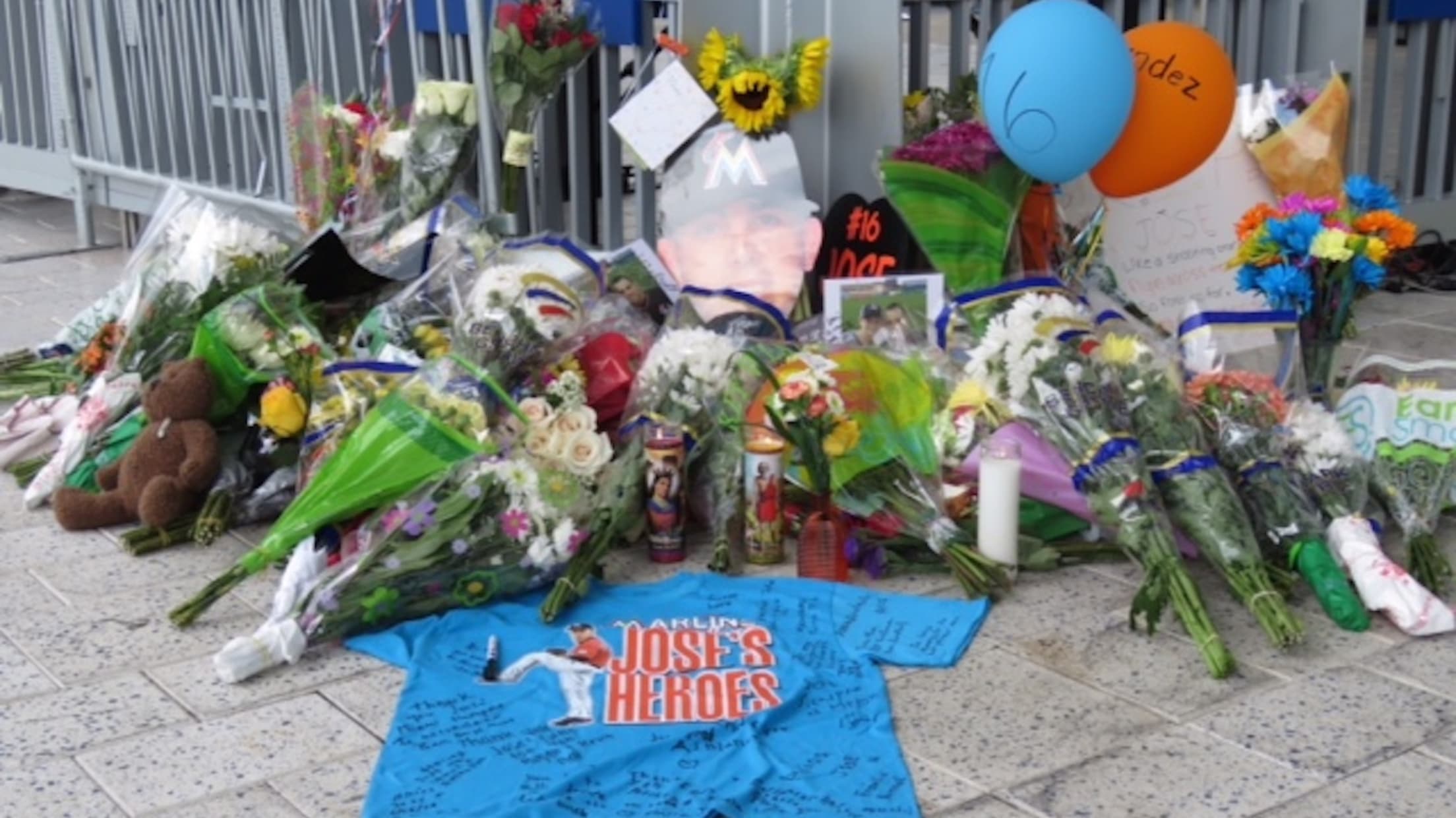 Teams in this article:
Players in this article: